Do you have a USB stick that saves your important personal files & business data? Did you ever encounter a situation in which all the files become inaccessible? Will you be freaked out when it is broken without giving a sign? Please keep reading to find your answers.
USB stick is loved by many people mainly due to its portability. Yet, the frequent use also adds the possibility of USB data loss. When significant data were missing from a USB stick, you are eager to get them back, right?
You may try to answer the questions in summary before you read this article. If your answer is an absolute yes, then you can't miss the following content. I'll teach you how to fix a broken USB stick in different cases. You can choose to navigate directly to the part that you're most interested in. Now, let's begin with a specific case of having a broken USB stick.
A true example:
The USB memory stick was bent in the port, the light comes on when inserted but the computer cannot recognize it… any advice if the information on it can be saved?– asked by neilm on Anandtech Forum
You can see from this clearly that the user is eager to recover data from USB stick after he found his stick can't be recognized by the computer.
I know, all of you must want to know how to recover files from a broken USB memory stick if important data are still saved here when it stops working suddenly. But is it possible especially for users who have never done such work before? It is realistic; as long as the USB stick is not broken into pieces, you still have a chance to recover data from broken USB memory stick and then try to fix the error & make it usable again.
What if you run into a broken computer? Don't be anxious since I can also help.
How to Fix a Broken USB Stick with Software
Do you want to start USB file recovery immediately after finding that your USB memory stick corrupted? But most of the time, you don't have a suitable tool at hand. Noticing this, I introduce MiniTool Power Data Recovery to you. You may download this software to experience first and then decide whether you'd like to buy a full version.
MiniTool Power Data Recovery TrialClick to Download100%Clean & Safe
Now, you should install this tool to a drive (apart from the broken USB stick) and then run it to get free USB data recovery service.
If your USB memory stick is damaged due to logical errors, not physically broken, you can always try the software for broken USB stick data recovery.
If the USB stick fails to be recognized by your computer, please check it in Windows Disk Management – assign a drive letter to it or change a USB connection port.
Recover Data from USB Stick without Formatting
Most people hope to fix a corrupted USB drive without data loss, but how? Your best and first choice should be using MiniTool Power Data Recovery to start USB file recovery. Of course, you can hire flash drive data recovery companies to do this for you; but they'll charge a large sum of money for the USB recovery and your privacy couldn't be protected well. So I advise you to recover files from corrupted USB memory stick on your PC independently.
How to do:
Step 1: please go to the Windows Disk Management (WDM) to see whether you can find the broken USB stick here. As long as you are able to make it appear here, you can run MiniTool Power Data Recovery to recover USB files.
Step 2: you should keep the USB stick connecting to a computer in order to recover data from USB. Now, choose "This PC" or "Removable Disk Drive" from the left side of the main interface.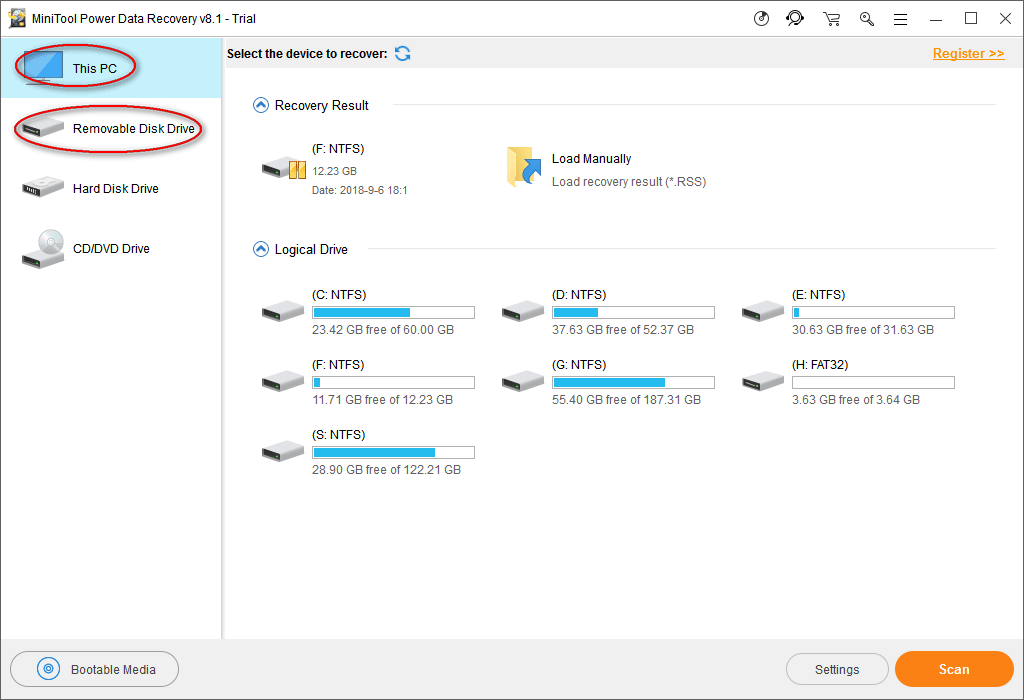 Step 3: select the broken USB drive you'd like to recover data from in the same interface. Then, you have two choices:
Double click on it directly to start the scan.
Click on the "Scan" button in the lower right corner to search for lost/deleted files.
Step 4: wait for the scan and browse the increasing files & folders found by the software. If you can discover all the files you need, you may stop the scan anytime.
Step 5: select the files you want to recover from the broken USB stick and then click on the "Save" button to choose another drive to save them.
Providing that you're careful enough, you will find the trial edition of MiniTool Power Data Recovery is only designed to help people scan the target drive and then preview the found files (pictures, photos and text files). It doesn't allow anyone to recover the found items in the real sense. After clicking on the "Save" button located in the lower right corner, a window will prompt to inform you that you can't recover any files unless you choose to upgrade it to a full version. 2 ways to upgrade:
Click on the "Upgrade Now" button in the prompt window.
Visit this page to know the differences between different licenses and then click the corresponding button to buy.
This way is also suitable for you to recover files deleted from a USB drive.
Error Messages Indicating That You Have a Broken USB Stick
You may receive following error messages when attempting to access a broken USB stick:
Access is denied.
Please insert disk into removable disk.
The file or directory is corrupted and unreadable.
The parameter is incorrect.
You need to format the disk in drive * before you can use it.
The request could not be performed because of an I/O device error.
How to deal with USB drive not formatted error?
How to Fix Your Broken USB Stick without Third-party Software
As an advanced computer user, you must be very familiar with Windows built-in Disk Management and CMD (command.exe). No matter which one you prefer to rely on when getting into trouble, the following content could be of great help. That is because I decided to show you how to carry out USB memory stick repair in CMD and Disk Management respectively and minutely.
Warning: Please do not try those 2 methods if you're not utterly sure what to do unless you've already finished USB file recovery completely. All the following operations are conducted in Windows 7 Enterprise 64-bit Operating system.
How to Fix a Broken Flash Drive
There are generally two ways available for you to fix a broken flash drive in Windows without using any software.
Check and Fix File System in the Command Prompt (CMD) tool.
Rebuild in Windows Disk Management Panel.
Method 1 – Check and Fix File System in CMD
Preparations: plugin the broken USB stick to the computer; afterwards, start "cmd.exe" by following ways.
Way one:
Click on the "Start" button in the lower left corner.
Choose "All Programs" from the start menu.
Open "Accessories".
Choose "Command Prompt" inside.
Way two:
Click on the "Start" button.
Input "command"/"cmd" to the "Search programs and files" textbox and press "Enter".
Choose the "Command Prompt" from search results.
Way three:
Press "Win" + "R" in the keyboard at the same time to open "Run" window.
Input "cmd" or "exe" to the text box following "Open".
Click on "OK" button or press "Enter" in the keyboard.
Way four:
Open "Computer" (Windows Explorer).
Double click the drive where your system is installed to open it.
Open "Windows" folder.
Now you can find and start the cmd program.
Here are the repair steps you need.
Step one: type "chkdsk /X /f *:" or "chkdsk *: /f" into Command Prompt window.
Step two: press "Enter" and then you only need to wait for the result (if any problem was found on USB stick, Windows will fix it automatically).
"*" stands for the drive letter of your USB stick; if you don't know it clearly, you may go to the Disk Management to confirm at first.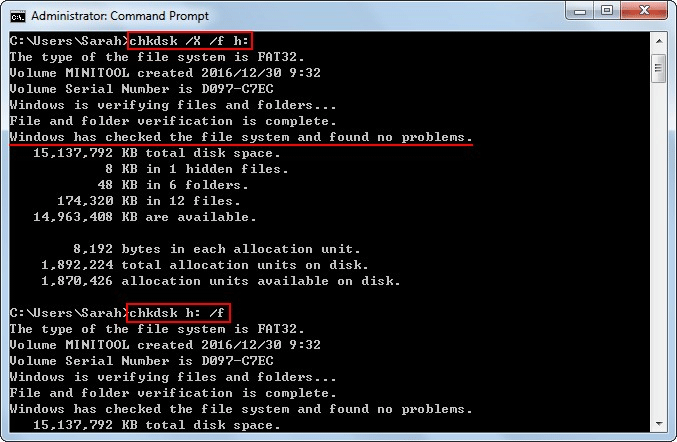 Method 2 – Rebuild in Disk Management Panel
Preparations: open Windows Explorer and find your USB stick (if you can't find it here, you can open Disk Management to have a look).
Repair steps:
Right click on the USB stick.
Choose "Properties" option from the pop-up menu.
Navigate to the "Tools" tab.
Click on the "Check now…" button.
Click on the "Start" button from the pop-up window, in which you can see that the "Automatically fix file system errors" option is checked by default.
Believe it or not, this work can also be done easily with the help of "Check File System" function in MiniTool Partition Wizard.
How to Fix a Flash Drive That Won't Read
After you tried all the methods mentioned above to recover data from USB or to fix USB stick, you may still end up in failure. At this time, you should consider that your USB memory stick is damaged physically. Also, I'll give some suggestions on trying to fix the physical problem without hiring professionals when you can't afford USB flash drive repair service with a high price.
Warning: If the files saved on your broken USB stick are too important to risk, I advise you to find a reliable company and pay for the flash drive data recovery service. If the files are not so important or you have backups for them, you can try the following actions.
Step 1: prepare the following things you need for repairing a broken flash drive connector.
Precision soldering iron with solder and flux
Old USB cable you discard
Wire cutters or strippers
Small flathead screwdriver
Magnifying glass (or you can use jeweler's loop to replace)
Step 2: open the case of the broken USB device carefully with a flathead screwdriver.
Step 3: use a magnifying glass to visually exam the circuit board (PCB) and solder pads.
If you find the PCB is damaged or the solder pads are lifted during the examination, you will probably need the help from professionals.
If not, you could continue.
Step 4: please do following things when you find the pads are intact:
Use the wire cutters to cut off the female end of USB cable.
Use the wire strippers to expose about 0.25 inch (6 cm) of each of the four wires you can see inside the cable.
Apply some solder to each wire and carefully solder those four wires to four solder pads.
Connect the other end of this USB cable to your computer to see what happens.
If it works, congratulations! Just clap for yourself; if it still fails, please seek other ways.
Draw a Conclusion
As an inexperienced computer user, your first response would be getting help from professionals when a USB stick was broken suddenly. This is reasonable. But, what I want to say here is that you can be the life-saver yourself. You may finish the following operations in order to have a try:
Recall whether you have saved important files without backups on the broken USB stick.
If you have, connect the USB stick to the computer. Then, use MiniTool Power Data Recovery to scan it and recover data from USB stick for you.
If the USB stick can't be detected by computer no matter what you tried, you may need to turn to professionals and pay for the USB file recovery willingly.
If all those couldn't help, there may be physical damage on the broken USB stick. At this time, you can choose to fix the physical damage with some tools under the condition that there's no important file.
That's all for how to fix a broken USB stick. After doing what I said in this post, most people can regain needed data from a broken USB stick. Hope you are one of them!
How to Fix a Broken Flash Drive FAQ
Can you retrieve data from a broken USB stick?
The answer to this question is uncertain. In fact, whether you can recover data from a USB drive or not depends on how the drive has been damaged. If it's damaged logically, you can recover data from USB stick easily; if not, the probability of data recovery will be reduced.
How do I fix my flash drive not working?
The result of research shows that there are many reasons causing
USB drive not recognized
issue; for instance, the USB port failure, the driver is outdated, and missing drive letter. You should figure out the reason and choose corresponding solution to fix the broken USB drive.
How do I enable USB ports?
Open Windows Search and type device manager or devmgmt.msc.
Select Device Manager from the result.
Expand Universal Serial Bus controllers.
Right click on each USB port in the list and choose Enable device.
Restart your computer.
How do I reinstall USB drivers?
Get the latest drivers for your USB & install it. If this doesn't work, please move on.
Open Device Manager on your computer.
Find your device under Universal Serial Bus controllers.
Right click on the USB stick and choose Uninstall device.
Click Uninstall and wait.
Reboot your PC.