Top Reasons for Dash Cam Keeps Saying Format SD Card
You need to insert an SD card into your dash cam to store the recorded footage. But at times, you may discover that dash cam keeps saying format SD card. This issue can be caused by the following reasons:
The SD card is not inserted properly.
The file system of the SD card is not compatible with the dash cam.
SD card is full and needs to be formatted.
The file system of the SD card is corrupted.
The read and write speed of the SD card is too slow, causing issues while using it on the dash cam.
There are bad sectors on the SD card.
After knowing these reasons, you can take appropriate measures to solve this problem. MiniTool will introduce some easy methods that are proven to be effective.
How to Fix Dash Cam Keeps Saying Format SD Card
Preparations: Recover Data if Necessary
If the SD card is inaccessible, you can use MiniTool Power Data Recovery to rescue your files in it and then format the card to normal.
This MiniTool data recovery software supports recovering all kinds of files from storage devices including SD cards. With the free edition of this software, you can scan the SD card to find your files in it and recover no more than 1 GB of files for free.
After downloading and installing this best free data recovery software on your device, you can open it and select the connected SD card to scan. When the scan process ends, you can check them and recover your needed files to another drive.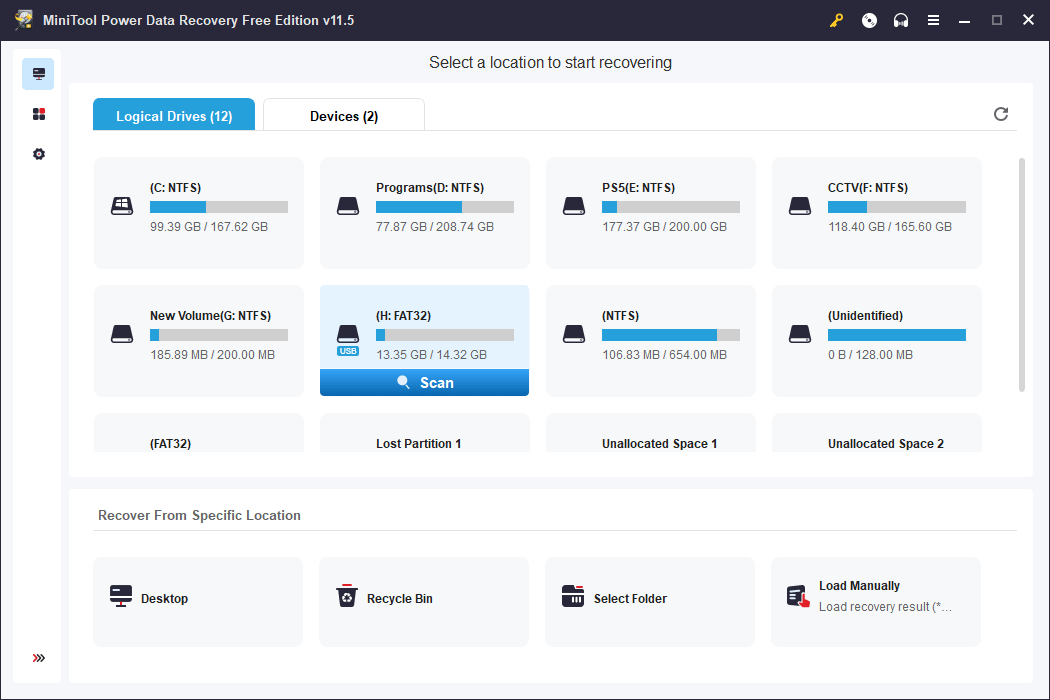 It is easy to recover data from an SD card using this tool. Every ordinary user can do this job quickly.
Fix 1: Re-insert the SD Card
Sometimes, the issue happens just because the SD card is not inserted correctly. So, you can unplug the card, then reinsert it, and check if the SD card can work normally with your dash cam.
Fix 2: Format the SD Card for Dash Cam
If you cannot open the SD card or the card is full, you can format it to make everything go back to normal.
Here is how to format SD card for dash cam:
Step 1: Turn on your dash cam.
Step 2: Stop recording. Then, go to the Settings screen.
Step 3: Go to Setup and find the Format option.
Step 4: Tap Format and follow the instructions to format the SD card.
Besides, you can also format an SD card using File Explorer or using MiniTool Partition Wizard (a partition manager for Windows).
Fix 3: Block the Bad Sectors on the SD Card
If you suspect that there are bad sectors on the card, you can run CHKDSK to block the bad sectors.
Step 1: Remove the SD card from the dash cam, then connect it to your PC via a card reader.
Step 2: Run Command Prompt as administrator.
Step 3: Run chkdsk *: /f /r /x. You need to replace * with the drive letter of the SD card.
CHKDSK can automatically find and fix the found errors, and block bad sectors on the card.
You can also use the Check File System feature of MiniTool Partition Wizard to do the same job.
Fix 4: Replace the SD Card with a New One
If all of the above methods don't work for you, the SD card should be physically damaged. Thus, you need to replace the card with a new one.
Wrapping Things up
These are the fixes you can try when dash cam keeps saying format SD card. We hope you can find a useful method here. Besides, if you want to recover data from your SD card, you should try MiniTool Power Data Recovery. This software can also recover data from SSD, hard drives, USB flash drives, and more. If you are a PS5 player and want to use third-party data recovery software to recover data from PS5 hard drive, you can still use this tool.
Should you have other related issues, you can let us via [email protected].