The hard disk could fail suddenly due to a lot of reasons. When that really happens, the first thing you should do must be rescuing data from the problematic hard drive. After telling you how to recover data from hard drive failure, I'll list the common signs and causes of hard drive failure.
As the name suggests, hard disk failure refers to the failure of a hard disk drive.
A hard disk drive failure occurs when a hard disk drive malfunctions and the stored information cannot be accessed with a properly configured computer.– according to Wikipedia
The truth is that many factors can cause a hard drive to go bad. And the hard drive failure symptoms are varied. When you try to access a hard drive, the following things may happen:
Some files saved on this drive are lost.
The access to the hard drive is denied.
Part 1: Hard Disk Failure Recovery Is Important
Those symptoms show that your hard drive is failing or has been failed. And at this critical moment, you have no choice but to do hard disk failure recovery immediately. According to the survey results, hard disk failure is not a rare issue, it happens all the time around us.
You can take a look at the table below to know about the hard drive failure rates.
After looking at this, I feel it's necessary to recommend a powerful & reliable tool: MiniTool Power Data Recovery. And from part 1 to part 3, I will show you how to recover data from failed hard drive in detail with this tool.
Besides, I think it's also important to learn the hard drive failure causes and signs in order to get away from the failure; so I decided to talk about them in part 4 after helping you with hard drive recovery.
A Real Case of Hard Drive Failure
There is a user who asks for the best software for data recovery from the possibly failed hard drive in the forum:
Have an older 40GB IDE drive here that is having issues since an unexpected power issue in the home. The drive is recognized by the BIOS, and Windows sees the drive and assigns a drive letter – but indicates that the disk is unformatted when you try to access it. It was formatted with NTFS. What's the best software to try and attempt data recovery nowadays? Can anyone recommend something good?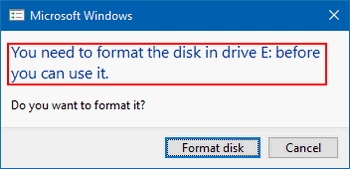 In this case, the user can see this drive in the computer, but when he tries to access it, the system prompts that the disk is unformatted. That is to say, his access to the drive is denied. So he wants to get the best software to recover data from damaged hard drive.
Click to know how to recover data from formatted hard drive if you pressed the "Yes" button by mistake.
In general, hard drive failure occurs suddenly, without leaving you any time to respond or prepare. Thus, you'll firstly think of seeking ways to recover data from hard disk failure in order to minimize the losses that could be possibly brought by this problem.
Now, I will give you my suggestion.
Part 2: Get Ready for the Recovery
How to recover data from a hard drive when you're in face of hard disk failure? This is a question bothering lots of people. Certainly, you all want to get the best software to recover data from the damaged hard disk; but as ordinary users, you also care about the data recovery prices, so you would ask "how much does it cost for data recovery".
After taking these factors into consideration, I think I am obligated to introduce the best software to you and then discuss the price and how to recover data from crashed hard disk.
Before the recovery, you should confirm the following things:
Where do you want to do the hard drive failure recovery (on Windows or on Mac)?
Whether the computer can be started successfully or not after the hard drive failure?
How many files do you want to recover (less than 1GB or more than 1GB)?
Tips for making a decision:
To recover data on Windows, you need MiniTool Power Data Recovery; to recover files on Mac, please choose Stellar Data Recovery for Mac.
If computer boots successfully, please choose a proper edition; if you can't enter the system, please resort to the bootable edition (embedded in some paid license).
The free edition is enough if you have no more than 1GB of data to recover; otherwise, please acquire a license. (Of course, you can try the free edition first and then decide whether to get a license for advanced edition or not)
Part 3: Use the Best Software to Recover from Hard Disk Failure
In this part, my theme is – the steps to recover data from a failed hard drive. I will explain this from two perspectives:
How to perform dead external hard drive file recovery
How to recover data from a dead internal hard drive
Here, in the following content, I will take the Free Edition and the Personal Deluxe license as an example to show you how to recover from hard drive failure on Windows in 2 cases.
Case 1 – Recover Data on a Working Computer
Step 1, you should install the MiniTool Power Data Recovery on the local drive of the working computer. Then, run the software and start feeling its power.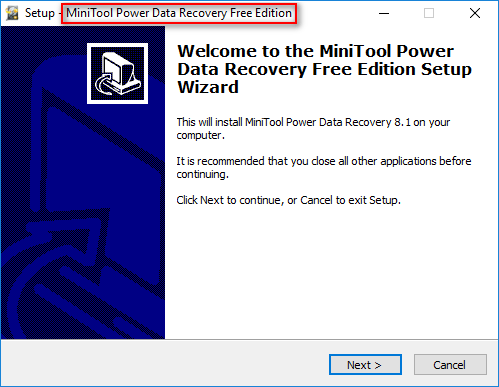 Attention!!!
Please don't choose the drive that includes lost files waiting to be recovered as the destination for the installation, in order to avoid data coverage.
Step 2, in the main interface, take a look at the options located on the left side. Then, click on the one that is most suitable for your case (taking "Hard Disk Drive" as an example).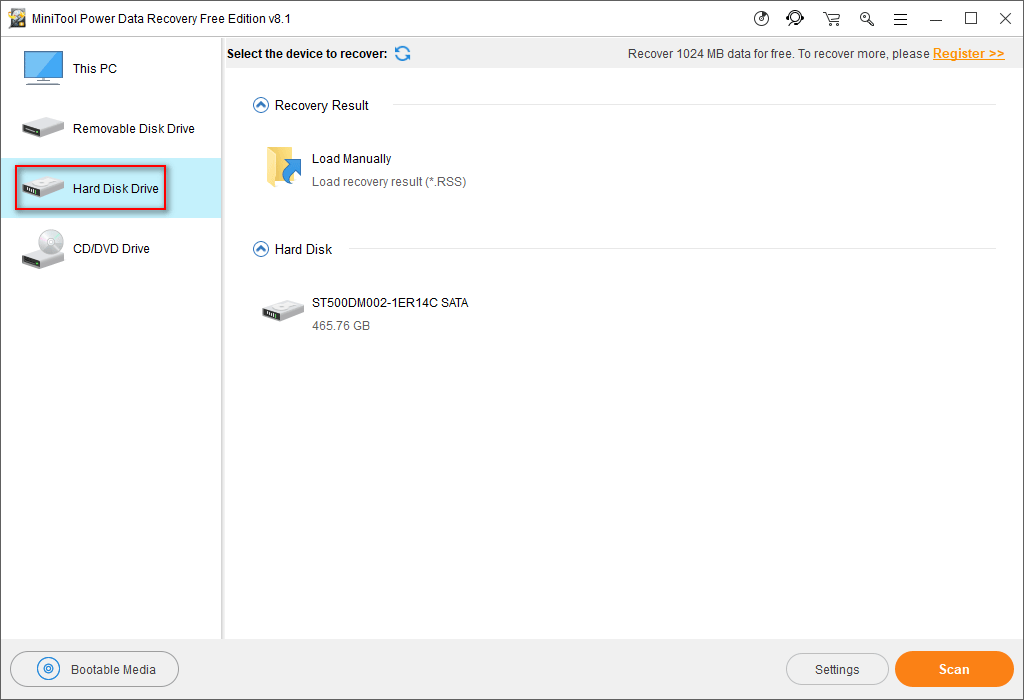 Here, you need to select the drive that is failed from the list. Afterwards, please click on the "Scan" button to search the lost/deleted files. Then, wait for the full scan.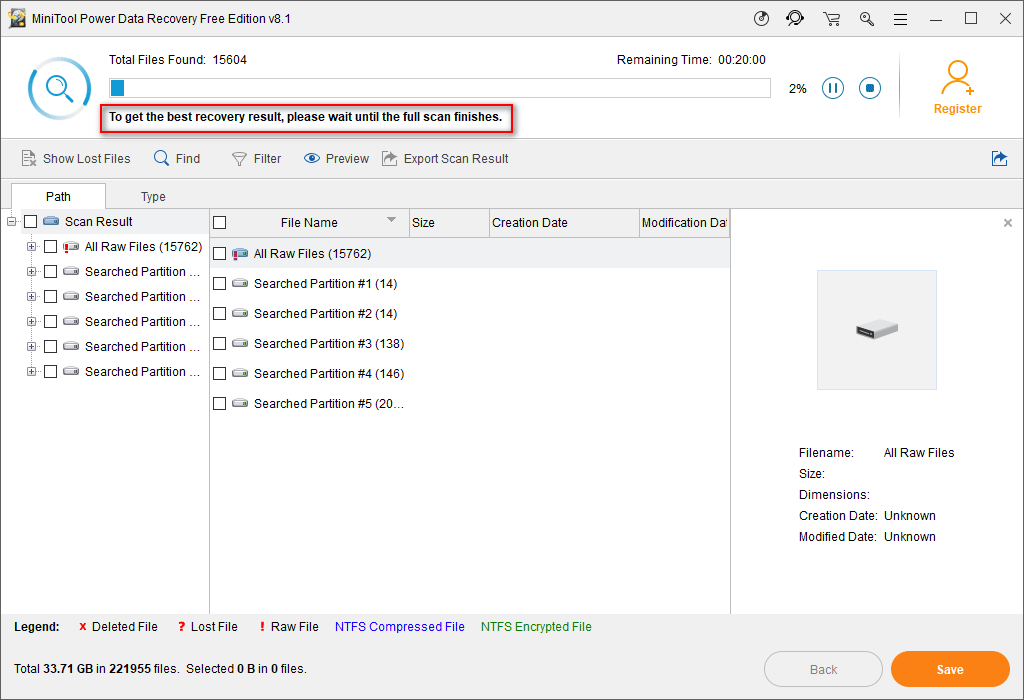 Step 3, after the scan has been finished, a lot of files and folders found by the software will be listed in order. At this time, you're expected to browse them carefully so as to pick out which are the ones you need and which are not. At last, please click on the "Save" button to recover them to another drive with enough free space.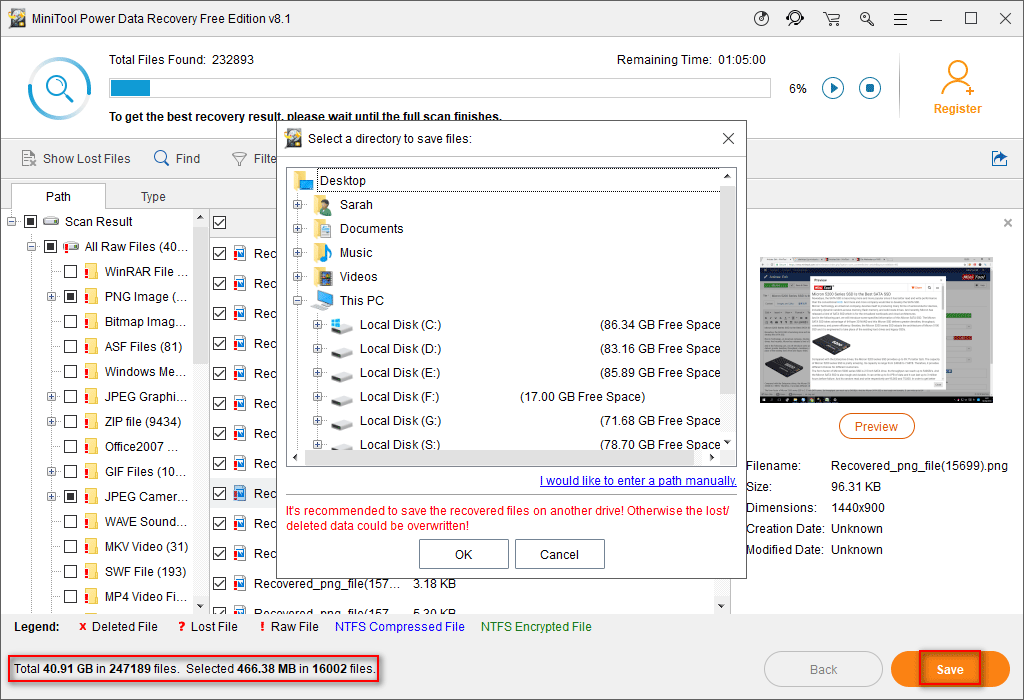 This method works for both internal hard drive failure recovery (when the computer is still running well) and dead external hard drive recovery.
Case 2 – Recover Data When Windows Won't Boot
If you can't enter your OS, as usual, you'll not be able to finish hard drive failure recovery by using the above method. Under such circumstances, you need the help of MiniTool Bootable Builder (which is a snap-in WinPE Bootable Builder included in some advanced license). Now, I am going to show you how to do the recovery work with the help of this tool.
Step 1, you need to find another computer that you can work on. Then, get a license that includes a bootable builder (take the Personal Deluxe as an example). After that, please install and register the software properly.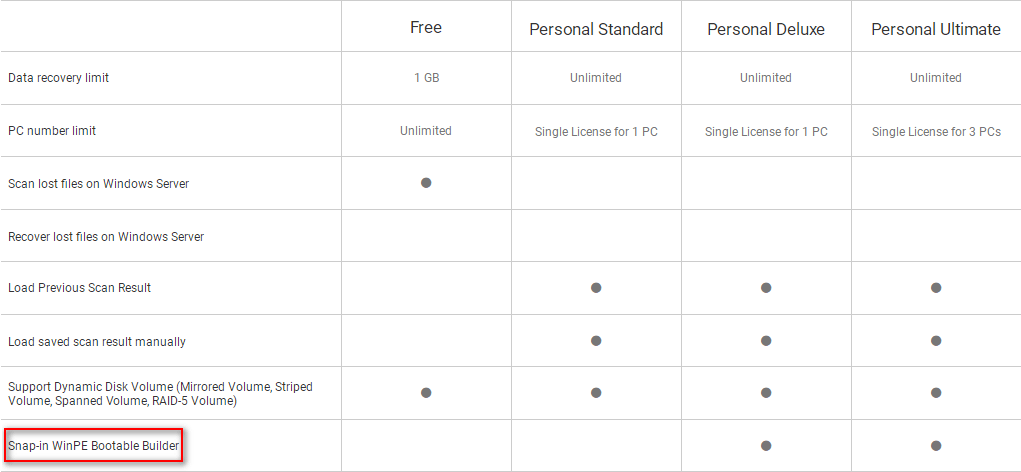 Step 2, you ought to start creating bootable disk by following ways.
Open the software and then click on the "Bootable Media" button in the lower left corner of the main interface.
Open the installation folder of the software to find and double-click on the "MTMediaBuilder" application.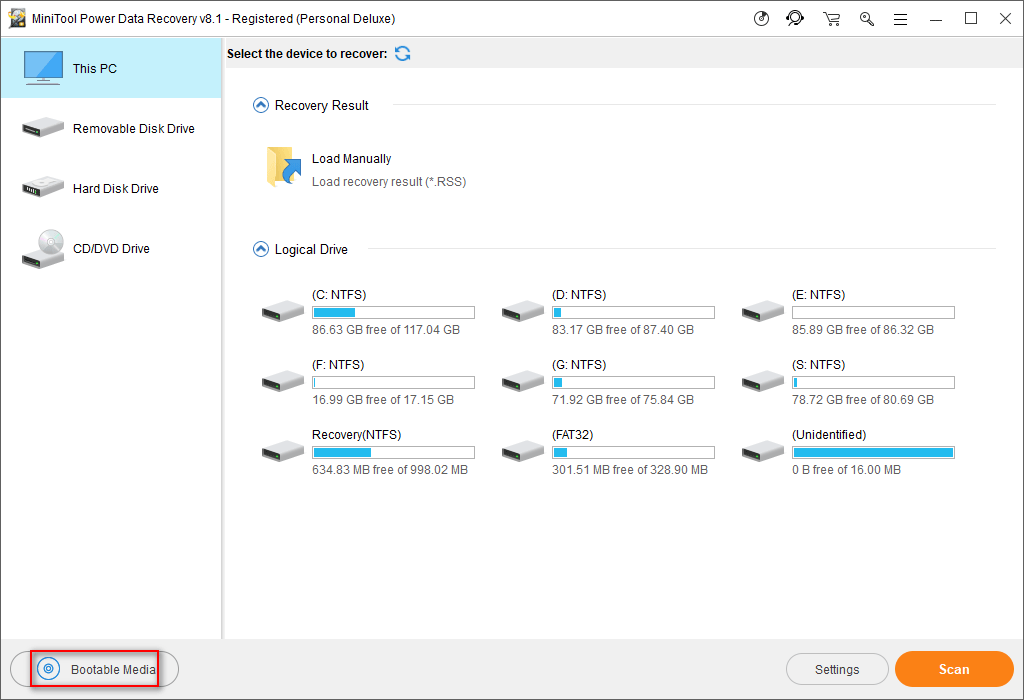 Step 3, you should select the media type in the following interface. Just click on it and you'll be brought to the next interface.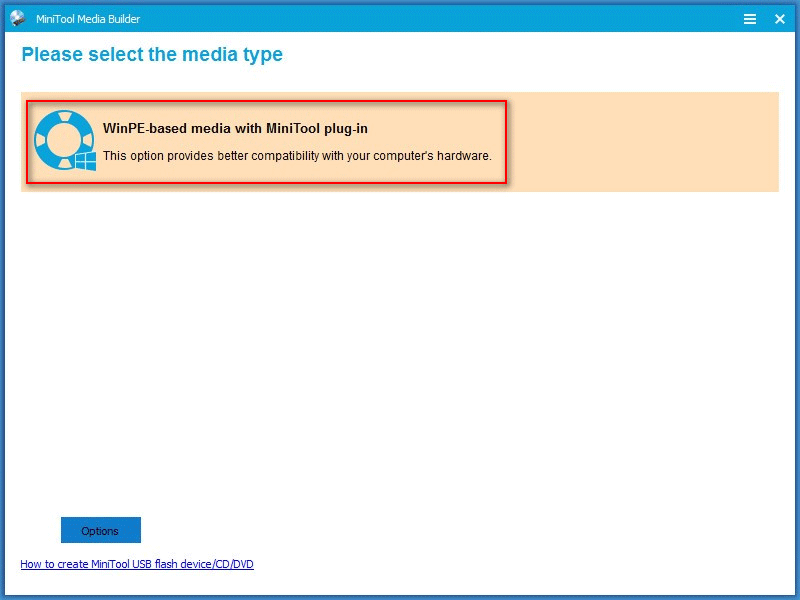 Step 4, in this interface, you need to choose the media destination.
ISO File
USB Flash Disk
CD/DVD Writer
Just click on one of them to continue (take USB Flash Disk as an example).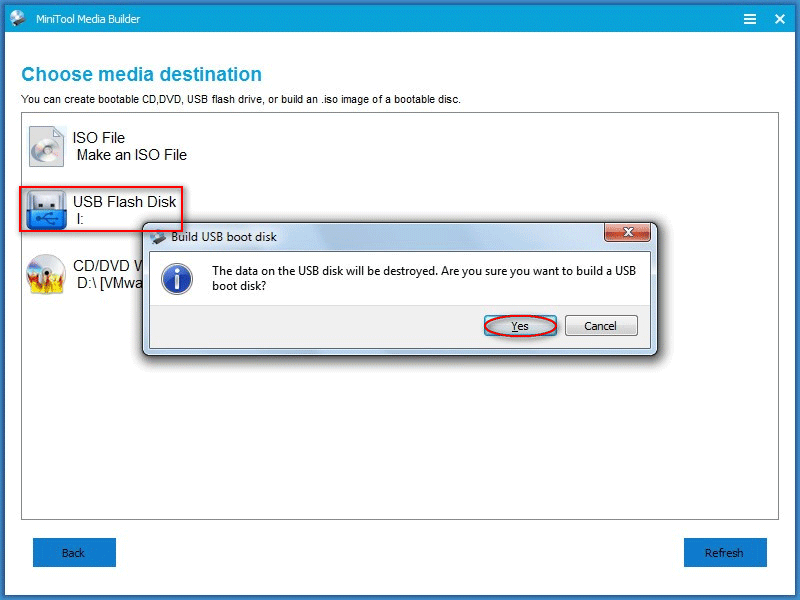 Attention!
A prompt window will pop up to inform you that the data on the USB disk will be destroyed, so you must confirm that there is no useful file on the USB disk. Otherwise, you should cancel this to back up data firstly and continue to make a bootable USB flash disk after that.
Please make sure that you have connected the USB disk to the computer properly before you opened this tool. If you forget to connect the USB flash disk, please connect it now and press "Refresh" button.
Step 5, click on the "Finish" button when you see the following interface, on which you can see the message – "WinPE files have been built".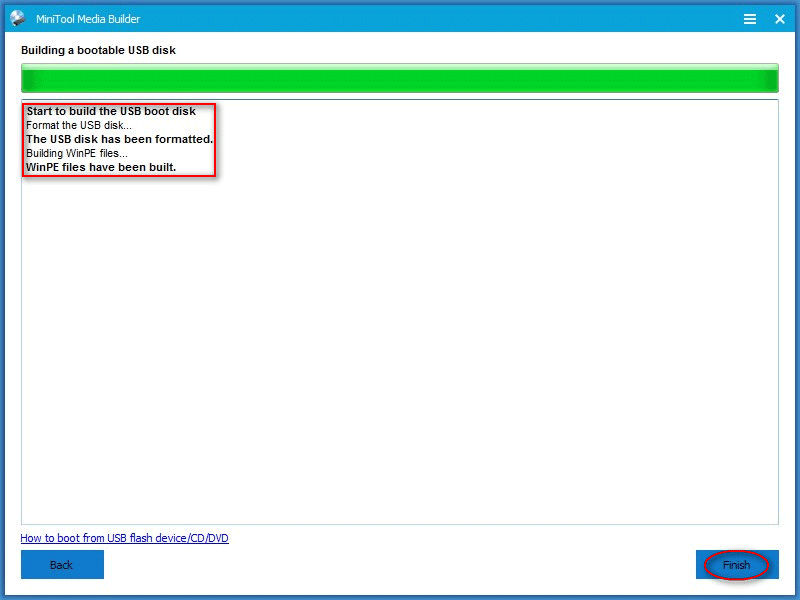 Step 6,
Eject your USB disk from the current
Connect it to your failed computer which can't boot successfully (you should also connect another USB disk to the computer in order to save the recovered files in step 9).
After that, restart that computer and press corresponding key to enter the BIOS window.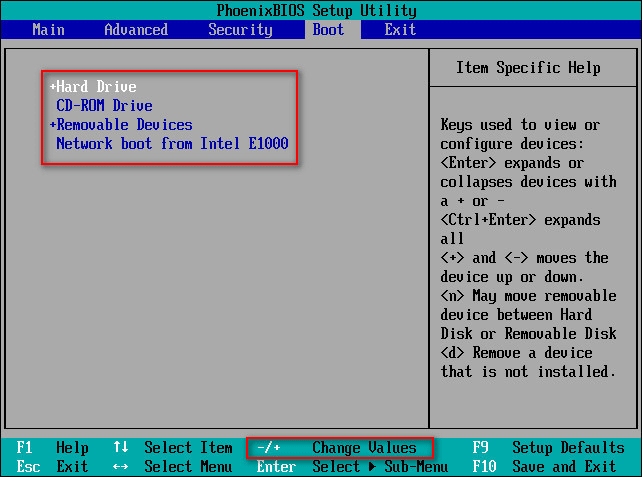 In the Setup Utility, you should do 2 things:
Change the boot order of device by pressing "+" and "–" button, in order to make your USB boot disk the first boot device.
After that, press "->" to select "Exit" and press "Enter" to see the Setup Confirmation window, in which you should choose "Yes" to confirm.
Step 7, the computer will be restarted automatically and after a while, you'll see the MiniTool PE Loader interface, as shown in the picture below.
Here, please click on "MiniTool Power Data Recovery" to see the software main interface.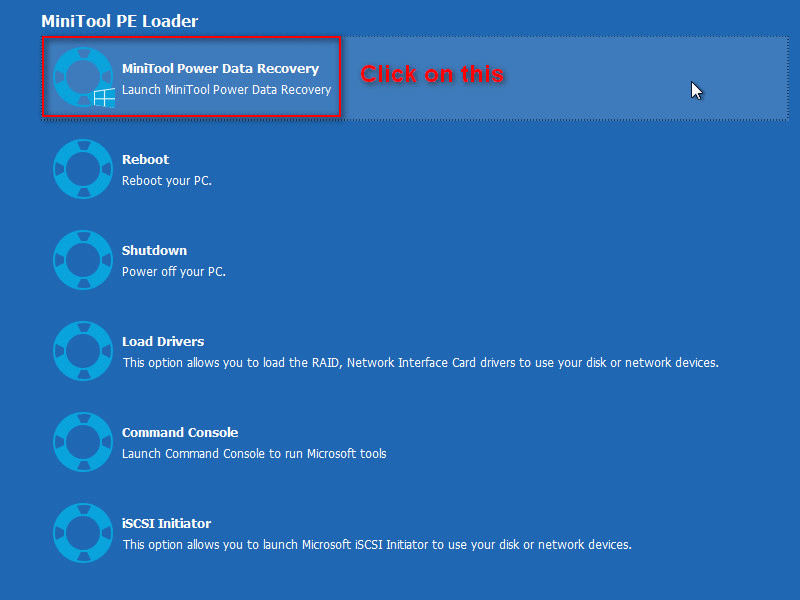 Step 8, choose the most suitable options from the main interface and then select the target drive to scan by pressing the "Scan" button. (see step 2 of case 1).
Step 9, after that, you'd better wait for the completion of the full scan (to get the best recovery result). And then, check needed files from the scan results and press the "Save" button to recover them.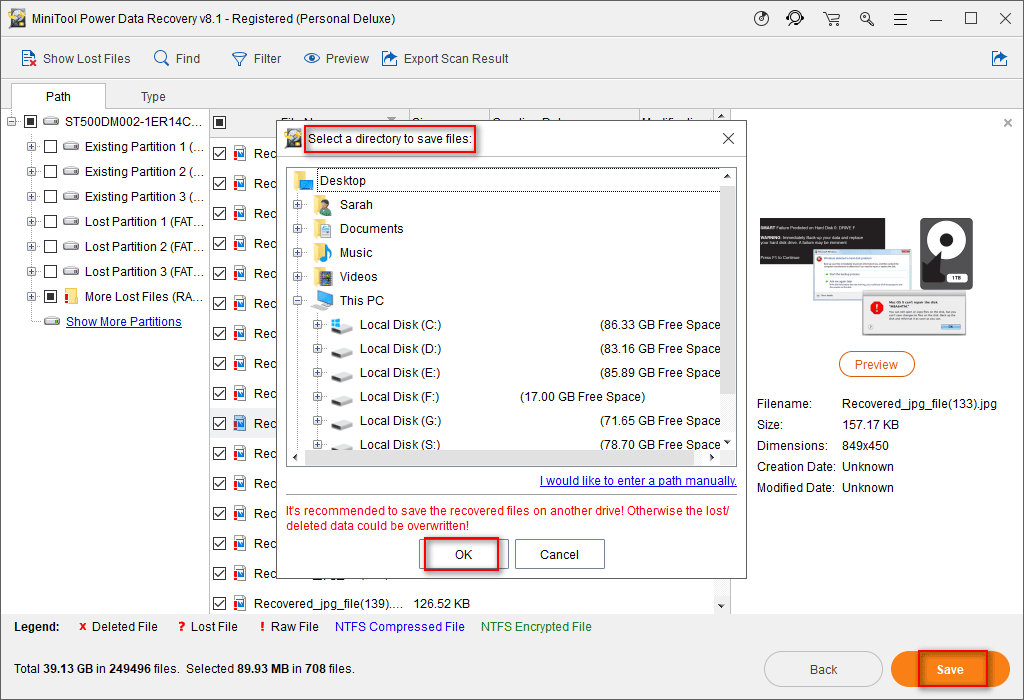 Attention!
You should select the mobile disk with enough free space as the directory to store the recovered files and then click on the "OK" button to confirm your selection.
This is the answer to questions like "how do I recover my files from a crashed hard drive". Please figure out your real situation firstly and then choose the method better for your case.
Top Recommendation
As for how to do hard disk failure recovery on Mac, please read 4 Useful Methods For Getting Files Off Failing Hard Drive On Mac; it tells all the details.
Part 4: Signs & Causes of Hard Drive Failure
Here, in this part, I'd like to invite you to learn more about hard disk failure.
What Happens If Your Hard Drive Fails
Do not think hard disk failure will never happen to you. As a matter of fact, it happens more often than you may think. The failure could be caused by a lot of factors, which can mainly be divided into 2 types:
Hardware failure
Software failure.
Either way, your data may still remain on the drive, not really lost. Besides, there is still hope for the recovery of your precious gigabytes of data that you have kept on the hard drive, only if you choose a correct data recovery solution.
Warning Signs
Files become messy codes or print out messy codes.
The name of files or folders is changed automatically.
Files or folders disappear for no reason.
Frequent/mysterious error messages, accompanied by typical activities like moving files.
Frequent, but irregular program crashes or disk errors.
A very long waiting time before accessing files and folders.
Strange noises coming from the drive, such as clicking or humming.
The overall strange behavior of the hard drive.
Top 6 Causes
Human errors. Both modifying settings improperly and wrong operations are the potential threats to a hard drive failure.
Heat. The poor ventilation or fault in the CPU fan could easily lead to abnormal heat, resulting in hard disk failure.
Electronic failure and power surges. Unstable power supply, too high or too low voltage will cause a hard drive to go bad.
Internal or mechanical fault. This includes bad sectors/blocks, moving parts degrading, virus attack, etc.
Files corruption. This could be caused by shutting down the computer improperly, closing programs accidentally, using faulty applications and software conflicts.
Firmware faults. This happens to new hard drives when manufacturers sell the device to customers without testing it carefully.
Some people can't figure out whether their hard drive is failing or has been failed; they may ask "how to check if my hard drive is working properly". On this occasion, a hard drive test is necessary; they should do the test and analyze the result carefully.
Part 5: Conclusion
Hard disk failure is not so horrible. When you, unfortunately, come across hard drive failure, please remember to calm down first. Then, take proper measures to finish the hard disk failure recovery as fast as you can. Believe it or not, you still have a great chance to recover all your lost data from HDD.
Hard Disk Failure Recovery FAQ
What happens when your hard drive fails?
When your hard drive fails, you may get an error message. Even if you didn't receive such message, you may hear a strange noise or find the drive become very slow when using. If the disk is used as a boot drive, you
can't boot to the operating system
.
How do I check the health of my hard drive?
You can open File Explorer -> right click on the hard drive -> choose Properties -> Shift to Tools tab -> click Check to check health on Windows.
You can also use the Command Prompt tool: Run Command Prompt as administrator -> type wmic & hit Enter -> type diskdrive get status & hit Enter.
How do I stop my hard drive from crashing?
Back up the hard drive regularly.
Be careful enough when using the drive.
Add regular monitor to the hard drive.
Defrag the hard drive when necessary.
Make sure the power supply is enough & stable.
Uninstall unnecessary applications & programs.
What is the lifespan of a hard drive?
The lifespan of each hard drive is different. But according to search, the average lifespan of hard drive is 3 to 5 years. BackBlaze's study shows that 90% of their tested hard drives last for only 3 years and about 80% of those hard drives can survive for four years.