Outlook is used widely throughout the world, so many people ask questions about Outlook usage. Recently, how to recover deleted files from Outlook catches the eyes of the public. Noticing this, I plan to write practical solutions to help people get out of trouble.
I know you have noticed this phenomenon – Microsoft Outlook is very popular among computer users and it is frequently used nowadays to manage emails easily. But I found many people asked on the internet about how to recover deleted Outlook files. This reveals a fact – file losing from Outlook is not a rare situation.
For both individuals and enterprises of all sizes, data is the most important thing through fair and foul. So it's reasonable all people will spare no efforts to recover deleted items in Outlook for Windows after they accidentally deleted the useful files (like *.ost and *.pst), isn't it?
Yet, the difficulties are:
Very few users have a clear understanding of what exactly the Outlook data files are.
They don't know what happens during the deletion of files.
They don't know how it could be possible to get back missing files.
Here, I'll solve your doubts one by one. Remember, please don't become anxious immediately after you accidentally deleted your OST (or PST) files in Outlook; I've got helpful solutions for you to restore Outlook OST file and repair OST file in Outlook 2010 easily.
In the next part of this passage, I'll introduce a marvelous OST recovery tool – MiniTool Power Data Recovery, with which you'll be able to recover deleted files from Outlook 2010 all by yourself. Besides, you'll get to know well about how Outlook files are accidentally deleted and how to easily repair Outlook data file. In the end, I'll offer more detailed information to help you understand OST & PST file better.
MiniTool Power Data Recovery TrialClick to Download100%Clean & Safe
Since Microsoft Outlook 2010 is one of the most popular versions, I decide to take it as an example to show you all how to recover Outlook OST file or PST file in the following content.
Now, say goodbye to the troublesome accidental deletion problems!
Recover Deleted Outlook Files – 100% Easy & Safe Ways
Don't know what to do? Please don't be depressed; follow the easy tutorial I am going to offer and you'll be able to get back the deleted Outlook files on your own.
As I have said before, I'll show you how to recover deleted OST file in Outlook 2010 in detail.
How to Recover OST File after Accidental Deletion
You should do the following things to recover the Outlook files you have deleted:
Run MiniTool Power Data Recovery.
Choose "This PC" from the main interface.
Select the drive that contains the Outlook files (usually C drive, the OST file is saved here by default unless you've changed its location).
Press the "Scan" button.
At last, check all OST files found by the software and press the "Save" to recover them to a safe location (you shouldn't save them to the original location). Click on the "OK" button to confirm.
Please note that the trial edition only allows you to scan the drive and preview the files found here! To really recover the deleted files, you need a license.
Well, if you need to recover other kinds of permanently deleted files, you can still use MiniTool Power Data Recovery (or MiniTool Mac Data Recovery for Mac platform). It is not only a wonderful choice for OST file recovery tool but also a mighty recovery tool suitable for most of the data loss cases.
How to Recover OST File after Virus Attack or Wrong Formatting
If you have moved the OST file from its original location to another one (maybe for the sake of better management), and then you suddenly find your OST file is deleted from the computer because:
You got attacked by a virus.
You accidentally formatted the drive where OST file is kept.
The OST file is lost due to unknown reasons.
At this time, you need to do the following things to recover the Outlook files lost due to virus attack or formatting:
Run MiniTool Power Data Recovery.
Choose "This PC" if the target drive is a local partition or "Removable Disk Drive" if the target drive is a mobile disk.
Select the target drive and press the "Scan" to detect lost files.
During the scan or after the scan was over, you also need to pick out the OST files you need and then press the "Save" button to set storage location for them.
Press the "OK" button in the directory selection window to confirm. Then, wait for the completion of recovery.
Please note the following things:
If you found the local drive that includes your OST file was missing, you may need to choose "Hard Disk Drive" instead.
If your computer failed to boot (internal hard disk corrupted) due to virus attack or unknown reasons, you'll need to make use of the Power Data Recovery Boot Disk.
Outlook Files Get Lost Suddenly
Specific Cases for Accidental Outlook File Deletion
Case 1:
Accidentally I deleted the file.ost, and now the outlook 2010 won't open and tells me that file.ost is not found. How can I able to recover the file .ost? I have tried to reinstall Microsoft office but it was in vain and the problem still occurs.– by 3awa2 on Microsoft Community
This problem is put forward by 3awa2 on Microsoft Community; this user came straight to his question – accidentally deleted OST file. Then, he mentioned the problem caused by it now – Outlook 2010 won't open. So his purpose is finding ways to recover OST file. He also mentioned that Microsoft Office reinstallation didn't work.
Case 2:
Can't install outlook missing .ost file; here is the full error message, Cannot open your default e-mail folders. The file c:/users/Greenchief/AppData/Local/Microsoft/Outlook/outlook.ost is not an Outlook data file(.ost)– by GreenChief on social.technet.microsoft.com/Forums
As you can see, this is posted by GreenChief on social.technet.microsoft.com/Forums. Apparently, his OST file is somehow deleted or damaged.
Case 3:
We would like to ask for tech support on how to recover deleted .ost file? We haven't backed-up the email, deleted the .ost file accidentally then when we open the MS Outlook, all the mails in the INBOX are gone… Any tools, free tools that can be use? Please advise, thank you!"– by Stiebel Eltron on Experts Exchange questions page
At the beginning of the post that I found on Experts Exchange, the user expressed a clear desire of OST file recovery. Obviously, the OST file is deleted accidentally and it drives this writer to ask for a free tool to help recover deleted Outlook files.
How Outlook Files Are Lost
I have to admit that it's very difficult to avoid unintentional improper operations like accidental deletion. As long as you use the computer, you tend to make mistakes and delete the useful files you need accidentally.
In addition to accidental deletion, problems like formatting the wrong drive with useful files & getting attacked by virus may also lead to the same problem – OST file gets lost suddenly.
However, the good news is though the wrong deletion happens now and then, it's not so difficult to recover deleted Outlook files. In addition, you're allowed to repair corrupt OST file with special ways and you're also able to regain OST file missing from virus attack or other unknown reasons.
How to recover files deleted by virus attack?
Tip:
When using Outlook or any other programs on the computer, you may be constantly confronted with virus infection issue. In such case, I strongly advise you to check data immediately and take actions to rescue files quickly if you find
files are corrupted suddenly
.
The top priority?
You need to stop using the Outlook (or even computer) at the very moment when you discover your mistake or sudden data loss. And then, you should run the powerful and reliable OST file recovery tool – MiniTool Power Data Recovery – to detect and recover your deleted Outlook data.
Well, I can't deny the fact that OST (or PST) file problems are ubiquitous. And you may fail to avoid it sometimes no matter how careful you are when using Outlook. Remember, don't be self-pitying, just cheer up and try the methods I've shown in the above content as quickly as you can.
Why Outlook Files Can Be Recovered
Regardless of the way in which the Outlook files are disappeared, you still have the chance to find them back. Why? Here are the reasons you need:
All the actions (deletion, formatting, virus invasion, etc.) will only be applied to the area which holds the detailed information of files (such as file size, a file starting location and file ending location); this will not bring much damage to the real content of deleted/lost/damaged files.
The space occupied by missing files will be released in Windows and marked as usable.
You're able to regain missing files before the real content has been overwritten by new data.
Stop all the things you're dealing with & run a reliable file recovery tool immediately is your best choice.
Outlook Files
Speaking of Outlook data files, I have to mention *.ost and *.pst, which are the two most significant files of Outlook.
Specifically, as a common kind of computer file formats, OST file has a particular sequence of SID to identify Outlook and Exchange mail account so as to associate the *.ost file with specific users. After you configured an Exchange email account to Outlook and selected the Exchange in cache mode, Outlook will synchronize the emails to the local *.ost file.

Note: The original *.ost file can only be opened in the original Outlook configuration file & exchange mail account configuration. So when you move OST file to another computer or try to open it in another Outlook configuration file, you'll end up in failure.
As I have said, the other significant file of Outlook is PST, which stands for Personal Storage Table.
A *.pst is an open proprietary file format used to store copies of messages, calendar events, and other items within Microsoft software such as Microsoft Exchange Client, Windows Messaging, and Microsoft Outlook. The open format is controlled by Microsoft who provides free specifications and free irrevocable technology licensing.– according to Wikipedia
OST File vs. PST File
A computer can save one or more PST files, while only one OST file can be stored on the same computer.
To be specific, PST file includes emails and other Outlook items; it is used by the most commonly used email account type (POP3 account). Outlook will download the emails of POP3 account from the mail server, and then save it to the computer local drive. So, the size of PST file is not limited by that of the mailbox on the mail server; and you can release the storage space of mailbox on the mail server by moving items to the local Outlook data file (.pst).
In contrast, OST file is used by most other account types (such as Microsoft Exchange Server, Outlook.com, Google Gmail and IMAP) except POP3. When you use these kinds of accounts, your emails, calendar, and other items will be sent to and stored on the server. Meanwhile, Outlook will download the synchronized copy of the emails and save it to OST file – the offline Outlook data file – on the computer, when the network is connected.
Top Recommendation:
If you accidentally deleted your emails in Outlook Express and now need to get them back, you should gain methods from Recover Deleted Emails Efficiently with An Amazing Tool, which tells more on how to recover deleted emails exactly.
By the way, you can choose to convert OST to PST according to needs.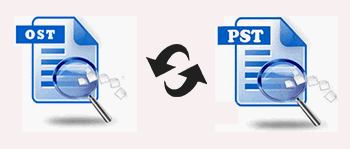 Reasons for Changing the Location of OST Files
After reading the above content, you may easily find the fact that OST files help us use Outlook when a network connection is unavailable. See, the *.ost file is so important.
I found some users choose to change the location of OST file on the local computer mainly due to the following reasons.
They suddenly realize the importance of the OST
They'd like to manage OST file more conveniently.
They want to release more free space in C drive, in order to improve computer performance.
Well, OST files become very easy to get lost during the transferring of files from one location to another, users' improper management and unintentional deletion. Besides, both the OST file and PST file may corrupt all of a sudden. In view of this, I decide to mainly focus OST recovery in the next part (PST recovery can also be completed by using the following methods in most cases).
Conclusion
Needless to say, Microsoft Office Outlook is a world famous email management tool. Since it is released by Microsoft, many people believe in it at the very beginning; they totally have no doubt about its security. Besides, with this tool, they can manage more than one mailbox conveniently.
Yet, problems can't be avoided and fatal data loss will be brought by:
Users' accidental deletion of useful files during computer usage
Virus/ransomeware attack
Sudden power failure
Drive can't be opened error
Other unknown reasons
Ransomeware prevention policy is provided.
So, what you need to do when accidents really happen are: don't be panic, stop using the computer and seize the time to choose a proper tool to recover deleted Outlook files. This can greatly enhance the possibility of a successful recovery job.