The Way to Preview Photos in MiniTool Photo Recovery
MiniTool Photo Recovery is a piece of professional photo recovery software that is used to retrieve lost and deleted photos, videos, and audios from computer hard drives, digital cameras, memory cards, SD cards, USB flash drives, and more.
It is very easy to operate this software to rescue data. Every ordinary user can use it smoothly. When entering the scan results, users can see the thumbnails of the scanned photos. However, some users still want to preview these items.
Fortunately, MiniTool Photo Recovery allows users to preview photos they want to restore. However, there are still some exceptions users need to pay attention to.
In the following content, we will show users how to perform photo preview with this photo recovery software. Meanwhile, some other related information is also introduced in this article.
How to Preview Photos in MiniTool Photo Recovery
Users can follow these steps to perform a photo preview in MiniTool Photo Recovery:
1. After entering the scan results interface, users will be able to choose the items they want to restore. They need to choose one data type from the left list and then the software will show them the detailed files in that type of folder.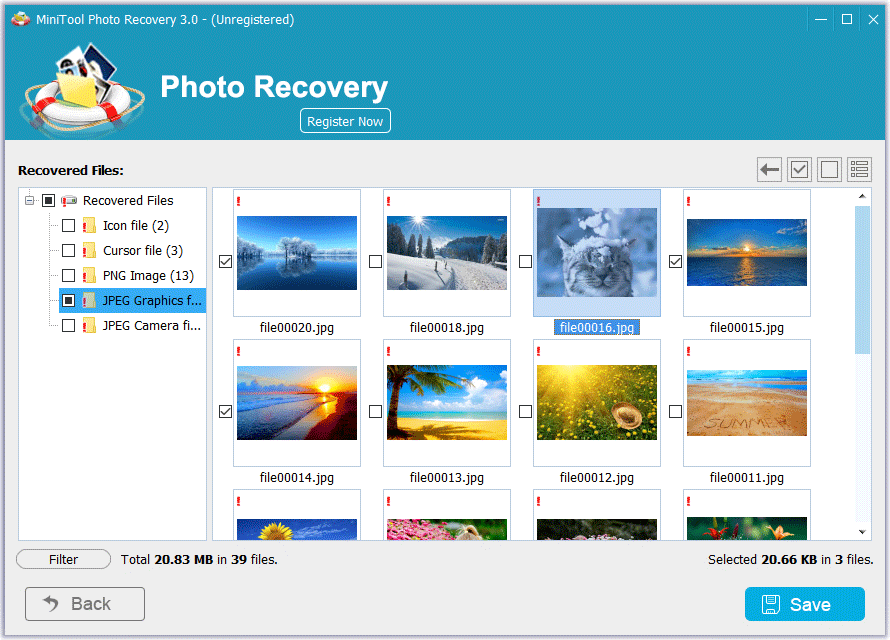 2. If users want to preview photos to make a further confirmation, they can just double-click on the selected photo and then the software will pop out a window on which users can see that photo with its full size.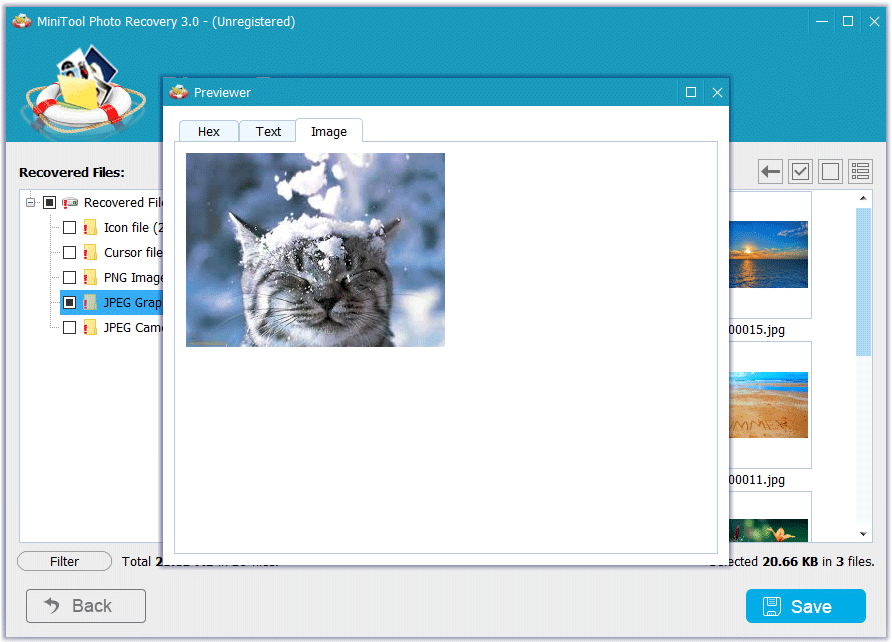 Sometimes, the full size of the selected photo is too large and users can only see a partial section of the whole image in the previewer window. In this situation, users can put the mouse cursor on to the image and then move left & right and up & down to view other parts of the picture.
Or, users can press the "Maximize" button on the previewer interface to make the software to show a larger size of the picture.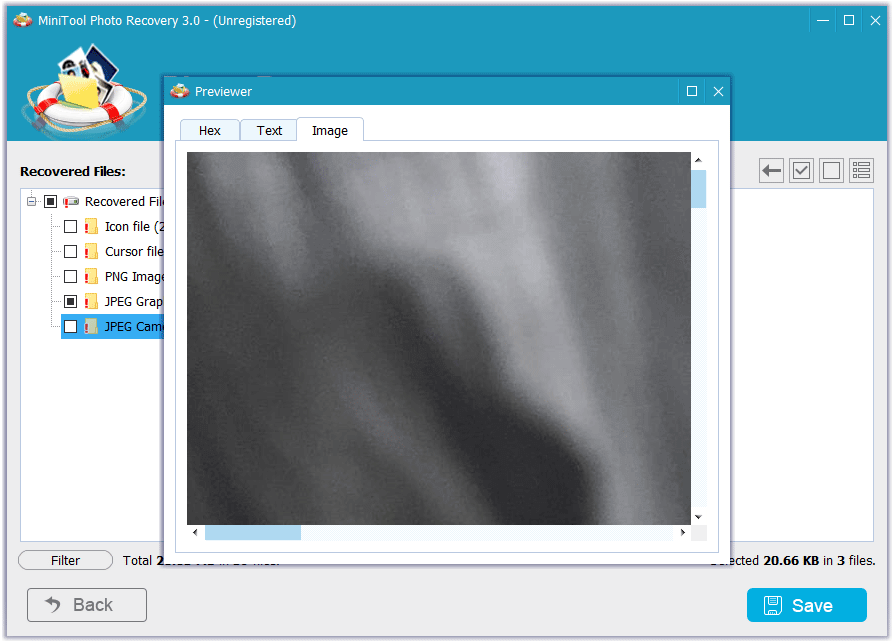 3. After previewing the selected photo, users can choose to recover it or not.
Some Unsupported Situations
MiniTool Photo Recovery doesn't support previewing all kinds and all sizes of the scanned files. For example, it can't preview the .cur, or the .ico files. On the other side, if the photo is larger than 20MB, users can't preview it either.
Here, we will introduce three common situations:
1. If the size of the selected item is larger than 20MB, this professional photo recovery software will show a message saying "MiniTool Photo Recovery cannot preview a file that big than 20 MB". Users should give up previewing such kind of photos.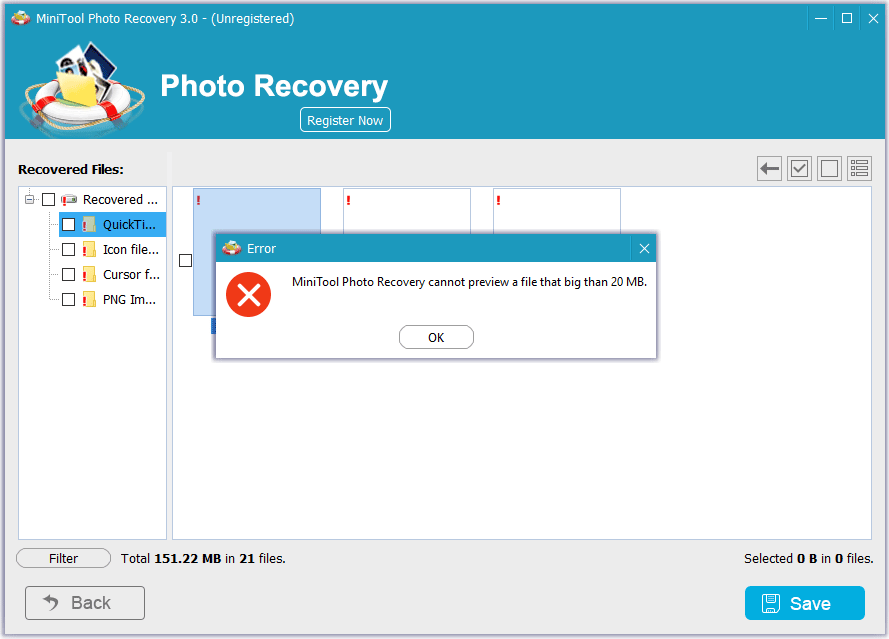 2. Currently, MiniTool Photo Recovery only supports previewing common types of image files, such as the .png files, .jpg files, and more. If users select other types of photos to preview, they will see a message (under the "Image" section on the previewer interface) saying "Image previewer does not support this file type".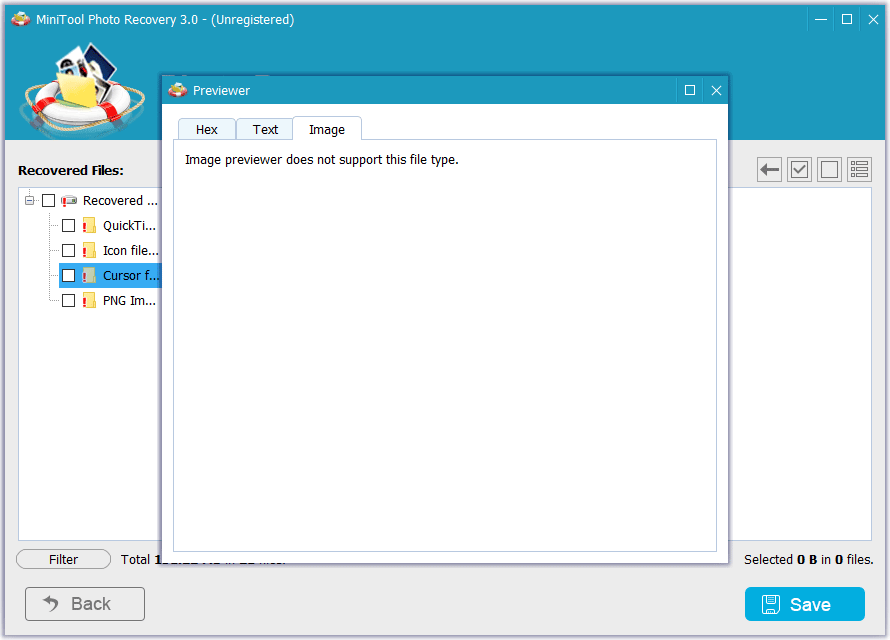 3. If the photo is damaged before recovery, this software will be unable to preview it either.