Load Previous Recovery Result on Windows
With MiniTool Photo Recovery, users can rescue the lost photos, videos, and audios from different kinds of data storage devices, including internal hard drives, external hard drives, SD cards, memory cards, USB flash drives, and more.
No matter which data loss situation users are facing, they can always use this tool to get their needed photos back.
When using this software, users can discover that if they use this software to scan a drive which contains numerous files, the scanning process will last for a long time. Indeed, it is a normal phenomenon.
No matter which photo recovery software users are using, it takes time to scan the whole files on the drive. The more files, the longer the scan time required.
However, MiniTool provides users with convenience as much as possible. There is a useful feature users should pay attention to and this feature is "Previous Recovery Result".
After using MiniTool Photo Recovery to scan the drive for the first time, users will discover that there is a "Previous Recovery Result" option on the drive display interface. What does it mean? How to use it? In this article, we will show users some related information about it.
About "Previous Recovery Result" in MiniTool Photo Recovery
This professional photo recovery software, MiniTool Photo Recovery, is able to save scan results automatically after fully scanning a device. With this function, users will not need to scan the whole device for the second time when they want to recover lost or deleted photos from the same data storage device again.
This feature can save a lot of time for users especially when there are so many files in the target storage drive. However, users should know that this software can only save the latest scan results.
Besides, if users want to load previous recovery result from a removable drive, such as an external hard drive, memory card, USB flash drive, SD card, and more, they should keep the normal connection between the computer and the removable drive.
No matter users are using the free edition of this software or a full edition, this feature is always available.
How to Load Previous Recovery Result
It is very easy to use the "Previous Recovery Result" option to load previous recovery result.
1. Open MiniTool Photo Recovery.
2. Click the "Start" button.
3. When users see the next interface, they can see that there is a "Previous Recovery Result" option in the first line of the drive list. The description of the information in that line tells users which partition they can load previous recovery result from.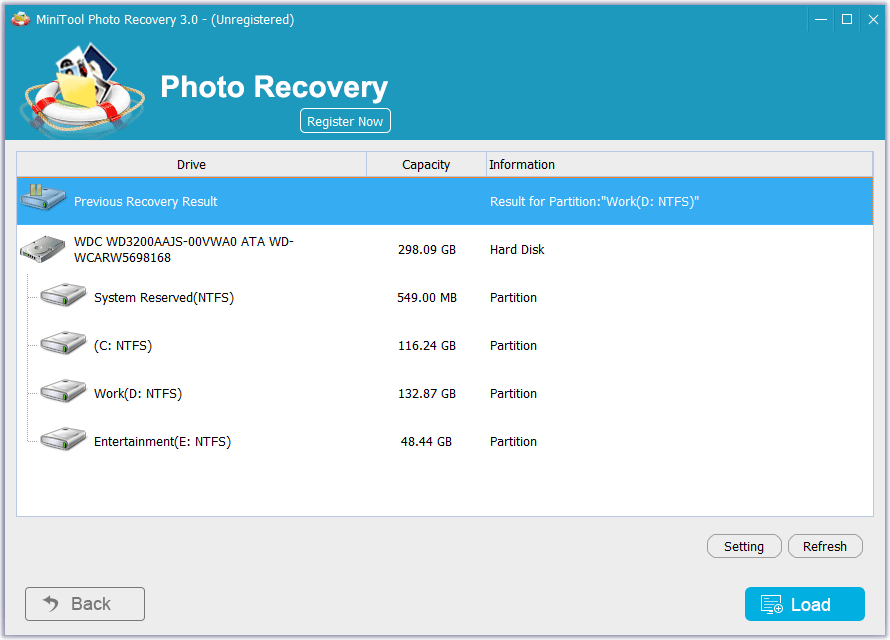 4. Choose the first line and then press the "Load" button. Then, the software will enter the last scan result directly.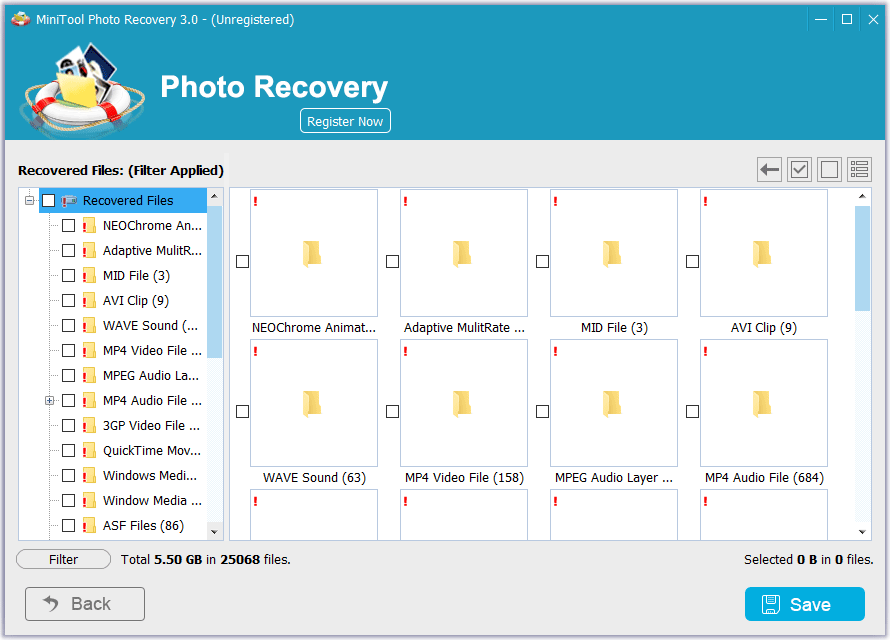 After entering the scan result interface, users can select their needed photos and then save them to a suitable path.
Why Failed to Load Recovery Result
As mentioned above, if users want to load previous recovery result, the target drive should be connected with the computer. Otherwise, they will encounter "Failed to load recovery result" error after pressing the "Load" button.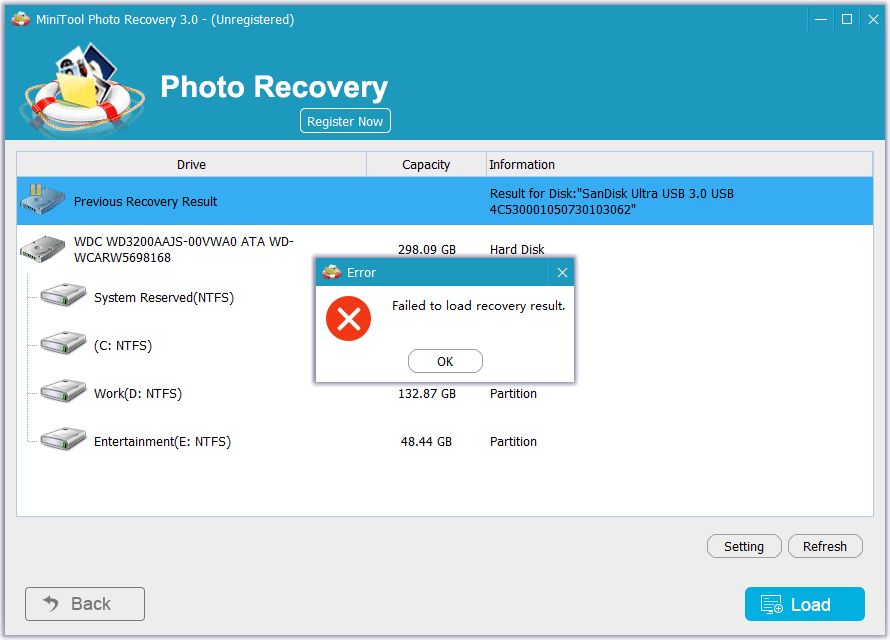 Users don't need to restart the software after connecting the drive to the computer. They just need to press the "Refresh" button to make the software recognize the drive.