This article explained by MiniTool Software Ltd mainly introduces AMD Chipset Driver for Windows 11, including its release notes, installation, uninstallation, as well as possible errors. Read the below content for details.
AMD Ryzen Chipset Driver 3.09.01.140 Release Notes
This release mainly highlights supporting the latest Windows 11 operating system (OS). The AMD Ryzen Chipset Driver installation package contains various independent drivers designed to support the below Windows systems. OS support may vary depending on your specific AMD product.
| | | |
| --- | --- | --- |
| Driver Name | Windows 11 | Windows 10 |
| AMD Ryzen Power Plan / AMD Processor Power Management Support | 6.0.0.9 | 6.0.0.9 |
| AMD PCI Device Driver | 1.0.0.83 | 1.0.0.83 |
| AMD I2C Driver | 1.2.0.118 | 1.2.0.118 |
| AMD UART Driver | 1.2.0.112 | 1.2.0.112 |
| AMD GPIO2 Driver | 2.2.0.130 | 2.2.0.130 |
| PT GPIO Driver | 2.0.1.057 | 2.0.1.0 |
| AMD PSP Driver | 5.17.0.0 | 5.17.0.0 |
| AMD IOV Driver | Not Applicable | 1.2.0.52 |
| AMD SMBUS Driver | 5.12.0.38 | 5.12.0.38 |
| AMD AS4 ACPI Driver | Not Applicable | 1.2.0.46 |
| AMD SFH I2C Driver | 1.0.0.86 | 1.0.0.86 |
| AMD USB Filter Driver | Not Applicable | 2.1.11.304 |
| AMD SFH Driver | 1.0.0.320 | 1.0.0.320 |
| AMD CIR Driver | Not Applicable | 3.2.4.135 |
| AMD MicroPEP Driver | 1.0.29.0 | 1.0.29.0 |
The following are some known disadvantages of AMD Ryzen Chipset Windows 11.
During the AMD chipset driver installation process, a Windows Installer popup may appear.
For non-English systems, you need to manually restart OS after AMD driver installation.
When uninstalling summary log, it may incorrectly show uninstall status as failure on non-English OS.
You may see a popup showing "AMD Chipset Software is not responding" when the installer is launched and the user interface (UI) screen is clicked.
Also read: What Is AMD GPIO Driver and How to Update It (4 Ways)?
AMD Chipset Driver Windows 11 Download
AMD Ryzen chipset drivers are available for download on the AMD drivers and support page. There, you can also install updates for AMD Radeon Graphics.
For Windows 11, 10, and 7, which is equipped with AMD Ryzen Chipsets, AMD Radeon Graphics, AMD Radeon Pro Graphics, and AMD Processors with Radeon Graphics Only, you can download the Combined Chipset and Radeon Graphics driver installer – Radeon Software Adrenalin and run it directly on the system you want to update. The installer will only download and install the components your system needs with a network connection.
If your system is not Windows 11, 10, 7 or for drivers/software for other AMD products like AMD embedded graphics, chipsets, etc., you need to select your product from the menu on the support page, click the SUBMIT button, then you will be redirected to the driver download page. The following screenshot is taken AMD X570 chipset driver Windows 11 for example.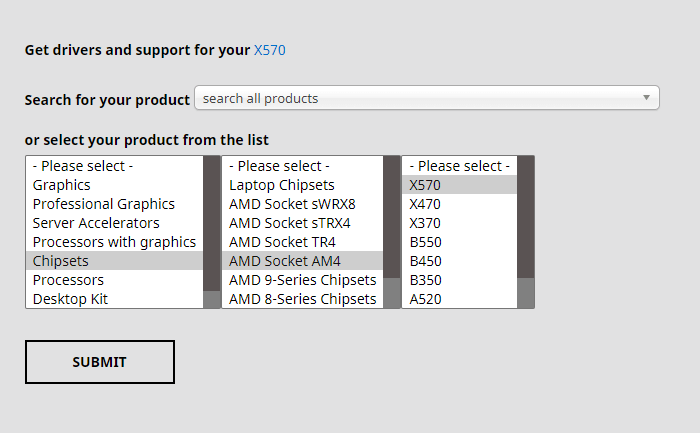 On the next driver download page, choose your OS to see a list of the latest drivers and software for your chipset. Click the DOWNLOAD button to get the target driver.
How to Install AMD Ryzen Chipset Drivers on Windows 11/10?
Chipsets, processors, and various drivers supported by the AMD Ryzen chipset driver package may vary relying on the version of Windows installed on the system. Click here for more information >>
Before installing Windows 11 AMD chipset driver, you are suggested to save and close all running programs and temporarily disable firewall and antiviruses to avoid potential conflicts. Besides, you have to sign in as an Administrator.
Find the downloaded AMD Chipset Software executable file and double-click on it to trigger the installation.
The .exe file will start extracting setup files and launch the AMD Chipset Software Installer.
The AMD Chipset Software Installer will show a set of supported drivers available to be installed. It is recommended that you keep all default selections of all items. Just click Install to start the installation.
Wait patiently until the process completes. Once done, click the Restart button to reboot your computer.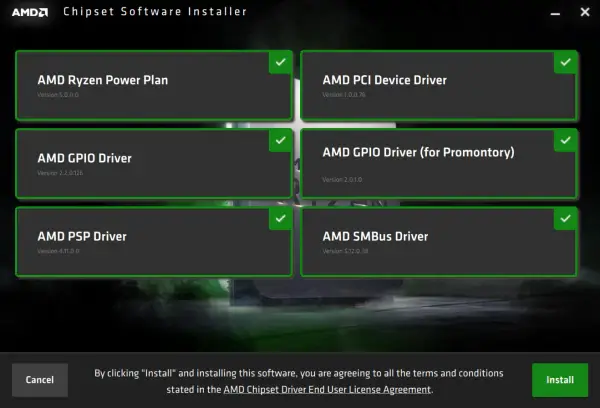 How to Uninstall AMD Ryzen Chipset Drivers?
If for some reason you don't need the AMD Windows 11 chipset driver anymore (outdated), or you want to perform AMD chipset driver update Windows 11 by reinstalling, you can use the following steps to delete the current AMD chipset drivers for Windows 11.
Uninstallation ensures a clean system and reduces errors or conflicts that may happen to the new installation. You are recommended to remove AMD chipset drivers within Control Panel. Using Device Manager or third-party tools may cause undesirable influences on the OS.
Navigate to Control Panel > All Control Panel Items > Programs and Features.
Find and double-click the AMD Chipset Software to open it.
The AMD Chipset Software Installer will list all AMD drivers on your PC. Keep the default selection of all drivers and click Uninstall.
Wait until it finishes. Then, click Finish.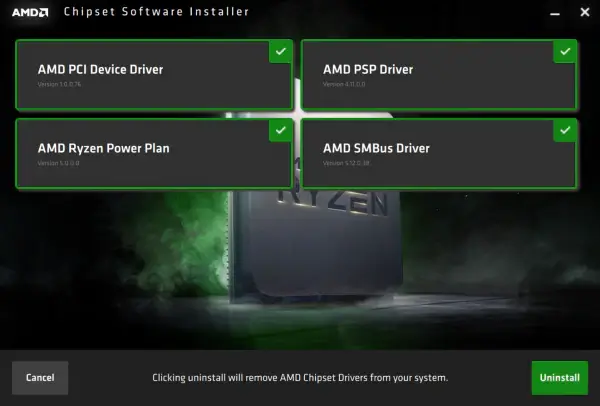 Note: Some chipset drivers like AMD GPIO drivers are crucial to the system's operation and won't be included in the uninstallation list.
Windows 11 Performance Issues in Certain Apps on Compatible AMD Processors
The following issues once appeared while using certain applications in Windows 11 build 22000.194 running compatible AMD processors. However, they have already been solved since October 21, 2021.
# Measured and Functional L3 Cache Latency May Increase
Programs that are sensitive to memory subsystem access time may be impacted. Estimated performance impact of less than 3%-5% in affected apps with possible outliers in some games. Windows 11 software update has been available to solve this problem under Microsoft knowledgebase ID 5006764. You can learn and download this update there.
# UEFI CPPC2 (Preferred Core) May Not Preferentially Schedule Threads on a Processor's Fastest Core
Software sensitive to the performance of one or a few CPU threads may show reduced performance. Performance influence may be more detectable in more than 8-core processors above 65W TDP.
An AMD Chipset Driver package has been available to address this issue under version 3.10.08.506. systems with this update applied will report AMD Chipset Software 3.10.08.506 or newer within the Apps & features interface of Windows 11 Settings or Programs and Features in Win11 Control Panel.
Note:
For AMD processors with the "Zen 3" architecture, systems configured with AMD Chipset Driver 3.10.08.506 or newer should report version 7.0.3.5 or newer for the AMD.Power.Processor.Settings entry in the Windows 11 Provisioning Packages interface.
For AMD processors with the "Zen 2" or "Zen+" architectures, systems configured with AMD Chipset Driver 3.10.08.506 or newer should have the AMD Ryzen Balanced power plan selected and active in the Control Panel > Power Options interface.
Windows 11 Assistant Software Recommended
The new and powerful Windows 11 will bring you many benefits. At the same time, it will also bring you some unexpected damages such as data loss. Thus, it is strongly recommended that you back up your crucial files before or after upgrading to Win11 with a robust and reliable program like MiniTool ShadowMaker, which will assist you to protect your increasing data automatically on schedules!