Update: The official Windows 11 is already available since October 5, 2021.
Have you heard of the next-generation Windows 11 by now? How much do you know about the new Windows? Do you get your official Windows 11? Have you been using the latest system?
If you haven't heard of the newest version of the operating system (OS) yet, just take a glance online and there are a bunch of articles that are introducing Windows 11 to you. Here in this essay, we will get you ready for the latest Windows 11 if you'd like to enjoy the new upgrade. We will tell you what to do and something you need to know before upgrading to Windows 11.
Step 1. Get Ready for Windows 11 Mentally
Although new editions always take advantage of the latest technologies, solve problems that happened in the old versions, and be fashionable, not all people want to abandon their current OS and hug the new one, at least not immediately.
Some users worry about the reliability and security of the new system. they are afraid of suffering from the update errors, bugs, problems, etc. unexpected accidents that Windows 11 will bring them. So, they would rather wait until they think the new version is generally stable.
What those people worry about is reasonable. According to the history of Windows upgrades, there did be many issues for each new version update.
Therefore, if you want to upgrade to Windows 11, you'd better be prepared for the potential problems. Can you accept the large chance of suffering from issues? What do you feel if you encounter problems while using Windows 11? Can you deal with or find help to handle the possible problems?
Even worse, how do you feel if your computer crashes running Windows 11 and you lose crucial data? Maybe finally you have to go back to Windows 10 or your previous version of Windows; how do you think?
If you have all the above questions considered and still decided to shift to Windows 11 as soon as it's available, just move to the next step!
Step 2. Get ready for Windows 11 by Checking the Compatibility
To prepare for installing Windows 11, first of all, you need to check the hardware and software of your current computer for compatibility for Win11.
In general, there are two methods for checking whether your PC is compatible to run Windows 11: use the officially recommended PC Health Check app or manually figure it out by yourself.
No matter which way you choose, before checking, it's necessary to know the minimum system requirements for Windows 11:
CPU: 1 GHz with 2 cores or System on a Chip (SoC).
RAM: 4 GB
Capacity: 64 GB
Firmware: UEFI and Secure Boot
Trusted Platform Module (TPM): version 2.0
Graphics card: DirectX 12 compatible with WDDM 2.0 driver.
Display: >9" with HD Resolution(720p), 8 bits per color channel.
Internet connection: Internet connectivity is necessary to perform updates and to download and use some features.
If your old machine doesn't meet the minimum system requirements, further preparations are needed. If it is the software of your computer that fails you, you can upgrade it or install the newest version of the software to make it eligible.
If it's the hardware of your PC that fails to meet the requirements, I'm afraid that you have to you need to replace the failed parts with advanced ones. Probably, you will need to buy a whole new PC.
You can purchase a PC currently with Windows 10 installed and upgrade from Win10 to Win11 when Windows 11 comes out. Or, you can just wait and buy a new machine with Windows 11 pre-installed later in 2021.
Step 3. Get Ready for Windows 11 Through Backing up Your PC
If I upgrade to Windows 11, what will happen to my files?

By default, all your files and data will transfer. However, we recommend backing up your files before installation.Source: https://www.microsoft.com/en-us/windows/windows-11
Microsoft recommended its users back up files to OneDrive. Yet, the free storage of OneDrive is only 5GB. If you have more files than 5GB, what should you do? Generally, there are two ways, subscribe for more OneDrive storage or back up crucial files to local storage.
If you don't want to pay for extra OneDrive storage, you can sync the most frequently used files to OneDrive and sync less frequently used files to a local location with a reliable program like MiniTool ShadowMaker.
MiniTool ShadowMaker TrialClick to Download100%Clean & Safe
1. Download, install, and start MiniTool ShadowMaker on the computer you are going to install Windows 11.
2. If it asks you to buy, just click Keep Trial in the upper right of the screen. Or, you can get the free version.
3. When it enters its main interface, click Sync on the top menu.
4. In the Sync tab, click both Source and Destination modules to select the files you want to sync and where you'd like to save the synced files respectively.
5. Click the Schedule button in the bottom left, switch on the schedule settings in the popup, and choose a synchronization frequency you prefer.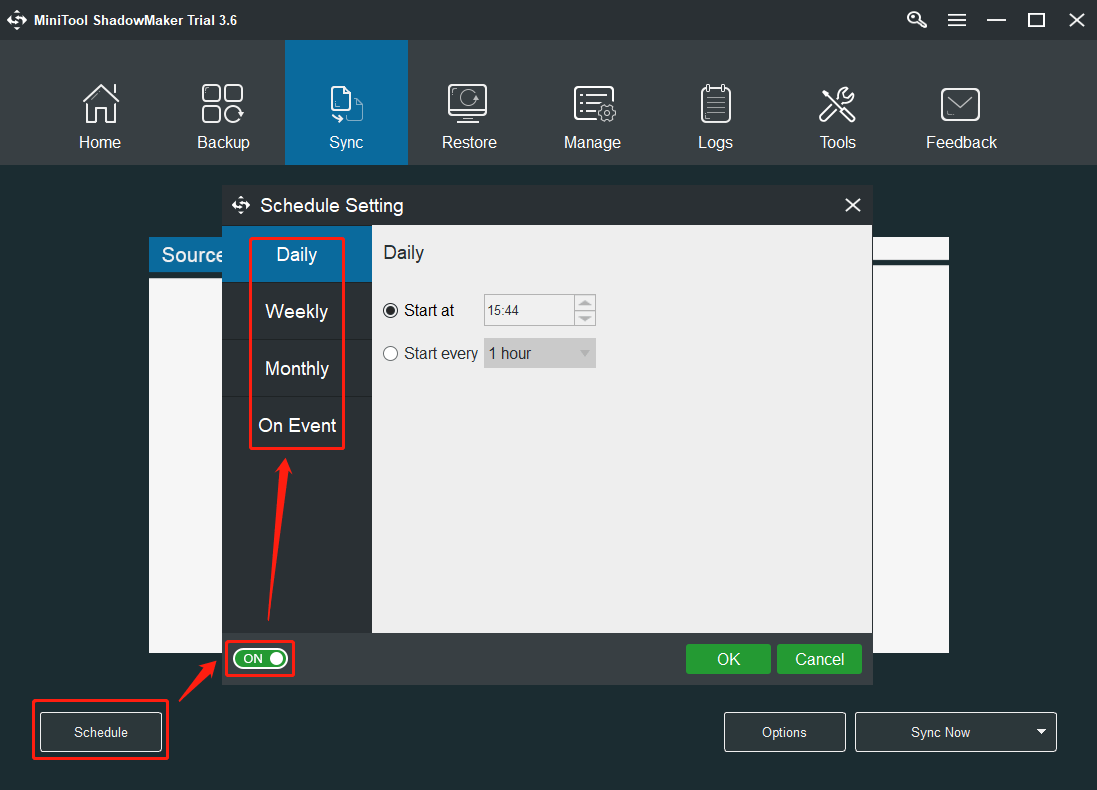 6. Finally, click Sync Now to carry out the initial sync.
Now, you are ready for data protection during upgrading to Windows 11.
Step 4. Get Upgrade-Ready for Windows 11 with Money
Is upgrading to Windows 11 free of charge? Yes only if you are running the latest Windows 10 and your computer is compatible with Win 11.
If you want a fresh installation of Windows 11, you probably need to buy a Windows 11 installation media. How much does Windows 11 ISO cost? Unknown yet.
Of course, it cost more if you buy a new PC that has Windows 11 pre-installed.
Step 5. Be prepared for Windows 11 with Time
Besides money, another thing you need to pay for getting Windows 11 is time.
If you want to experience Windows 11 before others, you can join the Windows Insider program. Just spend time signing into the program and installing the upgrade.
Even if you wait until the official release of Windows 11, it still requires some time to install the new version. Place an order for a new PC online also costs some time.
Windows 11 is already available, get ready for it!