What if you're having a PC that supports only Legacy BIOS? Can you install Windows 11 on it or not? Luckily, you can make it possible to install Microsoft's latest version of operating system on a PC without Secure Boot and TPM 2.0. MiniTool Solution offers this article to tell you how to install Windows 11 in Legacy mode.
Microsoft has released the exact system requirements for Windows 11 as soon as the new system announcement. Users can take a look at the requirements page to see whether their processor, RAM, storage, system firmware, TPM, graphics card, display, and internet connection and Microsoft accounts support Windows 11.
Can You Install Windows 11 on Legacy BIOS
According to the official system requirements from Microsoft, your computer should be UEFI with Secure Boot and TPM (Trusted Platform Module) 2.0 for installing Windows 11. However, many users' computers use Legacy BIOS and don't support Secure Boot. Does this mean they won't be able to install Windows anymore if the PC doesn't meet the Windows 11 BIOS requirements and TPM version requirement? Of course not. They can still install Windows 11 on Legacy BIOS.
As for the detailed steps to install Windows 11 in Legacy mode, they will be explained in the next section.
Tip: You'd better back up your current system or at least the important data on the hard disk before trying to install Windows 11. In this case, you can restore your PC to the previous system or restore the data easily if any problems occur. Besides, you should prepare a powerful and safe recovery tool so as to use it to recover lost files and folders in time.
MiniTool Power Data Recovery TrialClick to Download100%Clean & Safe
How to Check Whether Your PC Supports Windows 11
Some users may don't know the exact hardware information of their PC or don't want to look at the Windows 11 requirements in detail. For them, the Windows PC Health Check tool released by Microsoft is a good choice. They can download, install, and run the PC Health Check tool; then, it will check the hardware on computer for you to see if it meets the requirements.
You'll get the "This PC can't run Windows 11" error.
Here's why:
The PC must support TPM 2.0.
The PC must support Secure Boot.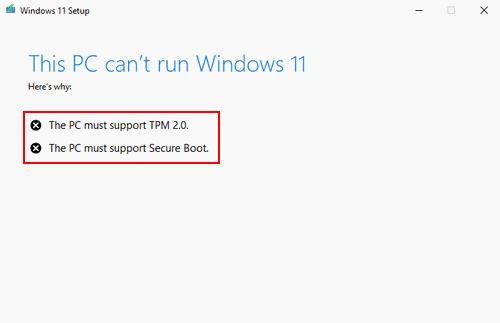 How to check if your CPU is supported by Windows 11?
How to Install Windows 11 on Legacy BIOS without Secure Boot or TPM 2.0
Some people are using the older computer with the Legacy BIOS Mode and don't have the option to enable TPM 2.0. Don't worry if the PC Health Check tool says Windows 11 can't run on this PC. There are two methods for you to bypass the Windows 11 Secure Boot and TPM 2.0 requirements.
Do you want to try Windows 11 online?
#1. Boot Install in Legacy Mode by Replacing Windows 11 ISO File
First, make sure you have the following things:
Windows 11 ISO file
Windows 10 bootable USB drive
USB flash drive with at least 8GB of storage
Computer running Windows 10
How to install Windows 11 BIOS:
Navigate to the Windows 11 ISO file.
Right click on it and choose Mount.
Open the mounted ISO image and open the sources folder inside.
Look for the install.wim file, select it, and press Ctrl + C.
Connect the bootable Windows 10 USB drive to PC and open it.
Also, find and open the sources folder inside.
Press Ctrl + V to copy the install.wim file you've copied.
Click Replace the file in the destination in the pop-up dialog window.
Reboot your computer into BIOS and enter the boot menu.
Change the boot device order: adjust your bootable USB drive to be the first option.
Exit BIOS and save changes.
Your computer will restart and you'll be asked to select and install a Windows 11 version.
What Is HP Boot Menu? How To Access Boot Menu Or BIOS?
#2. Bypass Secure Boot and TPM 2.0 Check by Editing Registry
Press Windows + R to open Run.
Type regedit and click OK.
Click Yes if you see a User Account Control window.
Copy and paste this into the address bar of Registry Editor: Computer\HKEY_LOCAL_MACHINE\SYSTEM\Setup. Then, press Enter.
Right click on the Setup folder and select New -> Key.
Name the new key as LabConfig and keep it selected.
Right click on the blank space in the right pane and select New -> DWORD (32-bit) Value.
Name it as BypassTPMCheck.
Repeat step 7 & 8 to create a BypassSecureBootCheck DWORD value.
Double click on BypassTPMCheck -> change the Value data to 1 -> click OK.
Double click on BypassSecureBootCheck -> change the Value data to 1 -> click OK.
Close the Registry Editor and restart your computer.
That's how you can install Windows 11 on unsupported PC. Also, you can install the new OS on a virtual machine: