The keyboard is one of the most vital devices on your computer that can help to put information including letters, words, and numbers into your computer. However, searching on Google, you will find that users often encounter keyboard-related issues, such as the keyboard keeps typing on its own, or the keyboard typing in all caps.
Today we are going to talk about another keyboard issue - the keyboard is not working in Chrome/the on-screen keyboard is not working in Chrome.
How to Fix Keyboard Is Not Working In Chrome Windows 10/11
Solution 1. Try Basic Troubleshooting Methods
When you facing the "keyboard is not working in Chrome" issue or other keyboard problems, you need to try the basic troubleshooting steps first of all.
For example, you can reboot your computer to check whether the issue has gone. And, you can end the Google Chrome task in Task Manager and then restart Google Chrome to check if you can type as normal.
Solution 2. Use Incognito Window
Incognito mode is an internet browsing mode. When using an incognito window for Chrome, none of your browsing history, cookies, and site data are saved on your device. It can help you determine if browsing data is causing the keyboard not to work in Chrome.
To open an incognito window in Chrome, you need to click the three-dot icon in the upper right corner of Chrome and select New incognito window.
Solution 3. Disable Google Chrome Extensions
Google Chrome extensions can help to extend the functionality of your browser. However, some extensions may interface with the Chrome process and cause the Chrome keyboard not to work. So, you can disable them one by one to find out which is the problematic one, then you can remove the unnecessary extensions from Chrome.
You can view the extensions list in Chrome by clicking the three-dot icon and choosing More tools > Extensions.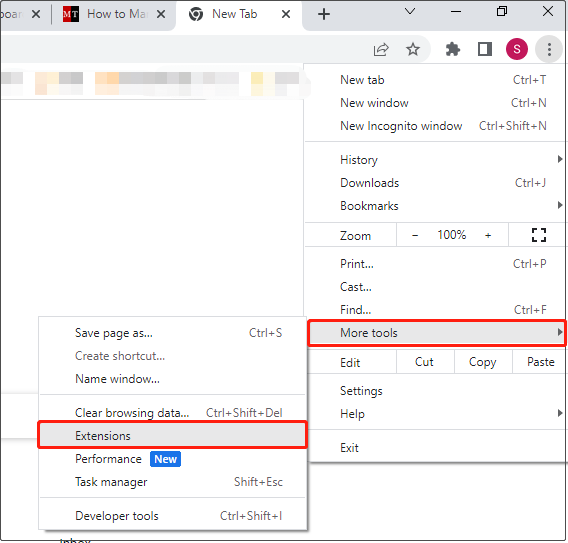 Solution 4. Disable Hardware Acceleration
Hardware acceleration offloads the execution of certain task processing from the CPU to the GPU. Enabling hardware acceleration in Chrome is beneficial to improve browser performance, but at the same time, it may also cause the keyboard to be unavailable in Chrome.
So, in this situation, you need to disable hardware acceleration.
Step 1. In Chrome, click the three-dot icon to choose Settings.
Step 2. In the left panel, move on to the System tab, then turn off Use hardware acceleration when available.
Step 3. Click the Relaunch button to restart Chrome and apply this change.
Solution 5. Scan for Viruses
Viruses can be responsible for the "keyboard is not working in Chrome" problem as well. So, you can use some antivirus software to scan your computer for viruses or malware. Windows Defender is the built-in antivirus in Windows that can help you scan for and remove viruses.
Top Recommendation
In addition to preventing the keyboard from not working in Chrome, viruses can also lead to data loss in Windows. To recover files deleted by viruses, you can try MiniTool Power Data Recovery, the best free data recovery software.
MiniTool Power Data Recovery offers you clear interfaces that make it easier and faster to perform data recovery.
MiniTool Power Data Recovery can help to restore the missing Pictures folder, retrieve files when you cannot restore them from a previous version because of the "there are no previous versions available" error, and so on.
Now download MiniTool Power Data Recovery to have a try.
Bottom Line
When your keyboard is not working in Chrome, just try the methods above. If you have found any other good solutions to fix this issue, please feel free to let us know by leaving your comments. Thank you in advance.