Windows Pictures folder is missing
? Do you know where the Pictures folder location is and how to restore the Pictures folder in Windows 11/10? If not, you've come to the right place. In this post from
MiniTool
, you will see how to find the missing Pictures folder.
The Pictures folder missing in Windows 11 is not an unusual problem. Many users have found that their Pictures folder disappeared, and here is an example from Microsoft:
Trying to relocate the Pictures folder to my D: drive, I accidentally used the backslash as the first character and now the Pictures folder in Explorer is not showing up. I tried the restore and got failed to build the list of regular subdirectories under D:\System Volume Directories.

answers.microsoft.com
Facing this issue, you may wonder: why has my Pictures folder disappeared? Now keep reading to find the common reasons for this problem.
What Is the Windows Pictures Folder & Why Is It Missing
The Pictures folder is an integral part of the user profile in Windows and is used as the default storage location for saved pictures, images, and screenshots. There are many reasons for the Pictures folder missing. Here are the most common causes.
The Pictures folder was deleted by mistake or deleted by viruses. Here you may be interested in this paper: Fix Windows Deleting Files Automatically & Recover Data.
The location of the Pictures folder has been changed.
The Pictures folder was hidden.
You have logged into the wrong user account.
How to Find the Missing Pictures Folder
According to the different reasons mentioned above, now we list the following corresponding solutions to help you find the missing Pictures folder effectively.
Way 1. Restore the Default Location of the Pictures Folder
The default storage location of the Pictures folder is C:\Users\username\Pictures. In general, you can find it under the This PC section in File Explorer. If you have changed this location, you may not see the Pictures folder in its default location path.
So, to view the Pictures folder again, you need to restore its default location by following the steps below.
Step 1. Press Windows + R key combinations to open the Run window.
Step 2. In the input box, type shell:My Pictures and press Enter.
Step 3. Now you are navigated to the Pictures folder, then you need to right-click any blank area in this folder and select Properties to open the file or folder properties.
Step 4. In the properties window, move on to the Location tab, and click the Restore Default option as shown in the figure below. Finally, click OK to save your changes.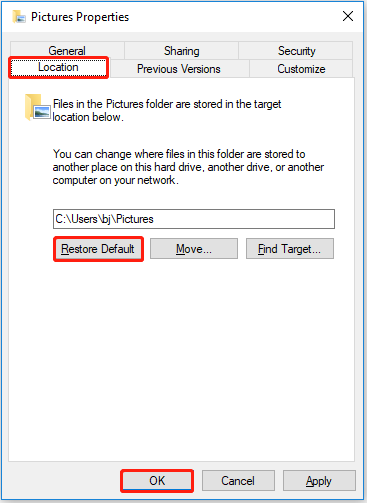 Now you can navigate to the default location of the Pictures folder and check whether your Pictures folder and pictures are there.
Way 2. Show Hidden Files
Windows allows you to hide files, folders, and drives and configure hidden files, folders, and drives not to be displayed. So, if you hide the Pictures folder, you will encounter the "Windows Pictures folder is missing" issue. To show the hidden Pictures folder, you need to adjust the File Explorer settings.
Step 1. In the Windows search box, type show hidden files and folders, then click it from the best match result.
Step 2. In the pop-up window, check the checkbox next to Show hidden files, folders, and drives. Then click OK to apply this setting.
Way 3. Switch an Account
Sometimes the Pictures folder is missing only because you are logging in to a different user account. In this case, you can switch to the right account to get the Pictures folder and pictures on it back.
For detailed methods to switch your user account, you can read this article: How to Switch Users on Windows 10 Without Logging Off.
How to Restore the Missing Windows Pictures Folder
If your Pictures folder or pictures on it still do not show up by applying the ways listed above, they may be deleted. To restore the missing Windows Pictures folder and missing pictures, you can try the methods below.
Method 1. Restore the Windows Pictures Folder From the Recycle Bin
Deleted files and folders from your internal hard drives will be stored in the Recycle Bin temporarily. So, as long as you do not empty the Recycle Bin, you have a chance to get lost data back. The steps to recover deleted files from the Recycle Bin are very easy.
Step 1. Double-click the Recycle Bin icon on your desktop to open it (If you do not want to go back to the desktop every time, you can add the Recycle Bin to the File Explorer).
Step 2. Find and right-click the wanted pictures to select Restore. Then the selected images will be recovered to the original locations where they were previously.
Method 2. Restore the Windows Pictures Folder Using MiniTool Power Data Recovery
If you cannot restore the pictures from the Recycle Bin because you have emptied the Recycle Bin or Recycle Bin is grayed out, you can use a piece of free data recovery software to restore the lost or deleted Pictures folder and pictures from it.
MiniTool Power Data Recovery is such a professional and green data restore tool that can help to recover deleted pictures, documents, emails, videos, audio, and so on from all file storage devices, including internal hard drives, external hard drives, USB drives, CDs/DVDs, and more.
It not only supports data recovery from drives or devices, but also supports recovering files from a specific folder, the desktop, and the Recycle Bin. This can greatly shorten the data scanning time which is very convenient.
More importantly, MiniTool Power Data Recovery allows you to preview found pictures (JPEG, JPG, JPE, BMP, TIFF, TIF, GIF, PNG, EMF, WMF, WEBP) and other multiple types of files so that you can check whether they are the needed ones.
Now you can click the button below to free download MiniTool Power Data Recovery and try it out.
MiniTool Power Data Recovery FreeClick to Download100%Clean & Safe
After downloading and installing MiniTool Power Data Recovery, you can follow the guide below to carry out data recovery.
Step 1. Launch MiniTool Power Data Recovery to select the target partition or location to scan.
In the main interface, you can see two data recovery modules – Logical Drives & Devices.
Logical Drives: This section displays all partitions on your computer, including partitions on your internal hard drives, external hard drives, USB drives, and so on. Lost partitions and unallocated space are shown here as well.
Devices: This module shows all devices on your computer, including HDDs, SSDs, USB flash drives, CDs/DVDs, etc.
In addition to these two modules, you can also click Select Folder > Browse from the Recover From Specific Location section to scan the Pictures folder individually.
If you cannot see the Pictures folder from the files list after clicking the Browse button, you can select to scan the C drive from the Logical Drives section.
Step 2. After scanning, you can move on to the Type category list to specify needed image formats such as .jpg and .png.
Then you can preview them to make sure they are needed. At the same time, if you are sure what a certain picture is called, you can make use of the Search feature to search for it by typing its name in the search box and pressing Enter.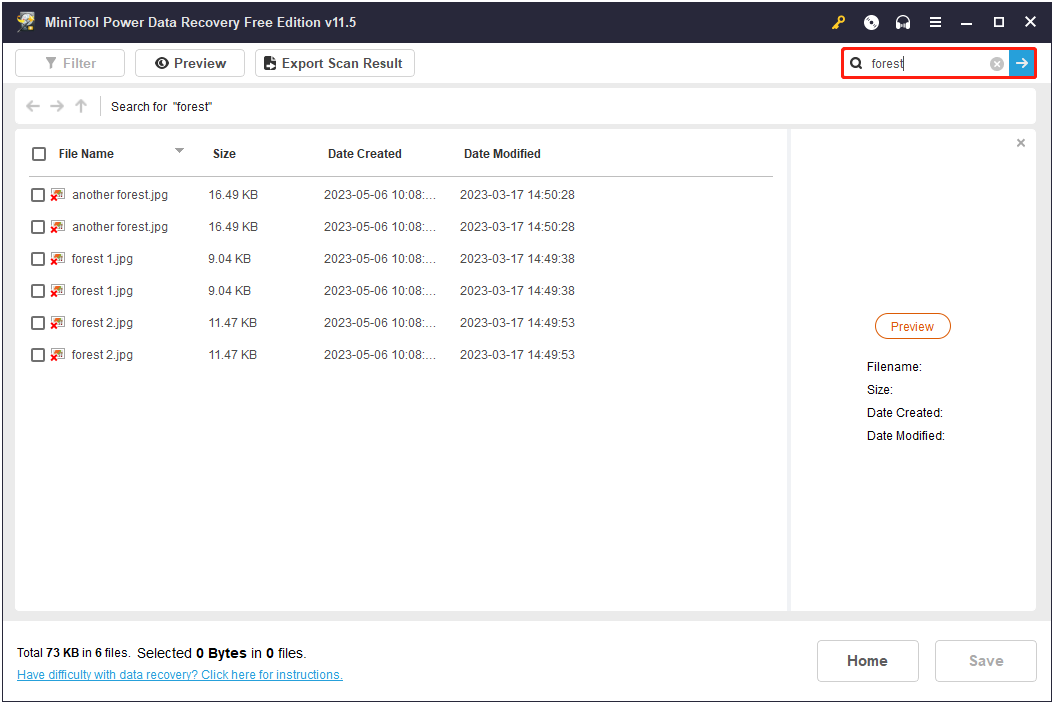 Step 3. Select all desired pictures and click the Save button to choose an appropriate location to store recovered pictures. Do not store them in the original location in case of data overwriting.
Now the entire process of image recovery is complete, and you can view recovered pictures in the file storage location you selected.
Tips:
Tip: The free edition of MiniTool Power Data Recovery can help to recover 1 GB of files for free. To recover unlimited data, you need to upgrade it to a full edition, and MiniTool Power Data Recovery Personal Ultimate is the most recommended one. The Personal Ultimate edition can not only be used on 3 computers at the same time, but also supports lifetime free upgrades. Besides, it can recover files when your computer won't boot.
My Windows Pictures folder is missing. So, I used MiniTool Power Data Recovery to recover my pictures effectively. Now I recommend it to you.Click to Tweet
MiniTool Power Data Recovery FreeClick to Download100%Clean & Safe
Bottom Line
To sum up, this article introduces how to fix the matter of the "Windows Pictures folder is missing", and how to restore the Pictures folder in Windows 11/10 as well. Hope this post is beneficial to you.
If you have come across other useful methods to bring the Pictures folder and images on it back, you can share them in the comment zone below. Thank you in advance.
If you have any questions or suggestions when using MiniTool Power Data Recovery, please feel free to send emails to [email protected].