The new PS4 is equipped with a DualShock 4 controller, which helps to play game on TV, PC, or other devices. You need to connect the controller to PC first if you'd like to use it; it's not a big deal. However, the problem occurs during the process – users said their PS4 controller won't connect to PC. Don't worry, this problem can be fixed easily by following ways.
Oops, PS4 Controller Won't Connect to PC
The PS4 device comes with a DualShock 4 (DS4) controller, which is similar to the classic PlayStation controller; it consists of a directional pad, two sticks, four triggers, and triangle, cross, circle, and square buttons. What's more, there's a directional pad on the front and a PlayStation Move-like "light bar" at the top. (MiniTool Solution is a company that specializes in computer/disk problem solving and data protection.)
But, the connection of DS4 controller to PC is not as easy as Xbox controller. Many people said that their PS4 controller won't connect to PC and they need useful solutions to fixing it.
In generally, you have 3 ways to connect your PS4 controller to computer:
Pair PS4 controller with PC through a wired connection.
Pair PS4 controller with PC through a wireless connection.
Pair PS4 controller with PC through Bluetooth.
PS4 controller won't connect to PC Bluetooth or PS4 controller won't connect to PC wired/wireless  means you can't play your favorite games by using the controller; this can drive the gamers crazy. So I summarize the following three ways that can help users get out of trouble when PC won't recognize PS4 controller. (How to fix external hard drive not showing up/recognized?)
#1. Connect the Controller via USB
MiniTool Power Data Recovery TrialClick to Download100%Clean & Safe
The first way to try when finding PS4 controller not connecting to PC is connecting the controller by using a USB cable.
Turn on your PS4 as usual.
Insert one end of the USB cable into the back of the PS4; plug the other end into the DS4 controller.
Wait for some time (about 30 ~ 60 minutes) to get the controller fully charged.
Press & hold the PS button on the center of the controller to resync.
You may hear a beep that indicates the controller is pairing with the console.
If your PS4 controller won't connect to PC with USB, you can find another USB cable to try again or follow the methods below.
#2. Reset the PS4 Controller
If your PS4 controller is still not connecting, you may as well try to fix the problem by resetting PS4 controller.
How to reset a PS4 controller:
Turn off your PS4 properly.
Cut off the internet by unplugging the Ethernet cable or wireless router.
Turn over the controller to the rear and look for the reset button, which is a tiny hole located next to the screw beside the L2 button.
Insert a thin pin, paperclip, or something you can poke into the slot carefully.
Push the reset button inside the hole for a few seconds (about five seconds) and then release it.
Connect the DS4 controller to PS4 via the USB cable.
Turn on the PS4 and press the PS4 button on the center of the controller to resync until you hear a beep sound.
How to add external hard drive to PS4 via USB?
#3. Use DS4Windows App
What to do when Bluetooth PC not detecting PS4 controller or PS4 controller keeps disconnecting from PC Bluetooth Windows 10? The first thing to do is removing PS4 controller from Bluetooth devices.
Restart your PC and make sure the DS4 controller has at least 10% battery. (If not, please charge it first.)
Open Windows search -> type control panel -> select Control Panel.
Click on the View devices and printers link under Hardware and Sound.
Look for the Bluetooth PS4 controller -> right click on it & choose Remove device -> click Yes.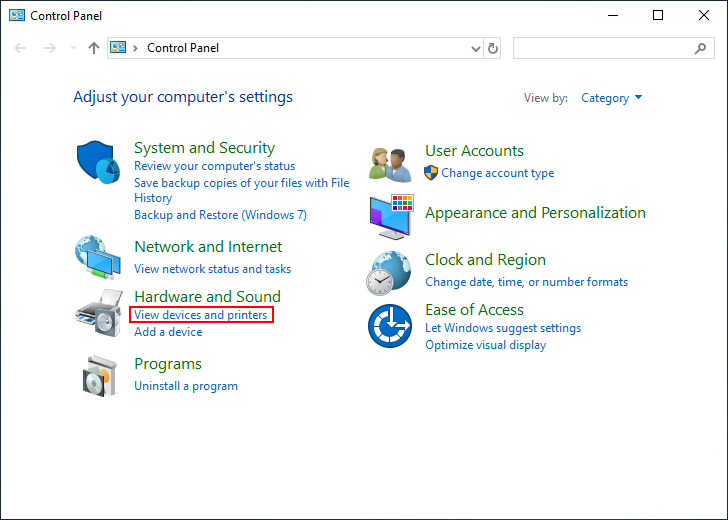 After that, you should get & install DS4Windows app and pair the controller.
Download DS4Windows from the official website; save it to your PC hard drive.
Double click on the DS4Window installer and follow the instructions to finish installation.
Go to Settings -> enable Hide DS4 controller -> expand the window by dragging the corner -> click Controller/Driver Setup in blue.
Minimize the window with a picture of a controller (don't close it).
Navigate to Manage Bluetooth Device -> hold share button & PS button for 3 seconds.
Click to pair the DS4 controller appeared in the list.
#4. Re-enable Bluetooth
If your PS4 controller is connected to Windows PC through Bluetooth but it's not detected, you should also try to fix the problem by re-enabling the Bluetooth: disable the computer's Bluetooth (from the Windows Action Center or from the Windows Settings menu) -> wait for a few seconds -> enable it again -> try to pair it to your device again.
That's all about what you should do when PS4 controller won't connect to PC.