What does Samsung Flow do? How to download Samsung Flow and install it on Windows 10/11? How to use Samsung Flow app to transfer files between your Samsung device and PC? See this post from MiniTool and you can find what you need.
What Is Samsung Flow
If you frequently transfer files from your device to a Windows 10/11 PC, the Samsung Flow app is a good option. Samsung Flow is a great tool that enables you to seamlessly and securely share files between supported Samsung devices like phones/tablets and PCs.
Besides, you can get the notification on your phone from your PC and reply to messages directly. You can also view the contents of a phone on a large screen (via Samsung Flow 'Smart View'). Samsung Flow supports Auto Hotspot Link which allows you to easily enable your Mobile hotspot.
To use Samsung Flow, devices should meet the minimum requirement – Windows 10 OS for PC, Android Marshmallow OS for the phone, and Android OS ver. 6.0 for tablet. Well then, how to download Samsung Flow and install it for use? Move to the next part to find what you need.
Samsung Flow Download PC & Android
To transfer files from your phone to a Windows 10/11 PC, you need to make sure these two devices have the Samsung Flow app.
Samsung Flow Windows 10/11 Download via Microsoft Store
Step 1: Open Microsoft Store via the Start menu in Windows 10/11.
Step 2: Type Samsung Flow into the search box and press Enter to find the app.
Step 3: Click the Get button to start downloading and installing Samsung Flow on your computer.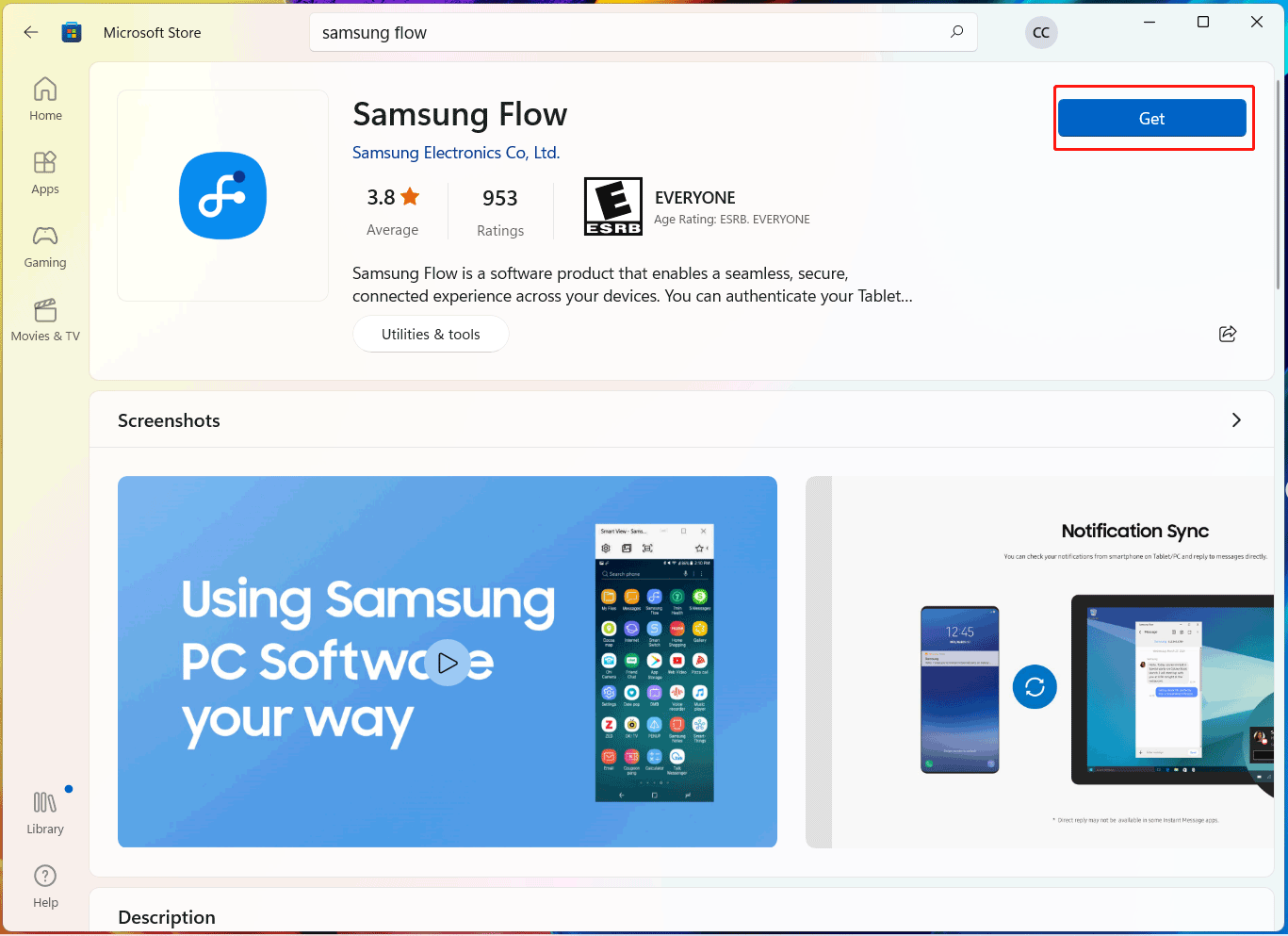 Samsung Flow Download Android
To use Samsung Flow on your Android tablet or phone, you need to download and install this app via Google Play Store. Just open it, search for Samsung Flow and install it.
How to Use Samsung Flow
After installing the Samsung Flow app for Windows 10/11 and Android devices, now you can use this tool to transfer files.
Pair Your Phone and PC
First, you need to connect your phone and computer. To do this:
Open Samsung Flow on both two devices at the same time.
On your PC, choose your phone name to register.
Choose Bluetooth or Wi-Fi to connect your phone and computer. Make sure the Wi-Fi is the same.
Then this app will generate a password to confirm the connection. Just confirm the passkey on two devices. Then, they are connected and you can start using Samsung Flow.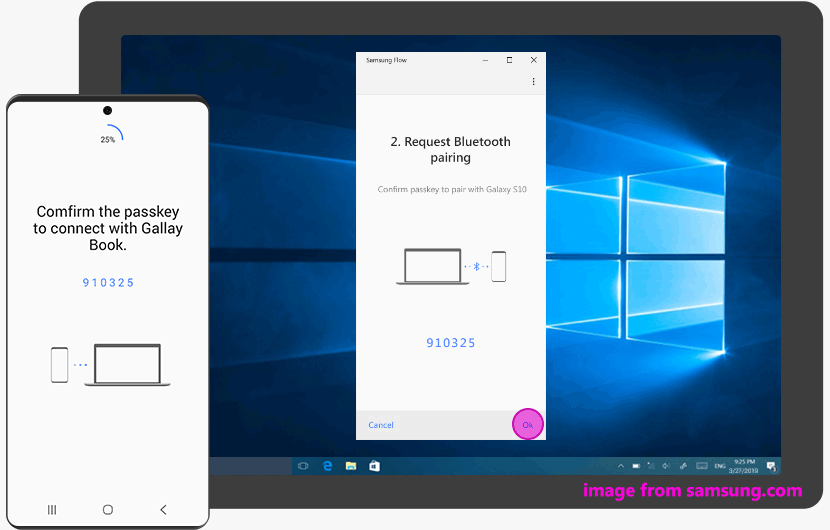 Tips:
When connecting your phone and PC, you can choose a LAN cable. But note that the USB connection is only provided for Windows 10 tablets/PCs with Android QOS (Android 10).
Use Samsung Flow
To share the phone screen on your PC, you can click Smart View at the top of the Samsung Flow app. To simultaneously view notifications on your PC and Android device and reply to messages directly, use the Notification Sync feature.
You can use the Handover feature to hand over the content to another device. To use this feature on a smartphone or tablet, just choose Samsung Flow as the sharing app when selecting the target file you want to send. If you want to transfer files from a PC to a phone, directly drag and drop files to Samsung Flow.
Final Words
That's the basic information about Samsung Flow including Samsung Flow download & installation, and how to use Samsung Flow for file transfer between your PC and device. Just get this app and follow the given guide if you need it. Hope this post could be helpful to you.