Riot Games released the popular tactical shooting video game, Valorant on June 2, 2020. However, it is also full of bugs and glitches like other games do. Val 9 is one of the most common error codes that crops up recently but it doesn't matter because you will find practical solutions from this guide on MiniTool Website.
Valorant Error Code 9 Windows 10/11
Valorant is a popular shooting game which is very similar to Elden Ring, BattleField 2042 and Rainbow Six Siege. However, at the same time you enjoy the game, you may encounter some annoying errors such as connection error, low GPU usage, Van 68, Van 81, Van 84, Val 51, Val 7 and so on. Today, we will mainly discuss the causes of Valorant error code Val 9 and find some feasible and easy solutions for you.
How to Fix Valorant Error Code Val 9 Windows 10/11?
Fix 1: Check Server Status
When you face any problem with PC games, it is advisable to check the game server online. You can either go to the official server status checking page or go to the third-party Down Detector website to check it. As for Val error code 9, you can visit the Riot Games Service Status page and then choose the language and region according to your preference to check for more information.
If the server is experiencing downtime, you just need to wait for the server to become operational again. If the server status is normal, you can try the next method.
Fix 2: Check Internet Connection
Val 9 can also appear under a slow and unstable internet connection. To keep your internet running smoothly, you should use an Ethernet cable rather than Wi-Fi. At the same time, rebooting your router will also help to improve the internet connection. If you are sure that there is an internet connection issue, you can run the internet connection troubleshooter as follows:
Step 1. Press Win + I to open Windows Settings.
Step 2. Scroll down in the settings menu to locate Update & Security and tap on it.
Step 3. In the Troubleshoot tab, press Additional troubleshooters.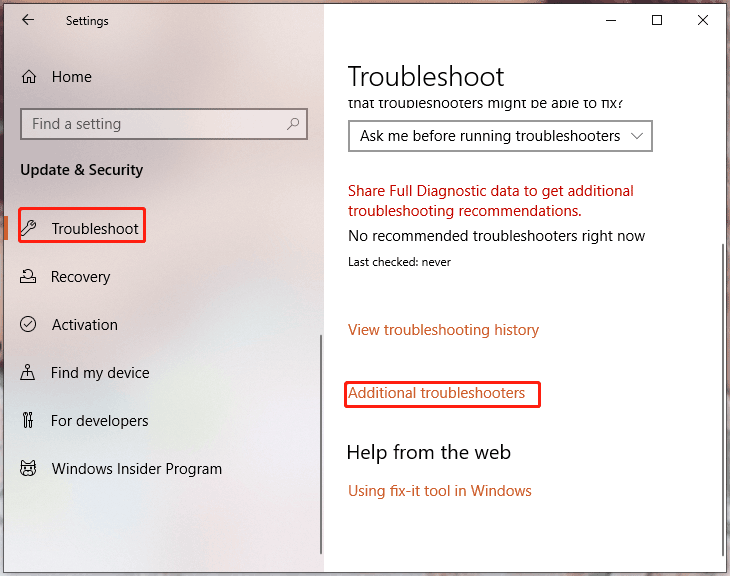 Step 4. Under Get up and running, click on Internet Connection and then press Run the troubleshooter. Now, it will automatically detect and fix internet connection problems for you, please wait patiently.
Fix 3: Delete the Riot Games Folder
If there is nothing wrong with the game server and internet connection, the culprit might be corrupted game files. As soon as your game files are corrupted, missing or incomplete, you will also see Valorant error code Val 9. In this condition, you must delete the installed Riot Games folder from your computer.
Step 1. Exit Valorant client and Riot Games.
Step 2. Locate the Riot Games folder on your computer. Before deleting it, you had better back up its content to a different drive and then delete it from the original location.
Step 3. Reboot your computer to save the changes and then you'll find val 9 doesn't appear anymore.