Windows 10X Is Designed for Dual Screen Laptop
Undoubtedly, Microsoft made a splash with its product Surface Neo dual-screen device launch in last year. What's equally exciting is that Microsoft also released a new Windows operating system at the Microsoft developer day – Windows 10X – for the dual screen laptop.
Developers in the world pay more attention to better trackpads, displays, and battery life in recent years. But in last year, the appearance of multiple screens catches people's eyes. The dual screen is indeed a weird but wonderful laptop design. In fact, there are wacky designs brought by Lenovo's Yoga laptop, Microsoft's Surface line and other devices. Some are kept while others are lost. And now, we're in an era of wild experimentation: foldable laptops.
In addition to Microsoft, other PC makers (like Lenovo) are promising they'll prepare a Windows 10X version later. For the laptops that have dual screens and other foldable displays, Windows 10X now becomes a key software element.
HP Announced a Dual Screen Gaming Laptop
Before Computex 2019, HP released a dual screen gaming laptop; this is great news for gamers throughout the world. With the two separate screens, you can do different things simultaneously; for instance, watching TV plays/videos and play games at the same time. The working principle of dual screen laptop is the same as that of the dual screen monitors on a desktop.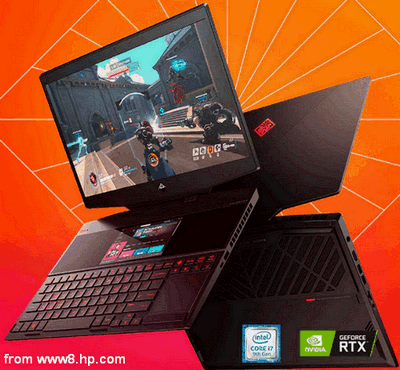 HP Laptop Hard Drive Short DST Failed [Quick Fix]!
ASUS Introduced Dual Screen Laptop
ASUS designed its new ZenBook Pro Duo laptop with two 4K screens last year: a regular 15-inch display and a 14-inch screen above the keyboard. Apart from this, ASUS has made efforts to design some window-management software. By doing so, ASUS want to achieve two goals:
Extend the main screen into the 14-inch panel you can see above the keyboard.
Make it possible for people to use multiple windows across the wide display.
Besides, ASUS also modified its traditional trackpad and changed it into a 5.5-inch display. This action manifests ASUS is willing to push the boundaries of conventional notebook design.
ASUS ZenBook 15 – The World's Smallest 15-inch Laptop!
In fact, the PC makers are planning to announce more dual-screen and folding laptops this year. Therefore, it requires something more than Windows 10. That's why Windows 10X appears and it seems that the new Windows operating system has solved a lot of the potential difficulties.
Future Dual Screen Design
Intel's concept of Honeycomb Glacier for the future gaming PCs is crazy; it wants to use a unique double hinge to hold both a 15.6-inch main display and a 12.3-inch secondary display on the same laptop. Then, the displays can stack at multiple angles due to the adoption of mechanical one-way roller clutch. Intel is optimistic about its idea and says it has already attracted interest from PC makers. Intel is working hard to build dual screen devices and its concept will become extremely important once we really enter a new era of dual (or even flexible) screen laptops.
Extended information:
You can get back precious data from laptop after factory reset:
Microsoft is preparing a lightweight version of Windows for dual screen devices. Windows Lite, the more simplified version of Windows, will be prioritized for dual-screen devices. Though the interface of Windows Lite looks like that of the current Windows, they are greatly different. Both the features in Surface Hub shell and the simplicity of the user interface in Windows Phone Continuum are added to the new Windows version.
Till now, Microsoft has noticed the efforts made by OEMs and Intel for dual screen laptops, so it decides to give more support to them in the future. We all hope that more and better dual-screen equipment can be put into use in the near future.