If you are thinking about migrating the OS and data between HDD, SDDs and other storage devices, you should read this article to choose a reliable data migration software. This article will introduce the top 10 data migration products for you.
About Data Migration
Data migration is a process of moving data from one computer storage to another. It can be divided into four categories: storage migration, database migration, application migration, and business process migration. Click here to get a more thorough explanation on Wikipedia.
There are various reasons to do data migrations, especially for an enterprise. However, as an individual computer user, you may consider data migration just for the following reasons.
Storage device replacement (including HDD to SSD or otherwise).
Migrate data to another disk for backup.
OS clone.
Data security.
What are the proper ways to migrate data? Instead of the "copy and paste" feature, many people would consider using a data migration software for transferring data of tremendous size – especially when transferring the OS.
So you might think about the problem – which data migration software should I select? Fortunately, this article lists top 10 best data migration software. You can choose from them after reading this article.
Top Data Migration Software
1. Data Migration Software Offered by Disk Vendors
Nowadays, many disk vendors like to improve user experience by providing software to users; for example WD Smartware, Samsung Data Migration and Magician software, Intel Data Migration Software, etc.
In this post, Samsung Data Migration software and Intel Data Migration Software are introduced because the two programs are related to our topic: Data Migration.
Samsung Data Migration is a piece of software designed to help users quickly, easily, and safely migrate all of their data (including the current OS, application software, and user data) from their existing storage device to new Samsung SSD.
However, Samsung Data Migration software is only available for Samsung SSD products and is not compatible with other manufacturers' SSDs. If you have a Samsung SSD and want to transfer files from other disks to the Samsung SSD, you can use this software.
In addition, this software can only be used to clone disk. If you want to manage your disk, you should download another piece of software.
Related article: Here is a Solution If Samsung Data Migration Cloning Failed (100% WORKS).
Similarly, Intel Data Migration Software is used for easily copying drive contents from an old storage device to a new Intel SSD. If you have an Intel SSD, you can use this software to upgrade your hard drive. However, it has more features than Samsung Data Migration software such as bootable rescue media.
If you just plan to upgrade your computer to a new SSD like Samsung SSD or Intel SSD, you can utilize the above SSD data migration software. However, what if your SSD is not Samsung or Intel SDD? Or What if the new hard drive is an HDD? Or, you want to migrate only OS to the new SSD? Then, you should consider other software.
2. MiniTool Partition Wizard
The second software is MiniTool Partition Wizard. It is a professional disk and partition management program. This software can help you clone disk and partition for backup and data migration. It can help you migrate OS from HDD to SSD or and vice-versa.
It also allows you to clone data to a disk of smaller capacity as long as it has enough space to hold the data you saved in the source disk.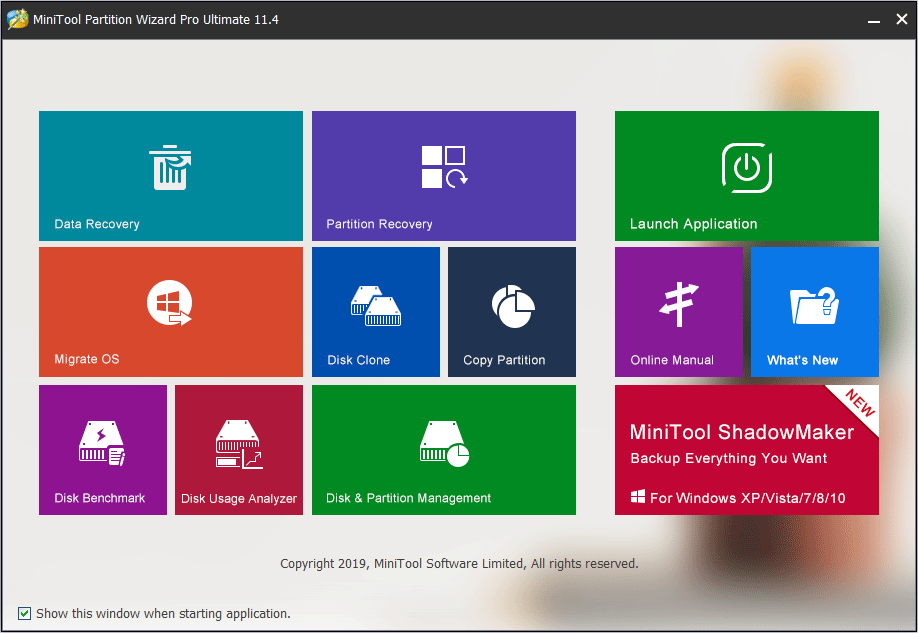 As mentioned above, MiniTool Partition Wizard is a partition management program. Therefore, this software can help you manage your disk better.
In addition, it can test the disk performance, check and repair disk problem, move and resize partition, manage dynamic volume, make bootable media, and recover deleted files or recover data from lost or formatted partition and disk.
MiniTool Partition Wizard FreeClick to Download100%Clean & Safe
In a word, it is a multi-functional program. You can try it, and it will not disappoint you. Click here to get tutorials on how to use MiniTool Partition Wizard.
Tip:
If you want to back up your computer regularly or back up files, MiniTool ShadowMaker is recommended. It is a piece of professional
backup software
.
3. Paragon Drive Copy Professional
Paragon Drive Copy Professional is good at data migration and backup. It also has some partition management features. Just like MiniTool Partition Wizard, Paragon Drive Copy Professional can clone disk and migrate OS. It can restore your data from the backups.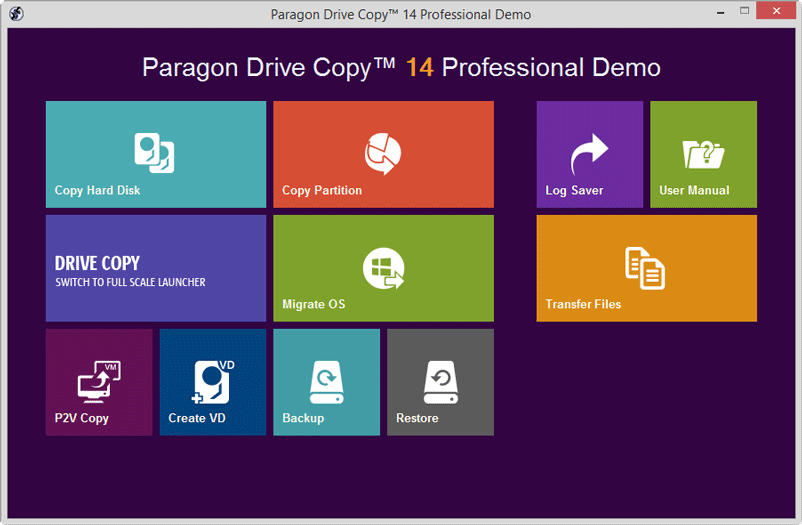 However, this software is relatively bad at disk management, disk repair, and data recovery. If you didn't back up data before your data is lost or something wrong happens to your disk, this software will not be able to help you with these problems.
Of course, if you only want to use it to clone disk and partition, or migrate OS, this software can help you.
4. Acronis True Image
Acronis True Image is a software product that can provide data protection for users. It can restore the previously captured image to another disk, replicate the structure and contents to the new disk, also allow disk cloning and partition resizing, even if the new disk is of a different capacity.
It can clone your computer operating system and disk. It can back up your data to a local drive, or to cloud. You can recover a specific file from the backups.
If you want to migrate your data to cloud for saving space in hard drive. You can choose this program. In order to free up your hard drive, you should manage your disk properly.
5. NovaBACKUP PC
NovaBACKUP PC is a simple, powerful, automatic PC backup software product. It can back up disk, OS, and individual files. You can store your back up data to local device or cloud. You can instantly recover your entire system to your computer through this software in just minutes.
It has fast backup and restore speed supported by multi-threaded processes. If any disaster happens to your data or computer, you can rescue them quickly from the backups.
This software meets your needs if you use it for personal purposes only.
6. Macrium Reflect 7
Macrium Reflect 7 supports three essential functions: free backup, disk imaging and cloning. It can back up your data to local, network, and USB drives. It can protect your computer from ransomware with Macrium Image Guardian and restore non-booting systems with backups.
Besides, it has other features such as creating live image of a running Windows OS, restoring selective files from backups, and scheduling backups with flexible templates. It also supports features like log events in Windows and MS Exchange and SQL granular backup.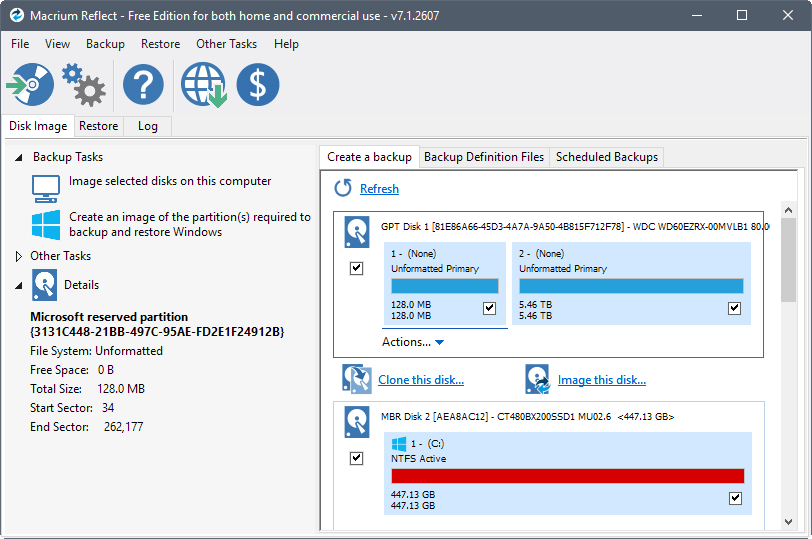 In a word, this software can not only clone disk and migrate OS, but also back up your computer regularly. To some extent, this software is similar to MiniTool ShadowMaker.
If you want to migrate your data, you can also use this software.
7. DriveImage XML
DriveImage XML is an image and backup software product for logical drive and partition. You can use it to back up logical drives, partitions, and image files. You can use it to back up data automatically and restore selective files from the backups.
When you back up data, the destination can be the same or a different drive. While creating image, the software uses Microsoft's Volume Shadow Services (VSS), which allows you to create safe "hot images" even from the drive that is still in use. The images are stored in XML files, so you can process them with 3rd party tools as well.
DriveImage XML is available in Private Edition and Commercial Edition. For individual users, Private Edition can meet daily demands.
8. Clonezilla
Clonezilla can help with system development, bare metal backup, and recovery. It is a partition and disk imaging/cloning program.
Clonezilla has many features. For example, you can get the image file anywhere; it supports unattended mode; you can customize disk cloning and imaging with boot parameters; you can restore a single image to more than one local device; the image created can be encrypted for protection with eCryptfs, a POSIX-compliant enterprise cryptographic stacked file system.
But in order to use it, you should create a bootable USB drive first because it doesn't run on Windows.
In addition, Clonezilla has the following limitations: the destination partition must be equal or larger than the source one; differential/incremental backup is not implemented yet; you can't recover single file from the image.
9. DAEMON Tools Pro 8
DAEMON Tools Pro 8 is an emulation software product that works with disc images and virtual drives. It has TrueCrypt containers which can store sensitive and confidential data. It can create new and edit existing Audio CD and Data images, burn data with RMPS, clone disk, create a raw disk image from USB device content, restore factory state of a USB stick.
If you want to migrate data to a safe place, you can use this software.
10. O&O Diskimage
O&O DiskImage is a data backup software product for Windows. It allows you to copy the entire computer, hard drives, or single files even when the computer is still in use. You can restore computer or files when the original ones are lost.
It can create VHDs directly, restore system onto different hardware, and also support automatic backup.
What You Should Do After OS Migration or Upgrading to New Disk
There are so many data migration software products. You can clone data to another storage device to avoid data loss or migrate OS.
However, after you have used the above software to migrate OS or upgrade your computer to a new disk, you should set the firmware to make the computer boot from the new disk. Many users ask in forums about why their computers can't boot from the new disk after hard drive cloning. Maybe this is one of reasons.
Then, how to set firmware to make the computer boot from the new disk? Please refer to the tutorial.
Step 1: Restart your PC and follow the wizard that appears on the screen when you just power on system to enter BIOS. Usually, it will require you to press a specific key (the key to enter BIOS can be different due to different computer manufactures).
Step 2: Skip to Boot page through the arrow keys. Then set the new disk at the first place in the boot sequence and save all the changes.
Step 3: Exit BIOS and continue to restart your computer.
Tip:
If you cloned the
MBR
disk to
GPT
disk, it is necessary to change boot mode from Legacy to
UEFI
. Click
MBR vs. GPT
to know more about them.
If you still can't boot your computer from the new disk, you can click Top 5 Solutions to Fix SSD Won't Boot to get more methods.
Here are top 10 best data migration programs for individual users. That can meet your daily demands.Click to Tweet
Bottom Line
Did you find this article helpful? Do you know any other data migration software products? Leave us your feedback. If you have any problem in cloning partition, disk, or operating system, please leave a comment containing details below for discussion or email to [email protected] for help. We will reply to you as soon as possible.