As reported by some Bitdefender users, they continue to receive error 1002 when running the program or during the installation/updating of the Bitdefender software. In this guide on MiniTool Website, there are some possible workarounds to help you fix this error and they all deserve a shot.
What Is Bitdefender Error 1002?
Bitdefender is one of the most popular antivirus programs which provides you with services on email security, cloud anti-virus, anti-spam, and macro protection. However, sometimes it will work abnormally and you will receive some errors like a problem has occurred in the Bitdefender Threat Scanner, failing to connect to the server, and so on. Today, we will discuss one of the common errors – Bitdefender error 1002 for you.
Bitdefender error 1002 refers to a type of update error appearing during Windows startup, shutdown, or program installation process. When you get this error, you may receive the following error messages:
Bitdefender Update Failed Error 1002
Error in Application: Bitdefender Antivirus Error 1002.
Bitdefender Antivirus Error 1002 not found.
Sorry for the inconvenience – Bitdefender Antivirus Error 1002 has a problem.
……
After receiving these error messages, your system might become sluggish and the keyboard or mouse input will respond slowly. That must be a very annoying experience. Although it is pretty hard to look for the exact reason for this error, we have endeavoured to find a list of possible reasons behind error 1002 Bitdefender:
Slow and unstable internet connection.
Infection of malware or viruses.
Missing system files.
Too many junk files on your disk.
Incomplete installation of Bitdefender.
Problematic operating system.
How to Fix Bitdefender Error 1002 on Windows 10/11?
After puzzling out the reasons for Bitdefender error 1002, in this part, we will show you how to remove this error on Windows 10/11 and make your system work properly again. Please try these solutions one by one until Bitdefender gets fixed.
Fix 1: Check Your Internet Connection
Under most circumstances, a weak and unstable internet connection can lead to Bitdefender error 1002. Therefore, check and improve your internet connection to make your internet stable again. Here's how to do it:
Step 1. Go to SPEEDTEST to check your internet connection. After hitting the GO button, you can check the ping, download speed, upload speed or internet connection bandwidth. If you do have an internet connection issue, move to the next step.
Step 2. Go to Settings > Update & Security > Troubleshoot > Additional troubleshooters.
Step 3. Under Get up and running, choose Internet Connections and tap on Run the troubleshooter to start the internet troubleshooting process.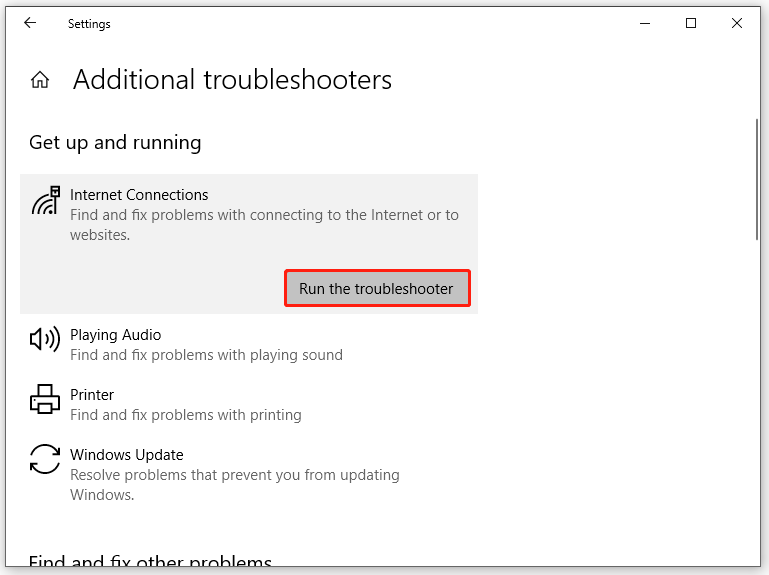 Other tips to troubleshoot your internet connection:
Reset your router.
Move your computer closer to the Wi-Fi router.
Change to an Ethernet connection.
Reset DNS/TCP/IP settings.
Contact your internet service provider.
Fix 2: Scan Your System with Windows Defender
It is very likely that there are some malware or viruses on your system interrupting Bitdefender's updating process hence contributing to Bitdefender error 1002. Since Bitdefender doesn't work properly, you can scan your computer for harmful threats with Windows Defender.
Step 1. Click Start and hit the gear icon to open Windows Settings.
Step 2. Scroll down in the settings menu to find Update & Security and hit it.
Step 3. Go to Windows Security > Virus & threat protection > Scan options.
Step 4. In this window, there are four options for you: Quick scan, Full scan, Custom scan, and Microsoft Defender Offline scan. Tick Full scan and hit Scan now to start scanning all the files and running programs on your hard disk. If any threats exist in your system, they will be removed.  
Fix 3: Run System File Checker
Another possible culprit of Bitdefender error code 1002 is corrupted or missing system files. Fortunately, you can fix it via a Windows inbuilt tool – System File Checker to scan your system thoroughly and repair any corruption in it. Follow the steps below:
Step 1. Press Win + S to open the search bar.
Step 2. Type cmd to locate Command Prompt and right-click on it to choose Run as administrator. If prompted by UAC, hit Yes.
Step 3. In the command window, type sfc /scannow and then tap on Enter on your keyboard. The System File Checker tool will search for corrupted files and repair them automatically for you, so please be patient.
Fix 4: Run Disk Cleanup
Usually, the accumulated junk files that occupy your disk space can also cause errors like Bitdefender error 1002. As a result, removing these temporary items is a good solution for you.
Step 1. Run Command Prompt as an administrator.
Step 2. Type cleanmgr and hit Enter. Then a dialog box will pop up, you can choose the target drive from the drop-down menu and click on OK.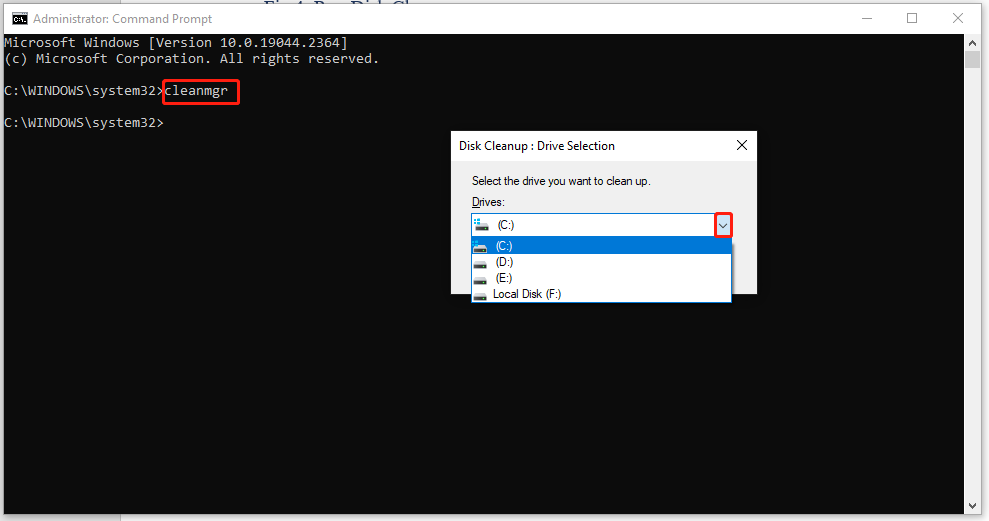 Step 3. Tick the items you want to delete and this tool will begin to delete them to free up your disk space.
Fix 5: Reinstall Bitdefender
The Bitdefender files might get corrupted due to some reasons. In this case, reinstalling the app might be useful to you.
Step 1. Open your Control Panel and go to Programs > Programs and Features.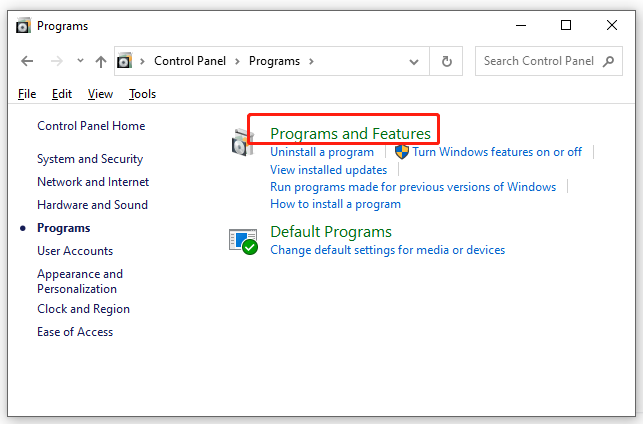 Step 2. Now, you can see a list of applications installed on your system. Locate Bitdefender and hit it to choose Uninstall.
Step 3. Hit Uninstall again to confirm this action.
Step 4. After the uninstalling process is complete, go to Bitdefender's official website to download and reinstall the app.
Fix 6: Check for Updates
You had better update your Windows in time because there are more bug fixes in the newer updates. If you use to delay the update, follow these steps to keep your Windows up to date.
Step 1. Press Win + I to open Windows Settings.
Step 2. Go to Update & Security > Windows Update > Check for updates.
Step 3. If there is an update available for you, hit Download and install.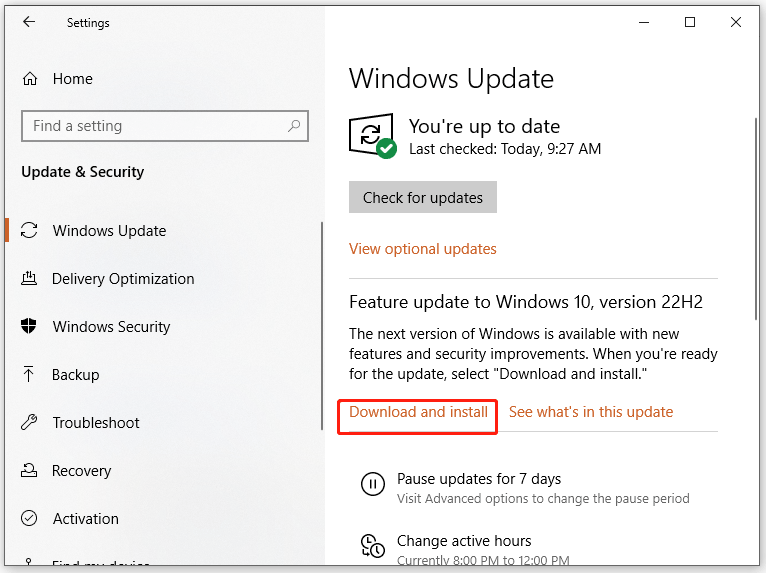 Step 4. Restart your system to complete the update.    
Fix 7: Reset Windows
When your operating system encounters some problems, you may also receive Bitdefender error -1002. It is a good option to use Reset this PC to restore some serious system issues by restoring Windows to its factory default configuration. Compared to reinstalling your Windows 10/11 from scratch, this utility is much faster and more convenient.
Step 1. Press Win + I to launch Settings.
Step 2. At the bottom of the settings menu, find Update & Security and hit it.
Step 3. In the Recovery tab, hit Get started under Reset this PC.
Step 4. Then, you can choose from two options according to your needs: Keep my files and Remove everything. The former option enables you to remove all the applications and settings and the latter allows you to remove all your data including personal files, applications, and settings saved on your computer. Choose one option to begin the resetting process.
How do you like the solutions to removing Bitdefender error 1002 mentioned in this guide? If they are useful to you, click here to share your joy with your friends on Twitter. Click to Tweet
# Suggestion: Back up Your Files Before Performing Reset This PC
As mentioned above, although the Keep my files option can keep your data, you had better create a backup for your valued personal files as a preventive measure in case any accidents occur in the resetting process.
Here, a piece of free backup software - MiniTool ShadowMaker provides you with easy and efficient methods to back up your files, folders, systems, partitions and disks on Windows devices. If you need to create a backup with ease, this all-in-one software is your top choice. With a backup copy in hand, you can restore your data once any disasters such as hard drive failure and system failure crop up. Here's how to create a file backup with this tool:
Step 1. Download and install MiniTool ShadowMaker on your Windows machine.
Step 2. Double-click on the shortcut of the program to launch it and hit Keep Trial to get a 30-day free trial.
Step 3. Go to the Backup page, and click on SOURCES > Folders and Files to choose the wanted files from User, Computer, and Libraries. Click DESTINATION, and you can select a destination path for the backup files.
Step 4. After making your decision, hit OK to go back to the Backup page. Click on Back Up Now to start the backup task at once.
In addition to backing up, this reliable data protection tool is also designed for all levels of Windows users to restore, sync and disk clone.
Meanwhile, MiniTool ShadowMaker supports automatic backup, full backup, incremental backup, and differential backup.
We Need Your Voice
In this article, we have illustrated why you get Bitdefender error 1002 on your computer and how to fix it with 7 detailed solutions. At the same time, it is necessary to create a backup of important files with MiniTool ShadowMaker before trying the last solution to save you from accidental file loss during the computer resetting process.
After reading this article thoroughly, you may have a clear idea about Bitdefender error 1002. If you have any queries about this error or about our products, welcome to give your feedback in the comment zone below or contact our support team via [email protected].
Bitdefender Error 1002 FAQ
What is Bitdefender error?
Bitdefender error means that Bitdefender doesn't work properly and there might have some glitches with Bitdefender like unable to connect to the server, installation issues, VPN not working, update errors and so on.
Why is Bitdefender VPN not working?
The port of the VPN connection is closed.
There are some problems with your internet connection.
The firewall on your computer is disturbing the VPN connection.
Another Proxy or VPN is running.
You are using public Wi-Fi.
Why does Bitdefender block my website?
Bitdefender can protect your device from cyberattacks and it is designed to scan harmful websites and applications. When you are trying to access any malicious content such as untrusted web pages, infected URLs, and phishing links, Bitdefender will block them. Sometimes, Bitdefender will block a safe website if it has some suspicious behaviour.
How do I manually update Bitdefender?
First, make sure Bitdefender is running in the background. Right-click on the Bitdefender icon from the right side of the taskbar and then choose Update Now from the context menu.