Dell Inspiron stuck on Dell logo is a common issue in Windows 11/10. If you suffer from this frustrating issue on your Dell laptop, how can you fix it? Don't worry and
MiniTool
writes this post to help troubleshoot Dell laptop stuck on Dell screen.
Dell Computer Stuck on Dell Logo Windows 10/11
Dell is a famous brand of computers and its Dell Inspiron series are popular. However, some users reported a common issue – Dell laptop stuck on Dell screen or Dell Inspiron stuck on Dell logo.
After booting your Dell laptop, it will perform the Power-On Self-Test (POST) via BIOS to diagnose the hardware devices. Next, BIOS loads the boot code to start up the system. During these two processes, you can see the Dell logo. If something goes wrong, the PC will get stuck on the Dell screen.
The reasons for the stuck issue could include corrupt Windows files, issues with BIOS, hardware components (like RAM) or hard drive, fast startup, etc.
Well then, what to do if a Dell laptop is stuck on the Dell logo? Don't worry and you are fortunate since the following multiple troubleshooting tips can help you a lot.
How to Fix Dell Inspiron Stuck on Dell Logo/Screen
The solutions below also apply to other Dell series including all the laptops & desktops besides Inspiron 15/16/14/12, etc.
Perform a Hard Reset
PC hardware may interfere with the normal boot process of Windows 11/10, leading to Dell Inspiron 15 stuck on Dell logo or Dell laptop stuck on Dell screen. According to users, performing a hard reset may be helpful. See how to do this:
Step 1: Power off your laptop or desktop.
Step 2: Disconnect the power cable or AC adapter from the computer. For a laptop, also remove the battery.
Step 3: Unplug all the devices including USB drives, SD cards, printers, webcams, scanners, and more. For a desktop, the only devices to leave attached to the machine are a keyboard, mouse, and monitor.
Step 4: Drain residual power by pressing and holding the power button for 15 to 20 seconds.
Step 5: Reconnect the power cable or AC adapter and battery.
Then, attempt to power on the PC to see if it can boot properly. If computer stuck on Dell logo appears, continue the fixes below.
Run Startup Repair
Running Startup Repair sometimes can fix Dell Inspiron stuck on Dell logo. So, have a try:
Step 1: Force shut down the Dell PC three times by pressing the Power button when seeing the Dell logo. This can help boot the machine to Windows Recovery Environment (WinRE).
Step 2: Tap on Advanced options on the Automatic Repair page. Then, navigate to Troubleshoot > Advanced options and choose Startup Repair. This option can help fix problems that block Windows from loading.
Check BIOS
Sometimes Dell Inspiron stuck on Dell logo/Dell laptop stuck on Dell screen is triggered by improper BIOS settings. See three situations:
BIOS may search for other devices to load the Windows operating system if the default storage drive is not the first boot order.
Since the date and time settings in BIOS are not correct, your PC tries to boot from a network device.
Windows is not compatible with the boot mode – UEFI or CSM/Legacy.
To fix the stuck issue in Windows 11/10, you need to change some BIOS settings.
Tips:
Note that the BIOS interface varies from different Dell PC models but the general options should be similar and you can search for them online.
Step 1: Restart your Dell laptop or desktop and press F2 on the keyboard to enter the BIOS menu.
Step 2: Head to Settings > General > Date/Time and check if the time and date are correct. If not, change them to the correct ones.
Step 3: Save the change and see if the PC can boot to the desktop properly.
If the machine is still stuck on the Dell logo screen, go to BIOS > Settings > General > Boot Sequence. Then, make sure the internal storage is at the top of the boot priority list. Next, have a check again. If the issue continues, go to change the boot mode.
Under the Boot Sequence tab, you can see your current boot mode. If it is UEFI, navigate to Secure Boot > Secure Boot Enable and choose Disabled. Next, tap on Advanced Boot Option and check the option of Enable Legacy Option ROMs.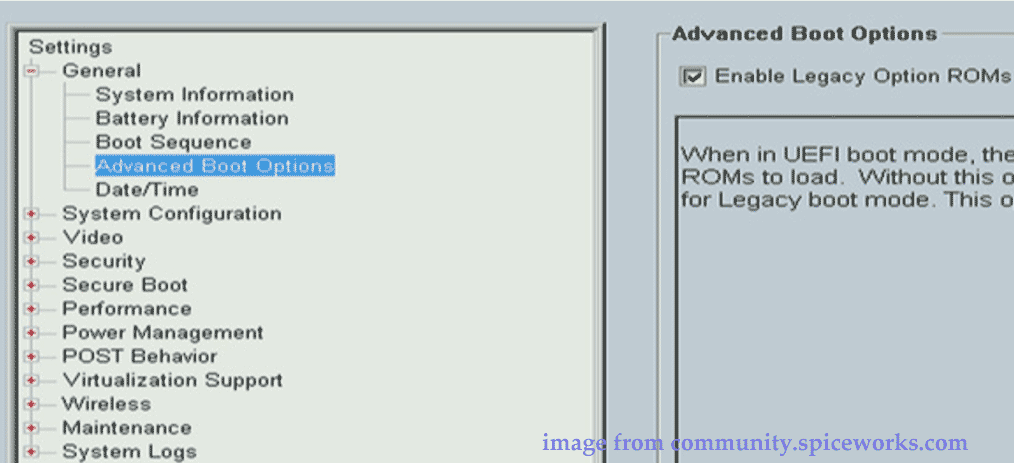 Reset BIOS to Default Settings
Sometimes resetting BIOS to its default settings can help you easily address Dell desktop stuck on Dell logo screen/Dell Inspiron stuck on Dell logo. So, have a shot by following the instructions below:
Step 1: Press F2 to enter BIOS during the reboot process.
Step 2: Then go to load default settings. The operation may be different depending on your Dell model. On the Dell official website, the help document – How to Restore the BIOS or UEFI (System Setup) to Factory Defaults on a Dell Computer is useful to you.
Run ePSA Pre-boot System Assessment
Sometimes Dell Inspiron stuck on Dell logo happens due to damaged hardware components and you can perform a check. Dell comes with a hardware diagnostic functionality in BIOS that is ePSA Pre-boot System Assessment. Just run it to see if there are some serious issues with the computer hardware.
Step 1: On the Dell logo screen, press F12 to get some boot options. You may need to force restart the PC and press F12 repeatedly until you see the logo.
Step 2: Highlight Diagnostics using the arrow key and run ePSA Pre-boot System Assessment by pressing Enter.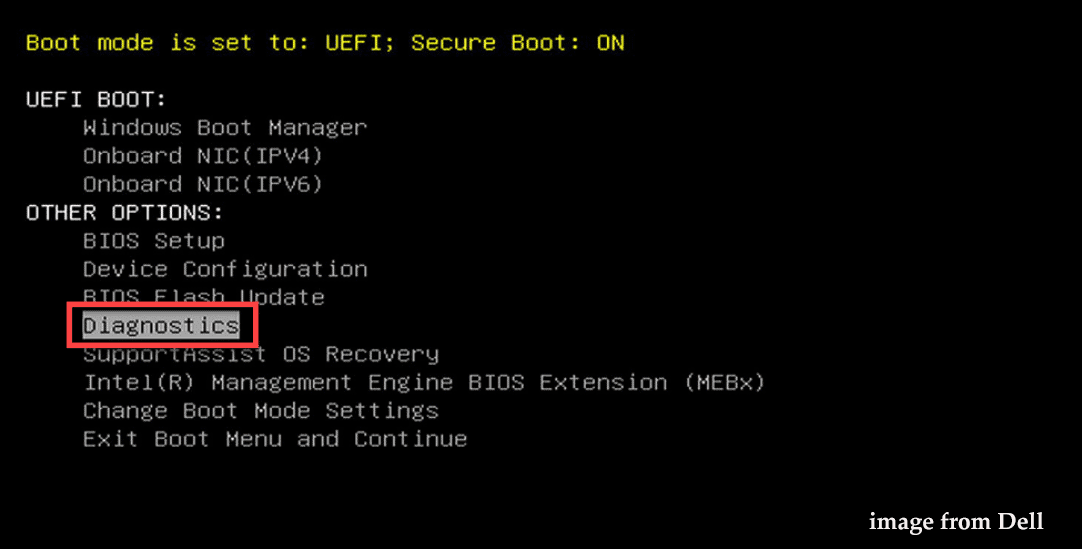 Step 3: Then the diagnostics test starts and just finish the operation by following the on-screen instructions. If some issues are found, you can see details displayed. Then, you should look up the solutions online based on the listed error codes or hardware issues.
Manually Check RAM and Hard Drive
Sometimes your Dell laptop or desktop gets stuck on the logo screen due to the loose connection between RAM and your PC. Just open the computer case and check if the RAM is fixed.
Besides, hard drive damage may also lead to the stuck issue. You can run Command Prompt in WinRE and execute the command – wmic diskdrive get status to know the disk status. Then, perform the chkdsk /f /r command to find and fix disk errors. If this cannot help, you may need to get data from the unbootable Dell PC and reinstall Windows 11/10.
Get Data and Reinstall Windows
If all of these ways above cannot help and you rule out hardware issues, the Windows operating system may get corrupt due to some reason. The only way to solve this stuck problem is to reinstall the OS. Before proceeding, you had better back up your important data since the operation can erase some files.
Besides, it is necessary to get data back from the damaged Dell PC to avoid file loss in case of Dell laptop stuck on Dell screen. Or the hard drive is failing and you also should protect data security via a backup.
No matter which situation you meet, file backup is essential. So, how can you back up your vital files when the PC cannot boot normally? Seek help from a backup program.
#1. Back up Data
MiniTool ShadowMaker, one of the best backup software from MiniTool, helps you a lot in computer backup. This tool enables you to easily create backups for Windows, a disk, selected partitions, files, and folders. Any files/folders detected by this software including documents, pictures, videos, etc. can be backed up. In addition, disk cloning and file/folder sync can be done by MiniTool ShadowMaker.
What counts is you can still perform a backup operation when meeting the issue of Dell Inspiron stuck on Dell logo or Dell desktop stuck on Dell logo screen. This is because it allows creating a bootable USB drive/USB external hard drive or CD/DVD to boot the unbootable PC for backup.
Now, download MiniTool ShadowMaker by tapping on the following button and install it via the on-screen instructions on a working PC. Then, see how to backup files.
MiniTool ShadowMaker TrialClick to Download100%Clean & Safe
Step 1: Connect a USB drive to a working PC, open MiniTool ShadowMaker Trial Edition, and click Keep Trial to go on.
Step 2: Navigate to the Tools tab and click Media Builder.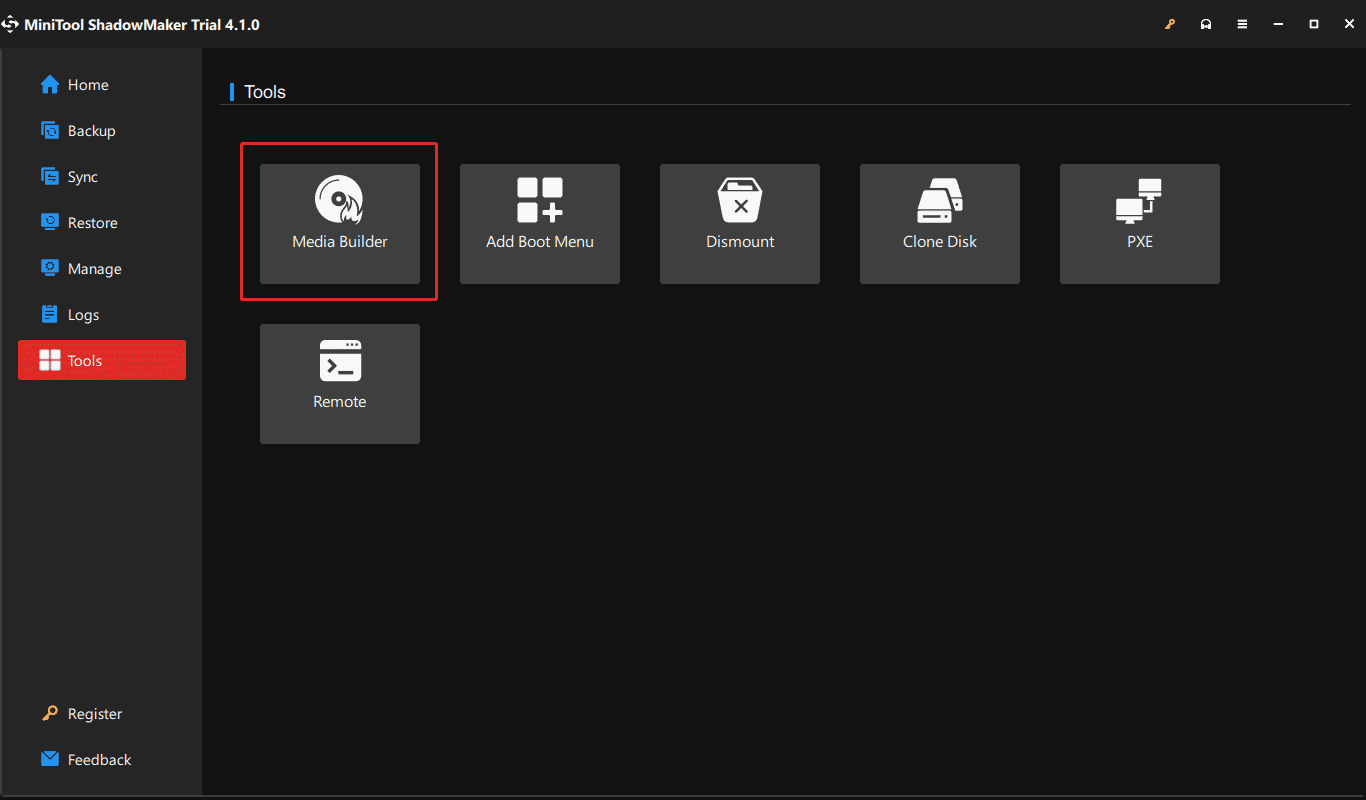 Step 3: Choose WinPE-based media with MiniTool plug-in, choose your USB drive, and start creating the bootable drive.
Step 4: After the creation, unplug the USB drive, connect it to your unbootable Dell PC, press F2 to restart the machine to enter its BIOS menu, and choose to boot the machine from this USB drive.
Step 5: In the MiniTool recovery environment, launch this backup software and enter its Backup page.
Step 6: Tap Source > Folders and Files to choose the files you need and tap on Destination to select a path to save the backup.
Step 7: Click Back up Now to start data backup.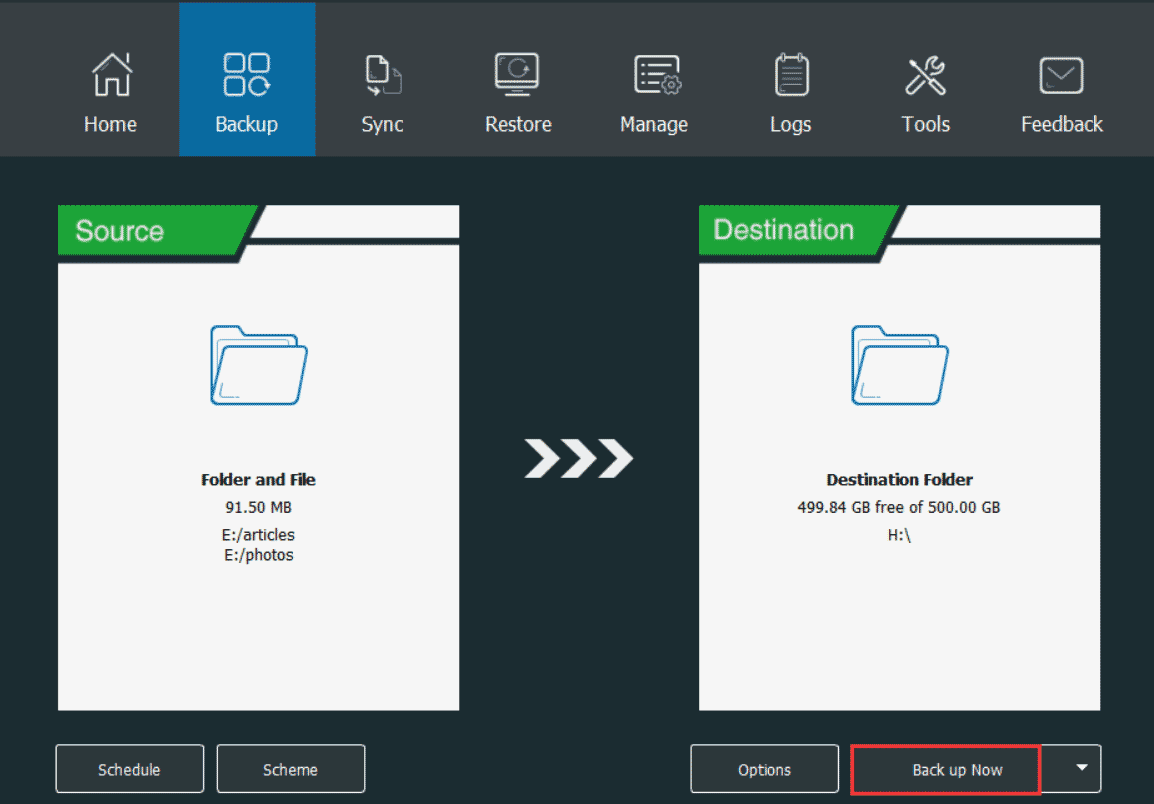 To know more details on file backup in case of Dell computer stuck on Dell logo, refer to the previous post – How to Back up Data without Booting Windows? Easy Ways Are Here.
#2. Reinstall Windows 11/10
If you decide to reinstall the system to solve the stuck issue, the operation is not hard, and follow these steps:
Step 1: Go to the official website to download Windows 11/10 Media Creation Tool.
Step 2: Run this tool, configure something to enter the following interface, and choose USB flash drive. Then, finish creating a bootable drive of Windows by following the instructions on the screen.
Step 3: Boot the Dell PC from the bootable USB drive and then enter the Windows Setup interface.
Step 4: Customize a language, time and currency format, and keyboard or input method.
Step 5: Hit Install now to begin the installation and follow the on-screen wizards to finish the process.
Bottom Line
Is Dell laptop or desktop stuck on Dell screen not turning on? What should you do to get rid of the trouble? After reading this tutorial, you can find multiple fixes that help you out. Try them until you solve the issue. Hope this post is effective and useful to you.
Dell Inspiron Stuck on Dell Logo FAQ
What to do if Dell laptop is stuck on Dell logo?
Perform a hard reset
Run Startup Repair
Check BIOS
Reset BIOS to default settings
Run ePSA Pre-boot System Assessment
Manually check RAM or hard drive
Get data and reinstall Windows 11/10
Why is my laptop showing the Dell logo and then black screen?
Bad connection between the graphics drivers and OS, display adapter driver update issues, viruses on the system, hardware failure and more could lead to the Dell black screen. To solve it, refer to the guide – The Full Guide to Fix the Dell Laptop Black Screen Issue.
How do I hard reset my Dell Inspiron?
Turn off the machine.
Remove the power cable or AC adapter and all external devices including printers, scanners, cameras, etc.
Press and hold the power button for 15-20 seconds to drain the rest power.
Connect the power cable or AC adapter and battery.
Power on the PC again.