Dropbox is a great program that allows you to store and share files, collaborate on projects, and bring your best ideas to life. But have you ever encountered all kinds of error issues, such as Dropbox error 500?  This article on MiniTool Website will focus on this error to offer a series of fixes for you.
Dropbox is a popular cloud-based storage platform. With its powerful cloud storage, it is expanding its market share and attracting more and more users.
Some people may ask if is it really safe to use and how to further protect your cloud files. As for that, you can read this article for further understanding: Is Dropbox Secure or Safe to Use? How to Protect Your Files.
What Is Dropbox Error 500?
Some Dropbox users see the message showing "Error 500, Something went wrong..." and notifying you to check out their help center and forums for help. That seems to be a suggestion that asks you to wait for a response, delaying your task and killing your patience.
If you want this error 500 on Dropbox fixed as soon as possible, the next part can be your focus where you will find 10 methods to get rid of Dropbox error 500. First of all, let's figure out what that means when you encounter the error (500) – something went wrong issue.
The error (500) – something went wrong error can occur in different situations:
When you log in to the Dropbox account via the web page.
When you try to get some data or any file from Dropbox.
When you try to download and open a file.
That makes it hard to deduce the specific reasons for Dropbox error 500 but you can troubleshoot the potential incentives based on the above situations. Some other factors are reported and we will give you a sum-up of Dropbox's triggers.
Corrupted Dropbox files
An incomplete installation of Dropbox
Registry-related issue
Corrupted Windows system file due to virus or malware attacks
Damaged Dropbox applications due to virus or malware attacks
Missed Dropbox-related files
Too much cached data in browsers
Outdated Windows system
A lot of unwanted files and folders in your computer
How to Fix Dropbox Error 500?
Fix 1: Verify your Credentials
Before you start the following methods, you can double-check your credentials. The error is related to the login issue and if you encounter Dropbox error 500 when you try to log in to your account, you can re-try your password and make sure all spells and case formats are correct.
After checking all these details, you can try to re-log into your account.
Fix 2: Check Your Internet Connection
If you are in a poor Internet or signal environment, you may fail to log in to your account and the error 500 on Dropbox can happen. Try to check if the Internet is still connected and disconnect and then re-connect your Internet. If this method is of no use, you can the following tips:
Close superfluous background process.
Get closer to the Wi-Fi source.
Change to using Ethernet cable.
Fix 3: Check Dropbox Server Status
If the Dropbox server has been down, you cannot get into your Dropbox account. As usual, before the service starts its restoration, the official Dropbox website will issue a related notification to remind users. You may follow its official Twitter or other social media to view this information.
If you cannot find its service stoppage notification, you can head over to the Dropbox Server Status page to check if it performs well.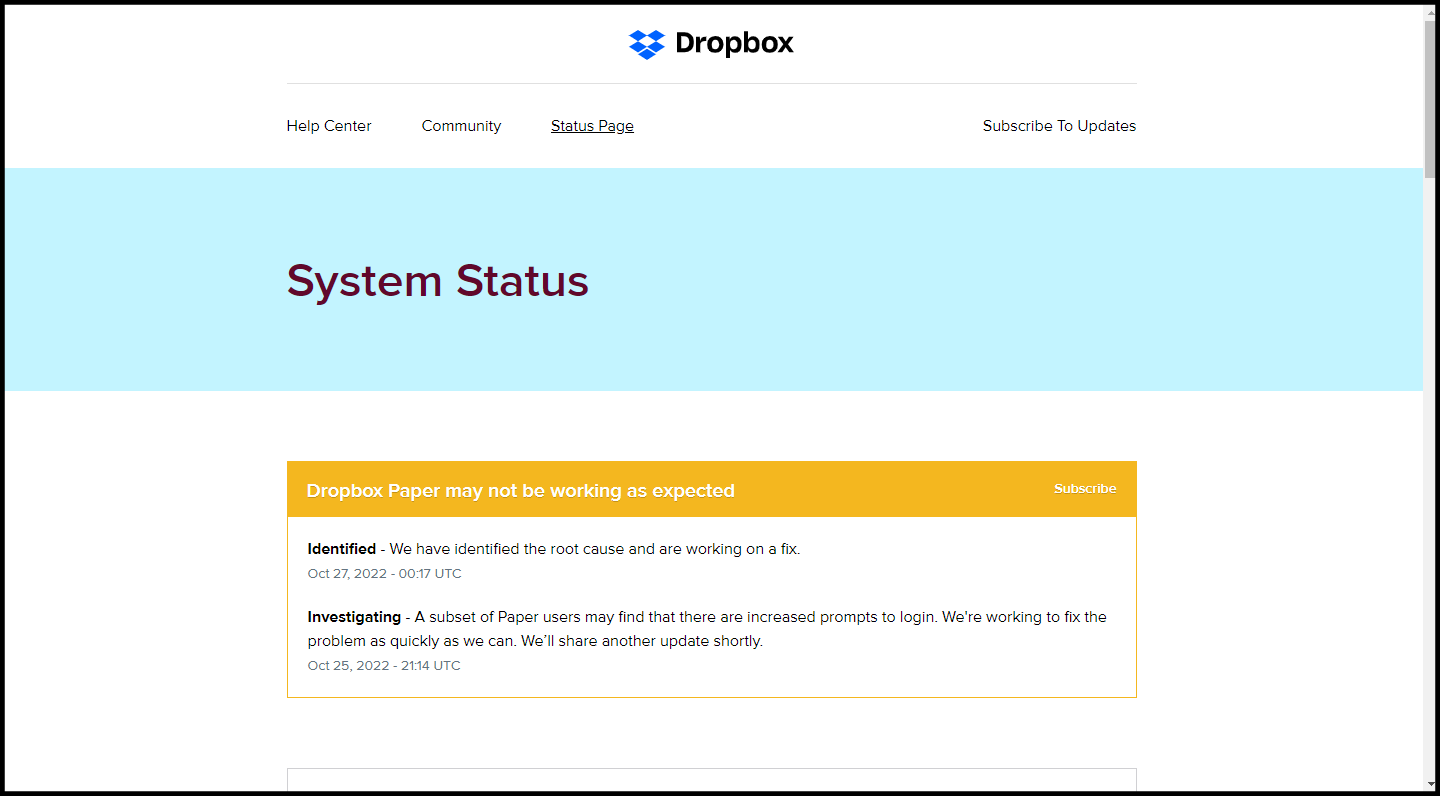 During the downtime, you can't log in to Dropbox until the restoration finishes so the only thing you can do is just wait and keep an eye on the official Dropbox Twitter where any progress will be issued.
Fix 4: Try Other Browsers
It is worthwhile to doubt the error happens because of the browser issue. If you cannot make sure, you can change to another browser to try your Dropbox.
Want to know more browser alternatives? This article can be useful for you: Web Browsers for Windows: A List You May Want to View.
There are some browser recommendations for you and you can click on them for a download introduction:
Fix 5: Remove All Browser Cookies
If you don't want to change your browser, you can try to remove all browser cookies to see if the Dropbox login issue can be fixed. Here, we will take Google Chrome as an example.
Step 1: Open your Google Chrome and click on the three-dot icon in the right top corner.
Step 2: Choose Settings and then in the Privacy and security tab, choose Clear browsing data.
Step 3: Make sure you have checked Browsing history, Download history, Cookies and other site data, Cached images and files and then choose Clear data.
Fix 6: Clean all the Junk or Temporary Files and Folders
If you have junk or temporary files in your computer, that may affect the Dropbox performance, causing Dropbox error 500.
You can get rid of junk files such as downloads, temporary Windows installation files, temporary internet files, and delivery optimization files via Disk Cleanup.
Step 1: Type Disk Cleanup in the Search box and open it.
Step 2: Choose a drive you want to clean up and click OK. It will scan the selected drive for junk files from multiple and usual sources.
Step 3: Then the tool will start calculating how much space you can free up by deleting different junk files.
Step 4: Check the box to select the file type you want to clean up and click OK to start deleting.
Note: You can also click on Clean up system files to view Temporary Windows installation files and device driver packages.
Fix 7: Enable JavaScript
JavaScript is a text-based programming language used both on the client-side and server-side that allows you to make web pages interactive. Therefore, it is recommended that you manually restart it. The next part will take Microsoft Edge as an example.
Step 1: In the Edge browser, click on the three-dot icon and head to Settings.
Step 2: Choose Cookies and site permission from the left menu bar and scroll down to choose JavaScript.
Step 3: Disable this toggle and then re-enable it. After a moment, retry your Dropbox.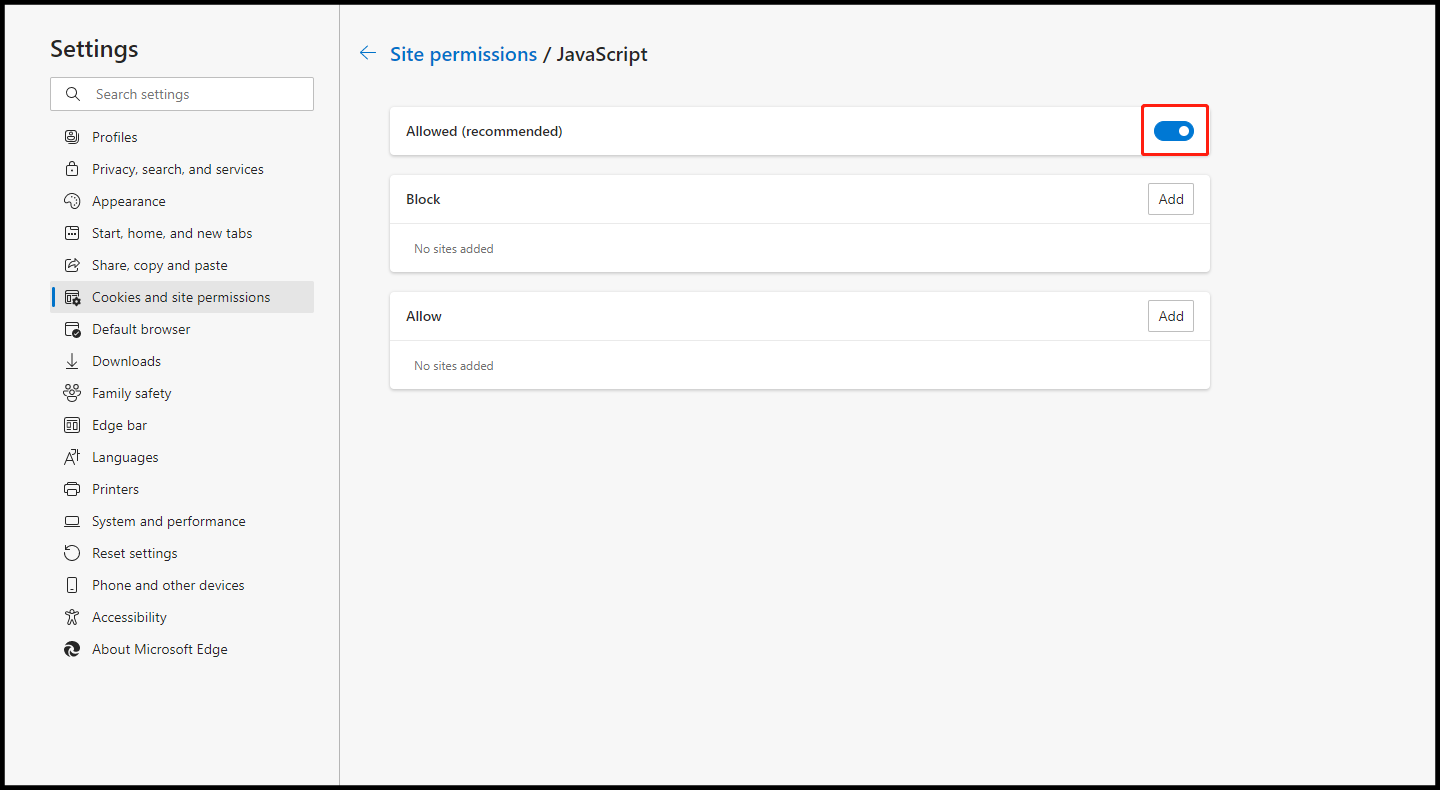 Fix 8: Change Browser's Tracking Behavior
Since our browser acts as a stringent privacy measure, it might break some sites and give a shot at accessing Dropbox. We can configure some settings to change its tracking behavior.
The following steps are suitable for Microsoft Edge users.
Step 1: Open your Microsoft Edge and go to the Privacy page via this route: edge://settings/privacy.
Step 2: Then choose Balanced or Basic and save the changes.
After that, try accessing Dropbox to see if the issue has been resolved.
Fix 9: Run Windows System File Checker
As we mentioned, corrupted Windows system files might be one reason for Dropbox error 500. To troubleshoot that, you can use System File Checker.
Step 1: Press Windows + S to open the Search box and input CMD to run Command Prompt as an administrator.
Step 2: Type sfc /scannow and press Enter to run the command.
Then you need to wait for a while until the scanning process finishes; the cost time depends on your system and if any corrupted files are found in this process, the SFC scan will fix them.
After that, you can restart your computer and check your Dropbox.
Fix 10: Restore the System
The last method is to restore your system to the normal state without Dropbox error 500. During this process, your data after the restore point might be erased and it is recommended to back up your data first.
Step 1: Press Windows + R to open a Run dialog box and type rstrui to launch the System Restore wizard.
Step 2: Click Next on the pop-up window and select the restore point you have created before. Click Next.
Step 3: To initiate the restoring process, click Finish.
Then your computer will reboot and back to the previous state. You can check to see if the error is still occurring.
A Better Choice – MiniTool ShadowMaker
By following the above methods, your issue can be resolved quickly but many users report Dropbox issues, such as Dropbox not syncing, Dropbox icon missing, Dropbox error 500, and Dropbox error 413, which may cause some troubles for users.
In this way, you may have a more secure alternative in case anything wrong happens on Dropbox. To do that, apart from this cloud storage platform, it is recommended that you have a local backup plan or a backup disk to avoid data loss.
An all-in-one backup expert – MiniTool ShadowMaker – can do its best to safeguard your data integrity. Not only can it back up data to local and NAS, but also sync files and clone disk. The features and functions of MiniTool ShadowMaker have everything that one expects to find. It will be a wonderful trip with MiniTool ShadowMaker.
To get more about it, you can download and install MiniTool ShadowMaker first and you will get a 30-day free trial version.
Step 1: Open MiniTool ShadowMaker and then click on Keep Trial at the right bottom corner. Wait for a while and you will get into the main interface.
Step 2: Go to the Backup tab and choose the SOURCE section where you can see four sources are allowed – the disk, partition, folders, and files.
Step 2: Choose the DESTINATION section to choose a target path to save the data. There are four options – User, Computer, Libraries, and Shared. Here, you can perform a NAS backup with the Shared feature.
Step 3: Then you can choose Back Up Now to start the process immediately or Back Up Later to delay the backup. The delayed backup task is on the Manage page.
Besides, you can choose the Options feature to configure your backup settings in which you can set your Backup Options, Backup Scheme, and Schedule Settings.
If you hope to find a Dropbox alternative, MiniTool ShadowMaker can also provide you with the sync option. You can sync your data to local and NAS; the whole process will be safe and quick.
In the Sync tab, you can go to SOURCE to choose what you want to sync and then go to DESTINATION to choose where you want to save your synced files. Then click on Sync Now or Sync Later.
The Options feature next to Sync Now allows you to configure File Sync Options and Schedule Settings.
This article may resolve many users' concerns about Dropbox error 500. There are 10 methods available for you. If you like this post, you can share it on Twitter.
Bottom Line:
Apart from Dropbox error 500, you may encounter other error issues when you are using Dropbox. It is a trustworthy partner in saving and sharing files but you can prepare yourself for both eventualities. Backing up your files or system to an external drive can be a better backup plan for your important data.
If you have encountered any issues when using MiniTool ShadowMaker, you can leave a message in the following comment zone and we will reply as soon as possible. If you need any help when using MiniTool software, you may contact us via [email protected].