Factory reset is a safe way that helps get your system back to the original state when your computer doesn't work properly. This guide from
MiniTool Website
discusses how to factory reset Samsung laptop Windows 10/11 in 3 ways for you.
Why and When Do You Need to Factory Reset Your Samsung Laptop?
Samsung laptops have gained great popularity among people all over the world for their stylish look and high performance. However, the computer performance might degrade over time. Samsung laptops are no exception. What to do if your computer runs slower and slower and even freezes or crashes a lot?
A factory reset will be the most effective solution. It is a process that deletes all the information stored on your Samsung laptop and resets it to the original manufacturer settings. In doing so, any software or configuration issues can be solved and your Samsung laptop will function normally again.
When do you need to perform a factory reset of your Samsung laptop? Here, we list the following situations:
A sudden and consistent performance drop of your device.
Malware or viruses attack your system and the antivirus software cannot remove the threats.
You forget your Windows password and cannot log into the Samsung laptop.
Your computer is unbootable and cannot be fixed by many ways.
Before sending or selling your laptops to others, performing a factory reset can help to clean all your personal and sensitive information on this device.
Does Factory Reset Delete Everything?
Does factory reset delete everything on your computer? Generally speaking, performing a factory reset will remove the following content on your computer:
Personal data – includes all your documents, photos, videos, music, and other types of personal files.
Settings – refers to all the customized settings you have configured on your Samsung laptop like application settings, system settings, network settings, and more.
Apps – includes installed apps and their data.
Accounts – means all the accounts (such as Google, Microsoft, and more) that you have logged in on your laptop will be removed.
In fact, what content factory reset deletes depends on your computer settings and your choice. You can either decide to delete everything and then reinstall the operating system or only delete the OS.
Samsung Laptop Factory Reset Without Password Windows 10/11
Preparation: Back up Your Important Files Before Proceeding
Although you can select to keep your files during the resetting process, it is a little risky because you are still likely to lose your data. To be on the safe side, make sure to back up your data before resetting your Samsung laptop. With a backup copy in hand, you can restore your data easily after suffering from sudden data loss.
In terms of data backup, you can consider relying on free PC backup software like MiniTool ShadowMaker.  This reliable tool is aimed to help you back up items like files, folders, partitions, disks, as well as Windows operating system on Windows 11/10/8/7. It supports 3 types of backups: full, incremental, and differential backup. Besides, you can create an automatic backup as long as you specify a time point.  
Now, follow these instructions to backup files with MiniTool ShadowMaker.
Step 1. Connect a USB flash drive or an external hard drive to your Samsung laptop and then launch MiniTool ShadowMaker.
MiniTool ShadowMaker TrialClick to Download100%Clean & Safe
Step 2. In the Backup page, you can choose what to backup and where to save the backup image files.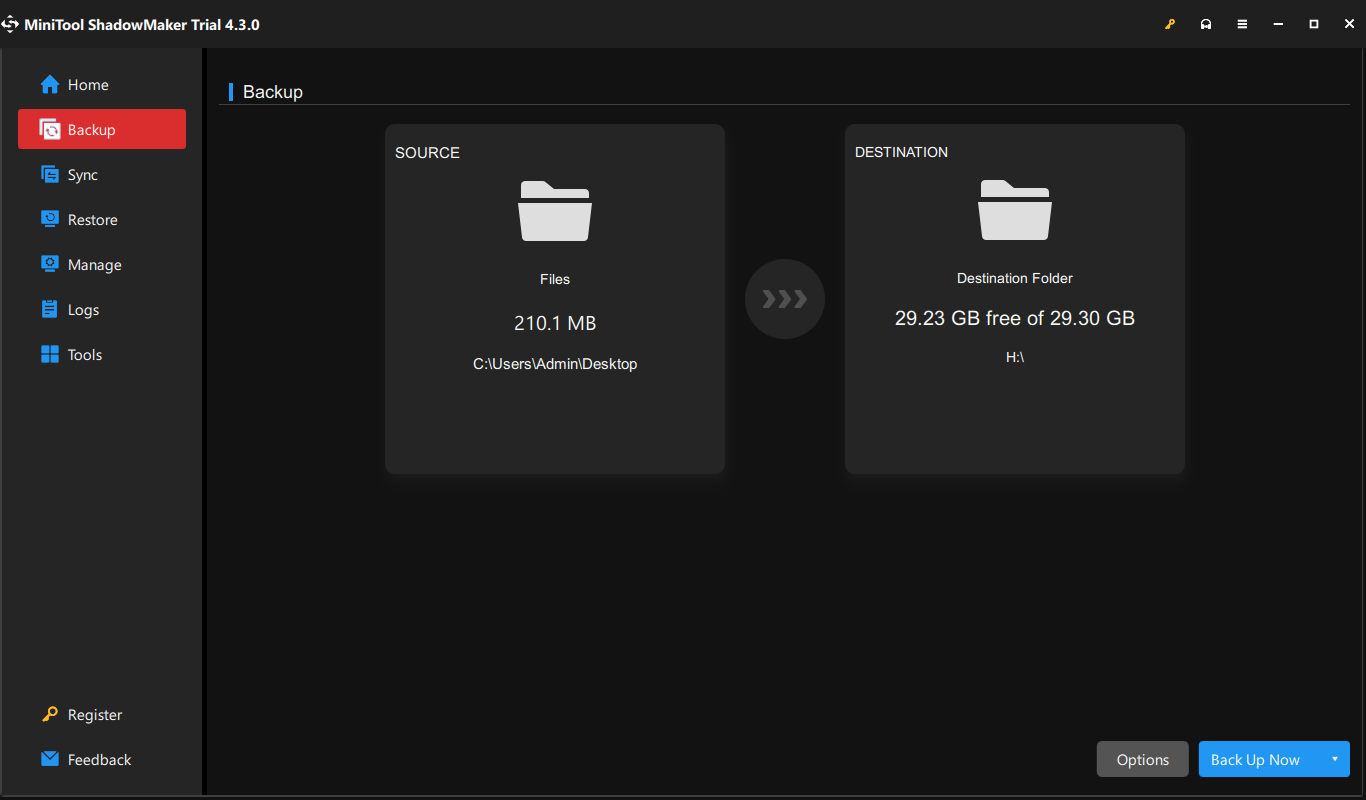 Step 3. Click on Back Up Now to begin the process.
After making a backup, it is time to factory reset your Samsung laptop. Usually, this process might take around 30 minutes to 3 hours. To avoid unexpected data loss caused by power outages, make sure that your laptop is connected to a power supply during the process.
Also see: How Long Does It Take to Reset a PC? Find Answers and Speed Up It
How to Factory Reset Samsung Laptop via Samsung Recovery
Samsung laptops come with a utility called Samsung Recovery that enables you to create a backup, perform a reset, and restore your operating system. When your Samsung laptop is not running properly, you can use this utility to reset your device. To do so:
Step 1. Press the Power button to turn on your Samsung laptop and then press the F4 key several times until prompted by Samsung Recovery.
Step 2. In the repair screen, click on Computer factory reset.
Step 3. Hit Start factory reset > hit OK in the confirmation screen > follow the instructions on the screen to complete the reset.
How to Factory Reset Samsung Laptop via Reset This PC
Compared with reinstalling Windows 11/10, Reset this PC is faster and more convenient. The latter will set your Samsung laptop back to its factory default state without deleting OEM-installed applications and software. Here's how to access Reset this PC on a bootable laptop:
Step 1. Press Win + I to open Windows Settings.
Step 2. In the settings menu, scroll down to locate Update & Security and hit it.
Step 3. Under the Recovery tab, click on Get started under Reset this PC.
Tips:
For Windows 11, you need to: go to Settings > System > hit Reset PC beside Reset this PC.
Step 4. Then, there are two options available for you:
Keep my files – deletes all apps and settings while your personal files will not be affected.
Reset everything – removes all the apps, settings, as well as personal files. You can select this option if you want to sell or send the laptops to others.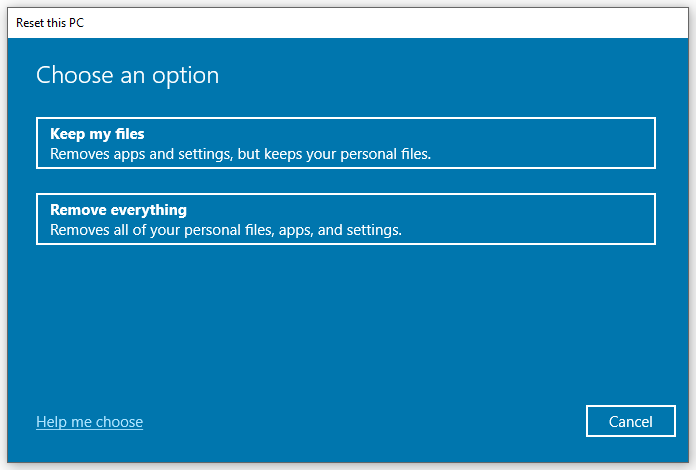 Step 5. After a few moments, choose from the two options below:
Cloud download – will download new system files from Microsoft and install the latest version of Windows as part of the reset. Since you need to download the system files online, make sure to have a stable internet connection.
Local reinstall – will reinstall Windows with the existing system files on your PC. If there is any system file corruption, the local reinstallation might not be completed.
Step 6. Check the settings you have selected and hit Next if they are correct.
Step 7. In the final confirmation screen, click on Reset if you are ready to start the process. Typically, the process will take 15 minutes to an hour, please wait patiently.
# How to Access Reset This PC When Samsung Laptop Fails to boot?
The steps above are based on a bootable Samsung laptop. If you cannot boot into desktop directly, follow these steps to access Reset this PC in Windows Recovery Environment  (WinRE):
Step 1. Power off your Samsung laptop > turn it on > press the Power button to shut it down when the Windows logo appears.
Step 2. Repeat this action more than 2 times until you see the Automatic Repair screen and then click on Advanced options to enter WinRE.
Step 3. Click on Troubleshoot > Advanced options > Reset this PC.
How to Factory Reset Samsung Laptop via USB Drive
Microsoft provides you with Media Creation Tool that allows you to download a Windows 10/11 ISO file compatible with your laptop or create a bootable USB drive directly to install Windows 10/11. When there is something wrong with the operation system of your Samsung laptop, you can reset it using a USB flash drive. Follow these steps:
Move 1: Download and Run Media Creation Tool
Step 1. Prepare another computer and a USB flash drive.
Step 2. Go to Microsoft Center and click on Download Now Under Create Windows 10 installation media.
Step 3. After downloading it, double-click on the setup file to run Media Creation Tool and tick Create installation media (USB flash drive, DVD, or ISO file) for another PC.
Step 4. Connect your USB drive to the computer.
Step 5. Select the language, edition, & architecture as per your needs and then follow the guidance to create installation media.
Warning:
During the process, the files on the USB drive will be deleted. Therefore, you had better back up your files to another safe location to secure them. To do so with ease, the professional backup software MiniTool ShadowMaker really deserves a try.
MiniTool ShadowMaker TrialClick to Download100%Clean & Safe
Move 2: Reinstall Windows 10 via a USB Drive
Step 1. Remove the USB drive from the computer and plug it into your problematic Samsung laptop.
Step 2. Reboot it > enter your language & other preferences > hit Next.
Step 3. Click on Install now > enter the product key > accept the license terms > hit Next > Custom.
Step 4. Select a partition in Where do you want to install Windows and follow the instructions on the screen to complete the reset process.
Hi, there! My Samsung laptop used to freeze frequently. Thanks to the detailed instructions in this guide, I tried resetting my computer to the factory settings and finally made it! You can have a try if your system is sluggish.Click to Tweet
# Bonus Tip: Set up Your Samsung Laptop
After the factory reset is complete, you need to set up your Samsung laptop according to your preferences. To make your computer ready to be used for work, entertainment, or other purposes, you need to:
Personalize your laptop by adjusting settings like the display resolution, power settings, desktop backgrounds, and more.
Uninstall unwanted preinstalled software.
Launch antivirus software and enabling Windows Firewall to protect your Samsung laptop from various threats.
Update your Windows in time to get new features, bug fixes, security updates, and more.
We Need Your Voice
Now, you have learned how to factory reset Samsung laptop without password via Samsung Recovery, Windows Reset this PC, and a USB flash drive. The first method is designed for Samsung laptops, and the latter 2 methods can also be applied to other brands of computers.
Consider seeking professional help from computer experts if your Samsung laptop still malfunctions after a factory reset. For more expectations or problems with our product, welcome to directly contact us via [email protected].We are looking forward to your feedback!
How to Factory Reset Samsung Laptop FAQ
How do I Reset my Samsung laptop to factory settings?
Way 1: via Samsung Recovery
Way 2: via Reset this PC
Way 3: via USB Drive
How do I factory reset my laptop without logging in?
To factory reset your laptop without logging in, you need to: power on your machine > press and hold the Shift key in the login screen > click on the Power icon > select Restart > Troubleshoot > Reset this PC > select Keep my files or Remove everything.