Does your aging laptop need to be boosted? How to speed up an older laptop in Windows 10? This post on the MiniTool website guides on software tweaks and hardware upgrades to make your HP/Dell/Acer/Lenovo, etc. laptop to run like a new one with a fast speed. Let's see what you should do.
You may have an old laptop that has been used for more than 3 years. Recently, you find it runs very slowly. Besides, software is becoming more demanding, which can have a big impact on your PC performance. Using a laptop running like a tortoise is very annoying. But this doesn't mean you need to replace the slow laptop.
You can take some measures to boost it in performance. Via some technical tips, you can make an old laptop run like new to some extent. So, how to speed up an older laptop in Windows 10? Go on reading.
How to Speed up Laptop (HP/Dell/Acer/Lenovo, etc.)
Uninstall Unused Programs
On the laptop, there may be many programs to be installed but not be used frequently. These apps can slow down the machine and even use previous system resources. Even sometimes they run quietly in the background. To speed up your laptop, go to uninstall these unnecessary programs. Here take Windows 10 as an example.
Step 1: Click the Start icon and go to Settings > Apps.
Step 2: In the Apps & features tab, you can view a list of the applications you have installed. Just locate the one you don't use and click the Uninstall button to remove it. Repeat this step to remove all the unused programs.
Stop Programs Running at Startup
Many programs are designed to launch by itself when the laptop starts up, which can slow down your PC. The laptop may take much time to boot to the desktop. Some programs may be the ones you want to run during startup like antivirus, but some are not necessary. So, you need to prevent programs from opening at startup.
Related post: How to Disable Startup Programs Windows? Here Are Answers
How to speed up an older laptop in Windows 10 via this way? See the guide.
Step 1: Right-click on the Taskbar and select Task Manager in Windows 10.
Step 2: In the Startup tab, locate the one that has been enabled at startup and click Disable. Do this for many programs.
Delete Unnecessary Files
If there are many unnecessary files but you don't remove them, your PC may get cluttered, causing the PC performance to be poor, especially when you dela with large files like high-resolution images, videos and audio files. To make an old laptop faster, delete some unnecessary files. Besides, empty Recycle Bin to free up disk space.
Run Disk Cleanup
In Windows, there is a tool called Disk Cleanup that can be used to remove some junk files and temporary files which may accumulate over time. If your laptop runs at a slow speed, you can run Disk Cleanup to remove junks. See how to speed up an old laptop in this way:
Step 1: Type Disk Cleanup to the search box and click it to open this app.
Step 2: Choose the drive you want to clean up and here we choose C, then click OK.
Step 3: Click Clean up system files and check the files to delete.
Step 4: Click OK > Delete Files.
Defragment Your Hard Drive
Files on your hard drive may become fragmented as time goes on. This can cause the laptop to slow down since it needs to check for the debris in multiple places. To speed up this machine, disk defragmentation is necessary since it can put those pieces together to let the system run efficiently.
You only need to defragment your traditional hard drive. If your laptop uses an SSD, skip this tip.
Step 1: Type defrag to the search box in Windows 10 and click Defragment and Optimize Drives.
Step 2: In the Optimize Drives window, select a drive and click the Optimize button to start the defrag operation. Do this thing for all the drives.
Disable Graphics and Animations
Some animations are offered in some versions of Windows to give you a cool user experience. However, they may take up many resources in your laptop and make it slow. So, disable them via the following guide:
Step 1: Launch Control Panel and click System and Security > System > Advanced system settings to open the System Properties window.
Step 2: Click on the Settings button from Performance to open the Visual Effects tab.
Step 3: Check the option of Adjust for best performance.
Step 4: Save the change by hitting Apply > OK.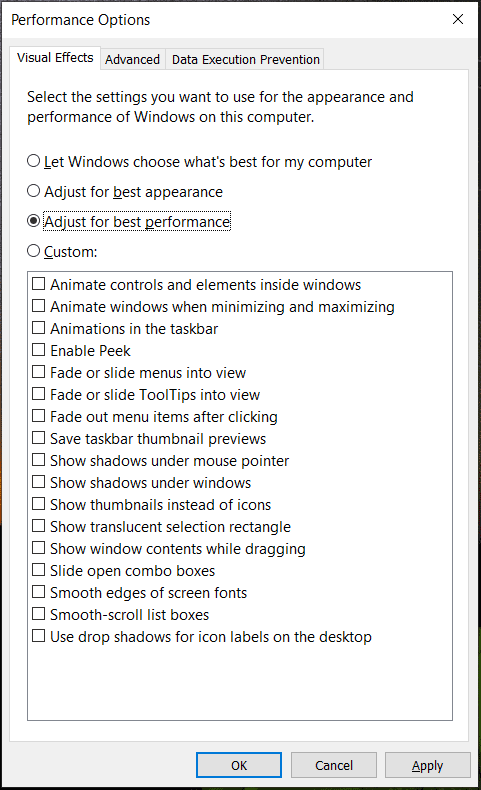 Scan for Viruses and Malware
Some viruses and malicious software may damage your PC but some can slow down your device. Thus, we recommend running antivirus software regularly to scan for the system and remove these threats.
In Windows 10, the built-in antivirus program is Windows Security and let's see how to speed up an older laptop by running the tool to remove viruses and malware.
Step 1: Go to Settings > Update & Security > Windows Security > Open Windows Security.
Step 2: Click Virus & threat protection > Scan options, select a scan method and click Scan now to begin the scan.
Other Software Tweaks
How to make old laptop faster or how to make an old laptop like new? In addition to the above software tweaks, there are some other tips you can try:
Extend the Laptop's Life (Related post - How to Make Laptop Battery Last Longer? Tips and Tricks)
Update Device Drivers
Clear Browser's Cache
Adjust Your Power Options
Find Programs That Eat up Resources and Close Them
Close System Tray Programs
Reinstall Windows
If you decide to reinstall Windows, we recommend using free backup software – MiniTool ShadowMaker to back up your important files to avoid data loss.
In addition to these tips to make your laptop faster, you can upgrade some computer components to speed up the older laptop and the common two operations are using an SSD and RAM upgrade. In the following, we will show you some details.
Upgrade Laptop HDD to SSD
An SSD and HDD are two common disk types. An HDD can offer much storage capacity while an SSD can offer fast speed. If you want to know much information about these hard drives, go to this post - SSD VS HDD: What's Difference? Which One Should You Use in PC.
If your laptop is using an HDD, we strongly recommend using an SSD since it can boot up the machine and apps fast, and offer a great performance, especially when you need to deal with large data like edit videos/photos, play games, etc. On an SSD, apps can launch more smoothly and load faster.
So, get an SSD and replace the traditional hard drive with it. You can easily do this work in this way – clone HDD to SSD without reinstall operating system. This can help to migrate all the data including Windows files, personal data, settings, etc. from the original disk to an SSD and you can continue using the same system with the same settings.
How to perform disk cloning in your old laptop? Go to seek help from a professional hard drive cloning software. Here, we also recommend using MiniTool ShadowMaker. It offers a feature called Clone Disk that can help you to clone the entire hard drive to another disk. That is, everything will be cloned and the target disk can be used to directly boot the PC after finishing the clone.
Before you do, connect your SSD to your laptop via a USB to SATA connector/enclosure/adapter. If you use a M.2 SSD, use an enclosure.
See how to speed up an older laptop via disk cloning:
Step 1: Download and install MiniTool ShadowMaker on your laptop. Just click the following button to get its trial edition to have a try.
Step 2: Launch this MiniTool software and click Yes when getting the User Account Control popup. Then, click Keep Trial to try this version (free trial within 30 days).
Step 3: In the Tools tab, click Clone Disk to continue.
Step 4: Click the corresponding section to choose the source disk and the target disk. Here, choose the HDD – the system disk on your laptop as the source drive. Use an SSD as the destination disk.
After clicking OK, you will get a message to tell you disk cloning can delete all the contents on the target drive. So, make sure your SSD doesn't hold important data.
Step 5: This tool is cloning your disk. Based on the size of original disk, the cloning time varies.
After finishing the clone, you can shut down your laptop, open the back of this device, remove the HDD and put the SSD to its original place. Then, you can boot up the laptop from the SSD with a fast speed and enjoy the machine with a great performance.
If you want to know more details on SSD installation, refer to our previous post - How to Install SSD in PC? A Detailed Guide Is Here for You!
Add More RAM to Your Laptop
How to speed up an old laptop or how to make old laptop faster? Adding more memory to the machine is a good tip you can try. The old laptop may have limited memory that cannot meet the demands of modern apps. Besides, if you run many apps at the same but the RAM is not enough, your PC cannot finish tasks. Adding more RAM can boost to some extent.
How to do this work? In our previous post, we have talked about this topic in detail and see what you should do:
Bottom Line
How to make an old laptop run like new? How to speed up an older laptop in Windows 10? After reading this post, you know what to do to make the laptop faster to let it run like new with a great performance. Just try them one by one.
Of course, if you have some other ways to speed up a laptop, welcome to share them with us in the comment part below. Thanks very much.