This article mainly teaches you how to back up files/folders from local Windows 11 computers to Synology NAS. It introduces two methods: with official Synology Drive Client and professional MiniTool ShadowMaker. Besides, this post is involved in mapping Synology drive and other Synology backup solutions.
Windows 11 Synology NAS is a network-attached storage provided by Synology technology for the latest Windows 11 operating system (OS). It can be used as a destination for storing data backup image files. Now, let's see how to back up files in a Win11 computer to Synology NAS.
How to Do Synology Backup Windows 11 with MiniTool ShadowMaker?
Since Synology NAS is just a storage device, to copy data to it, you need a professional and reliable backup service or backup software like MiniTool ShadowMaker, which can back up files/folders, partitions/volumes, OSes, and the entire hard disk drives to remote shared folders or NAS.
MiniTool ShadowMaker TrialClick to Download100%Clean & Safe
How to Back up to Synology NAS Using MiniTool ShadowMaker?
1. Download, install, and launch MiniTool ShadowMaker on the target Windows 11 PC.
2. If it requires purchase, just click the Keep Trial option to continue to enjoy its free trial version.
3. When entering the tool's main interface, click the Backup tab from the top menu.
4. In the Backup tab, click the Source module and select Folders and Files to select the items you'd like to protect.
5. Click the Destination module and choose Shared > Add new to add your Synology NAS as a backup target place. You need to input the NAS path, username, and password to add the NAS.
6. Click on the Schedule button in the bottom left of the Backup tab, switch on the schedule settings in the popup, and pick up a proper backup schedule, daily, weekly, monthly, or on event.
7. Click on the Scheme button in the lower left of the Backup screen, turn on scheme settings from its popup, and select a backup scheme there, full backup, incremental backup, or differential backup.
8. Besides, click the Options button from the lower right of the Backup tab and manage the backup task and image there. For example, you can determine backup image size, compress/comment/encrypt/verify a backup image, exclude certain content from backup, etc.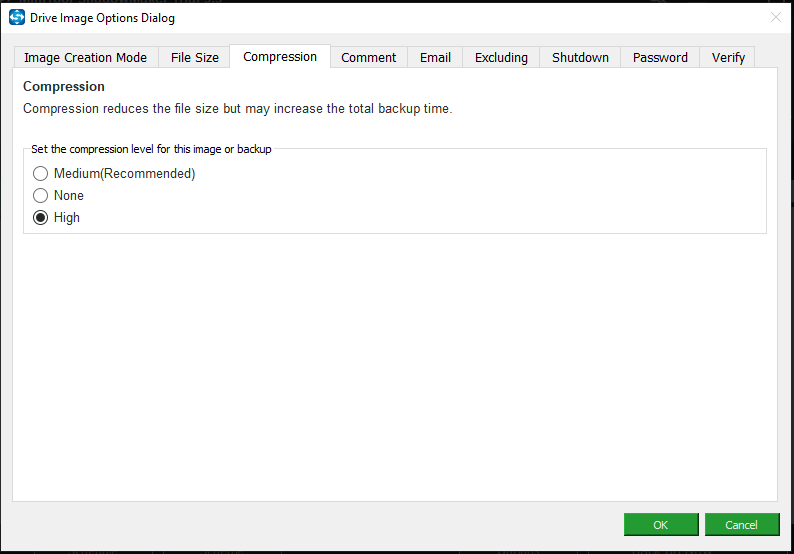 9. Finally, when all settings are done, just click the Back up Now button in the bottom right corner to start the backup process.
Wait until the backup process finishes.
How to Restore Files from Synology NAS Relying on MiniTool ShadowMaker?
If you lose the source files after Synology backup Windows 11 to NAS, don't worry! You can restore them with the remote backup image with the help of the same backup application.
1. Open MiniTool ShadowMaker on the target computer.
2. Move to the Restore tab.
3. There, find the Synology NAS backup task and click the Restore button for the task.
4. In the new window, all available Synology backup versions will be listed. Select the one you prefer to restore.
5. Select the files you want to restore from the selected backup image version.
6. Specify where you'd like to restore the files, both the source file location and another place are supported.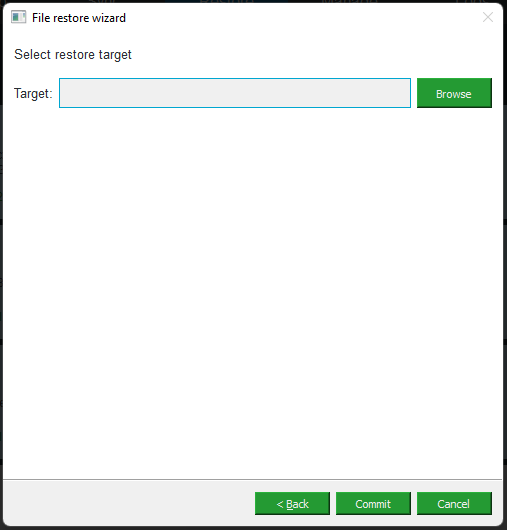 7. Lastly, click the Commit button to start the restoration.
The time it costs for restoring depends on the size of files it will restore. Just take your patience!
Note:
If your Windows 11 computer is corrupted and can't startup, you should install MiniTool ShadowMaker on another working computer and restore the Synology backup image to that machine. If you want to get the data on the crashed PC that isn't physically damaged, just create a bootable version of MiniTool ShadowMaker into a USB disk on the working computer, connect the
bootable USB
to the crashed PC, and use MiniTool ShadowMaker to back up the left data out onto an external storage device like another USB drive.
Map Synology Drive Windows 11
Synology NAS indows 11 is a kind of remote storage space, you have to enter its address, username, and password each time you need to use it. Fortunately, there is a way to mount it as a local drive and take advantage of it just like it's a native hard drive!
1. Open Windows 11 File Explorer.
2. Click on the See more (three dots) icon on the toolbar.
3. In the drop-down menu, select Map network drive.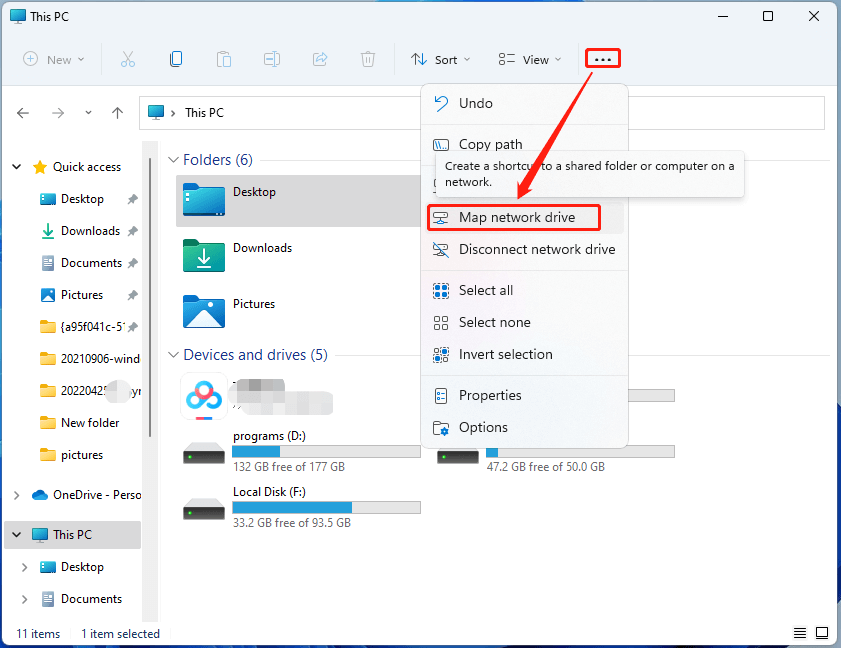 4. In the new pop, choose an available drive letter for the Synology drive and enter its folder location. If you want to keep the mapped Synology drive for a long time, you need to make sure Reconnect at sign-in option is checked. If not, you need to remap the Synology drive each time you open your computer.
5. Click Finish and wait for the success of the mapping process.
To learn more details about mapping a hard drive, please refer to How to Map Network Drive Windows 10/11 via External Hard Drives?
How to Do Synology Backup Windows 11 by Synology Drive Client?
Synology Drive Client is a desktop application that allows you to backup data and synchronize files on multiple client PCs to a centralized server, Synology Drive Server. It also enables you to build schedule backups and make versions of these files that can be restored or downloaded when necessary.
How to Specify a Backup via Synology Drive Client?
Before starting, if you haven't had a Synology Drive Client installed on your computer, you need to download one from its official website.
Visit Synology Download Center.
Click on the Select your product type drop-down menu and select NAS.
Click on the Select your Synology Product drop-down menu and choose your Synology NAS model.
Next, in the default Operating System tab under the search results, click the Select DSM Version drop-down menu and pick up your DSM version.
Then, switch to the Desktop Utilities tab, find Synology Drive Client, and click the Download button behind it.
In the popup, click the Download button for your Windows OS.

After downloading the Synology Drive Client, install it on the target computer. Then, follow the below steps to create a backup of files using the installed Synology Drive Client.
1. Open Synology Drive Client and select Start Now.
2. Connect the Synology NAS running Synology Drive Server using either its domain name, IP address (IPv6 supported), or QuickConnect ID. Also, you can click on the Search (magnifier) icon to search all Synology NAS on your local area network (LAN).
3. Enter your username and password and click Next.
4. When it comes to choosing the type of task, just select the second Backup Task and click Next.
5. Customize your backup source files and destination. There are default backup source files and target place, if you would like to alter them, just check the files you want to back up and uncheck the items you don't. Click the Select button behind the Backup destination to choose another remote NAS location for saving the backup image.
6. Make backup rules. To personalize the backup details of this backup task, just click the Backup Rules button on the above screen. In the Backup Rules window, you can exclude certain files from backed up by maximum file size (MB), filename, or file extension. Also, you can tick to back up files and folders with the prefix "." and temporary files/folders. Moreover, you can enable the Keep locally deleted files on the remote backup destination folder service to make sure the files already backed up to Synology NAS won't be removed even if you delete the source on the local machine.
7. Click Apply > Next.
8. Select backup mode. There are three backup modes available.
Continuous backup: back up when files change.
Manual backup: back up only when I click "Back up now".
Scheduled backup: back up on specific days and times.
The first continuous data backup is highly recommended for it assists to avoid losing data. Yet here, we will take the scheduled backup for example for it is more complex to set up.
9. Specify the backup day, start time, frequency, as well as the end time for Synology backup Windows 11 schedule. Besides, there are two extra utilities that you can turn on.
Shut down automatically after running the last backup task of the day
Continue any uncompleted backup tasks when the system is in operation again
10. Next, preview your backup task and click Done to confirm and it will start the backup.
During the backup process, you can view its progress by clicking on the Synology Drive Client icon in the taskbar. Wait patiently until it completes. If you have set up the shutdown service above, you can just leave to do other businesses.
How to Download/Restore a Former Version of Synced Files from Synology Drive Server?
Then, let's see a step-by-step guide for restoring or downloading a previous version of an item from its backup destination.
1. Launch Synology Drive Client.
2. Go to the Backup Task tab and select Restore.
3. Specify the file(s) you want to recover. You are able to select a particular version of a file by choosing a specific date and time from the top Time menu.
4. Finally, click the Restore option below the time menu.
Similarly, you can download a specific version of the file by setting up the time and clicking the Download button next to the Restore button.
MiniTool ShadowMaker vs Synology Drive Client
After learning how to backup and restore files with both MiniTool ShadowMaker and Synology Drive Client, now, let's compare these two Synology backup Windows 11 apps and see the differences between them within a table!
Synology Drive Client
MiniTool ShadowMaker
Free of charge
Yes
Yes
Backup source
Files/folders

Files/folders
Partitions/volumes
Systems
Entire disks

Backup destination
Synology NAS
Backup schedule

Daily
Weekly
Monthly
On user log on/off

Backup type

Full backup
Incremental backup

Full backup
Incremental backup
Differential backup

Backup management
No
Yes
File sync
Yes
Yes
Additional features
No

Remote computer backup
Bootable media creator
…
According to the above comparison, it seems like that MiniTool ShadowMaker is a better choice than Synology Drive Client, especially when you want to back up multiple types of data on your Windows 11 PC, manage backups, and do other data protection-related tasks.
MiniTool ShadowMaker TrialClick to Download100%Clean & Safe
Synology Active Backup Windows 11
Synology Active Backup is a consolidated/centralized, license-free backup suite for PCs, servers, virtual machines (VMs), Hyper-V, Windows endpoints, Microsoft 365, Microsoft G Suite, Google Workspace, as well as other software as a service (SaaS). It centralizes backup tasks to Synology NAS and allows you to manage from one single console. Besides, reliable and quick recovery is delivered to keep running services, VMs, and files instantly available.
Synology Active Backup for Business Windows 11
Synology Active Backup for Business centralizes backup tasks for physical and virtual environments to keep your data and services always available. It backs up your business instead of just your data by protecting all your digital assets through unlimited backups for Windows/Linux devices, VMware/Hyper-V, and file servers.
Synology Backup Solutions
Synology's core backup apps protect more devices, online services, and DSM programs, and provide new ways to secure backup tasks.
#1 Active Backup for Business
A license-free backup for all PCs, servers, and virtual machines. It supports Windows and Linux OSes, AES-256 encryption, as well as instant restore migration.
#2 Active Backup for Microsoft 365 and Google Workspace
Active Backup can migrate existing tasks with the new task relinking utility and maintain copies of your backup data on any other Synology NAS with the Snapshot Replication feature. It protects full Microsoft Groups including group calendars and mailboxes. Also, it recovers entire Google and Microsoft 365 mailboxes with a single click.
#3 Hyper Backup
Hyper Backup supports backing up more DSM configuration settings and 12 additional Synology software packages, protecting altogether 38 packages.
Conclusion
In addition to the Synology backup Windows 11 apps and services, there are still many tools that can help you back up Windows 11 to Synology NAS like the Microsoft official Windows 11 File History, Windows 11 Backup and Restore, and other third-party backup programs.