Both Windows Defender and McAfee are great antivirus tools to prevent your computer from virus attack, but which one is better and more suitable for you? This post that mainly talks about Windows Defender vs McAfee is what you need. Besides, it is recommended to use MiniTool Software to better protect your data.
As more and more people keep important data on their computers, they want to choose a good antivirus program to prevent virus attacks from causing data loss. There are many great antivirus tools such as Windows Defender, Avast, Norton, McAfee, Malwarebytes, etc.
In our previous posts, we have compared Windows Defender and Avast and McAfee and Norton. Today, we will introduce information about Windows Defender vs McAfee.
About Windows Defender and McAfee
To start with, I will introduce some basic information about Windows Defender and McAfee respectively. Then you can have an in-depth look at the comparisons and differences of them, which are compared from five aspects. Following is some information about them.
Windows Defender
Windows Defender Antivirus is known as Windows Defender. It comes pre-installed in Windows, which is an anti-malware software. On October 24, 2006, Windows Defender was launched as a free antispyware for Windows XP. Later it evolved into an anti-virus program and Microsoft Security Essentials was replaced by it. Then it can be used on Windows 8 and later versions.
McAfee
McAfee is a company that claims to be the world's largest dedicated technology security company. Over the past 30 years, it has protected devices (Windows, macOS, Andriod, and iOS) from viruses, malware, and other threats.
Besides, McAfee has established a rich and widespread global threat intelligence network so that it can analyze and collect threat data from more than 500 million endpoints around the world.
Windows Defender vs McAfee
Windows Defender vs McAfee: Features
Windows Defender
Unlike other antivirus companies that offer several antivirus suites, Microsoft only offers a free version of Window Defender. There are different types of scans in Windows Defender – Full Scan, Custom Scan, and Offline Scan. Custom scan means that you can check specific files/folders to scan and the offline scan is useful if you're infected by malware.
The most useful feature of Windows Defender is its firewall. It monitors network connections and prevents hackers from accessing your network.
Another great feature in Windows Defender is Parental Controls. It lets you see the sites your kids visit online (but only when they're using Microsoft Edge) and set when your children can use their device.
SmartScreen Filter is also part of Windows Defender. It blocks malicious websites and checks for malware downloads, but it only works with Microsoft's Edge browser. The suite includes protection against ransomware and rootkits.
In addition, there's also the "Find My Device" feature, which lets you track your computer if it's lost or stolen. This feature is very useful for your laptop. If you think that sensitive data is at risk of being stolen, you can also delete the data or lock the computer.
McAfee
Previously, McAfee offered a range of antivirus suites, including McAfee Antivirus Plus and McAfee Internet Security. Right now, it only offers the McAfee Total Protection package, which comes in four editions: Single, Personal/Couple, Family, and Ultimate.
In addition to protecting against various malware threats, it also includes home network protection, an advanced firewall, and a file shredder.
You can get performance optimization tools that can rid your computer of junk files and speed it up. The suite also offers a vulnerability scanner for outdated software and other issues, as well as a silent mode.
The package also encrypts storage to protect important and confidential files on your PC with 256-bit AES encryption. Besides, you can get help from a password manager, secure VPN, secure browser, online support, and security experts.
A single device package lets you protect any device, be it a computer or a smartphone. If you want to cover more devices, you can choose the Individual/Couples plan, which protects five devices.
In the aspect of features, you can find that Windows Defender and McAfee have features that the other doesn't have. Thus, you can choose one of them according to the features you need.
Windows Defender vs McAfee: Malware Protection
This part is about the differences between Windows Defender and McAfee in terms of malware protection.
Let's see the recent lab evaluations that are conducted by AV-Test and AV-Comparatives. The test is held on December 2021. All antivirus software was tested in three aspects during the evaluations: protection, performance, and usability.
Windows Defender has a 6-star rating out of 6 for its outstanding performance.
McAfee also gets a 6-star score in the aspect of malware protection.
So, in this regard, Windows Defender vs Avast: they make a tie.
Windows Defender vs McAfee: System Performance
This part is some information on Windows Defender vs McAfee from the aspect of system performance.
It's not worth spending your money purchasing any antivirus software that makes your computer slower. Good antivirus software will provide excellent malware protection for your computer and won't bring some influences on system performance.
Let's see how much impact both Windows Defender and McAfee bring to system performance through the recent lab tests conducted by AV-Test.
Just like in the protection test, McAfee and Windows Defender also received a perfect 6 out of 6.
Windows Defender: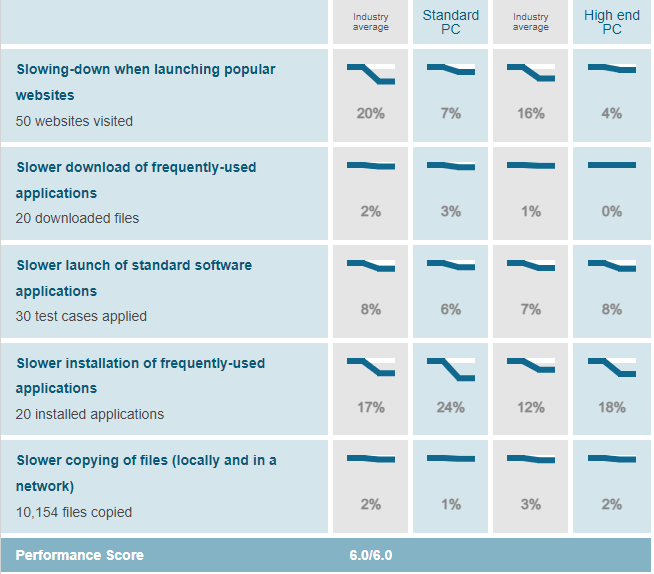 McAfee: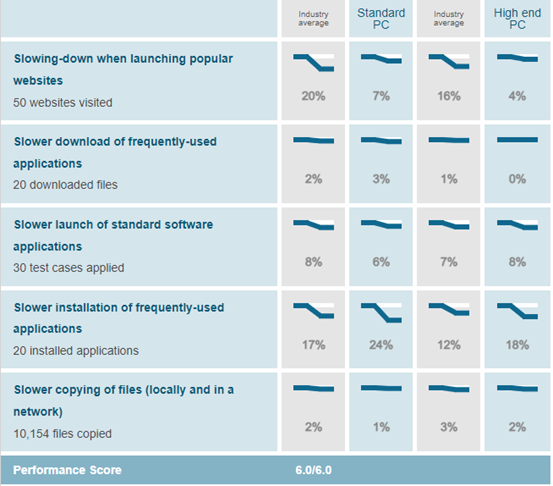 Thus, in this aspect, they also make a tie.
Windows Defender vs McAfee: User Interface
Let's directly compare their user interfaces and see which one is better.
Windows Defender
First, let's take a look at the Windows Defender user interface. The interface is simple and elegant – available in white, light grey, and blue – and adapts nicely to any Windows operating system. The following is the Windows Defender's interface.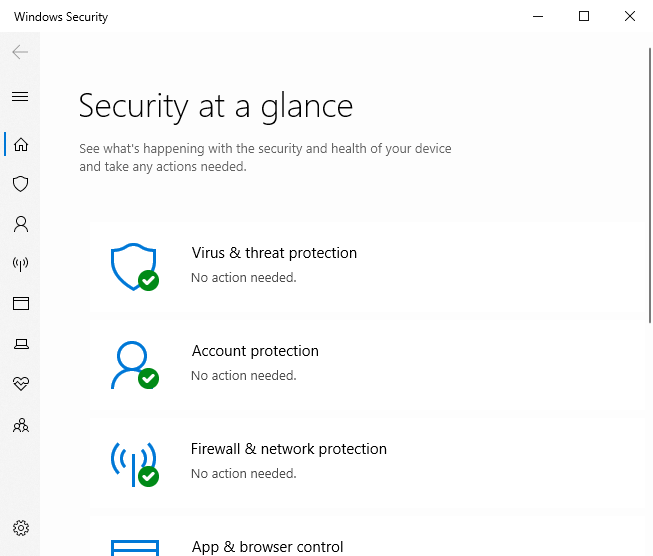 Windows Defender's interface used to be slightly outdated in the past, but it's different now. Recently, Microsoft turned the software into a centralized portal where you can easily manage your security and privacy in one place.
The main window is your "Security Overview". It contains quick links to the following modules: Virus and Threat Protection, Account Protection, Firewall and Network Protection, Application and Browser Control, Device Security, Device Performance and Health, and Family Options. Each module contains related functions and their settings.
McAfee
Now, let's look at McAfee's interface.
McAfee's interface has also undergone significant changes, becoming more concise and clear. The new interface is also more efficient.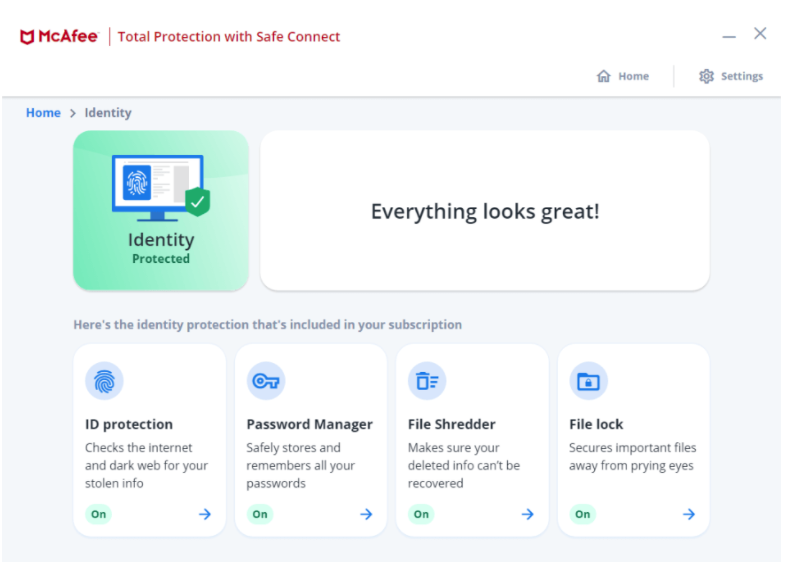 The horizontal menu at the top has the following five modules: Home, PC Security, Identity, Privacy, and Accounts. The Home tab is the default screen that shows your protection status and also has buttons for running different types of scans. You can also clear cookies/trackers from your browser directly from this window.
The next three modules contain related functions and their settings. The Account window contains information about your plan.
Overall, both Windows Defender and McAfee have simple and user-friendly interfaces.
Windows Defender vs McAfee: Price
The last aspect of the differences between Windows Defender and McAfee is price.
Windows Defender is a free program with no paid-for upgrades, while McAfee provides a complete set of antivirus products that include a limited freemium option. Thus, there's no real comparison between Windows Defender and McAfee in this aspect.
McAfee Family Edition:
| | | |
| --- | --- | --- |
| Plus | $39.99/year for the first year | 5 devices |
| Premium | $49.99/year for the first year | 5 devices |
| Ultimate | $74.99/year for the first year | Unlimited Devices |
McAfee Individual Edition:
| | | |
| --- | --- | --- |
| Basic | $34.99/year for the first year | 1 device |
| Plus | $39.99/year for the first year | 5 devices |
| Ultimate | $74.99/year for the first year | Unlimited Devices |
Tip:
1. The device is not limited to the system, mobile phones, or computers of different systems.
2. The price only represents the price when this article was published. To learn more information about the price of McAfee, you can go to its official website.
Back up Your File using MiniTool ShadowMaker
Only using antivirus software to protect your computer is not enough because there may be some problems with the antivirus software such as Windows Defender not turning on Windows 10/8/7, Windows Defender not working on Windows 11, McAfee not scanning, etc.
Therefore, it is recommended for you to use another software to back up your important data to prevent data loss.
Then which backup tool should you choose? MiniTool ShadowMaker is the best one. It is a professional backup tool for Windows, which can allow you to back up files, folders, partitions, disks, and even the system. It is highly recommended to select an external hard drive to save your backup.
Now, let's see how to back up data with MiniTool ShadowMaker.
MiniTool ShadowMaker TrialClick to Download100%Clean & Safe
Step 1: Double-click MiniTool ShadowMaker to launch it on your computer, then click Keep Trial to get into its main interface.
Step 2: Go to the Backup page. You can find that MiniTool ShadowMaker selects the operating system as the backup source by default. Here, you need to back up files, thus, click Source > Folders and Files, and then choose the files that you want to back up. Click OK.
Step 3: Click the Destination button, choose a destination to save your backup files, and then click OK.
Step 4: At last, click Back up Now to start the backup for your computer, or you can click Back up Later to delay the task.
Final Words
To sum up, this post has listed multiple differences between Windows Defender and McAfee, so after reading this post, you should know which one is more suitable for you. What's more, it's recommended to use MiniTool ShadowMaker to better protect your data.
If you have any confusion about this post, leave a comment or send an email to [email protected].