This article submitted by MiniTool mainly analyzes the way to wipe/factory restore Dell Windows 11 laptop. It introduces generally two methods to achieve the purpose. Besides, the content also covers the instructions of Windows 11 recovery or restoration. Just fine more details below!
What Does Wipe DELL Laptop Windows 11 Mean?
Wipe Dell laptop Windows 11 refers to factory reset laptops that are running Windows 11 operating system (OS). It will delete the system, application data, or personal files and restore the computer to its original status. 
Why Need to Wipe Dell Laptop Windows 11?
Sometimes, you may encounter some problems while running Windows 11 on your Dell machine, especially when Win11 comes out recently. Generally, most of you want to reset your computers due to one or more of the following reasons.
The PC Isn't working well for a while since an app, driver, or update has been installed on it.
The computer will not boot up or it is ever loading.
You want to reinstall your previous version of OS. Yet, the "go-back" period has expired and you have not created a previous restore point.
You want to reinstall Windows 11 and have a fresh start.
You just want to go to the initial status of Windows with a slim size and faster performance.
How to Wipe Dell Laptop Windows 11?
Then, let's talk about how to factory reset DELL Windows 11 computer or other devices? As we all know, to wipe or reset a computer will delete something more or less. Although you can choose to keep your personal files, it will still remove the apps and other data.
In case that you have some important items saved beyond the personal folder or you forget to keep your files during the factory reset, it is strongly recommended that you back them up before resetting. Then, you need a powerful and reliable data backup software like MiniTool ShadowMaker, which can quickly back up files/folders, system, partitions/volumes, or the entire hard drive with just a few clicks.
MiniTool ShadowMaker TrialClick to Download100%Clean & Safe
More importantly, you can enjoy the program's features free of charge for 30 days. It enables you to set up a schedule to automatically back up data and smartly back up only changed files to save backup time and storage space.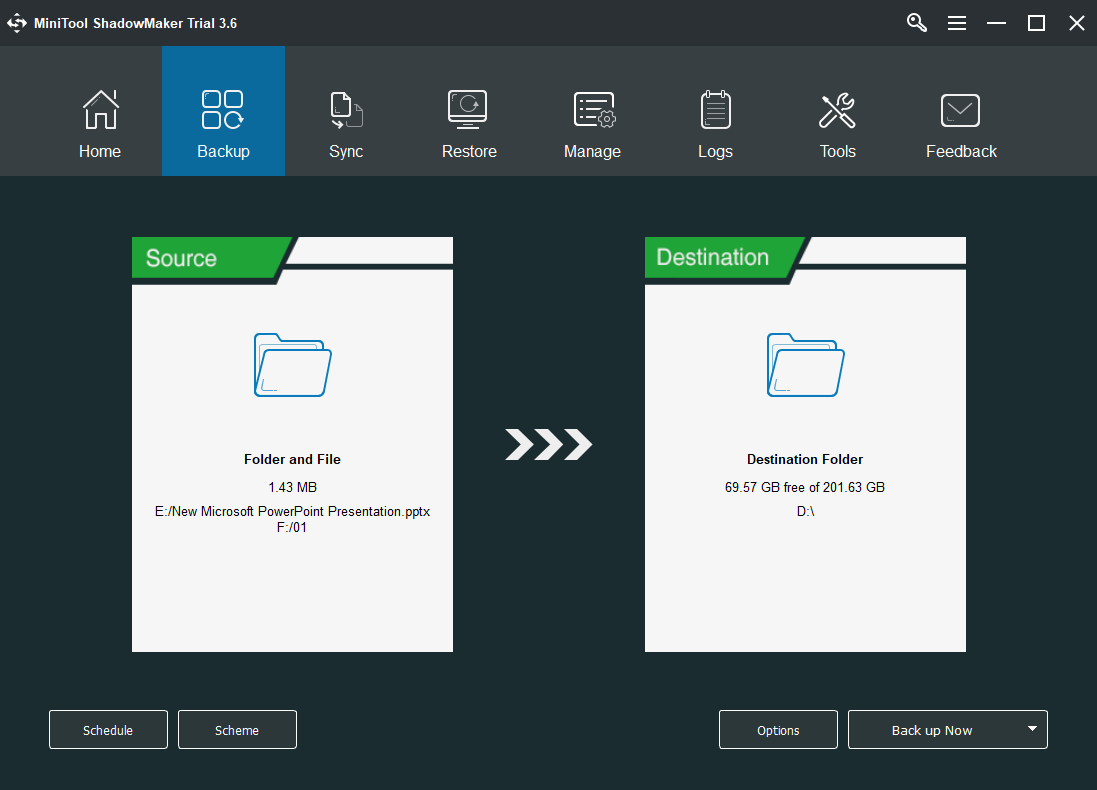 Wipe Dell Laptop Windows 11 Through Windows Settings
First of all, you can find the entrance of Windows 11 factory resetting within its Settings app. Just follow the below steps to carry out the process.
Note: If you have encrypted your device, you will need your BitLocker key to reset your PC. if you do not know your BitLocker key, you have to find it.
1. Navigate to Settings > System > Recovery.
2. On the Recovery page, click on the Reset PC button behind the Reset this PC
3. Then, the Reset this PC window will pop up. On its first screen, it will ask you to choose a reset option between these two:
Keep my files: Removes apps and settings, but keeps your personal files.
Remove everything: Removes all of your personal files, apps, and settings.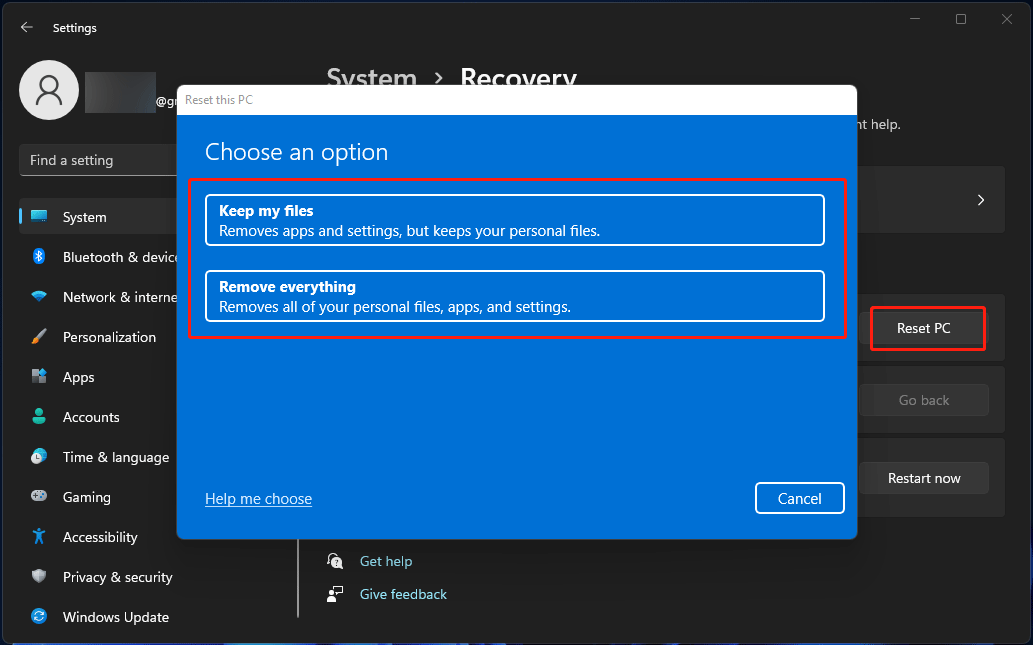 4. It will then let you choose an option to reinstall Windows 11:
Cloud download: Download a fresh copy of the system installation from the cloud and reinstall Windows 11. This can use more than 4 GB of data. And, this option won't restore the apps and configuration that came with the original image provided by the manufacturer.
Local reinstall: Reinstall Windows from the files already available on this device to reset the machine, such as files in the system recovery drive/partition. If this is a branded device like Dell, Lenovo, Asus, etc., it will recover the factory apps, settings, as well as drivers.
5. Review the reinstallation selection and confirm it by clicking the Next Or, you can alter some configurations by clicking on the Change settings option.
6. If you choose the Remove everything > Change settings option in the above step and enable the data erasing feature, it will permit you to customize more advanced settings.
Clean data: You can switch on this option to remove everything before selling your Dell laptop. This choice is quicker but less secure. If you just want to refresh the installation, just keep the default reset settings.
Delete files from all drives: Turn on this option will erase the Windows 11 installation drive and any other drives connected to this machine. If you keep this option disabled, it will only delete the Windows drive files.
Download Windows: Enable this device will change your system reinstallation between local device and cloud download.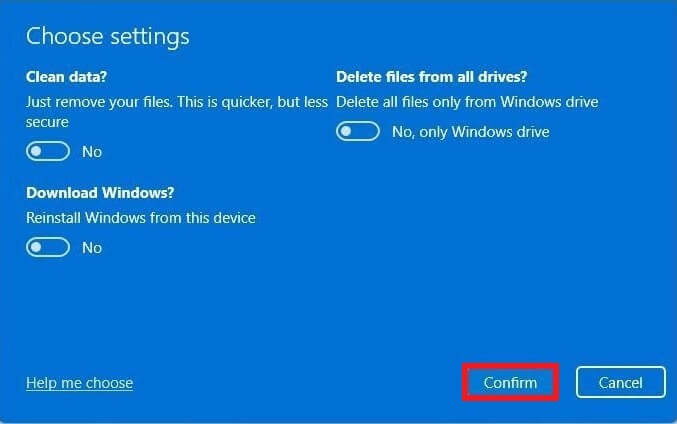 7. Read the change that this wiping process will make to your Dell computer. If everything is what you want, just click the Reset button to start the process.
When the wipe Dell laptop Windows 11 process finishes, you will get a completely new system and have a fresh start.  
Restore PC to Previous State with Backup after Wiping
If you have to wipe Dell laptop Windows 11 due to its malfunction and you don't want to go back to its original factory settings, you can just restore it to a previous point you prefer if you just have a backup image that was created before. After restoration in this way, you will have an identical Windows environment as before.
To enable yourself such a choice in the future, you should make a backup now when your computer is still in a good condition. Better preparation makes a better future! Easily, you can create a backup of Windows 11, system partition, or the entire system disk with the software mentioned above – MiniTool ShadowMaker.
MiniTool ShadowMaker TrialClick to Download100%Clean & Safe
If you create a system backup with this program and you run into a situation in the future that needs to wipe Dell laptop Windows 11 and reinstall OS, you can directly rely on this tool to restore Windows 11, system settings, apps, personal files, etc. everything you backed up.
Wipe Dell Laptop Windows 11 from WinRE
Besides, you can also conduct Windows 11 wiping within Windows Recovery Environment (Windows RE or WinRE) when the computer starts up. Use one of the three methods below to enter WinRE.
Move to Settings > System > Recovery > Advanced startup and click the Restart now
Press Windows logo key + L to get the sign-in screen. Then, press the Shift key and choose the Power button > Restart in the lower right.
Microsoft Windows will display the WinRE as a troubleshooting step if the PC fails to boot 3 times.
When you enter the Windows recovery environment, continue with the following guide.
1. On the Choose an option page, click Troubleshoot.
2. Next, select Reset this PC
3. Choose how to reset this PC, Keep my files or Remove everything.
4. Select from where to reinstall system, Cloud download or Local reinstall.
5. Follow the on-screen guidance similar to the above steps to complete this wiping task.
How to Restore a Dell Laptop If It Can't Boot Up?
Just as described above, you can restore your Dell device to its previous or factory state if you have a recovery image. Yet, the method discussed above applies to devices that can still launch. What if the computer won't open anymore, how to restore the system to it?
In such a situation, you need to first boot the PC up using a bootable device like a bootable USB flash drive. Taking a Dell computer as an example, you need to plug the bootable USB into the dead machine, power on the machine, and tap F2 continuously until you enter the Dell BIOS. There, select the bootable USB as your first boot device and boot from it.
Then, you will enter WinRE. From the Choose an option page, you need to select Troubleshoot > Advanced options > System Restore and choose a system restore point to recover your OS.
Let's talk back to the bootable media. How to create such a powerful device? Luckily, you can still rely on MiniTool ShadowMaker to easily create a bootable media with its Media Builder feature in its Tools tab.
MiniTool ShadowMaker TrialClick to Download100%Clean & Safe
What To Do After Wiping and Reinstalling DELL Laptop Windows 11?
Since you will get a whole new Windows 11 after resetting. You may need to do some of the following actions after a system software reset.
#1 Check for Windows 11 Updates
The first thing you need to do after wiping and reinstalling Windows 11 is to check for its latest updates. The Windows 11 updates can contain new features, bug fixes, security patches, driver updates, etc. If you come across any such troubles after resetting Win11, update the system will solve them all. Just go to Settings > Windows Update and check for updates.
Note: If you wipe your Dell PC just because you encounter some problem after Windows 11 update, you should skip this part and move directly to the next one.
#2 Check for Missing Drivers
You may miss some drivers after Windows 11 reset. If you don't install those drivers back, you may encounter some problems while using your computer in the future including but not limited to programs not working, USB devices not detected, laptop monitor or screen buffering, and so on.
The instruction for getting the missed drivers back is as below.
1. Search and open Device Manager in Windows 11 Search.
2. Check to see whether there is a column called "Other devices" or something similar that usually shows devices without drivers.
3. If there are one or more devices on your PC that are lacking drivers, go to the manufacturer's support website to download and install the newest drivers.
#3 Reinstall Other Apps You Need
Finally, what you are recommended to do after reinstalling Windows 11 is to reinstall the programs and tools you will use. Factory reset will remove all your apps or personally installed programs during the process. Thus, you have to reinstall them back manually after the resetting.
How to Completely Wipe Dell Laptop Windows 11?
If you just want to wipe everything off your Dell PC without reinstalling OS for selling, donation, or recycle, you need to rely on a professional and robust computer wiping program such as MiniTool Partition Wizard, which will help you erase all your data completely that no data recovery software can recover them, especially your personal sensitive information.
MiniTool Partition Wizard DemoClick to Download100%Clean & Safe
Moreover, after erasing, MiniTool Partition Wizard can also help you partition your hard drive for future use like initial hard disk, convert a disk from MBR to GPT to install Windows 11, create new partitions, extend system partition to install the large Win11…
Ok, that is all about wiping dell laptop Windows 11. If you have a different opinion about this topic or have additional knowledge to share, just leave it in the below comment zone. If you encounter any problem while using MiniTool software, just contact its support team at [email protected].