What is Netflix error 5.7? How to get rid of it from your device? If you get this error on your device at this moment and have no idea about what to do. Follow this post on MiniTool Website to remove this error code easily and quickly.
What Is Error 5.7 on Netflix?
Although Netflix brings you so many brilliant videos, it also has a lot of glitches such as VPN not working, download not working, screen flickering, error code NSEC-404, error code 5.7 and more. In the previous posts, we have fixed most of the Netflix errors for you. In this post, we will further the discussion about solutions to error 5.7 Netflix. Let's get started now!
How to Fix Netflix Error 5.7?
Fix 1: Check the Server Status
Sometimes, the Netflix server is down due to maintenance or other issues. In this condition, you will receive Netflix error 5.7. Make sure that the server is not down, or else you can do nothing but wait for the developers to solve the problem for you. Click here to see if Netflix is under its downtime.
Fix 2: Restart Your Device
Most glitches and bugs such as Netflix error 5.7 will be fixed with a simple reboot. Here's how to do it:
Step 1. Force stop Netflix and log out of your account.
Step 2. Press and hold the power button until the rebooting message appears and then choose to reboot your smartphone.
Step 2. After your phone boots up, relog into your account and launch Netflix to see if there are any improvements.
Fix 3: Check Internet Connections
A poor or unstable network connection can not sustain the streaming. Therefore, if you encounter Netflix 5.7 error, you can check if your network connection is stable. It is a good option to switch to an Ethernet cable connection or another available Wi-Fi network.
Fix 4: Reset DNS Settings  
When you face network issues on your computer, it is advisable to flush your DNS. To do so:
Step 1. Type run in the search bar to evoke the Run dialog.
Step 2. Type ncpa.cpl and hit Enter to open Network Connections.
Step 3. Right-click on the adapter that you would like to reset the DNS settings and then select Properties in the drop-down menu.
Step 3. Under the Networking tab, hit Internet Protocol Version 4 (IPv4) and then press Properties.
Step 4. Tick Use the following DNS server addresses and use Google DNS servers for faster search:
Preferred DNS server: 8.8.8.8
Alternative DNS server: 8.8.4.4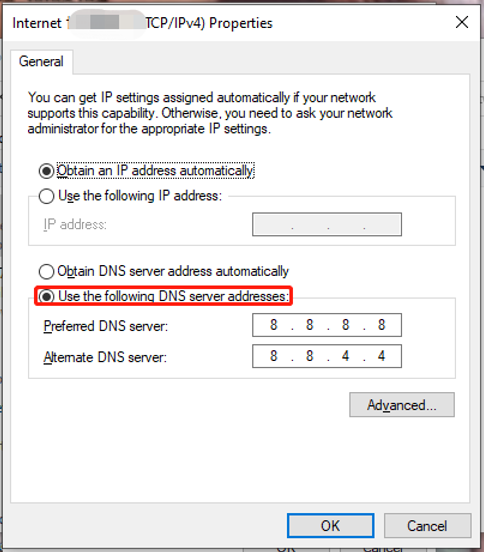 Step 5. Press OK to save the changes.
Fix 5: Clear Cache and Data
If there is too much cached data on your smartphone or PC, you can choose to clear the cache and data on Netflix to see if it works.
For Android Phone:
Step 1. Go to Settings > App Management.
Step 2. In the app list, find Netflix and then press it.
Step 3. Hit Storage > Clear cache & Clear data.
For PC:
Step 1. Launch your Google Chrome and hit the three-dot icon on the top left corner of the screen.
Step 2. In the drop-down menu, hit More tools > Clear browsing data.
Step 3. Choose the time range and then hit Clear data.
Fix 6: Update Netflix
Like any other software, the Netflix developers will release some updates regularly to fix some bugs on it. Therefore, you are supposed to update Netflix in time.
Step 1. Go to Google Play Store and hit the profile icon at the top-right corner.
Step 2. Click on Manage apps & device > Update available.
Step 3. Hit the Update button beside Netflix. 
Don't miss:
# [Full Guide] How to Fix Netflix Screen Flickering Windows 10/11?
# How to Fix Netflix Error Code NSES-404 Windows 10/11?
# How to Fix Teleparty/Netflix Party Not Working? [5 Proven Ways]