Error code 0x800704c7 occurs when you try to update your Windows system. It affects various Windows systems including Windows 7, Windows 8, 8.1 and Windows 10. Then you can go to MiniTool to get the methods to fix the Windows update error "0x800704c7".
The 0x800704c7 Error Code
The error 0x800704c7 is a common issue that can be caused by several reasons like missing or corrupted files, and program conflicts. 0x800704c7 error is usually associated with Windows Update, but it can happen at any time, halting any activity you might be doing.

This error is known to occur on Windows 7/8/8.1/10 based systems and may appear in many different ways depending on the situation. As we all know, common activities such as surfing the Internet will cause error 0x800704c7.
Some people have also reported that when they try to back up Windows files, run Windows Update, and access Microsoft OneDrive, the error code 0x800704c7 would occur. Thus, it's definitely an issue familiar to many computer users. The following are more specified reasons for Windows update error "0x800704c7".
Missing or corrupted system files
Missing or corrupted system files means your system will not work properly and you will face many errors, including this error.
Background process
Another thing that might cause this error is the background process. If your background application (such as anti-virus software, etc.) interferes with the system, the error might occur.
How to Fix the "0x800704c7" Error Code
Wait It out
Restore Your System
Turn off Your Antivirus
Use SFC or DISM to Fix Corrupt System Files
Download the Recent KB
Use MCT
How to Fix Windows Update Error "0x800704c7"
Although it is a very frustrating and common issue, it is usually not difficult to solve. Then I will introduce how to fix Windows update error 0x800704c7.
Method 1: Wait It out
If your update gets stuck after it reaches a specific percentage, then this method might be suitable for you. Sometimes, the update may be delayed from the server-side because it needs some time.
Therefore, if your update is stuck, you don't need to do anything, just wait for several hours. If the update wizard still doesn't proceed, you can try the below-mentioned solutions.
Method 2: Restore Your System
If you encounter the error code 0x800704c7 that pops up after installing some software or any other changes, you can use System Restore. It will restore your system to a point where your error wasn't occurring. Here's how to do it:
Step 1: Search for control panel in the start menu and open it.
Step 2: Then navigate to the Recovery section and click it to continue.
Step 3: In this interface, please choose Open System Restore to continue.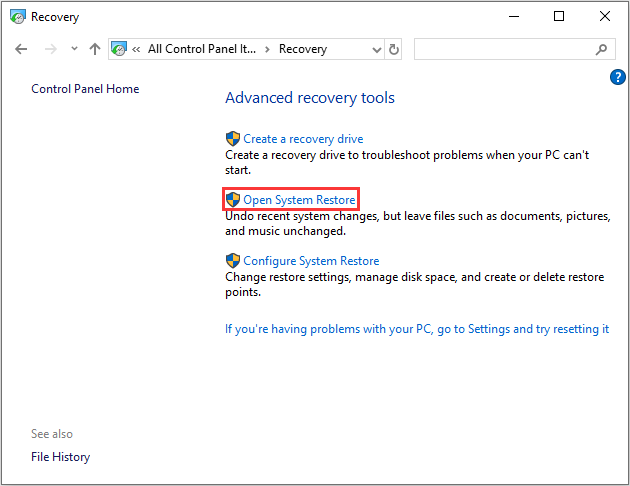 Step 4: In the Restore system files and settings interface, you should click Next to continue.
Step 5: Choose the time to restore your computer to the state it was in the selected event and click Next to continue.
Step 6: You need to confirm the restore point and click Finish.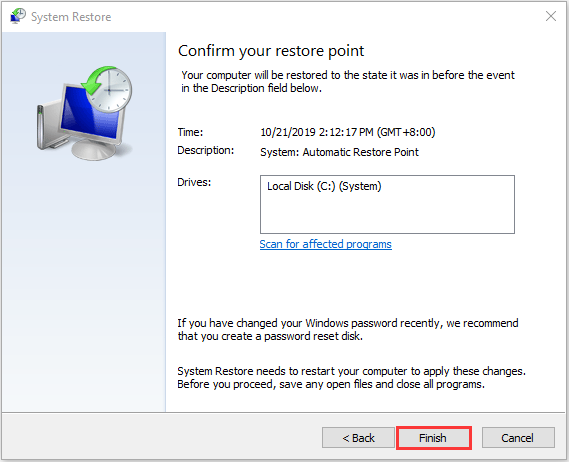 When the system restore process is finished, you can reverse your computer to a previous state. And the system restore point can also help you to solve some system malfunctions or other problems. Then you can check to see if the 0x800704c7 error code has been fixed.
Method 3: Turn off Your Antivirus
Although third-party antivirus can help you protect your computer, there are certain disadvantages. The major one would be that they can block or interfere with your system to some extent. Then you will be prompted with the 0x800704c7 error code because of this interference.
Hence, you should make sure that you have turned off your third-party antivirus. If you use Avast and don't know how to turn off it, read this post – Multiple Ways to Disable Avast for PC and Mac Temporarily/Completely. After your antivirus has been disabled, reboot your computer and try to check if the Windows update error "0x800704c7" has gone.
Method 4: Use SFC or DISM to Fix Corrupt System Files
Windows system files corruption could be one of the reasons that the 0x800704c7 error occurs. In such an event, you can use two command-line utilities – SFC (System File Checker) and DISM(Deployment Image Servicing and Management) to fix your Windows system files.
SFC is a tool that can scan your system and repair any corrupted files. However, when SFC isn't able to get the errors, the DISM can help you do this work. It will perform a thorough search of your system and fix the corrupted files.
Here is how to use SFC to fix corrupt system files:
Step 1: Input Command Prompt in the search bar and click Run as administrator.
Step 2: Type the following cmd and press Enter. Then the SFC tool will detect and fix the error.
sfc /scannow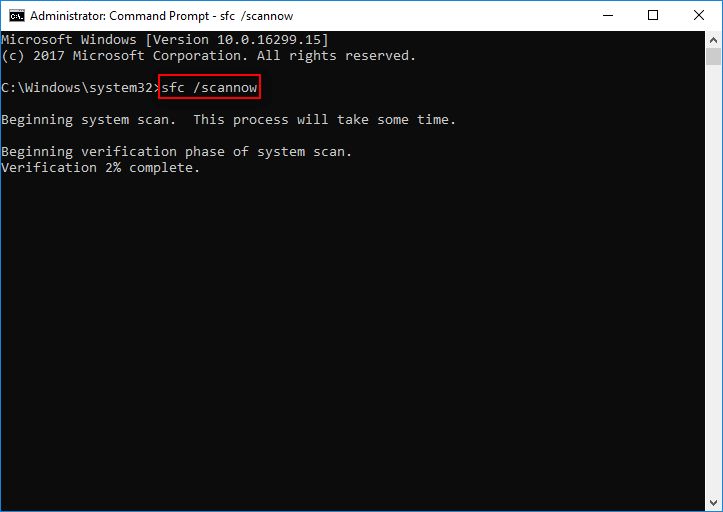 Then here is how to use DISM to fix the corrupted system files, read this post – Repair Windows 10 Image with DISM and Other Useful Tips for DISM.
Method 5: Download the Recent KB
If the error still exists, you can also try to download the most recent KB. Here's how to do it:
Step 1: Press the Windows key + I key at the same time to open the Settings application.
Step 2: Go to the Update & Security section and click it.
Step 3: In the right panel, you should click View update history under the Windows Update section.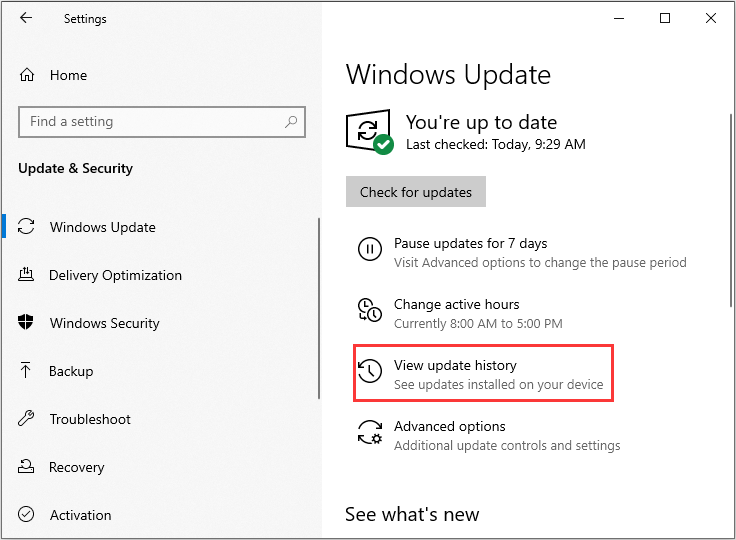 Step 4: Then, find the most recent KB and copy the KB code. Go to the Microsoft update website and search for the KB code. Download it for your respective Windows.
Once the download finishes, open it up and install it. Then you can check whether the issue is fixed or not.
Method 6: Use MCT
If all of the methods above don't work, there is the last method for you. You can try running the MCT(Media Creation Tool). This tool was developed by Microsoft whose goal is to simplify the Windows upgrade process from older operating systems to Windows 10.
In this special case, you can use it to upgrade the operating system as a way to fix it. Here is how to do that:
Step 1: First, you should make sure that you boot into your system with full administrative rights.
Step 2: Then you can go to Microsoft's official website.
Step 3: Then click Download tool now to download the Media Creation Tool.

Step 4: After you have downloaded the tool successfully, run it and select Upgrade this PC now and follow the on-screen instructions.
Note: Your operating system will be upgraded to Windows 10. So if you're not already running Windows 10, once the upgrade is completed, some of your programs will cease to work due to compatibility. You can learn more about program compatibility from Microsoft.
Here are all of the methods to fix the error code 0x800704c7. After you try them one by one, the error should be fixed.
This post provides basic information about the 0x800704c7, and you can know how to fix Windows update error "0x800704c7". If you think it's useful, share it on Twitter to let more people know.Click to Tweet
Useful Suggestion
After offering you the solutions to fix the 0x800704c7 error, I have a suggestion for you. In case of something wrong on your system, it is recommended to back up your system in advance. Now, I will introduce a piece of free backup software for you – MiniTool ShadowMaker.
MiniTool ShadowMaker provides a one-click system backup solution. It supports backing up your system drive completely, including system partition, system reserved partition and EFI system partition. And you can image all of your data including computer settings, applications, drivers, system files and boot files.
The system backup is bootable. When the system crashes, you can restore your computer to a normal state, read this post – How to Restore Computer to Earlier Date in Windows 10/8/7 (2 Ways).
MiniTool ShadowMaker provides a Trial edition that gives you a 30-day free trial for all backup features. You can purchase its Pro Edition to use it permanently.
Now you can download MiniTool ShadowMaker Trial Edition to back up your system.
MiniTool ShadowMaker TrialClick to Download100%Clean & Safe
Now, let's see how to back up your Windows system.
Step 1: Decide a Backup Mode
Launch MiniTool ShadowMaker and keep using the trial edition.
Please choose the computer to manage and click Connect in the Local section to enter the main interface.
Step 2: Choose Backup Source
Go to the Backup page.
This software selects the system partition and system reserved partition by default.
Step 3: Choose a Destination Path to Store Your System.
You can back up your system to an external hard drive, USB flash drive, NAS and more.
Then choose a destination path to store your system and click OK. Here I take the New Volume (E) as an example.
Tip:
1. Please do not save a volume image file to the volume being backed up.
2. The destination that used to store the system must have enough storage space.
Step 4: Start to Back up
Go back to the following interface.
You have two options: click Back up Now to start the backup process immediately or click Back up Later to delay the backup process.
Tip:
1. To set advanced parameters for the current backup task, go to
Options
.
2. To specify a backup task to run on a regular basis, go to
Schedule
.
3. To manage disk space occupied by backup files, go to
Backup Scheme
.
Here are all the steps of using MiniTool ShadowMaker to back up your system.
MiniTool ShadowMaker can help you back up system to protect your data. Share it on Twitter to let more people know.Click to Tweet
Bottom Line
In conclusion, this post has introduced several useful methods to fix the error code 0x800704c7. If the 0x800704c7 error code occurs after you upgrade your Windows system, try these methods. If you have any better solution to fix the issue, you can share it in the comment zone.
It is recommended to create a system image with the professional backup software to better safeguard your computer. Thus, if you have any problem with MiniTool ShadowMaker, please feel free to contact us via the email [email protected] and we will reply to you as soon as possible.
0x800704c7 FAQ
? How do I fix Windows Update not running?
? What service is Windows Update?
Windows Update is a free Microsoft service that's used to provide updates like service packs and patches for the Windows operating system and other Microsoft software. Windows Update can also be used to update drivers for popular hardware devices.
? What is the System Update Readiness Tool?
The System Update Readiness Tool (
CheckSUR
) is a downloadable utility from Microsoft that can be used to fix a variety of problems related to Windows updates. It scans files and registry keys associated with updates and replacing corrupt ones with good versions to find the problems.
? What is a standalone updater?