An Alienware factory reset is a good way to fix some issues or delete files on your Dell Alienware laptop or desktop. Well, how to factory reset Alienware 15 R3, Alienware Aurora, or other models? Get some useful methods from this post on the MiniTool website.
About Dell Alienware
Alienware, established in 1996, assembles notebooks, workstations, PC gaming consoles, and desktops. In 2006, Dell purchased this company and now its product range is dedicated to gaming computers, including Windows OS-based consoles, Graphics Amplifier, laptops (Alienware 15 R3, Alienware 17 R4, R5, etc.), and desktops like Alienware Aurora R9, R10, R11, R12, and so on.
Alienware Factory Reset Windows 10
If you are using a Dell Alienware laptop or desktop, sometimes you may need to reset the machine to its defaults.
The common reasons for Windows 10 Alienware factory reset include:
You want to restore your computer to its previous or original state. A factory reset can delete all the installed programs & drivers and return settings to their defaults.
Resetting can help reclaim the drive space and optimize the computer performance when some unnecessary apps consume disk space and use the processing power.
To avoid data leaks, an Alienware factory reset is very important before selling your machine to others.
To fix some Windows problems, you can choose to reset your computer.
What to Do before Windows 10 Alienware Factory Reset?
As mentioned above, a factory reset is a way to restore your machine to its original state. All your data including programs, files, settings, etc. are removed. So, make sure you have made a complete backup of your data before taking any further steps. If not, proceed to this part to know what you should do.
To back up crucial files, you need to use a professional Windows backup software. MiniTool ShadowMaker is worthy of being recommended there. As an all-in-one backup program for Windows and servers, it makes strong data protection since it supports backing up files, folders, operating systems, partitions & disks, syncing files, cloning disks, etc.
With it, you are able to schedule backups in simple clicks, create differential & incremental backups. Importantly, it allows you to create a bootable USB drive, USB hard disk, or CD/DVD disc for disaster recovery when the Alienware machine fails to boot up.
Now, free download its Trial Edition by clicking the following button to use 30 days to keep data safe before an Alienware factory reset.
MiniTool ShadowMaker TrialClick to Download100%Clean & Safe
See how to back up your files on Dell Alienware in Windows 10:
Step 1: Install MiniTool ShadowMaker on your computer and then launch it to keep using the trial edition.
Step 2: On the Backup interface, you see system partitions are selected as the backup source. To back up your files, click the Source section, go to Folders and Files, then check all the items you want to back up and click OK.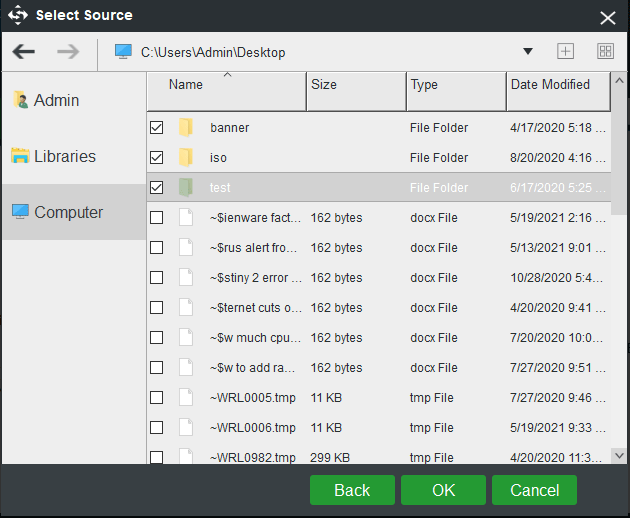 Step 3: Go back to the Backup menu and click Destination to decide where you want to store the backups. Usually, it can be an external hard drive, USB drive, SSD, etc.
Step 4: Finally, click the Back up Now button to execute the backup task.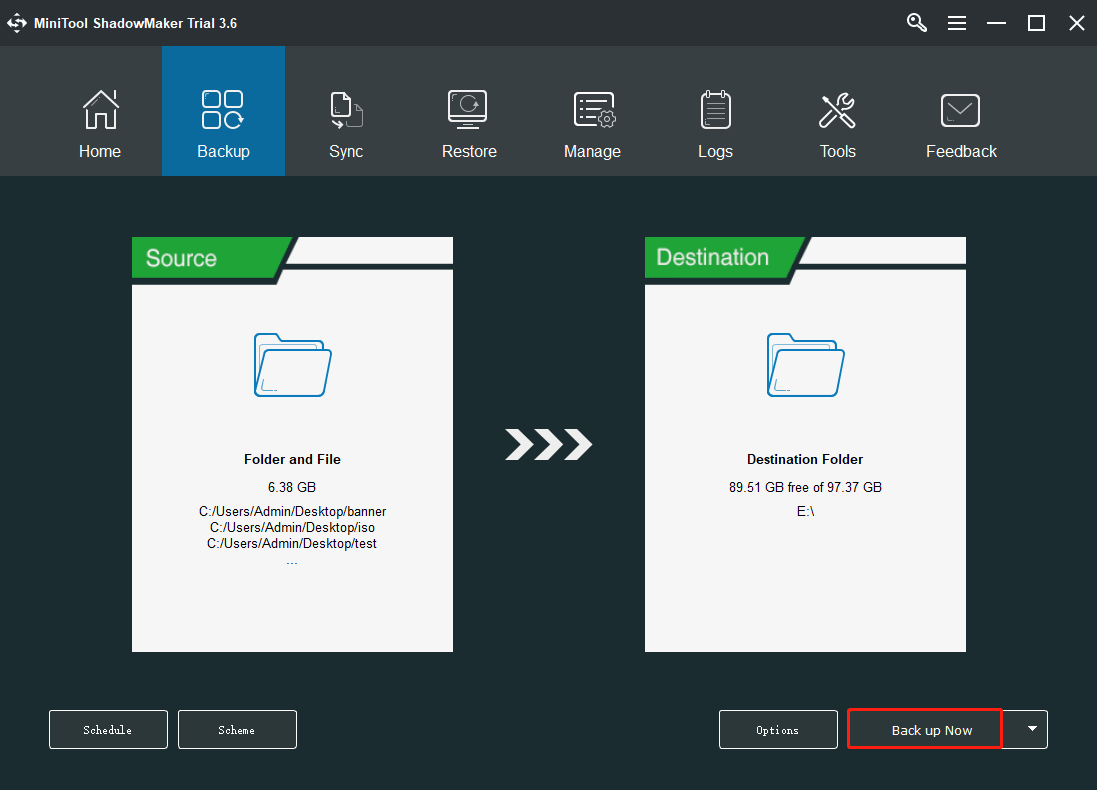 After finishing the backup operation, now it is time for Windows 10 Alienware factory reset. Well, how to do this work? Move to the next part.
How to Factory Reset Alienware Laptop or Desktop in Windows 10
Windows 10 offers you many options to reset your Dell Alienware to its original settings, including the Reset option, recovery drive, and installation media. Now, let's see them one by one.
Alienware Factory Reset via the Reset Option
To perform a factory reset for Windows 10, you can reset your PC. This can let you choose to keep your files or move them and then reinstall Windows operating system.
If you can run your Alienware laptop or desktop, directly go to the Settings menu and choose Update & Security. Then, click Recovery and choose Get started from the Reset this PC section. In the pop-up window, choose Keep my files to remove apps and settings but keep your personal files. Next, finish all the operations by following the on-screen instructions.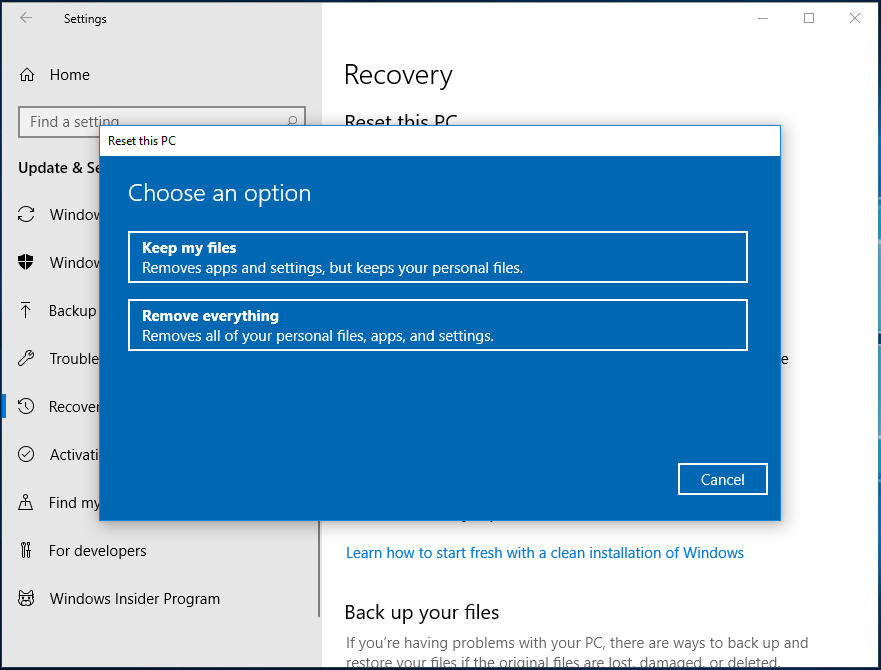 If you cannot boot up your Dell Alienware machine, enter into Windows Recovery Environment (WinRE). Then, navigate to Troubleshoot > Reset this PC > Keep my files, choose an account, enter the password and click Reset to perform the Alienware factory reset operation.
Alienware Factory Reset via Created USB Recovery Drive
In Windows 10, you can create a recovery drive in advance. When the PC can't start, you can use a recovery drive to reset it or troubleshoot some problems. Also, you can use it to reinstall Windows if you back up system files to this drive.
Related article: Can't Create Recovery Drive Windows 10? Solutions Here!
So how to use the created recovery drive for Windows 10 Alienware factory reset? See these steps:
1. Make sure the USB drive is connected properly. Then, press the appropriate key to boot from the USB drive instead of your hard drive upon boot-up.
2. Select your keyboard layout.
3. Click the Troubleshoot section and then choose Recover from a drive. This can reinstall Windows from the recovery drive connected to this PC and remove all your files & apps.
4. In the next window, you see two options – Just remove my files and Clean the drive fully. Choose one based on your needs.
5. After all ready to go, click the Recover button.
After the recovery, Windows is reinstalled and you need to perform a new computer setup again.
Alienware Factory Reset Windows 10 via Installation Media
In addition to these ways above, you can reinstall the operating system to reset your Alienware PC to its defaults.
You can get a Windows 10 ISO file from the Internet to create an installation disc or USB drive or directly download Media Creation Tool to create media to install the latest version of Windows 10. Learn more about How to Create Bootable USB from ISO Windows 10 for Clean Install.
Then, start the installation:
1. Start your PC from the created installation media.
2. Choose the language, time and currency format and keyboard.
3. Click Install Now.
4. Choose I don't have a product key. The copy of Windows can be activated later automatically.
5. Choose an edition of Windows 10 that you want to install.
6. After accepting license terms, choose the second type of installation.
7. Choose a partition to install Windows. The process is beginning.
After all the operations are finished, your Alienware PC is entirely clean and you need to re-configure it.
"How to factory reset Alienware in Windows 10? Three common ways are here. And you can share them on Twitter to let more persons know."Click to Tweet
Further Reading: Alienware Factory Reset Windows 7 via AlienRespawn
In your Dell Alienware laptop or desktop, there is a built-in proprietary tool called AlienRespawn. It is a safe, simple, and reliable backup and recovery solution that can be used to back up and restore your entire system and data. Besides, you can use it to create your factory recovery media so that you can easily perform a factory reset when the Alienware computer fails to start.
Note: This app can be only used for Windows 7, 8, and 8.1; it is not supported for Windows 10. To do an Alienware factory reset in Windows 10, you should follow the above three methods.
Suppose that you have already created a recovery USB drive with AlienRespawn and now see how to reset your machine to factory settings. The following operations are based on Windows 7.
1. Connect your USB flash drive to your laptop or desktop and enter BIOS to change the boot order to start the machine from the drive.
2. Go to the System Recovery Options interface, and click AlienRespawn Restore and Emergency Backup to continue.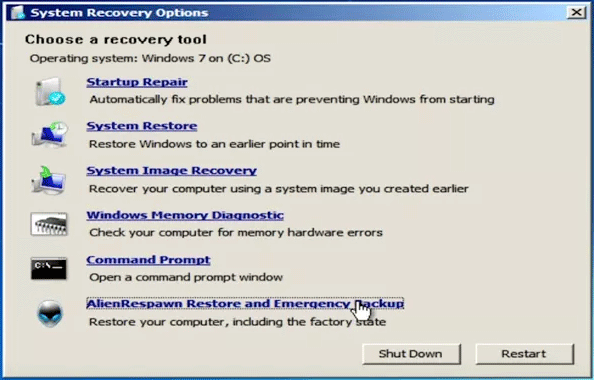 3. Check the box of Select other System Backup and more options and click Next.
4. Choose Restore my computer.
5. From the given list, choose a full system backup which you want to restore your computer to.
6. To do a factory reset, choose Restore without preserving new or changed files. Then, click Next to begin.
7. In the confirmation interface, click Yes, continue. Then, Windows will start the process of factory reset.
Suggestion: Back up System and Recover It
Factory reset will delete all the data including installed apps, personal files settings, and more. After that, you need to configure Windows settings. This is troublesome. To simplify your operation, here is a suggestion: back up your system on a regular basis and restore it when needed. Also, a regular file backup is recommended.
1. Download MiniTool ShadowMaker Trial Edition and install it on your Alienware PC.
MiniTool ShadowMaker TrialClick to Download100%Clean & Safe
2. Launch it and go to the Backup part.
3. By default, this software backs up the system. You only need to choose the backup destination.
4. Click Back up Now.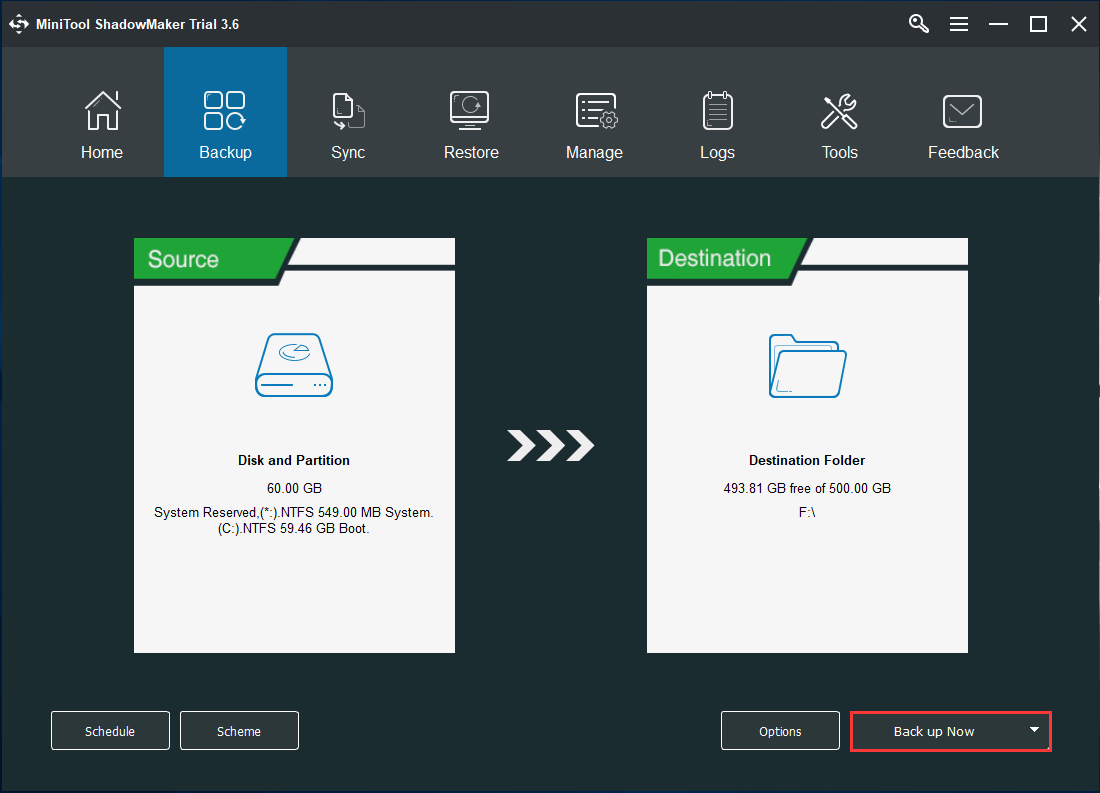 After backup, create a bootable USB drive with Media Builder in the Tools section so that disaster recovery can be done when the PC fails to boot up. To know system recovery, you can go to this post – Restore System Image from External Hard Drive in Windows 10/8/7.
Bonus Tip
Sometimes you don't back up your important files before a factory reset. Don't panic when having this situation. You have a chance to get lost data back if you use data recovery software.
MiniTool Power Data Recovery, a complete recovery application, is worth trying. Its powerful features are designed to retrieve lost data in many situations, including factory reset. See How To Recover Files After Factory Reset Laptop.
Final Words
What is Alienware factory reset? Why do you need to do a factory reset? How to factory reset Alienware in Windows 10? After reading this post, you get the answers. Also, a suggestion is introduced to you. Choose a proper way based on your actual needs.
For any suggestions or questions, you can contact us via two options – leaving a comment below and sending an email to [email protected]. We will reply to you as soon as possible. Thanks in advance.
Alienware Factory Reset FAQ
How do I force my computer to factory reset?
Use Reset This PC
Use the created recovery drive
Reinstall Windows via installation media
How do I reset my Alienware laptop Windows 7?
You can use the built-in tool called AlienRespawn to perform the factory reset operation. Besides, an installation disc is recommended.
How do I reset my Alienware laptop without a password?
In Windows 7, you can use the recovery option of AlienRespawn Restore and Emergency Backup. For Windows 10, resetting this PC is a good way.