This article sponsored by MiniTool Software mainly introduces a series of DELL storage devices known as Dell PowerVault. Especially, it elaborates on one product of this series called Dell PowerVault DL2100 – Powered by Symantec Backup Exec, which is able to back up important data within its storage.
What Is DELL PowerVault?
Dell PowerVault is a line of data storage server and backup products formerly from Dell, from 1998 to 2016. Now, it (renamed Dell EMC PowerVault) belongs to Dell EMC, an American multinational corporation selling data storage, information security, virtualization, analytics, cloud computing, and other products and services that allow organizations to store, manage, protect, and analyze data.
After Dell acquired EqualLogic for its iSCSI products in 2008 and Compellent Technologies in 2011, the PowerVault line was positioned as less expensive than the other product lines.
Products Released by Dell PowerVault Line
The Dell PowerVault product line includes several types of storage devices.
#1 Direct Attached Storage (DAS)
Released in 2009:
Dell PowerVault MD1000
Dell PowerVault MD1120
Dell PowerVault MD1200
Dell PowerVault MD1220
Dell PowerVault MD1280
Dell PowerVault MD1400
Dell PowerVault MD1420
Dell PowerVault MD3000
Dell PowerVault MD3060e
Dell PowerVault MD3200
Dell PowerVault MD3220
Dell PowerVault MD3400
Dell PowerVault MD3420
Dell PowerVault MD3460
Released in 2019:
Dell PowerVault ME4012
Dell PowerVault ME4042
Dell PowerVault ME4084
Older Equipment:
Dell PowerVault 200S – 1998
Dell PowerVault 210S – Used SCSI
Dell PowerVault 220S – Used SCSI
#2 Network Attached Storage (NAS)
Dell PowerVault 701N – 2001
Dell PowerVault 705N
Dell PowerVault 715N
Dell PowerVault 725N – 2002
Dell PowerVault 735N – 2001
Dell PowerVault 745N – 2004
Dell PowerVault 770N – 2002
Dell PowerVault 775N – 2002
For 1 Gbit/s iSCSI:
Dell PowerVault MD3200i
Dell PowerVault MD3220i
Dell PowerVault MD3400
Dell PowerVault MD3420
Dell PowerVault MD3460
For 10 Gbit/s iSCSI:
Dell PowerVault MD3800I
Dell PowerVault MD3820I
Dell PowerVault MD3860I
For Fibre Channel:
Dell PowerVault MD3800f
Dell PowerVault MD3820f
Dell PowerVault MD3860f
Older Equipment:
Dell PowerVault 630F
Dell PowerVault 650F – 1998
Dell PowerVault 650F
#4 Dell PowerVault Tape Library
Digital Data Storage (DDS4)
Dell PowerVault 100T DDS4
Dell PowerVault 120T DDS4
Digital Linear Tape (DLT)
Dell PowerVault 110T DLT1
Dell PowerVault 110T DLT7000
Linear Tape-Open (LTO)
Dell PowerVault 110T LTO-1
Dell PowerVault 110T LTO-2
Dell PowerVault 112T LTO-2
Dell PowerVault 114T/114X
Dell PowerVault 122T LTO
Dell PowerVault 124T
Dell PowerVault 128T LTO
Dell PowerVault 130T
Dell PowerVault 132T
Dell PowerVault 136T LTO-2
Dell PowerVault ML6000
Dell PowerVault TL2000
Dell PowerVault TL4000
Tip: Dell PowerVault TL2000 and TL4000 use the same chassis build as the IBM TS3100 and TS3200. Components including drives in many cases can be interchanged among the four models.
Features of Dell EMC PowerVault
In general, Dell PowerVault is of simplicity in high-capacity and high-performance entry storage. Dell EMC PowerVault Series purpose-built can consolidate your storage. It is optimized for entry-level DAS and SAN environments.
The Dell PowerVault ME4 series is ideal for supporting workloads like Virtualization with VMware and Microsoft, Server Expansion, HPC, Surveillance/CCTV, and many others. It is designed for versatility and supports a variety of drive types (including SEDs), multi-protocols, enterprise-class all-inclusive software features and a choice of 2 2U or high-density 5U base systems.
Besides, Dell PowerVault JBOD expansion enclosures are available for PowerEdge Servers that easily add storage capacity to your data center.
Dell PowerVault Backup and Recovery
Dell PowerVault Backup and Recovery (B&R) is a low-cost and reliable tape solution. It is great for enhancing data protection and continuity, streamlining backup and recovery, as well as improving information lifecycle management.
Disk Backup and Recovery (disk B&R) is a kind of service that provides removable disk backup and continuous data protection service. It is provided by both Dell PowerVault RD1000 Disk Media and Dell PowerVault RD1000 Removable Disk Storage.
On the other hand, tape Backup and Recovery (tape B&R) offers reliable backups for continuous data protection in offsite storage and long-term archives. This service is included in Dell EMC PowerVault DAT Tape Media, LTO Cartridges, 114X Tape Rack Enclosure, LTO Tape Drives, TL1000 Tape Autoloader, and ML3 Tape Library.
Dell PowerVault DL2100 – Powered by Symantec Backup Exec
What Is Symantec Backup Exec?
First of all, let's introduce Symantec Backup Exec, part of the Dell TierDisk family of products to you. Symantec Backup Exec, formerly known as Veritas Backup Exec, is a data protection software designed for users who have mixed physical and virtual environments, and who are moving to public cloud services.
Symantec Backup Exec download >>
Symantec Backup Exec Trial download >>
Veritas Backup Exec also offers integrated deduplication, replication, and disaster recovery capabilities and assists to manage multiple backup servers or multi-drive tape loaders. After Symantec acquired Veritas, Veritas Backup Exec had renamed Symantec Backup Exec. All other Veritas products had also been rebranded such as Veritas NetBackup (now Symantec NetBackup).
About Dell PowerVault DL2100
Dell PowerVault DL2100 powered by Symantec Backup Exec is the first and only integrated solution for faster disk-based backups and recoveries that permits you to start protecting data in only 18 minutes in the industry.
Faster Data Protection
Dell has simplified the backup procedure by providing the only integrated hardware, software, and services powered by Symantec Backup Exec, which is installed on Dell PowerVault DL2100 in the factory. Besides, PowerVault DL2100 has also installed a unique wizard-driven setup and management tool.
Symantec Veritas Backup Exec comes with integrated automated dynamic disk provisioning that configures and sets up the disks for immediate usage. It only needs a few steps to set up hard drives, configure storage space, as well as add more disks.
Dell PowerVault DL2100 is available with Dell PowerVault DL2000, TL4000, and ML6000 tape library integrated into the full solution. It takes advantage of backup-to-disk for quick availability. Then, it transfers to tape from the same management console for offsite disaster recovery.
Faster and More Reliable Backup
Managing tape backups is complex and time-consuming. Besides, backup to tape usually exceeds their backup window and tape-based backups can be prone to failure. On the contrary, disk-based backups with Dell PowerVault DL2100 (powered by Symantec Backup Exec) are up to 55% faster than tape and restorations are up to 50% faster.
Moreover, disk-based backup is better than virtual tape libraries (VTLs), which are "point products" that can help fix backup and restore bottlenecks in the short term. Yet, they are separate components that create silos of info and add management complexity.
Virtual tapes have to be created, provisioned, and managed from a separate interface and VTL products lack alerting and reporting within the backup solution. While Dell PowerVault DL2100 is a native disk-to-disk solution that eliminates the need for manual setup and management. it provisions disks invisibly and offers proactive monitoring, alerting, and reporting dynamically and automatically.
Remote Backup, Management, Monitoring, and Maintenance
Datacenter administrators can make use of Dell PowerVault DL2100 to back up data from remote offices to the data center. They can set up backups and policies and perform system monitoring and maintenance from a centralized location. This makes PowerVault DL2100 an ideal backup solution for remote offices that don't have IT experts.
Using Granular Recovery Technology (GRT) of Backup Exec Symantec for critical Microsoft apps (SharePoint, Active Directory, and Exchange), your administrator can recover granular objects from a single-pass backup by simply browsing and selecting it. GRT enables you to recover specific items like public folders and individual mailboxes, even individual emails, with a quick restoration.
Continuous Data Protection for Exchange and File
Dell PowerVault DL2100: powered by Symantec Backup Exec continuously protects Microsoft Exchange and files via backing up changes to the disk in real-time as they occur. This not only improves the overall level of data security, but also reduces administrative complexity for it eliminates the need for full, incremental, or differential backups for Exchange data.
Desktop and Laptop Option (DLO) of Symantec Backup Exec software allows you to sync multiple desktops and laptops through a network share automatically. It also permits you to choose continuous, scheduled, or manual backups and offers an intuitive interface that enables users to access their most -up-to-date data whether they are in the office or on the road.
Note: Dell PowerVault DL2100: Powered by Symantec Backup Exec is no longer available for purchase online!
VMware Virtual Machines Protection
It is difficult and expensive to manage backups on virtual machines due to licensing requirements. Yet, Dell PowerVault DL2100 equipped with Symantec Backup Exec adopts high technology to protect virtual devices. The Agent for VMware Virtual Infrastructure includes protection for an unlimited number of users on an individual ESX host.
Furthermore, Exec Backup Symantec leverages several VMware technologies including VMware Consolidated Backup (VCB) that make backing up and restoring virtual machines faster and easier.
Symantec Backup Exec Alternative
Actually, besides Symantec Backup Exec, you can use a lot of other backup programs to carry out disk-based data protection, such as MiniTool ShadowMaker, which is an easy-to-use application that supports physical PCs, virtual machines, workstations, Home Servers, etc.
1. Free download, install, and launch MiniTool ShadowMaker. If you connect your Dell PowerVault DL2100 or other Dell PowerVault products to your Windows computer, you can install MiniTool ShadowMaker on them.
2. If it asks for purchase, click the Keep Trial option in the upper right.
3. In its main interface, go to the Backup tab from the top menu.
4. In the Backup tab, click the Source module to select the files/folders, system (selected by default), partitions/volumes, or the entire hard disk.
5. Click the Destination module to choose a target location, internal or external disk, USB flash drive, or network shared location/NAS.
6. Click on the Schedule button, switch on schedule settings in the popup, and pick up a proper backup schedule, daily, weekly, monthly, or on event backup.
7. Click on the Scheme button, toggle on scheme settings in the new window, and set up your preferred backup type, full, incremental, or differential backup.
8. Click on the Options button to customize your backup including sector-by-sector backup (save backup time and storage space), backup image splitting/compression/encryption/verification/commenting, email notification, etc.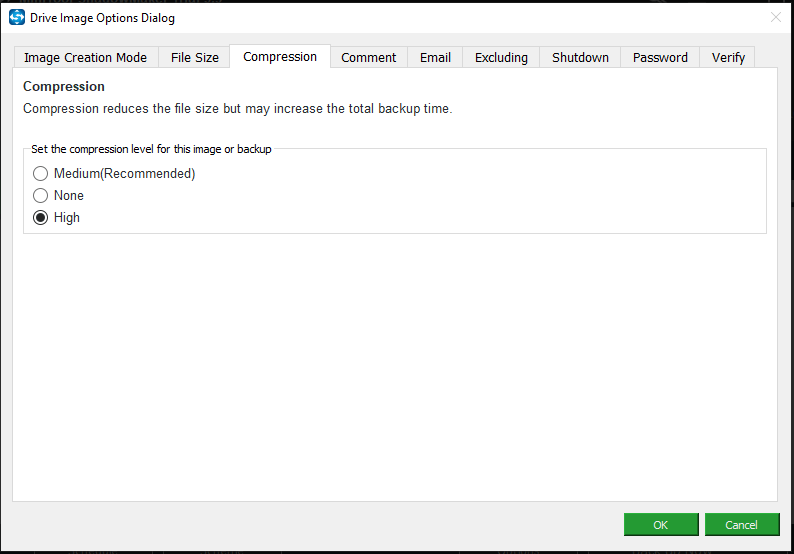 9. Finally, click the Back up Now button to start the process.
In addition, MiniTool ShadowMaker can sync your files to another place and even cross-platform to a network shared location automatically. It can manage remote computers and enables you to back up files on a remote machine while operating on your current PC. Moreover, it can boot up multiple machines from a host computer with its PXE feature.
Ok, that is all about DELL PowerVault that we'd like to share with you. If you have anything want to say, just leave a comment below. If you encounter any problem with MiniTool ShadowMaker, just contact [email protected].