Sometimes when you try to run a piece of software or an application in Windows 10, the error "this app can't run on your PC" might pop up on the screen. As annoying as this can be, take it easy now and we will provide you with the top 10 solutions to fix this issue. Try them now to get rid of the error.
Windows 10 This App Can't Run on Your PC
Things in the computer do not always behave as expected. For example, a certain app or software may fail to start on your PC with an error message saying "This app can't run on your PC. To find a version for your PC, check with software publisher", as shown below.
It is one of the most notorious error messages and has affected many Windows 10 users. It has even been discussed in some forums like Reddit.
Simply put, this error may happen on different kinds of apps - for instance, default Windows applications, old games and third-party software designed for the Windows Operating System.
It may come in all sorts of different forms and here are the most common ones:
This app can't run on your PC access is denied.
This app can't run on your PC check with software publisher.
This app can't run on your PC Kaspersky, Bitdefender, Avast.
This app can't run on your PC batch file.
This app can't run on your PC Windows Store error.
This app can't run on your PC game error.
If you are also troubled by this message, don't worry too much about it. As annoying as it seems, this is an easily solvable problem as long as you find its root cause. Here, follow the instructions below and you can easily fix this app can't open.
Safe Fix Cannot Run App in Windows 10
Of the various solutions to fix the issue when Windows 10 cannot run an app, we have summarized the top 10 for you. Try them according to your situation.
Solution 1: Download and Install the Right Version of Programs
One of the most common reasons for this problem is that you may have downloaded and installed the wrong program in your Windows 10 PC. For instance, you have 32-bit Windows OS, but you downloaded a program for 64-bit system.
To begin with, make sure you are trying to run the appropriate version of this application.
Step 1: Go to the This PC icon and right-click it to choose Properties.
Step 2: In the pop-up window, you can see if the Windows 10 operating system is 32-bit or 64-bit under the System section.
Step 3: Right-click on the app that can't open and select Properties.
Step 4: Under the Compatibility tab, check the Run this program in compatibility mode for: (Windows 8 is recommended) and Run this program as an administrator option. 
Step 5: Finally, click Apply and OK.
Solution 2: Update Your Windows 10
As a quick reminder, Microsoft constantly keeps rolling out Windows updates so as to improve the stability of the operating system and fix various problems. Therefore, make sure you are running the latest OS update.
Warning: Updating the OS may be risky since it may cause data loss. Thus, first and foremost, you should back up your important files.
Back up Files before Update
How can you create a backup for the important files? Usually, a piece of free Windows backup software is recommended.
And here, we suggest using MiniTool ShadowMaker Trial Edition which is compatible with Windows 10/8/7. It is designed to back up files, OS, disk, and partition with simple clicks. To back up files well, please download it for free from the following button and have a try.
Tip:
Check if this software can open. If it can't also run on your PC, install it on a working PC and use its
Media Builder
in the
Tools
to
create a bootable USB drive or disc
to boot the PC. Then, use the Bootable Edition of this software to back up files. If it can run, directly start the backup.
Step 1: Launch MiniTool ShadowMaker.
Step 2: Under the Backup page, go to Disk and Partition > Folders and Files. Then, choose files you want to back up.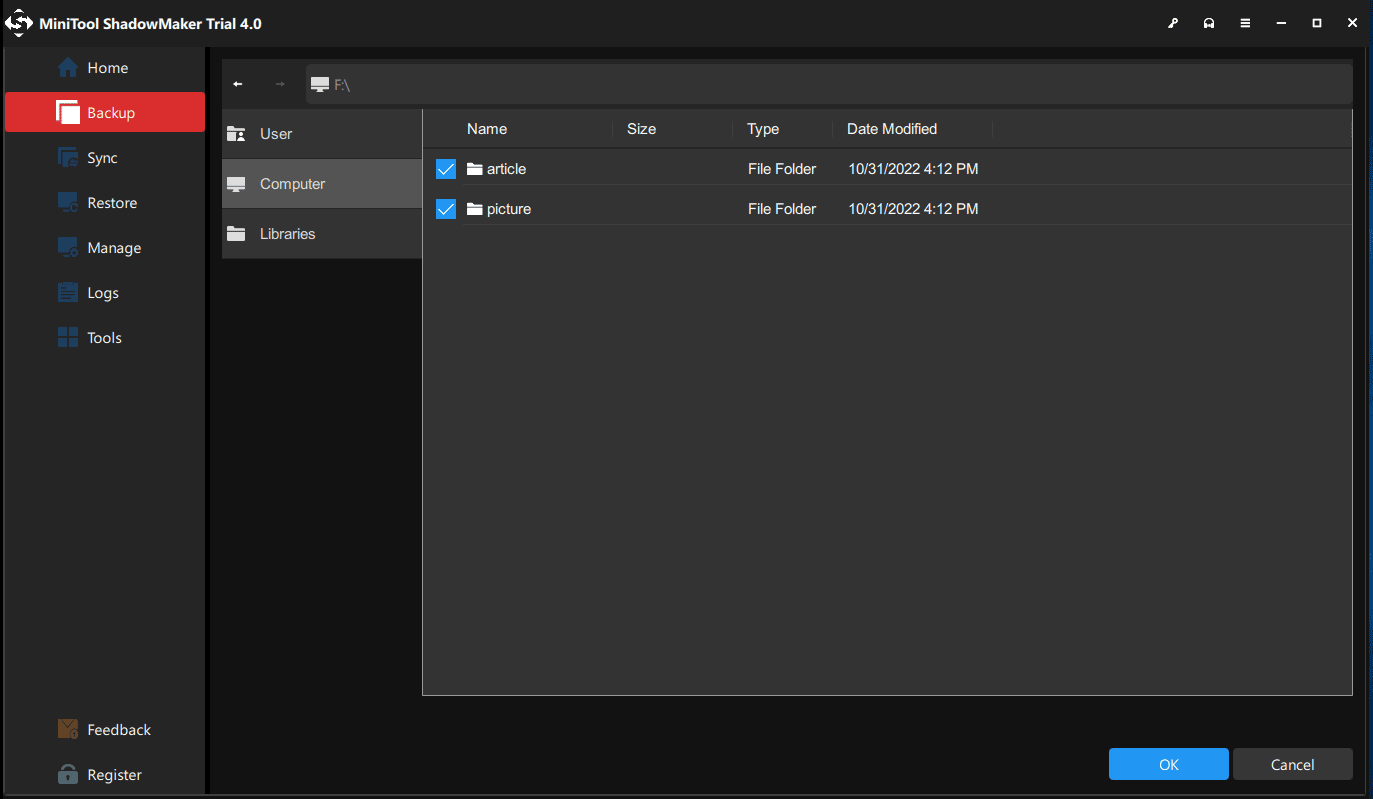 Step 3: Next, go to the Destination section to choose a storage location.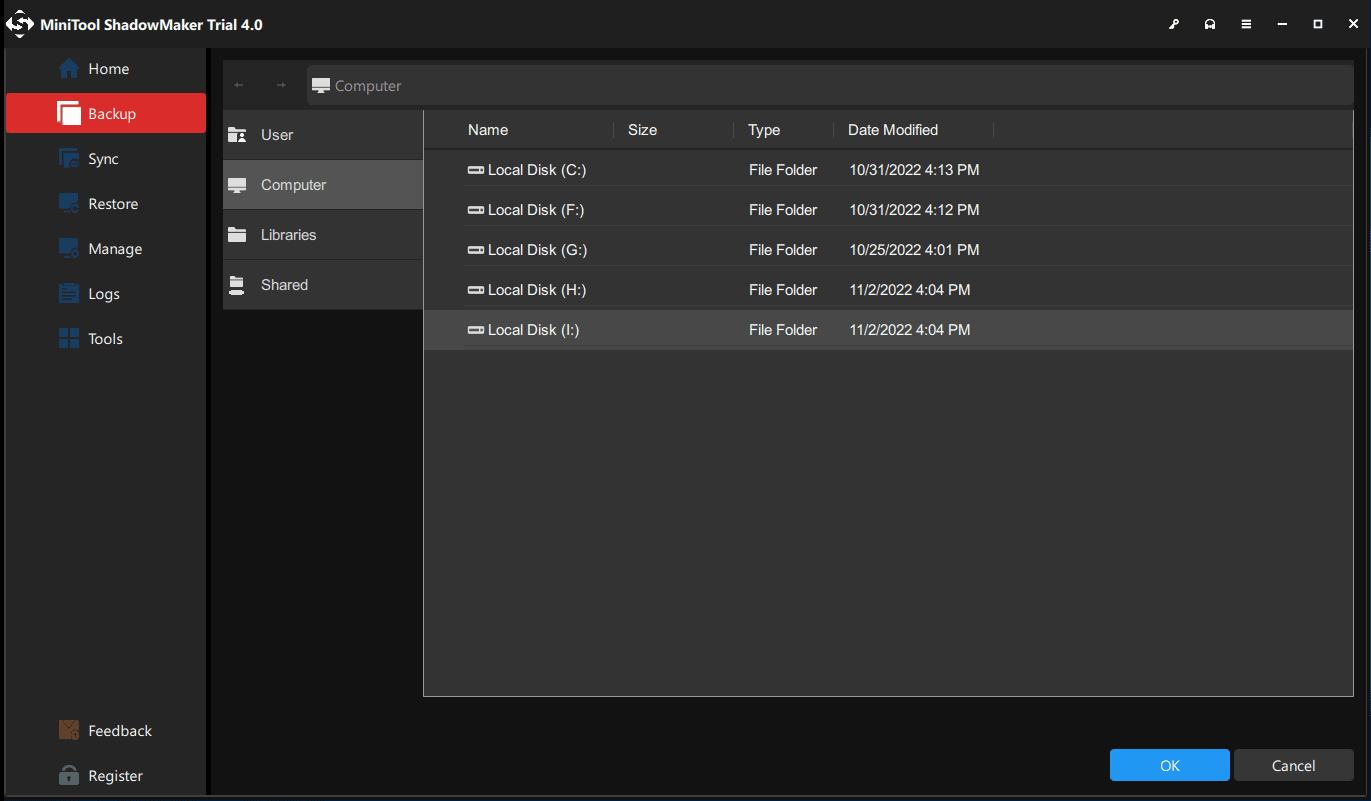 Step 4: At last, start the backup task by clicking the Back Up Now button.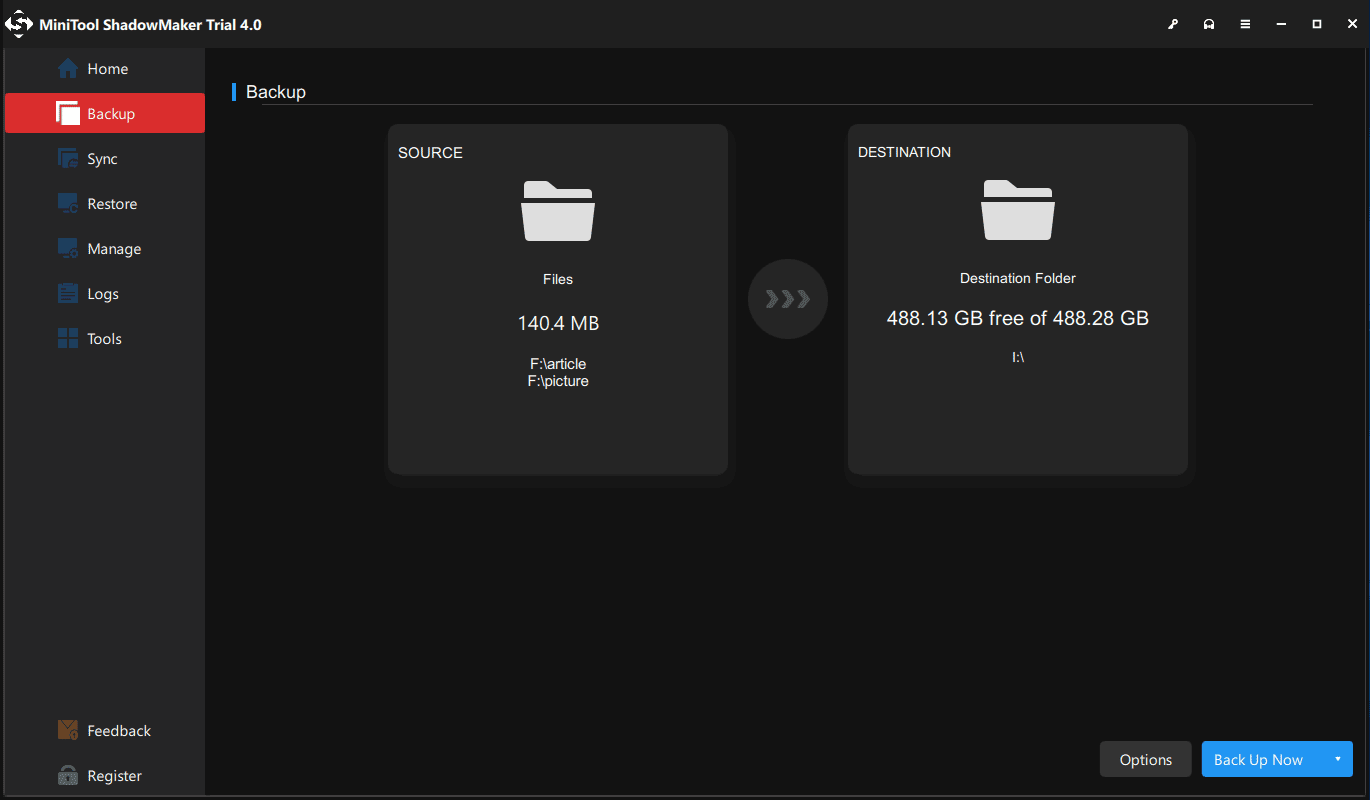 After finishing the file backup, now it's your turn to update your OS.
OS Update
To access the Windows Update section, go to Settings > Update & security. And then you can check if there are any suggested updates on the screen. If so, install the available updates to fix the issue of this app cannot run on your PC.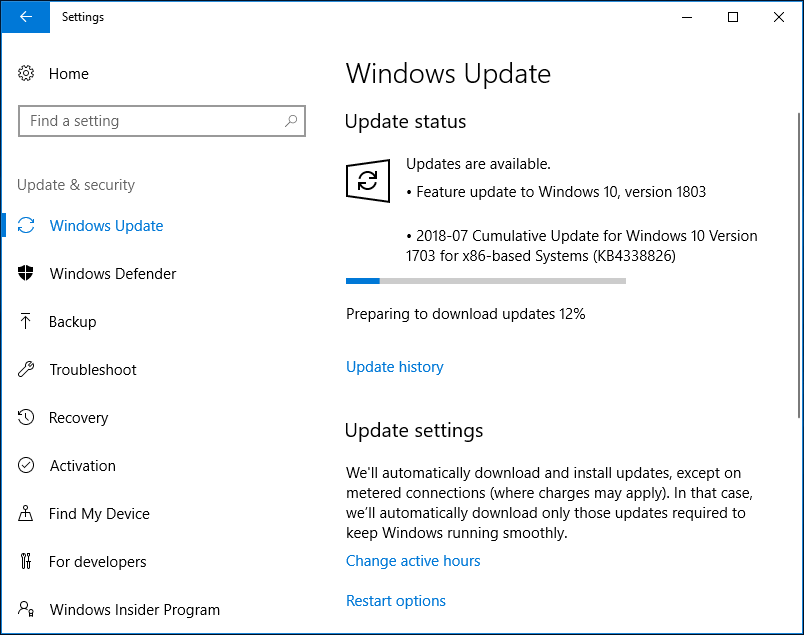 Solution 3: Create a New Administrator Account 
"This app can't run on your PC" error may appear when trying to open some of the basic applications in Windows 10, for example, Task Manager. This might stem from something pertaining to your user account on the computer.
In order to fix this issue, we advise you to switch to a new user account on your computer. Follow these steps to create this account in Windows 10:
Step 1: Open Settings to choose the Account option.
Step 2: Move to the Family & other people tab and select Add someone else to this PC.
Step 3: Click I don't have this person's sign-in information.
Step 4: Now hit Add a user without a Microsoft account.
Step 5: Input the user name and password for the new administrator account.
Step 6: This new account will appear in the Other users section. Just click on it and choose Change account type.
Step 7: Choose Administrator from the type menu on the pop-out screen and click OK finally.
Solution 4: Disable SmartScreen
Nowadays phishing scams and malware are getting more and more sophisticated, thus, it goes without saying that reliable tools are important for you to protect the computer against the threats.
In Windows 10, the SmartScreen utility is a case in point. However, sometimes it can be too sensitive to a point where certain apps can't run on your PC.
Therefore, the best way is to disable it temporarily and check if "this app can't run on your PC" occurs.
To do this:
1. Click Win + S to open the search box and type smartscreen in the box.
2. Click App & browser control from the search results.
3. Windows Defender Security Center will appear. Then, check Off under the Check apps and files section.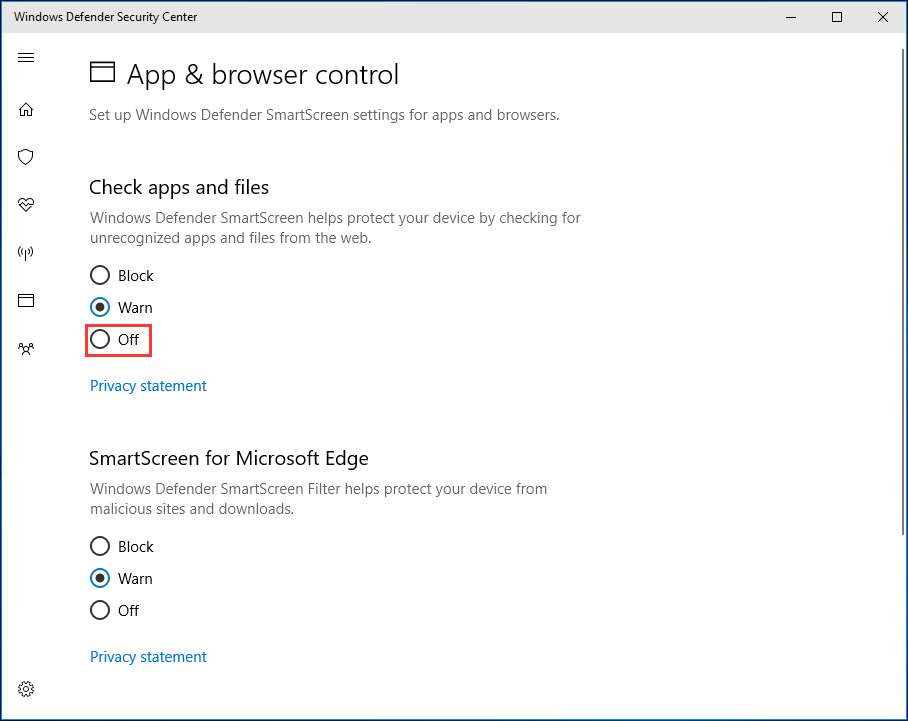 4. Windows will pop up a small window to ask you to provide administrator approval to proceed. Just click Yes to continue.
5. Reinstall the app that can't open and see if this app cannot run on your PC issue occurs.
If this app still fails to run in Windows 10, change the Windows SmartScreen setting back to Warn and try the other ways below.
Solution 5: Enable App Side-loading
This way is another pretty effective solution to various variants of the "This app can't run on your PC" error. App Side-loading is a feature that can be enabled when you enable Developer mode for apps or programs.
This is another pretty effective solution to the error "This app can't run on your PC". App Side-loading is a feature that can be enabled when you enable Developer mode for apps or programs.
To enable this feature, do these operations:
Move to Start > Settings > Update & security.
Click on For developers in the left panel, check Developer mode option under the  Use developer features section.
Once Developer mode is enabled, App Side-loading will also be enabled. That being the case, restart Windows 10 and see whether this app can run successfully now.
Solution 6: Update Windows Store
When the Windows Store app can't open on your Windows 10 PC, it is possible that a temporary bug is plaguing the current version of the Store. Then, the effective solution is to update it straight away to eliminate bugs and glitches
Step 1: Go to the Start menu to find and open the Microsoft Store window.
Step 2: Click on the 3-dot menu in the upper right corner and choose the Downloads and updates option.
Step 3: Click the Get updates button.
Solution 7: Use System File Checker 
System File Checker (SFC) is a built-in utility, analyzing all of the system files for corruptions and damages on your computer.
When running an SFC scan and it finds some corrupted system files, this tool will repair them or replace them with cached copies. This verifies the integrity of all protected system files.
With it, it can help you to fix any underlying issue that is causing Windows 10 this app can't run on your PC error.
Step 1: Run Command Prompt as administrator.
Step 2: Type sfc /scannow and press Enter.

Please wait patiently until verification 100% completes. Then, exit this CMD window and restart your PC to check if cannot run app issue occurs or not.
Solution 8: Repair Your Registry
If this app fails to run in Windows 10, it might be caused by the faulty or corrupted registry keys. The important thing is to fix the damaged registry but this requires technical expertise and exceptional cautiousness since you are prone to error.
It is advised to use a dedicated tool such as Auslogics Registry Cleaner or CCleaner to repair the registry. Note that don't forget to back up your registry in case something goes wrong.
Solution 9: Check for Disk Errors
Another reason that might cause an app to not run on your PC might be the disk errors. Hence, you can try running a disk check to identify and remove these errors quickly.
To do this, the command line chkdsk n: /f or chkdsk n: /r is helpful for you (N is the drive letter) is helpful to fix disk errors or shield bad sectors respectively. Just open Command Prompt as administrator and try the command.
In addition to the command tool, you can use professional test software to perform a disk check. Here MiniTool Partition Wizard is worthy of being recommended.
To check and fix some logical errors, use its Check File System feature. With its Surface Test feature, you can easily check whether there are some bad sectors.
If so, shield them and remember to back up important files with its Clone Disk or using MiniTool ShadowMaker (as mentioned above ).
For more information on disk cloning operations, you can read this post - How to Clone a Hard Drive to SSD in Windows 10/8/7.
Solution 10: Disable Proxy or VPN
If you still cannot run app, you can also try to disable Proxy or VPN since the particular settings may block the outgoing connection to the Microsoft Store servers.
In this case, you can try to disable these settings before logging in your Microsoft account. Ensure you have a stable Internet connection.
Step 1: Go to Control Panel and click on Internet Options.
Step 2: Under the Connections tab, click on LAN settings.
Step 3: Uncheck the Use a proxy server for your LAN option.
Other Possible Solutions
Clear your browser cache
Clean your temporary files and folders
Run a full system scan with antivirus tool
Perform a Windows 10 clean boot
Update your drivers
Tip: If apps can't open in Windows 7/8/8.1, Windows Server 2012/2016 and more, some of these methods are also available.
Another Suggested Solution:
"Windows 10 doesn't allow you to run an app with 'this app can't run on your PC' error message? Try these solutions and share it with everyone having the same issue! "Click to Tweet
Keep Your PC Safe to Avoid This App Can't Run on Your PC
After trying all the above methods, you may have solved this app can't open issue. To avoid this error message or other system issues in the future, we strongly suggest using MiniTool ShadowMaker to back up your system or the disk data.
Step 1: Run MiniTool ShadowMaker Trial Edition.
Step 2: In the Backup page, you can see this freeware have selected system partitions in the Source section and a destination folder for the backup image.
If you want to back up the entire disk data, please go to the Source section to choose a disk and check all partitions.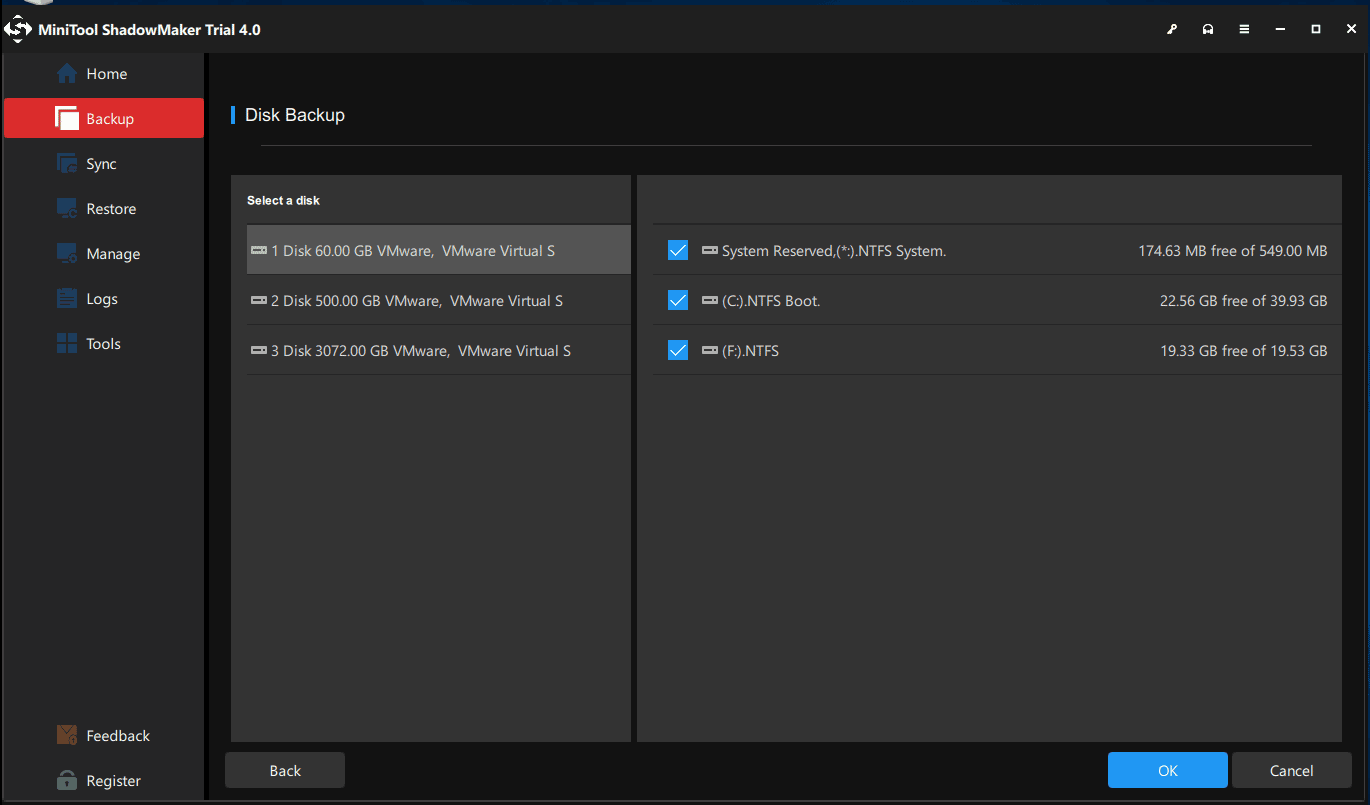 If you don't want to back up your PC to the specified path, please click the Destination section to choose one based on your needs. An external hard drive, USB drive and NAS are available. 
Related article: How to Backup Computer to External Hard Drive in Windows 10/8/7
Step 3: Click Back up Now button to begin the backup process.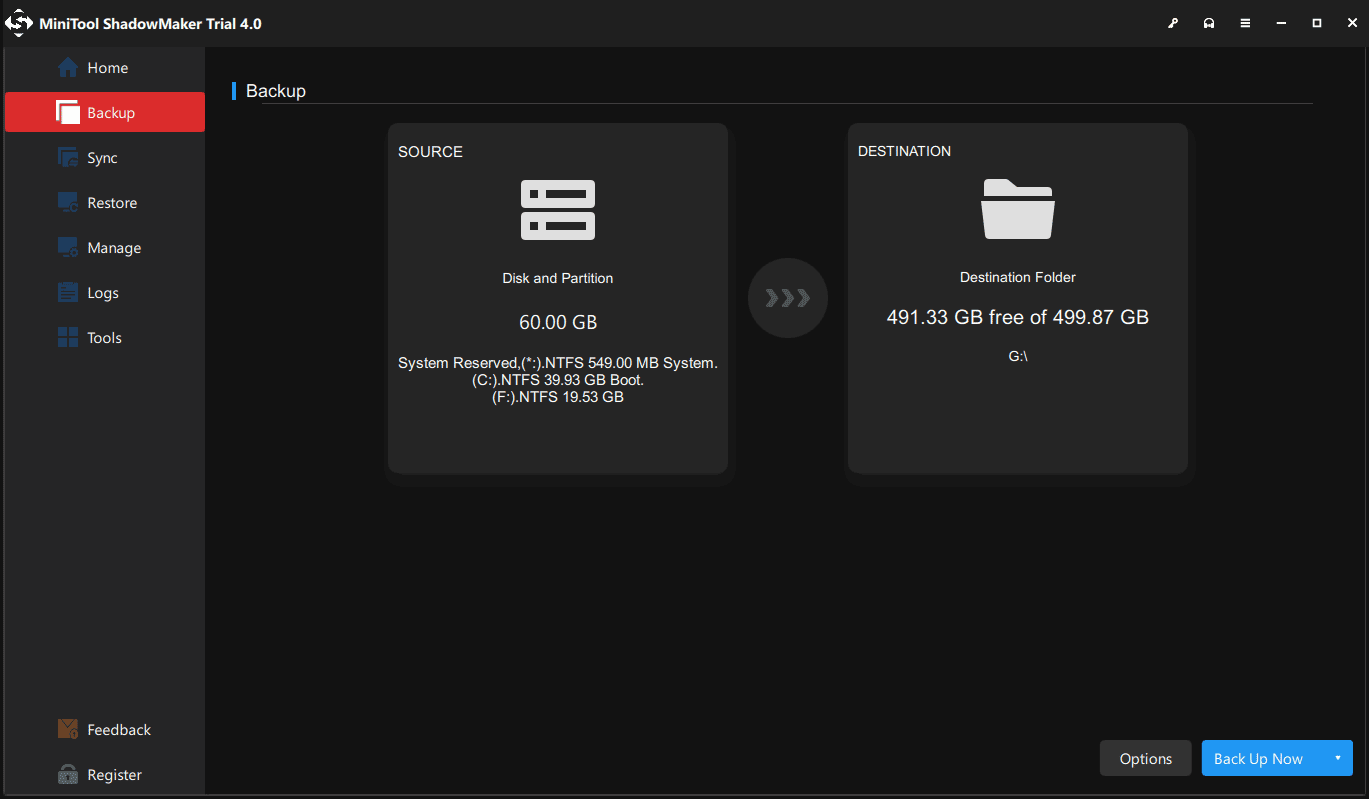 Tip:
Once your OS goes wrong, you can use the backup image to directly restore it. In addition to this freeware, you can use Windows built-in tool to back up the OS and restore it, but some issues may happen, for example, Windows backup stuck,
system restore does not appear to be functioning
, etc. Thus, we suggest using MiniTool ShadowMaker for PC protection.
Final Words
If you are troubled by the error "this app can't run on your PC" in Windows 10, try the above ways to fix it. Hope this post can help you.
If you have any other solutions to this app can't open issue, pelase write a comment below or contact [email protected]. Also, if you have any questions regarding MiniTool software, please inform us.