To enjoy the full features of Microsoft Word, you need to activate the Word app. This post teaches you how to activate Microsoft Word in 4 ways. To help you recover deleted or lost Word files, a free data recovery program is provided.
Can You Use Microsoft Word for Free?
Microsoft offers a free Office online version and you can go to its official website, sign up for free, and then you can use Microsoft Office online for free. You can use various Office apps like Word, Excel, PowerPoint, OneNote, Outlook, OneDrive, Teams, etc.
Go to Office.com or https://www.microsoft.com/en-us/microsoft-365/free-office-online-for-the-web in your browser to start using the online version of the Microsoft Office Word app.
Microsoft 365 offers a 30-day free trial, you can try Microsoft 365 and use Word app for 30 days. After the trial period, you need to pay for a subscription to continue using Microsoft Word app.
How to Activate Microsoft Word for Free
Way 1. Activate Microsoft Word for Free on an OEM Computer
If you purchased an OEM computer with Windows OS and Office preinstalled, you can activate Microsoft Office Word and other Office apps for free.
In general, you will see an activation instruction sheet packed along with the computer or you can see an activation file in the computer. You can open the instruction file and follow the guide to activate the preinstalled Windows 11/10 OS. After you activate the Windows system, you can follow the guide or video to activate Microsoft Office suite, and it will activate the Word app. You may be asked to create or enter a Microsoft account to associate with Office.
Way 2. Activate MS Word with a Microsoft 365 Subscription
If you purchase an Office or Microsoft 365 subscription like Microsoft 365 Family, you will get all popular Microsoft Office apps including Word, Excel, PowerPoint, Outlook, and more. The Word app should be automatically activated after you activate Microsoft 365.
You can compare all Microsoft 365 plans and choose a preferred plan based on your needs.
Way 3. Activate Microsoft Word with Product Key
If you bought the stand-alone Microsoft Word app from Microsoft Store or other authorized websites and received a product key, you can download and install Microsoft Word app on your PC and enter the Microsoft Word product key to activate Microsoft Word. Check the tutorial for where to enter your Office product key.
This standalone Word app costs $159.99 for 1 PC or Mac. It is compatible with Windows 11, Windows 10, or macOS. If you also need to use Excel, PowerPoint, Outlook, and other Microsoft Office apps, it's advised you buy the full Microsoft Office suite or Microsoft 365 subscription to get all the needed Microsoft Office apps.
Way 4. Activate Microsoft Word with Office Activators
To activate Microsoft Word without a product key, you can try some professional free Office activators. Below are some top activators for Microsoft Office for your reference.
KMS Activator
KMSPico Activator
Microsoft Toolkit Activator
You can try these Windows activators to see if they can help you activate Windows and Office. However, you should be careful since unofficial Windows or Office activation may violate Microsoft copyright laws.
FAQs about Activating Microsoft Word
Why is my Microsoft Word not activated?
If you see a message saying that your Word isn't activated, it means you are using a trial version of the Office Word app. You can use the Word trial version if you don't want to buy it. But after the trial period, you may lose access to many features of the Word app.
How long is the free trial for Word?
One month. You can try Office 365 or Microsoft 365 apps for one month, and it gives you premium access to a powerful set of apps and services for free. But it only lasts for one month. After one month, you can't access many premium features.
Why is Word suddenly unlicensed?
If your Word is suddenly unlicensed and not opening, your Office subscription may be expired. You can renew your Microsoft 365 subscription and activate Microsoft Word again.
Why does Microsoft Office Word keep asking for activation?
You need to buy a Microsoft Office/365 license to get the activated version of the Office suite. If you use the trial version, after the trial period, it may keep asking for activation.
How do you find your Microsoft Office product key?
If Office came in a box, card, or disc, you can look for the product key on the card or on the packaging that came with Office. If you don't find the product key there, you can read the instructions on the package to get your product key for Office.
How to remove Microsoft Office license from my computer?
You can uninstall Office and deactivate the license of Microsoft Office. To uninstall Office, you can go to press Windows + R, type control panel, and press Enter to open Control Panel. Select Programs -> Programs and Features -> Uninstall a program. Select Microsoft Office and click Uninstall to remove it from your computer. Alternatively, you can also use the Microsoft Office Uninstall Tool to completely remove Office from your computer.
How do I start Microsoft Office free trial?
You need to create a Microsoft account to sign up for the free trial of Microsoft 365. After you create an account, you can visit the Microsoft 365 Free Trial page and click the Try 1 month free button. Follow the instructions install and try Microsoft Office.
A free trial of Microsoft 365 offers all the apps of the Office suite, including Word, Excel, PowerPoint, Outlook, Access, and Publisher.
Free Way to Recover Deleted/Lost Word Documents
If you want to recover permanently deleted or lost Word files for free from a computer, USB flash drive, etc. you can use a professional data recovery program.
MiniTool Power Data Recovery is an easy-to-use data recovery program that is compatible with Windows. You can download and install this clean and free data recovery application on your Windows PC or laptop. Launch it and choose the target drive or device to scan. After the scan, you can check the scan result to find wanted files and save them to a safe place.
MiniTool Power Data Recovery helps you recover deleted or lost data from various storage devices including Windows PC or laptop, USB flash drive, SD/memory card, external hard drive, SSD, etc. It can help you restore lost data from various data loss situations like hard drive corruption, system crash, and other computer problems.
Download and install MiniTool Power Data Recovery on your Windows PC or laptop and check the detailed guide below for how to recover Word files.
MiniTool Power Data Recovery FreeClick to Download100%Clean & Safe
Launch MiniTool Power Data Recovery to access its main UI.
On the main interface, you can select the target drive under Logical Drives and click Scan. If you want to scan the whole hard disk or device, you can click the Devices tab and choose the target disk/device and click Scan.
Let the software finish the scan. If you have found your needed files, you can stop the scan process any time you want.
Check the scan result to find if the wanted files are there, if so, check them and click the Save button.
Choose a new device or location to store the recovered files. You should not store the recovered files in the original location to avoid data overwriting.
Tip: If you only want to scan a specific type of file, you can click the Scan Settings button on the left panel. Then you can choose the types of files that you want to scan and recover. For instance, if you only want to scan Word files, you can choose Document and only tick Office Word document files (*.doc, *.docx). This will deliver a much faster scan than scanning the whole drive or disk.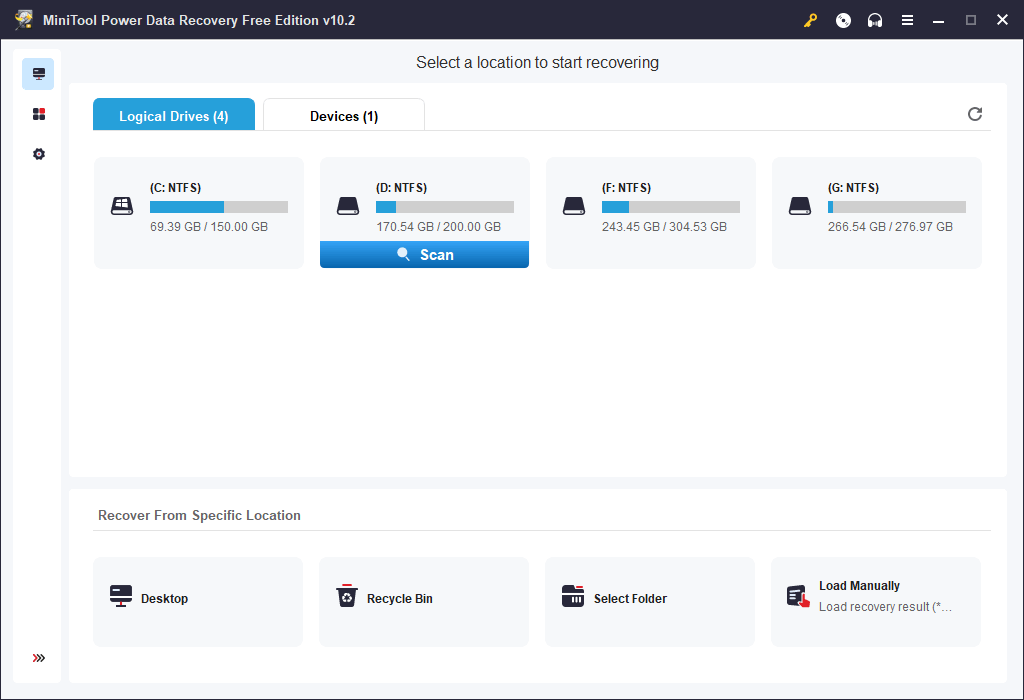 Backup Important Word Files to a Safe Location
To avoid permanent data loss, you can always make a backup of important files. You can copy the files to another safe location on your computer. You can also use an external hard drive, USB flash drive, etc. to store the backups.
Here we introduce a professional free PC backup tool for you.
MiniTool ShadowMaker lets you choose files and folders or partitions to back up to an external hard drive, USB flash drive, or network drive. You can even choose the whole disk content to back up.
You can set a schedule to back up selected data regularly. To only keep the latest backup copy, you can use the incremental scheme. You can also use the File Sync feature to back up important files.
MiniTool ShadowMaker TrialClick to Download100%Clean & Safe
Conclusion
This post introduces 4 ways to help you activate Microsoft Word app to enjoy its full features. A free data recovery method is also provided to help you recover any deleted or lost files.
MiniTool Software is a leading software developer. It has released some popular software products to help users solve various computer issues.
Another flag product MiniTool Partition Wizard is a well-received disk partition manager for Windows. You can use this program to easily manage hard drives and disk partitions by yourself. For partition management, you can use it to create, delete, extend, resize, merge, split, format, and wipe partitions, change drive letter, and do many other actions. You can also use it to clone disk, convert disk format, test hard drive speed, analyze hard drive space, check and fix disk errors, migrate OS to HD/SSD, and more.
More free tools you can try include MiniTool MovieMaker, MiniTool Video Converter, MiniTool Video Repair, MiniTool uTube Downloader, etc.
If you have any issues with using MiniTool Software products, you can contact [email protected].
Also read: Learn the best trick for data recovery hard drive on Windows 11/10/8/7