You may not have a clear understanding of what file hosting service is and what's the best hosting service to choose from. This page introduces file hosting service to you and lists the most popular services you can choose in 2022. Besides, it shows you how to recover deleted files from online storage service as well as local drives.
Where can I host my files? In addition to keeping files on traditional drives like hard drives, USB flash drives, and SD cards, you can also save them to the cloud, using the internet hosting service. The following content focuses on introducing file hosting service, listing the most popular file hosting services, and showing you how to recover deleted files from Dropbox (or another file hosting service).
Tip:
A lot of useful tools are provided for you to use to recover data, manage disks, backup files & systems, record/convert videos, etc. You should go to the
home page
to choose one or more you need and then click on the corresponding button to download it.
What Is File Hosting Service
Nowadays, the file hosting service, internet hosting service, online file storage provider, or cyberlocker refers to the same thing – the service that can help you host your files on the internet which can be accessed later from a different device. Both HTTP access and FTP access are allowed by common file hosting services. You upload some files to the internet and then share the corresponding link with others. People can then access your files over the internet with a user name & password or through other authentication methods.
Will Cloud Storage Replace Hard Drives In The Future?
What is a file hosting server? It refers to the server used for underpinning file hosting. Several servers could combine under a single file hosting service.
What is a file hosting system? It's another name of file hosting service, which is a network-based service to host various files for people.
How Much Does File Hosting Cost
Some people are curious about the cost of a file hosting service. However, there's no clear standard for it. According to statistics, the average cost of storing a single TB of file data per year is $3,351. That seems expensive, right? The servers, bandwidth, and other things involved are not cheap.
File Hosting, File Sharing, & Cloud Storage
File Hosting Service vs File Sharing Service
As the name suggests, file hosting and file sharing refer to different actions and purposes.
File hosting: it refers to any service that allows you to upload your files to and manage them on the internet (on the servers of other companies).
File sharing: it refers to the action of getting a link to your uploaded file and giving it to other people so that they can access/download the file directly.
File Hosting Service vs Cloud Storage Service
File hosting service: there are many free file hosting and sharing services available for you. File hosting is a good choice if you need to upload a file in a hurry since it doesn't require you to create an account and then sign in with it.
Cloud storage service: however, if you'd like to upload a file using the cloud storage service, you need to register first; then, log into the cloud storage; afterwards, get and share the link out if you want.
Benefits of cloud storage service:
If you are using cloud storage, you have more options for sharing links than the pure file hosting service.
Common cloud storage services allow you to share to social networks directly through a few clicks: Facebook, Twitter, and so on.
You can tell others your username or email so as to let them access your folder.
Some cloud storage services even provide you with native apps to share files in order to collaborate with remote teammates.
The security of cloud storage service is better than that of file hosting service. Your data on the server will be encrypted using AES 128-bit or 256-bit algorithms. TLS protocol will be used to protect the file transfer process.
Cloud storage offers more advanced needs than ordinary file hosting services.
Your speed to download or upload files through file hosting services will be limited if you're a free user. However, cloud storage services don't do that; the speed is mainly affected by distance.
Best File Hosting Services in 2022
#1. Dropbox
Attaching files/documents to email and sending them over the internet used to be the most popular & commonest way to share files with other people. Things have been changed greatly since the appearance of Dropbox: you can upload your files to the internet and access them from anywhere.
On the current market, Dropbox is still the best file hosting provider in many aspects. It offers different versions for users to choose from:
Free: users will get 2 GB of storage space by default. They can expand the storage space via certain activities like inviting new Dropbox users. You can enjoy 30 days of version history.
Standard: it provides users with 5 TB of storage space and some advanced features, such as two-factor authentication and watermarking. Besides, you can enjoy the file versioning service for 180 days.
Advanced: there's no limit in the storage space. It provides advanced features like viewer history, remote device wipes, and tiered admin roles. Also, you can enjoy 24/7 phone support.
How To Fix Dropbox Failed To Uninstall Error On Windows?
Pros & Cons of Dropbox File Hosting Service
Pros:
Reasonable collaboration support
Apps for common operating systems
Many features, integrations, and extensions
Strong security like digital signatures and powerful encryption
30 days money-back guarantee
Cons:
Storage space lime (2 GB) and file size limit (2 GB) for the free version
Lack of in-browser editing feature
Expensive price for extra support or space
#2. Box
Box is a highly scalable file hosting service suitable for people having demanding requirements. Box company was set up in 2005 (it has been 16 years from now). Box provides an amazing 10GB free plan for individuals; besides, it offers 4 other choices for the paid plan: Starter ($5/month), Business ($15/month), Business Plus ($25/month), and Enterprise ($35/month).
Pros & Cons of Box
Pros:
Strongest AES encryption with 256 Bit key length
Easy operation and intuition
Reasonable collaboration support
Many advanced features & over 1,500 third-party integrations
14 days money-back guarantee
Cons:
Single file size uploading limit (less than 250 MB) for the free plan
Less storage space for paid account compared to similar services
#3. Google Drive
Google Drive is one of the most famous file storage services throughout the world. The most amazing thing of all is that it offers 15 GB of storage space free of charge; this is enough for most ordinary users. Even if you are a free user, you can get full access to many Google apps: Google Docs, Google Photos, etc. Thus, Google Drive is a perfect choice for individuals and small businesses.
Top 10 Ways To Fix Google Drive Not Playing Videos Problem.
Pros & Cons of Google Drive
Pros:
Cross-platform apps
Desktop-to-desktop file syncing (Google Drive undo delete or Google Drive restore deleted files is simple)
Compatible with common files and devices
Has over 100 productivity apps and various integrations
Only $1.99/month for 100 GB, $2.99/month for 200 GB, $9.99/month for 2 TB
Cons:
No unlimited storage option
Lack of password-protection
#4. Microsoft OneDrive
Microsoft OneDrive is the default online file hosting and syncing service for Windows 10 and Office 365. Two OneDrive plans are provided for users to choose from:
Basic plan: 5 GB of free storage space (it can be expanded to 100 GB for just $1.99/month)
Business plan: 1 TB of storage space for $5/month or unlimited storage for $10/month
How To Disable When Microsoft OneDrive Keeps Starting?
Pros & Cons of Microsoft OneDrive
Pros:
Advanced sync technology (OneDrive sync issues)
Version history provided
Real-time collaboration
SSL encryption for high security
Features useful for business
Compatible with Windows, Mac, Android, and iOS
Wonderful photo presentation and management
Cons:
No live chat support
Only 5 GB of free storage space
Only allows for specific folders syncing
#5. iCloud Drive
iCloud Drive is available for all Apple devices. It provides 5 GB of storage space to users for free. You can expand the storage to 50 GB at the cost of 99 cents/month, 200 GB for $2.99/month, or 2 TB for $9.99/month.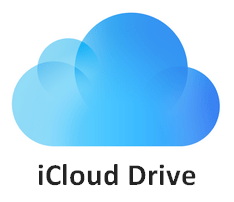 Pros & Cons of iCloud Drive
Pros:
Working well on Windows computers
Automatic updates syncing on different devices
Automatic backups and two-factor authentication
Cons:
Some features are limited to Apple devices
No version history
Other Popular Alternatives to Dropbox
iDrive
SugarSync
MediaFire
pCloud
Mega
4shared
ElephantDrive
fm
Hightail
Amazon Drive
SpiderOak
What if you have deleted important data by mistake? Do you know how to recover deleted files from Google Drive or how to recover deleted files from OneDrive?
How to Recover Permanently Deleted Files
Recover File Deleted from Recycle Bin
If you have deleted files by mistake on a computer, you can recover them easily. How to retrieve deleted files from Recycle Bin?
Double click on the Recycle Bin icon.
Browse the deleted items.
Select the files you want to recover and right click on any of them.
Choose Restore.
Recover Files Deleted Permanently
However, sometimes files are deleted from Recycle Bin or not sent to it. How to recover permanently deleted files?
Download MiniTool Power Data Recovery (or another professional data recovery software).
Install the software properly and then launch it.
This PC will be selected by default in the left pane and Logical Drives will be selected in the right pane.
Specify the drive that contains your deleted files from the right panel. Then, click Scan.
Wait for the scan and browse the scan results.
Pick out the files and folders you need and click on the Save button in the lower right corner.
Choose a storage path for the files and folders and click OK to confirm.
Wait until all deleted files have been recovered and saved to your appointed place.
How To Easily Recover Deleted/Lost Files On PC In Seconds – Guide.
How to Restore Deleted Files from Online Storage
What if you have deleted files you still need from the online storage space? For instance, can you recover deleted Google Drive files? Luckily, the answer is yes.
Recover Deleted Files Dropbox
Dropbox offers a Deleted files option to allow you to recover accidentally deleted files easily.
If you're using a free Dropbox personal account, you can recover a deleted file within 30 days.
If you're using a business account, you can recover a deleted file within 120 days.
Dropbox restore deleted files:
Log into the Dropbox homepage.
Look for the Files link and click on it.
Select Deleted files from the left sidebar.
Browse the files listed in the middle panel and select the ones you need.
You can also use the search bar in the top-right corner to find files directly.
Click on the Restore button from the right sidebar.
Can you recover deleted Dropbox files after 30 days if you're a free user? That depends on whether you have ever saved the deleted files (or the previous versions) locally. If yes, you should scan your local drive using a powerful data recovery tool and see whether the files can be found or not.
Recover Deleted Files Google Drive
Can I recover deleted files from Google Drive? Of course, yes. Google Drive also offers a Trash to keep your deleted files temporarily for 30 days.
How to recover a deleted Google Doc:
Log into your Google Drive account.
Click Trash from the left sidebar.
Browse the files to determine which one you need.
Right click on the file and select Restore.
How To View And Sort Google Drive Files By Size Easily?
OneDrive Recover Deleted Files
Microsoft OneDrive Recycle bin keeps your personal deleted files for 30 days (the time limit will be expanded for work or school accounts); then, they'll be permanently deleted.
Steps to recover deleted OneDrive files:
Log into your Microsoft OneDrive account.
Select Recycle bin from the left sidebar.
Locate the deleted files you want to recover.
Select them all and click on the Restore button from the top menu bar.
Please read this page to know how to recover permanently deleted files from OneDrive.

The steps to recover deleted files from Box, iCloud Drive, or other file hosting services are basically the same.
Verdict
File hosting service is very necessary when you need to access your files from other devices or you want others to access your files easily. This article introduces file hosting, file sharing, and cloud storage to you in brief. Then, it lists some of the most popular services for hosting your files; you can choose one according to specific needs. At last, it shows you how to recover deleted data from both local drive and online storage sites.