This post introduces some free PC health check tools to help you check your computer's health and performance. For more computer tips and solutions, you can visit the official MiniTool Software website where you can also find useful tools like MiniTool Power Data Recovery, MiniTool Partition Wizard, etc.
Keeping PC in a good status can make the PC work defiantly and safely. How can you know if your PC is in a healthy state? This post introduces some best free PC health check software to help you check your computer's health and performance. Some free tools to help you with secure data recovery services, data & system backup, disk management, etc. are also introduced for your reference.
Also read: Discover expert tips and tricks for hard drive recovery service that could potentially save you from losing irreplaceable memories.
10 Best Free PC Health Check Software for Windows 11/10
Microsoft provides 3 free built-in Windows PC health check apps to help users monitor their computers' health. They are PC Health Check, Windows Security, and Performance Monitor/Resource Monitor. You can use them to check your PC health on Windows 10/11.
PC Health Check
The PC Health Check app is released along with Windows 11 OS. It is originally released to help users check for Windows 11 compatibility. But it also acts as a free PC health check app that helps check your PC's update status, backup and sync status, disk usage rate, battery life, startup time, etc. Learn how to download PC Health Check.
Windows Security (Windows Defender)
Another built-in free tool in Windows to help you diagnose and safeguard your PC's health is Windows Security (also named Windows Defender). Windows Security is a free antivirus software program for Windows 11/10. It is a component of Windows OS. It helps protect your computer against spyware, malware, virus, or any other threats. Windows Defender not only monitors your device performance & health but also offers protection for many other things like accounts, app and browser usage, firewall and network, and more.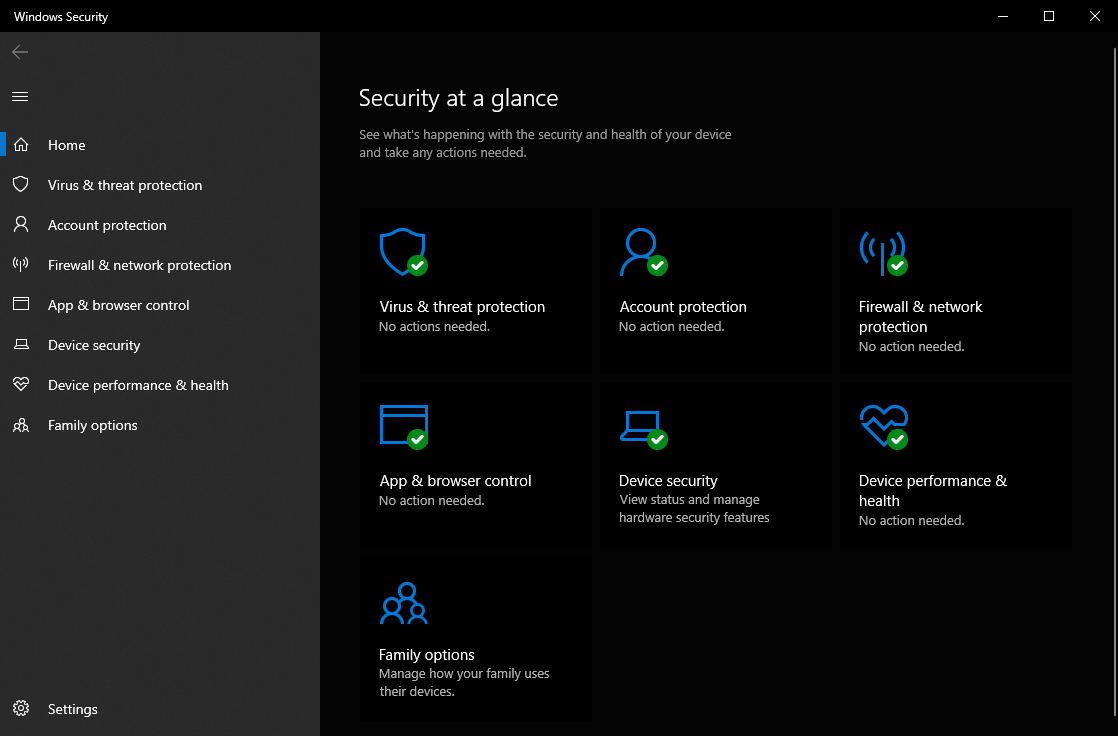 Performance Monitor/Resource Monitor
Microsoft also offers a tool named Performance Monitor to let you view the performance data either in real time or from a log file. To open Performance Monitor, you can press Windows + S, type performance monitor, and choose Performance Monitor to open the app.
This new Resource Monitor lets you view detailed real-time information about hardware resources (CPU, disk, network, RAM) and system resources used by the operating system, services, and running applications.
You can also use some top third-party PC health check software programs to help check PC health on Windows 11/10. Check some of the options below.
AVG TuneUp
AVG Tuneup is a popular PC check tool that helps users manage, maintain, optimize, configure, and troubleshoot a Windows system. You can use it to free up disk space, uninstall unwanted programs, speed up your Windows 10/11 PC, remove junk files to clean up your PC, update your programs automatically, clean and fix the registry, fix your PC problems, improve your PC's performance, and more.
CCleaner
CCleaner is also the best free PC health check software for Windows 11/10. It makes your computer faster and more secure. CCleaner Professional provides standard privacy protection, standard /complete cleaning, driver updater, complete PC health check, app updates, etc.
It helps delete potentially unwanted files left by certain programs like Chrome, Edge, Firefox, Microsoft Office, Windows Media Player, etc. It can also uninstall programs or change the list of startup programs on your PC.
HWiNFO
This free PC health check tool offers free hardware analysis, monitoring, reporting, and provides in-depth hardware information. It also offers real-time system monitoring and reporting. You can use this program to easily check your PC health.
IObit Advanced SystemCare
Advanced SystemCare is a great all-in-one PC utility that can help you scan, repair, and optimize various aspects of your Windows system. It helps clean, optimize, speed up, and protect your PC. It aims to help you get the peak performance for your computer.
It helps free up disk space with the enhanced AI cleaning of junk files and invalid registry entries, disguise real identity and remove privacy traces to ensure safe online surfing, automatically manage the startup programs and release RAM, keep your applications up-to-date with one click.
Ashampoo WinOptimizer
Ashampoo WinOptimizer is another top free PC health check app for Windows 10/11 that helps you easily optimize and accelerate your PC. It not only helps clean your PC but also provides system maintenance/customization and improves your privacy security.
This program helps accelerate your PC by getting rid of unnecessary services/processes and cleaning up the startup folder. It helps free up more disk space and speed up the startup time.
It also helps eliminate browsing traces, benchmark disk and system, protect your privacy, delete/encrypt/recover files, etc.
Iolo System Mechanic
This free PC tune-up software helps check and improve your PC's performance from many aspects. It offers a set of tools to help you with PC optimization, privacy protection, password management, malware/virus removal, hard drive protection, file recovery, and more. It helps maximize the processor power, unleash internet speed, increase drive speed, etc.
Speccy
Speccy lets you see what's inside your PC. It gives a quick summary and detailed information of each piece of hardware in your computer. You can see the real-time temperature of the critical components of the PC. It also allows you to save your scan results as a snapshot, XML, or text file for easy sharing.
Recover Deleted/Lost Data from Windows 11/10 PC
Sometimes you may mistakenly delete a file and can't find it. Still, some files may be unexpectedly lost. To help users easily recover deleted or lost files for free, the MiniTool team develops a professional data recovery tool – MiniTool Power Data Recovery.
You can use MiniTool Power Data Recovery to easily recover deleted or lost documents, photos, videos, emails, etc. from Windows computers, USB flash drives, SD/memory cards, external hard drives, SSDs, etc. You can use this program to restore data from various data loss situations. Unless the hard drive is physically damaged and the hard drive can't be recognized by PC, you can try MiniTool Power Data Recovery to restore data from the hard drive. It also helps you recover data when the PC won't boot thanks to its built-in Bootable Media Builder feature.
Download and install MiniTool Power Data Recovery on your Windows 11/10 PC and check the simple guide below.
MiniTool Power Data Recovery FreeClick to Download100%Clean & Safe
Run MiniTool Power Data Recovery.
Under Logical Drives, select the target drive and click Scan. If you don't know which drive to select, you can click the Devices tab and select the whole drive or device, and click Scan.
Please wait for the scan process to finish. Then you can view the scan result, browse the folder list in the left panel, or you can use Find and Filter features to quickly find the target files and folders. After you locate the wanted files, tick them, and click the Save button to choose a new destination or device to store the recovered data.
Free PC Backup Software for Windows 11/10
PC can sometimes have problems and crash. To avoid data loss, it's suggested you back up important files to another device and create a system backup image. MiniTool designs MiniTool ShadowMaker to help users with backup.
MiniTool ShadowMaker is a professional PC backup software for PC. It Backup module lets you choose any files and folders to back up. It also lets you choose preferred partitions or the whole disk to back up. You can also use it to create a backup image for your Windows 11/10 system and restore your OS from the backup when needed.
You can also use the File Sync feature of MiniTool ShadowMaker to create a backup for important data. It also allows you to set a schedule for regular backup and sync. If you like, you can set an incremental backup scheme to only reserve the latest backup.
MiniTool ShadowMaker TrialClick to Download100%Clean & Safe
Free Disk Partition Manager for Windows 11/10
You can use a professional disk partition manager to help you manage hard drives. MiniTool Partition Wizard helps you easily do the task.
With MiniTool Partition Wizard, you can easily create a new partition, delete a partition, extend/resize a partition, merge partitions, format a partition, wipe a partition, etc. Aside from helping you repartition hard drives, it also helps you analyze hard drive space and free up disk space, check and fix disk errors, test hard drive speed, migrate OS to HDD/SSD, clone disk, and more. MiniTool Partition Wizard meets all your disk partition management commands. Extremely intuitive and easy to use.
MiniTool Partition Wizard FreeClick to Download100%Clean & Safe
Conclusion
This post introduces some free PC health check software to help you check your PC's health and performance. A free data recovery program, disk partition manager, and PC backup tool are also provided to help you better use your computer and keep your data safe.
Free secure data recovery is not the only service from MiniTool Software. It also provides MiniTool MovieMaker, MiniTool Video Converter, MiniTool Video Repair, MiniTool uTube Downloader, and more tools for you.
MiniTool MovieMaker lets you import video clips and edit them to create a personalized video. It lets you trim video, add effects/transitions/titles/music to video, etc. You can export the video in MP4 or any other format. This professional video editor is 100% clean and free.
MiniTool Video Converter lets you convert any video or audio file to your preferred format, download YouTube videos for offline playback, record computer screen (with audio), etc. It is also 100% clean and free.
MiniTool Video Repair helps you repair any corrupted MP4, MOV, M4V, or F4V videos for free. It also offers an Advanced Repair feature to help you repair severely damaged videos.
If you have issues with using MiniTool programs, you can contact [email protected].