Detailed Steps to Recover Lost Photos on Mac/iPhone/iPad
As we know, products of Apple Inc., such as Mac, iPad, iPod, and iPhone, become more and more popular. But at the same time, there are more and more problems related to these products. For example,
iPhone stuck on Apple logo
; files saved on Apple devices got lost;
iPhone or iPad got lost
. And in this post, we are going to show users how to recover lost photos on Mac, iPhone, iPad, or other iOS devices.
How to Recover Lost Photos on Mac
If you are going to recover lost/deleted photos from hard disks, memory card, USB flash drive, or other storage device on MacBook, MacBook Air, MacBook Pro, Mac Mini, iMac, or Mac Pro, download
MiniTool Mac Photo Recovery
to help you do it, which is a free Mac utility.
Then, download and install the program to your Mac computer.
Warning: don't download and install it to the volume where photo loss appears, for it may overwrite lost photos.
After successful installation, please launch the program to get its main interface where you'll be shown preparations for photo recovery: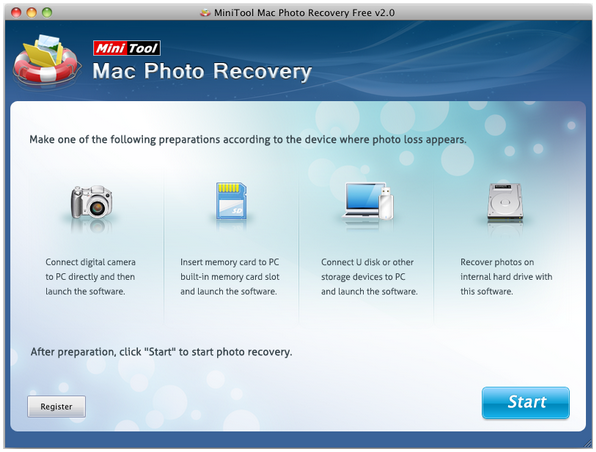 Just make one of these 4 preparations and then click "
Start
" button to continue.
Now, please select the device you want to recover photos from and click "
Scan
". Here, you can make use of the feature "
Setting
", which could help you save much time. For details, please see
Set The Type of Data Needing to Be Filtered
.
At last, select and save recovered photos to other storage devices.
Warning: don't save recovered photos to its original location, for it could overwrite lost photos.
Now, Mac photo recovery is completed. It's so easy to complete, right? And next, let's see iPhone, iPad, and iPod photo recovery.
How to Recover Lost Photos from iPhone, iPad, iPod, Etc.
To do this kind of photo recovery, users need to download MiniTool Mobile Recovery for iOS rather than MiniTool Mac Photo Recovery. The former is also a freeware.
Tip: there are Mac version and Windows version, so users need to download the correct version by considering your operating system.
Below is the main window of the program where 3 functional modules are shown: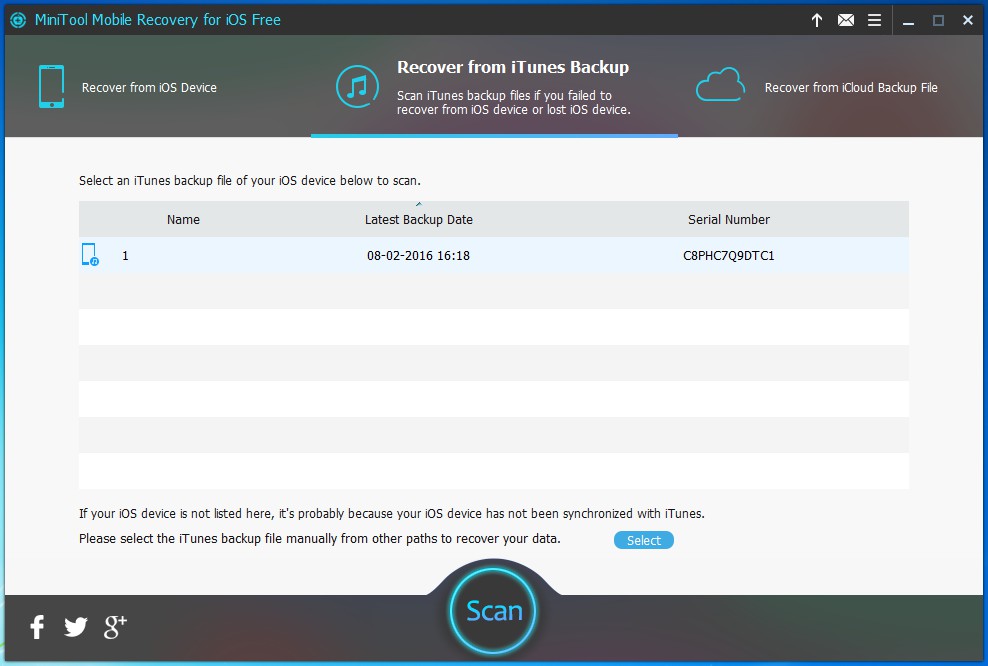 It is believed that most iOS device users have backups on iTunes or iCloud. For these people, we suggest trying the latter 2 recovery modules, namely
Recover from iTnues Backup and Recover from iCloud Backup
.
Then, you can refer to the post
2 Simple Solutions to Recovering Deleted Photos on iPhone
to get detailed operating steps.
Are you suffering photo loss on Mac, iPhone, iPad, or iPod? Now, download a free photo recovery software to recover them.