Are you looking for a method to disable your automatic Windows 11 system updates? This article submitted by MiniTool software introduces you altogether nine solutions to turn off automatic Windows updates. Just read the below content and pick one that suits you!
#1 How to Disable Automatic Windows 11 Updates Through Services?
Microsoft relies on Windows Update service to check for system updates, download, and install them to users' PCs. If this service is disabled, Windows won't update in the future.
Press Windows + R to open Windows Run.
Key in "msc" into the Run box and click OK to launch Windows Services.
In the Services window, find the Windows Update Right-click on it and select Properties.
A new window will pop up. There, in the General tab, choose the Startup type as Disabled.
Set the Service status to Stopped if it is not currently.
Click Apply and OK to save the changes.
You are recommended to disable the Windows Update Medic Service (WaaSMedicSVC) too, which is aimed to repair Windows Update components from damage so that the PC can continue to receive updates. If you want to reenable the Windows Update service, just change the Startup type to Automatic.
#2 How to Permanently Disable System Automatic Updates in Group Policy?
In general, you can make use of Windows Group Policy Editor to turn off Win 11 automatic updates permanently.
Search "edit group policy" in Windows Search and select the best-matched result to open Group Policy Editor.
Move to Computer Configuration > Administrative Templates > Windows Components > Windows Update in Group Policy Editor.
Find the Configure Automatic Updates policy, double-click on it, and select Disabled in the new window. You may need to go to the Manage End-user experience subfolder under the Windows Update folder to find the Configure Automatic Updates policy in the right section.
Click Apply > OK and restart your computer to save the changes.
If you want to enable Windows 11 automatic updates again, just alter the policy back to Enabled.
#3 How to Disable Windows 11 Automatic Updates via Task Scheduler?
Besides, you can take advantage of Windows Task Scheduler to stop your auto system updates.
Search, find, and open Task Scheduler on your device.
Move to Task Scheduler Library > Microsoft > Windows > WindowsUpdate.
Right-click on the Scheduled Start in the right area of the WindowsUpdate folder and choose Disable.
If you want to get the Windows updates back, just Enable the Scheduled Start in Task Scheduler.
#4 How to Disable Automatic System Updates Permanently by Registry?
You can also permanently turn off system updates using Windows Registry. Windows Registry is somehow an advanced tool that is usually for users who know it. If you are not familiar with it, just follow the below guide.
However, a wrong modification to the registry can cause big damage to your system like not working. So, it is strongly recommended that you back up your registry settings, crucial computer data, or your whole OS before editing Windows Registry.
It is easy to back up Registry Editor. Open Windows Run, input "regedit" into Windows Run, and press Enter to open Windows Registry Editor. In the Registry Editor window, click on the File option in the upper-left corner and select Export from the drop-down list. Then, in the new popup, name the file copy and choose a location to save it.
Ok, you have successfully backed up your registry. Once you have messed up the original registry settings, you can use the Import feature under the File option to import the original settings of the registry and bring your system back to work again.
Now, let's see how to permanently disable your Windows 11 automatic updates through the registry.
1. In the Registry Editor, navigate to HKEY_LOCAL_MACHINE\SOFTWARE\Policies\Microsoft\Windows.
2. Right-click on the Windows folder and select New > Key. Name the new key as "WindowsUpdate". If you already have a registry key with the same name, just skip this step.
3. Right-click on the WindowsUpdate key and choose New > Key. Name this new key as "AU". Also, you can skip this step if you already have such a key.
4. Click on the AU On the right area of the registry, right-click on the blank space and select New > DWORD (32-bit) Value. Name the new value as "NoAutoUpdate".
5. Double-click on the NoAutoUpdate value and change its value from "0" to "1" in the pop-up box.
6. Click OK to save the changes and reboot your computer.
Finally, the automatic Windows 11 updates are disabled permanently. Yet, it doesn't mean you will not receive system updates anymore. You can still manually check and install updates from Windows 11 Settings.
If you change your mind and want to enable the automatic Windows 11 updates, just change the value of the NoAutoUpdate key back to "0".
#5 How to Pause Automatic Windows 11 Updates Within System Settings?
If you want to manually decide when to install Win11 updates, you can defer its automatic updates in Windows Settings. Just navigate to Windows 11 Settings > Windows Update and click on the Pause for 1 week button behind Pause updates. You are allowed to pause system updates for 1 week, 2 weeks, 3 weeks, 4 weeks, or 5 weeks.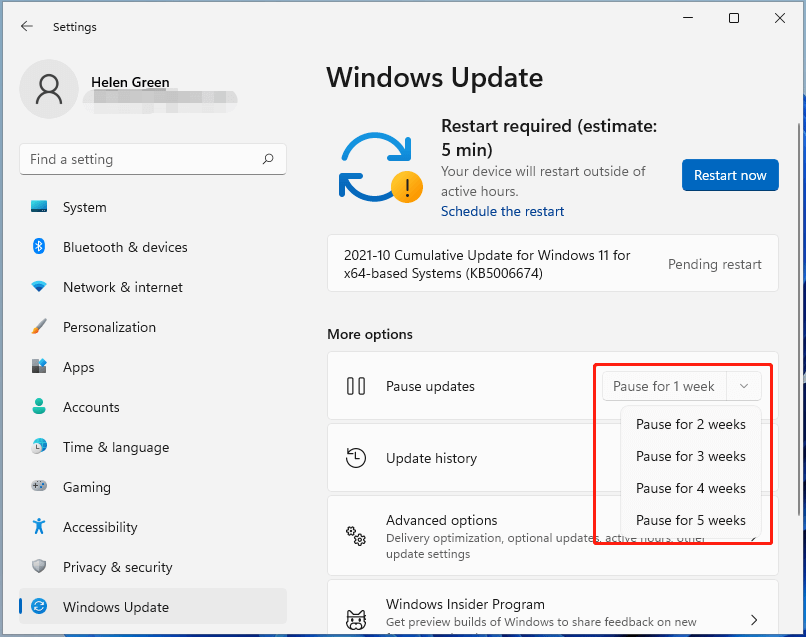 #6 How to Turn off Windows 11 Automatic Updates with Command?
Let's directly go to the steps!
Search "cmd" in Windows Search and open it as Administrator.
To disable Windows Update service (wuauserv) in Windows 11, type sc config wuauserv start= disabled and press Enter.
To enable Windows update service (wuauserv) in Windows 11, type sc config wuauserv start= auto and press Enter.
#7 Set Network Connection to Metered to Stop Windows 11 Auto Updates
Setting your Internet connection to "Metered" can also pause the system from automatically downloading the updates. In Windows 11, go to Settings > Network & Internet > Ethernet and switch on the Metered connection option.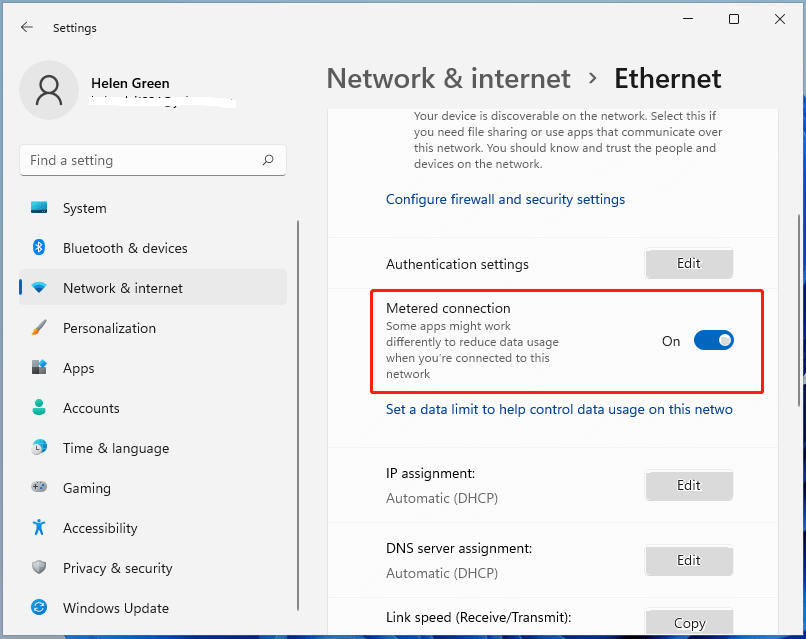 #8 Use Third-Party Tools to Disable Windows 11 Automatic Updates
Finally, you can rely on 3rd party applications to help you manage system updates. The following are some popular Windows updates managers.
Windows Update Blocker
Kill-Update
WuMgr
Win Updates Disabler
WAU Manager
#9 Disable Windows System Automatic Updates by System Restoration
If the Windows 11 automatic updates have brought you to a new version of Win11 and you want to go back to the previous version, there are some ways. First of all, you can use the "Go Back" feature of Windows to return to the last version of the system. If you have passed the period (10 days) available to use the "Go Back" feature, then, you have to rely on other methods.
If you luckily backed up your OS before updating, you can make use of the system backup image to restore to the state where you haven't installed the Windows updates. Using this method, you should rely on the app with which the system image was created, such as Windows 11 Backup and Restore or a third-party program like MiniTool ShadowMaker.
By the way, let's see how to create a system backup and restore it with MiniTool ShadowMaker. Before start, you should firstly download, install, and launch this software on your computer. If it asks you to purchase, just click on the Keep Trial button in the upper right to continue using its features for free.
Create a Windows Backup
You can easily build a system backup with the help of MiniTool ShadowMaker.
Navigate to the Backup
There, the program will automatically select your system-related partitions as backup Source.
Click on the Destination module on the left side and select a place to save the system image. You are not recommended to save the system backup on the same hard disk where your current OS is installed.
Click the Back up Now button to start the process.
If you want to back up your system regularly, you can click the Schedule button before starting the backup task. Or, you are able to select your backup type, full backup, incremental backup, or differential backup, through the Scheme button to save backup time and image storage space.
Restore Windows to Previous Version
If you have mistakenly installed updates from the Windows Update service and can't use the "Go back" feature, don't worry, you can still roll your system back with the backup image created before updating.
If you are going to restore the system to the current system disk, you need to boot your computer into the Windows Recovery Environment (WinRE) with a bootable media created by MiniTool ShadowMaker for the restoration will wipe the current system. When you enter the WinRE, the program will pop up automatically and you can just follow the below steps to finish system restore.
Tip: To boot the PC from a bootable media, you need to enter its BIOS and change the boot device from its original system drive to the bootable media.
1. Go to the Restore tab of MiniTool ShadowMaker.
2. Find the system backup task and click the Restore button on the task. If you can't find the task record (you may delete it), just click the Add Backup button in the upper right to find and add the system image. Then, the system backup task record will appear in the list.
3. In the next window, select a backup version to restore.
4. Then, select the items to restore. Usually, it is recommended to check all items included in the system image, especially the MBR and Track 0 item that decides whether your system can boot up or not after restoration.
5. Select where you would like to restore the system to, the original hard disk or another new drive. You are not allowed to restore the system to the disk where the system image file is saved.
6. It will warn you about which partitions/volumes will be erased during the restoring process. Make sure there is no crucial data in the target location or you have backed it up already.
7. Finally, click OK to let the restoration begin.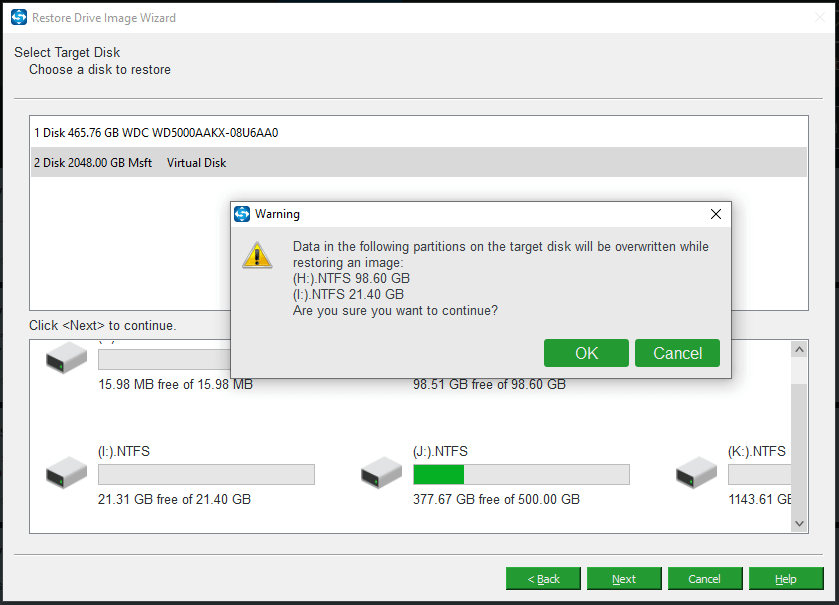 Just wait patiently. When it successfully restored the OS, you need to restart your machine, change the first boot device back to the system disk, and boot from it.
Should I Disable Windows 11 Auto System Updates?
Generally, it is not recommended to turn off Windows automatic updates. Microsoft releases new features, improved functions, bug fixes, as well as security patches through system updates. So, if you want to experience new features and keep your machine safe, you'd better keep the Windows automatic updates open.
Yet, if you really need to turn off system automatic updates for some reason, you can refer to the above methods.