About Avast Antivirus
Avast antivirus is a family of cross-platform Internet security apps developed by Avast Software. They can be applied to Windows, macOS, iOS, as well as Android operating systems. The products of Avast contain freeware and charged versions that offer antivirus software, anti-phishing, antispyware, antispam, firewall, computer security, browser security, as well as many other services.
Does Avast Remove Malware?
Officially, Avast Free Antivirus claims itself can "remove hidden malware, block future malware, and protect against nasty viruses, spyware, ransomware, and more." Yet, users' opinions are more impartial. Now, let's see what other people think about the malware removal of Avast.
Does Avast Remove Viruses?
There is a topic "Does Avast antivirus remove malware" on Quora. Some Quora users think all antivirus products remove viruses. Since viruses are a subset of malware, so, antivirus programs can remove malware. Therefore, Avast can remove malware.
On the contrary, another Quora user does not agree. He thinks that anti-virus software is designed to detect and remove viruses. there may be some definitions for malware but there are lots of viruses to define. So, malware falls by the waist side.
A user's comment partly agrees with that. He admits that Avast can remove malware but not all kinds of malware. Yet, Avast can satisfy most users' needs and there is no need for other security programs.
Tip: Common types of malware includes ransomware, spyware, adware, worms, trojans, and botnets.
Another user describes that Avast Free Antivirus includes a virus scanner and cleaner that can easily and quickly remove any virus from the computer. Moreover, besides being a free virus removal tool, Avast is also real-time protection against all virus attacks.
"Yes. It first analyzes and decides to quarantine or permanently removes the malware." another person states.
One more user explains that "Most antiviruses remove malware and I'm 99% sure that Avast does it as well."
Does Avast Detect All Viruses?
In most situations, Avast can detect all the viruses and malware on your computer. It works quietly behind the screen, scan for any traces of malicious item, and remove them before they conduct their attacks.
How to Detect and Remove Malware with Avast Free Antivirus?
Avast Free Antivirus is a malware scanner and removal tool that enables you to find and remove malware and other threats. It provides free, real-time antimalware protection against current and future infections.
Avast Free Antivirus has packed with the world's largest threat-detection network and machine-learning malware protection. Besides, it won't slow down your computer. What can Avast Free Antivirus do?
#1 Detect, Block, or Delete Malware
Avast Free Antivirus stops viruses, ransomware, spyware, as well as other threats in real-time (all the time/always).
#2 Detect Browser Threats and Other Vulnerabilities
In addition to malware detection, Avast can also find suspicious browser add-ons, extensions, or plugins, outdated tools, unwanted bloatware, and other potential threats for you.
#3 Protect PC Against the Newest Threats
Avast Free Antivirus automatically pushes anti-malware updates to its users. Thus, they are always protected even from the latest and most advanced threats.
#4 Provide AI-Based Safety
Avast protects more than 400 million users via its AI-based global threat intelligence network. When anyone comes across a previously unknown threat, it will push a cure out to everyone.
How to Delete Malware with Avast Free Antivirus?
Now, let's see how to use Avast Free Antivirus to protect your PC by its malware scanner and removal tool.
Step 1. Download and install Avast Free Antivirus on your computer. For system requirements, all you need is a PC with Windows 11/10/8.1/8/7, 1GB RAM, and 2GB hard disk storage space.
As you can see from the installation screen, Avast Free Antivirus can protect your file, disk, operation, Wi-Fi, web, browser, password, mail, software, etc.
Step 2. Launch the antivirus and run Smart Scan. If this is your first opening of the program after installing, it will recommend you to run a first scan (Smart Scan) to detect browser threats, viruses, and malware, as well as advanced issues.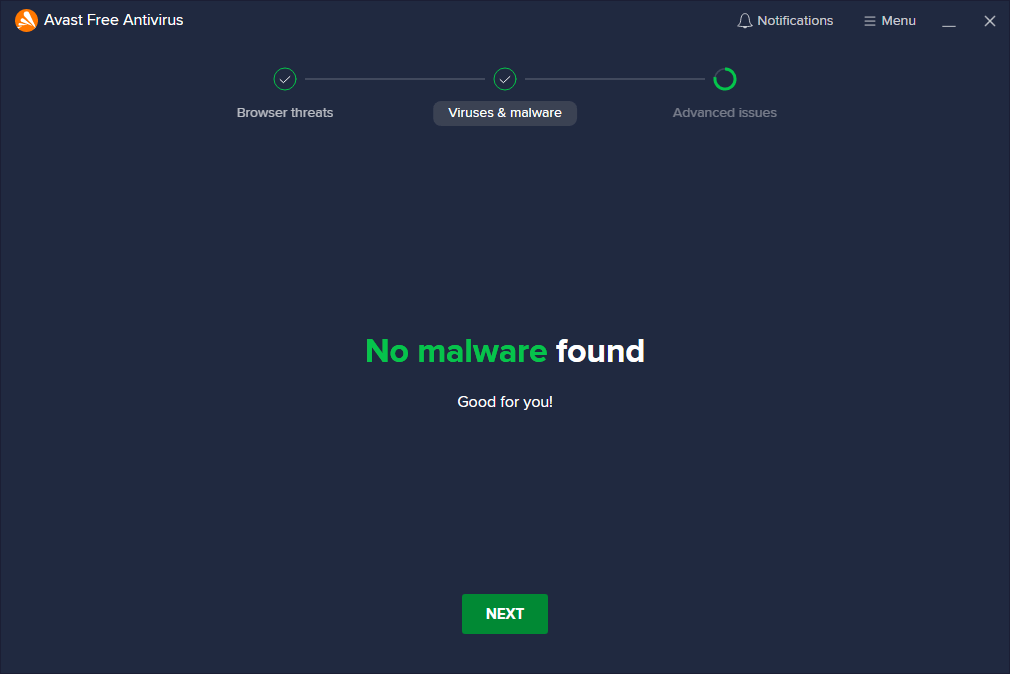 Step 3. Perform a more specific scan. Then, you can navigate to the Protection tab from the left menu and select Virus Scans. In the next Virus Scans, you can also access Smart Scan. More importantly, you can perform more types of advanced scans there.
Full Virus Scan: Scan your entire PC from top to bottom.
Targeted Scan: Scan specific folders or external drives.
Boot-Time Scan: Scan for threats before Windows starts up.
Custom Scans: Create your own special scans.
In addition to malware removal, Avast Free Antivirus has a lot of other utilities that secure your machine.
Free Virus Scanner and Removal Tool
Free Antispyware Scanner & Remover
Free Anti-ransomware Tool
Free Adware Scanner & Cleaner Tool
Free Trojan Scanner & Remover Tool
Free Rootkit Scanner & Remover Tool
Compared with the paid version of Avast Antivirus, the free edition has all basic functions that can satisfy most users' needs. Yet, if you upgrade to Avast Premium Security, you can enjoy more advanced features like preventing hacker attacks, keeping safe from fake websites, stopping webcam spying, hiding your PC behind an advanced firewall, and auto-updated other apps.
What Can You Do to Remove Malware from Your PC?
Besides relying on third-party security software like Avast to deal with malware or virus on your machine, you can also manually complete the task with one or more of the following operations.
Disconnect the Internet to avoid network-based malware.
Always keep firewall and antivirus on to monitor your PC in real-time.
Enter computer Safe Mode to prevent most malware to run.
Check activity monitor like task manager to find malicious services.
Clear web browser cache to avoid the adware.
Remove unknown browser addons to browse more safely.
…
Also read: Is Avast Safe? Find the Answer and Alternatives to It Now
Another Way to Protect Data from Malware Attacks
Avast can assist you to find and remove potential malware and virus threats to your whole computer, especially for your crucial data. There is another way to protect your files, apps, and system from data loss. That is creating a backup of them. With a backup, once the original item is damaged or lost due to malware or virus infection, you can immediately restore it back.
To make a backup of your computer files/folders, programs, system, or other items, it is recommended that you rely on a powerful and reliable data backup software like MiniTool ShadowMaker, which enables you to easily and quickly create another copy of the source items.
MiniTool ShadowMaker TrialClick to Download100%Clean & Safe
If unfortunately, you lost your data without making a backup of it in advance, there is still a chance that you can get it back. Try MiniTool Power Data Recovery to recover the target files. This program supports HDDs, SSDs, USB flash drives, memory cards, and so on. It can recover data lost due to virus/malware attacks, deletion, hard disk failure, system crash, formation, etc.
MiniTool Power Data Recovery TrialClick to Download100%Clean & Safe
How to Tell If Your Computer Has a Virus?
In many cases, you can find by yourself without scanning by an antivirus that your PC is infected with malware or virus. If the case is true, you will experience one or more of the below situations.
The system behaves slower than before.
Available free storage space becomes smaller and smaller.
Advertisements or popups appear unexpectedly.
Unknown programs are installed by themselves.
Mouse moves without your handle.
Can't access some files or programs.
Unknown login of your accounts.
Top 10 Malware Removal Tools
Besides Avast, there are many other security programs that can help you remove malware, virus, keyloggers, keystrokes, rats, etc.
The following tools are listed in alphabet order.
Does Avast Remove FAQ
Does Avast automatically delete infected files?
Yes, it is. When Avast detects an infected file, it will, first of all, try to repair it. If the infected file can't be repaired, Avast will try to move it to the Virus Chest. If the infected refuses to go to Virus Chest, then, Avast will delete it from your PC automatically.
How good is Avast at detecting malware?
Avast detects 96% of the samples in the test and scored 9.6 of 10. Tested against this same malware collection, AVG gained the same score.
How does Avast detect malware?
To catch the malware before it arrives at your machine, Avast antivirus takes advantage of CyberCapture technology and zero-second threat detection for unrecognized files.