What Is Keylogger?
Keylogger is a type of Spyware which stores a copy of every keystroke you make on a hidden file on your computer. It is such a common and dangerous software which may lead to all kinds of troublesome issues.
If your device is infected by a keylogger, it means that you will run a risk of being hacked. To prevent it from destroying your system, you must remove this malware in time. In this article, we will show you some tips and tricks on the definition of keyloggers, the type of keyloggers, how to detect keyloggers, how to remove keyloggers and how to prevent keyloggers.
The Types of Keyloggers
Is keylogger dangerous? The answer is definitely yes and different kinds of keyloggers may threaten you in different ways. There are two types of keyloggers. One is the hardware keylogger, the other is the software keylogger.
For Hardware Keyloggers:
Hardware keyloggers can be some physical components plugged into your computer, such as a cord or a keyboard overlay. A hardware keylogger can also be an inconspicuous plugin which is secretly inserted into the keyboard port between the keyboard cable and the CPU box so that it intercepts all the signals when you type. This type of keylogger can be removed simply by unplugging or removing the physical device.
For Software Keyloggers:
Since hardware keyloggers are physical components, the criminal must plant hardware keyloggers when you are not present. As for software keyloggers, the infection will be much easier. Unlike the other malware, software keyloggers are not a threat to the system but they can pose a serious threat to victims.
The criminal will get your pin codes, account information, email passwords and more. As soon as criminals get your personal data, they can access the confidential data and even transfer your money in your account.
How Do Keyloggers Get on Your Computer?
In most cases, keyloggers will attack your computer when your antivirus software is not up-to-date or when you turn it off. Therefore, you must update your antivirus software in time and turn it on all the time. There are some other conditions you need to pay attention to:
Phishing
If you click on the malicious link or download the attachment from a phishing email, keyloggers will be easily installed on your computer.
Web Page Script
Criminals will utilize the bugs of your web browser to embed malicious code on a web page and keyloggers will be installed through web page scripts.
Social Engineering
Some criminals may install keyloggers by pretending to be some new staff, maintenance workers and toll collectors to get your trust.
How to Check for Keyloggers Windows 10?
# Way 1: How to Detect Keyloggers Using Task Manager
The first quick way to check keyloggers is to make use of Task Manager. It is an inbuilt feature in Windows that can show which programs are running in the backend. Here's how to do it:
Step 1. Do a right-click on the taskbar and select Task Manager in the drop-down menu.
Step 2. Tap on More details in the lower-left corner to see the complete processes running on your PC.
Step 3. Browse all the apps and processes to see if some strange programs are eating up the resources. Right-click them one by one and choose End task.
Step 4. Go to the Startup section to check whether there are any unknown programs set to activate on Startup. If so, right-click on them to choose Disable.
# Way 2: How to Detect Keyloggers via Programs and Features
Programs and Features allows you to examine all the programs on your PC. It is also a good option to detect keyloggers.
Step 1. Press Win + S to evoke the search bar, type control panel and hit Enter to locate Control Panel.
Step 2. Press Programs and then click on Programs and Features.
Step 3. Now, you can see all the applications on your computer. As soon as you see anything dangerous or suspicious, right-click on it to Uninstall it.
# Way 3: How to Detect Keyloggers via Windows Defender
You can also rely on Windows Defender to detect keyloggers and any other malware.
Step 1. Press Win + I at the same time to open Windows Settings.
Step 2. In the settings menu, scroll down to look for Update & Security and hit it.
Step 3. In the Windows Security section, press Virus & threat protection under Protection areas.
Step 4. Tap on the blue font Manage settings under Virus & threat protection settings.
Step 5. Turn on Real-time protection.
# Way 4: How to Detect Keylogger Using CMD
It is of vital importance to check whether there are any suspicious internet connections to your device, you can use some CMD commands to do that:
Step 1. Type cmd in the search bar to locate Command Prompt and right-click on it to choose Run as administrator.
Step 2. Type netstat b and hit Enter to see all the websites and software connected online to your computer.
If your find any problematic ones, examine the IP address to see any possible remote location.
How to Remove Keyloggers?
After knowing how to detect keyloggers on your computer by the methods above, you must be very curious about how to remove keyloggers from your computer. Now, follow the lead to remove them step by step.
# Way 1: Uninstall Programs and Clear Temporary Files
In addition to uninstalling these weird programs on the computer, you also need to clear the temporary files because keyloggers may disguise them as legitimate files.
Move 1: Uninstall Programs
Go to Settings > Apps > Apps & features. If you find some suspicious programs, right-click on them and choose Uninstall.
Move 2: Clear Temporary Files
Step 1. Open Settings > System > Storage.
Step 2. In the Storage section, click on Temporary files to show all the contents.
Step 3. Check these files you want to remove and press Remove files.
# Way 2: Reset This PC
The last but the most efficient resort to remove keyloggers is to reset your PC. This operation will erase your data. As a result, you must make sure to create a backup of all your important files with a professional backup tool before doing that.
When it comes to backup, we sincerely introduce you to a free backup software called MiniTool ShadowMaker which enables you to back up files, folders, partitions, systems and even the whole disk. With this tool, you can back up your files just in a few clicks.
Move 1: Back up Your Important Files
Step 1. Download, install and launch MiniTool ShadowMaker Trial.
Step 2. Click Keep Trial to enjoy its services for free.
Step 3. In the toolbar, select Backup.
Step 4. Click on Source > Folders and Files to choose the files that you value most.
Step 5. After making your choice, go back to the Backup interface to choose Back up Now or change the default destination path in Destination and then hit Back up Now.
Move 2: Reset This PC
Step 1. Open Windows Settings and then go to Update & Security.
Step 2. In the Recovery section, click on Get started under Reset this PC.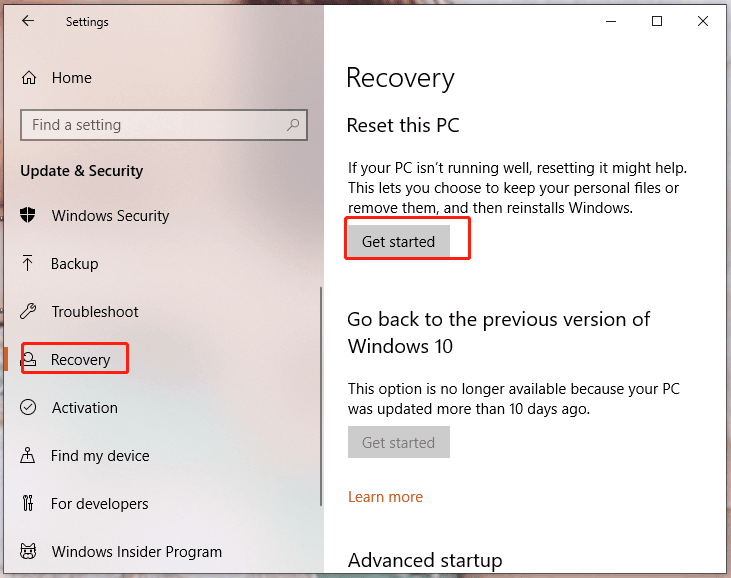 Step 3. Choose Remove everything to remove all of your files, apps and settings.
Hi guys, I got keyloggers by accident but I detected and removed them on my own with the instructions in this article. Does anyone also get keyloggers? This article may help you out.Click to Tweet
How to Prevent You from Keyloggers?
Since keyloggers are so harmful and detecting & removing them is a huge project, you had better take some measures to prevent you from keyloggers.
# Way 1: Use Reliable Antivirus Software
Keyloggers can hide in your computer without your knowledge, so you should take advantage of the professional antivirus software to help you to detect any malware like keyloggers. Windows Defender is the inbuilt anti-virus software which provides a quick scan, full scan, custom scan, real-time scan or offline scan to manually check your computer.
# Way 2: Use a Virtual Keyboard
Another way to prevent keyloggers is to use the virtual keyboard on your computer. You can just click the keyboard icon on the lower-right corner of your screen to launch it. Some of you may complain that the on-screen keyboard is not that convenient to use, but it is really a safe way to secure your device from keyloggers. You don't have to use it all the time but only use it when typing your password and account information.
# Way 3: Use One-Time Password
The main purpose of keyloggers is to get your sensitive data, so you should use a one-time password to minimize the losses. This kind of password can only be used in a limited time and only used once. In this case, even if it is intercepted, the criminal cannot use it at all.
# Way 4: Use VPN
VPN will encrypt the outgoing and incoming traffic and this operation will not only protect your web browser but also safeguard everything you do or see online including chats, emails, banking and so on. With a VPN connection, it is harder for the criminal to access your confidential data.
Final Words
Now, you must detect and remove keyloggers successfully from your computer. What's more, we also provide you with some tips to prevent you from getting keyloggers again.
If you have any extra ideas about how to check for keyloggers, how to remove keyloggers and how to prevent your from keyloggers, please feel free to share them in the comment area below. Or when you have some problems using MiniTool ShadowMaker, just contact us via [email protected] and we will reply to you as soon as possible.