Do you receive Trojan:Script/Wacatac B ml after performing a quick, full, custom or offline scan with Windows Defender? Do you know how to get rid of it from your computer completely? If you are also bothered by this threat, this guide on MiniTool Website will help you out.
What Is Trojan Script Wacatac B ml?
There are all kinds of trojan infections on the internet and they all pose a significant threat to your computer security and privacy. What's more, the more time these trojan infections exist, the more data loss you will face.
Recently, some of you find a threat called Trojan:Script/Wacatac.B!ml after performing a security scan with Windows Defender. The scan result says "Remediation incomplete" and Windows Defender prompts you to take more actions to remove it.
If so, your device has been threatened by Trojan Win 32 Wacatac B ml. This is one of the most malicious trojans that Windows Defender cannot get rid of it automatically. The moment it invades your computer, you will run a risk of data infection, financial loss, and even identity theft.
At the same time, it will also eat up substantial resources in the backend which will slow down your system performance. Considering that, you should remove it from your system in time to avoid more data and financial loss. Before removing it, you should figure out how it gets on your computer.
How Does Trojan Wacatac B ml Get on Your Device?
The first distribution method is via spam emails. Hackers may send lots of emails that contain malicious attachments and lure you to open them. The attachments usually disguise as some legal or important documents such as bills, receipts, invoices, or delivery notifications.
On the flip side, Win 32 Wacatac B ml can also pretend as cracking tools that allow you to enjoy some advanced features of paid software without paying. There is no such thing as a free lunch, so you shouldn't give cyber criminals such opportunities.
Therefore, please check whether you have done one of the following things or not:
Open a weird email and hit its attachment.
Use some cracking tools to download a paid movie or song for free.
Download software from a suspicious or unofficial website.
Download and install a cracked version of a program.
Turn off Windows Defender for quite a few hours.
If your answer is yes, please correct these careless behaviours and have a look at the remedies below carefully.
How to Remove Trojan Win 32 Wacatac B ml?
Fix 1: Move the Threat Manually 
As mentioned at the beginning part of this article, although Windows Defender can detect the existence of Trojan script Wacatac B ml, it is unable to remove it automatically. You can try to remove the threat manually.
Step 1. Press Win + I to open Windows Settings.
Step 2. In the settings menu, scroll down to find Update & Security and hit it.
Step 3. In the Windows Security tab, tap on Virus & threat protection under Protection areas.
Step 4. Click on the blue font Protection history, look for Trojan script Wacatac B ml threat and press it.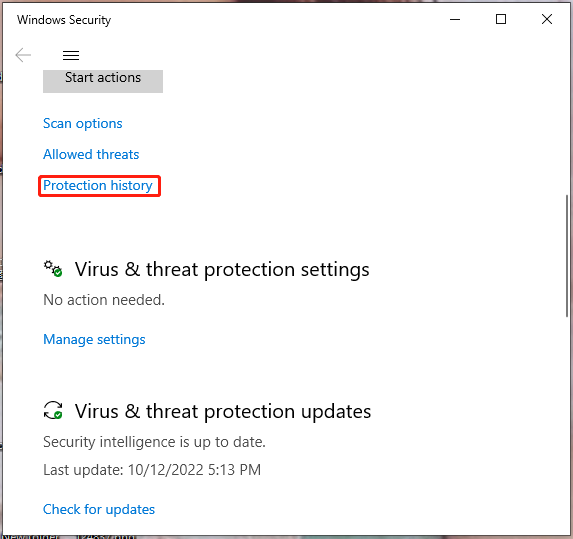 Step 5. Hit Remove under Action options and hit Start actions.
Step 6. After the process is done, perform a full scan again to test if Trojan Win 32 Wacatac B ml is still there. If so, follow the first four steps again and choose Quarantine under Action options to prevent the further spreading of this virus. Then, try the next method.
Fix 2: Delete the Infected File
You can navigate to the path that Windows Defender mentioned in its scan result to find the infected file and right-click on it to choose Delete in the drop-down menu.
If you find that the file is related to your operating system, you should be cautious before deleting it because this action might make your device unbootable.
If you find the threat is the software that you downloaded recently, you can uninstall it to remove all the files related to it. Here's how to do it:
Step 1. Press Win + I to go to Settings.
Step 2. Go to Apps > Apps & feature.
Step 3. In Apps & features, you can see a list of apps. Click on the problematic app and hit Uninstall to start the uninstalling process.
Fix 3: Scan with Malwarebytes in Safe Mode
Usually, the file or software that contains Trojan script Wacatac B ml will prevent you from deleting the file or uninstalling the app. Therefore, you had better perform a scan in Safe Mode with third-party antivirus programs to prevent the interference of the threat.
Move 1: Boot in Safe Mode on Your Device
Step 1. Go to Windows Settings > Update & Security > Recovery.
Step 2. In the Recovery tab, tap on Restart now under Advanced startup to enter Windows Recovery Environment.
Step 3. Click on Troubleshoot > Advanced options > Startup Settings.
Step 4. In Startup Settings, press 5 or F5 (depending on your computer) to enter Safe Mode Windows 10/11.
After the computer is in Safe Mode with networking, you can download, install and perform a virus scan with some third-party antivirus software such as Malwarebytes. This antivirus software is known as one of the most powerful anti-malware software. In addition to eliminating Trojans like Wacatac B ml, this antivirus program can also help to remove ransomware and protect you from malicious & fake websites.
Move 2: Download, Install & Launch Malwarebytes
Step 1. Go to Malwarebytes official website to download Malwarebytes for free.
Also read: Is Malwarebytes Safe for Windows? Here Is What You Need to Know
Step 2. Double-click on the MBSetup file to install it. If prompted by a User Acount Control pop-up, click on Yes to grant this operation with administrative privileges.
Step 3. Peform a scan with this tool and then choose the Quarantine option after Malwarebytes detects Trojan Wacatac B ml and other threats.
Step 4. To remove them, Malwarebytes will ask you to restart your computer. When the threat removal process is complete sucessfully, your computer will boot up in normal mode.
Fix 4: Reset Your Device
Factory reset is the best solution for many Windows issues and it is no exception to Wacatac.B!ml Trojan removal. Since this operation will wipe out all your installed programs and data on your device, make sure to create a safe copy of everything before proceeding.   
Preparation: Create A Backup of Your Data
When it comes to backup, the professional backup software – MiniTool ShadowMaker deserves a shot. This backup tool is so powerful that it allows you to back up files, folders, partitions, hard drives and even operating systems. Besides, you can develop a good habit of backing up data regularly by creating a scheduled backup (Daily, Weekly, Monthly, On Event).
Before resetting your PC, it is a good option to back up your important files to an external drive with MiniTool ShadowMaker to keep data safe. Here's how to make a file backup:
Step 1. Download and install MiniTool ShadowMaker Trial Edition. 
Step 2. Launch it and tap on Keep Trial on the top-right side of the screen to start to enjoy its service for free within 30-days.
Step 3. Go to Backup and you can choose the backup source after hitting Source > hit Folders and Files.  
Step 4. Tap on Destination to choose a storage path for your backup image.
Step 5. You can either choose Back up Now to start the backup task at the moment or delay it by choosing Back up Later according your actual needs.
For a scheduled backup task, please choose the Schedule option to turn on Schedule Setting and customize your backup plans.
Factory Reset Your PC
After backing up your data successfully, you can start to reset it.
Step 1. Go to Settings > Update & Security > Recovery.
Step 2. In the Recovery tab, click on Get started under Reset this PC.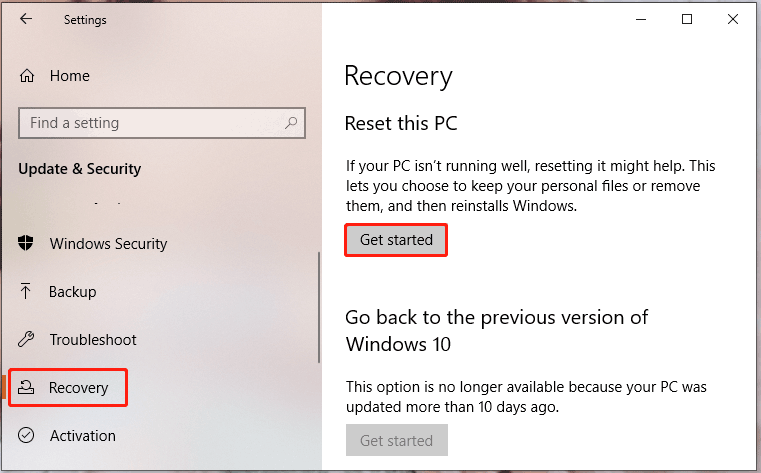 Step 3. Then you will have two options to choose from: Keep my files and Remove everything.
Keep my files: choosing this option will set your operating system to default and remove all your installed apps including games, browsers and Microsoft Office, but keep your files such as documents and music.
Remove everything: remove all files, apps and settings on your computer and all the options will go back to factory defaults.
Choose Keep my files and hit Reset to start the resetting process.
Although Keep my files will keep your data, you still need to back up your data in case something goes wrong in the PC resetting process. That's why we suggest to create a backup before resetting this PC.
# Small Tips to Protect Your Device from Other Similar Threats
Always keep your antivirus software up to date: Antivirus updates usually contain the latest files that can help your computer to combat new viruses and malware, so you need to update it in time.
Use a firewall: Firewalls can protect you from the risks that lurk on the internet and they can act as the first line of protection for your internet and device.
Never download software or programs from unofficial sources: Cyber criminals will take advantage of these free or cracked software which contains malware and viruses.
I succeed in getting rid of Trojan script Wacatac B ml completely from my computer with the solutions mentioned in this guide. If you are also annoyed with this threat, this guide might help you a lot!Click to Tweet
Wrapping Things up
After looking through this guide, do you have a better understanding of what Wacatac B ml is and what you should do when it appears? Resetting this PC is the most effective but risky solution among all the listed above. To protect your computer data, you had better back it up before taking any measures.
If you also remove Trojan script Wacatac B ml from your device successfully, don't hesitate to share your joys in the comment area below. For more problems and advice about MiniTool ShadowMaker, you can contact us via [email protected].