Some Windows advanced users are complaining they come across an annoying issue: Microsoft Management Console has stopped working. Since then, the administrative snap-ins, such as Disk Management, Device Manager, and Group Policy Editor, will not work. This post analyzes the main causes of such error and how to fix it effectively.
My Microsoft Management Console Has Stopped Working
I'm trying to add snap into Microsoft Management Console in Windows 10. But when I try to add certificate, an error message is coming with the header Microsoft Management Console has stopped working. When I click the Debug button, Visual Studio 2015 gives me a message – Unhandled exception at 0x00007FF8EF646430 (ntdll.dll) in mmc.exe: RangeChecks instrumentation code detected an out of range array access. I've tried a solution found by google search saying to run sfc/scannow command in command prompt but didn't get any result.

- asked Rashik Hasnat on Stack Overflow website
The message - Microsoft Management Console has stopped working - indicates an mmc.exe application error. Do you know how to deal with the mmc.exe error properly? If you don't know, the following content is crucial.
You can go to the home page to get useful tools for fixing Windows problems on your PC.
What Is Microsoft Management Console
In fact, the Microsoft Management Console (also known as MMC) is a vital component of Windows operating systems since Windows 2000. It is designed for all system administrators and advanced users. What can you do with the MMC?
You can customize the console, configure and even monitor the system.
You can make it easy to create, save and open administrative tools, also called consoles.
You can keep all the software, hardware, and network components of the Windows operating system under control.
You can create various custom tools and then assign them to other people according to needs.
The Microsoft Management Console is capable of hosting snap-ins (Component Object Model components) because it provides a common framework. And most of the administrative tools you can find in Windows are implemented as MMC snap-ins. As a result, several services in Windows can be managed easily within a single interface.
Microsoft Management Console Stopped Working Error
In general, the mmc.exe is running in the background so you don't even notice it until you experience the mmc.exe crash. At that time, you may see one of the following error messages when your Microsoft Management Console is not working.
Message 1: Microsoft Management Console has stopped working. A problem caused the program to stop working correctly. Windows will close the program and notify you if a solution is available.
Message 2: Microsoft Management Console has stopped working. Windows is checking for a solution to the problem…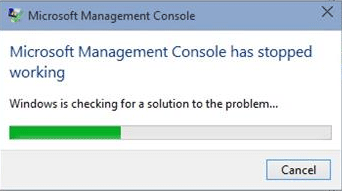 Message 3: Microsoft Management Console has stopped working. Windows can check online for a solution to the problem.
What Makes Your Microsoft Management Console Not Responding
You are likely to lose control over tools like Computer Management, Event Viewer, Task Scheduler, Component Services, and Windows PowerShell Modules while working on a Windows computer. Anyone of the snap-ins could crash suddenly; when it does, you should suspect that the following factors are responsible for Microsoft Management Console error.
Tip:
Sometimes, the MMC cannot initialize the snap-in. Click
here
to know how to fix mmc snap in error.
Possible cause 1: certain system files get corrupted.
To be honest, data corruption is the number one cause for many errors on the computer and other devices. Unintended & unexpected changes could be made during writing, reading, file saving, and transmission process, bringing damage to the original data so as to lead to errors.
But fortunately, users can repair the corrupted system files through a simple SFC scan or DISM scan.
Possible cause 2: bad Windows 10 upgrade.
According to users' feedback, Microsoft Management Console stopped working error starts to appear now and then after they have upgraded to Windows 10 from an older Windows version. The root reason is also corrupted files (the necessary files may get corrupted during the process to cause the error).
Possible cause 3: issues with Local Computer Certificate Store.
Many users reported the system gives them a Microsoft Management Console has stopped working error window when they are trying to add a snap into the MMC. In this case, a Windows 10 glitch seems to be the most possible reason for that error.
Possible cause 4: the opening of Inbound Rules of Windows Firewall.
If you try to open the Inbound Rules of Windows Firewall, you may also find your Microsoft Management Console not responding Windows 10. Some users then find the error results from a silent Windows update. Microsoft has already fixed such issue, so you should go directly to install every pending Windows Update.
Warning:
Though the mmc.exe application error can be fixed after installing the pending Windows update, it may cause file loss on the device. Please use MiniTool to
recover files after the Windows update
ASAP!
What to Do When Microsoft Management Console Stopped Working
Step 1: Check Files & Make Backup
When you receive the MMC has stopped working error message on a Windows device, you should check the files (both system files and data files). If any of them are damaged/lost, you should start to recover them by following operations.
Obtain a license for MiniTool Power Data Recovery; install and register the software.
Launch the data recovery software and wait a few seconds while the disk information is loading.
Keep This PC selected in the left sidebar.
Specify the drive that contains corrupted/missing files in the right panel.
Double click on the certain drive or click on the Scan button below to start a full scan.
Wait for the scan and browse the found files carefully.
Add a mark into the square boxes in front of the files you need and then click Save.
Browse the storage location you can choose and select one with enough free space. (Don't select the original drive.)
Click on the OK button to confirm and wait for the recovery to finish itself.
A prompt window will appear in software to tell you that your selected files haven been recovery successfully to the place you appointed.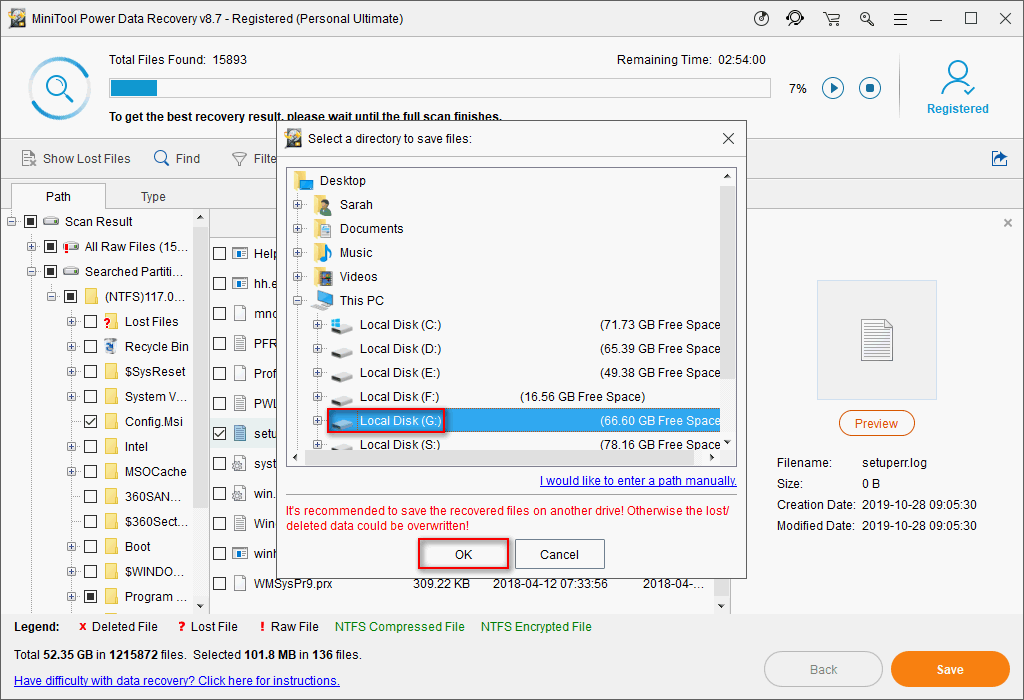 That's how to recover files on your PC with MiniTool Power Data Recovery. If you don't trust it, you can use the Trial Edition first.
After that, I advise you to make a backup of your drive (at least the important folders and files) since the methods you're using to try to troubleshoot mmc.exe error may lead to data loss.
Get MiniTool ShadowMaker.
Install it properly and launch it.
Click Keep Trial and look for Local module.
Click on the Connect button in This Computer.
Go to the Backup page and click the Source module.
Please select the type from Disk and Partition and Folders and Files.
Choose the source disk/partition or folders/files and click OK.
Choose a place to save the backup image in the Destination Then, click OK.
Click Back up Now and wait for the backup to complete.
Step 2: 6 Ways to Fix Mmc.exe Error
Mainly six ways will be discussed in this part to tell you how to troubleshoot when you find Microsoft Management Console not responding. (Please click here if you want to troubleshoot mmc.exe blocked issue; for instance, Microsoft Management Console blocked by windows firewall.)
# Way 1: perform a clean boot in Windows 10.
Log in to the computer with an administrator account; if you don't have, please create one. (See how to create an administrator account in Windows 10.)
Open the Run dialog box by pressing Windows + R or through other ways.
Type msconfig into the textbox after Open.
Click on the OK button below or press the Enter button on the keyboard.
Wait for a second to see the System Configuration window. Make sure the General tab is selected.
Check the Selective startup option and uncheck Load startup items under it.
Make sure Load system services and Use original boot configuration are checked.
Now, shift to the Services tab.
Find the Hide all Microsoft services option at the bottom and check it.
Click on the Disable all button to disable the non-Windows services.
Now, shift to the Startup tab.
Click the Open Task Manager link to see all the startup programs.
Select one at a time and click on the Disable button in the lower right corner.
Click on the Apply button in System Configuration window and then click OK.
Now, go to restart your computer.
You can then enable the services & applications you disabled in startup one by one to determine which causes the MMC problem. After that, you can decide to disable or remove it.
# Way 2: run a Check Disk scan.
Click the search icon/box on the taskbar to open Windows Search. (Troubleshoot Windows 10 taskbar not working.)
Type cmd into the text box and right click on Command Prompt from the search result.
Choose Run as administrator from the context menu.
Click Yes in the User Account Control window. (Skip this step if you don't see the window.)
Type chkdsk C: /r and hit Enter.
Wait for the process to complete.
Reboot your PC to see whether the MMC error is fixed.
Please note:
The CHKDSK command will delete your files sometimes, and if you need them back, you can use MiniTool. See how to recover files after CHKDSK.
# Way 3: run a System File Checker scan.
If the DLL's attached to the mmc.exe process are incompatible or damaged, the MMC error will occur. If a CHKDSK scan didn't help you solve the problem, please try an SFC scan.
Press Windows + Q on the keyboard to open Search.
Type cmd or command prompt into the box.
Right click on Command Prompt from the result.
Choose Run as administrator from the menu.
Type sfc /scannow into the Command Prompt window and hit Enter.
Wait for the scanning and repairing process to complete.
Reboot your computer.
# Way 4: run a DISM scan.
If the SFC scan failed, you need an even more powerful utility - Deployment Image Servicing and Management.
Also, you need to get administrative privileges of Command Prompt by repeating the steps mentioned in the above methods.
Type DISM / Online /Cleanup-Image /RestoreHealth and press Enter.
Also, you need to wait until the process finishes.
Please reboot your computer and see if the issue has been resolved.
Please be advised that a stable internet connection is necessary and the scan may take 10-15 minutes in general.
Good news – Command Prompt is also a useful tool for you to recover files!
# Way 5: install each pending Windows update.
Press Windows + R on the keyboard to open Run.
Type ms-settings:windowsupdate (please type wuapp if you're using Windows 8/Windows 7) into the textbox and hit Enter.
Look for the Check for updates button in the Windows Update screen.
Click the button and wait for the checking process.
Follow the instructions to install every pending update properly.
Restart your computer to see whether Microsoft Management Console is still not responding in Windows 10.
# Way 6: open Local Computer Certificate Store directly from Command Prompt.
The Microsoft Management Console has stopped working error may also appear when you import an external certificate to a local computer. Therefore, you should open the certificate directly through Command Prompt.
Open Run dialog box and type certlm.msc.
Press Ctrl + Shift + Enter to open Certificates - Local Computer.
Choose Yes if you see a User Account Control (UAC) prompt window.
Select the snap you need and add it to the Microsoft Management Console.
If all the above methods failed, you could also try the optional solutions below.
Check for error in the Event Viewer.
Install Microsoft Report Viewer Runtime.
Repair the Windows system image.
Rollback Windows 10 with System Restore.
Perform a Repair Install.
How to recover files after you have factory reset your PC?
Conclusion
After reading the above content, you should know the process mmc.exe represents Microsoft Management Console, which is a crucial component of Windows since it controls administrative snap-ins. And you receive the Microsoft Management Console has stopped working error message sometimes, right? Don't be freaked out when that really happens; this page tells you the most possible causes for mmc.exe error and the most commonly used ways to fix it. You should read them carefully to make things right.