Microsoft Word vs Google Docs – Differences
Features
Microsoft Word is a word processing program from Microsoft that is designed to help users create and edit documents with ease. It comes with many templates to let users easily create various types of documents like reports, resumes, etc. It also gives users unlimited text formatting and editing features to meet various needs of users.
Google Docs is a web-based free word processor and no installation is needed. It features easy online collaboration and teamwork. It also provides plenty of features that let you easily create and edit documents. You can format the text, insert images, tables, page numbers, and more to get the desired visual effects.
Availability
Microsoft Word is available on both desktop and mobile devices. Microsoft Word is compatible with Windows, Mac, Android, and iOS. You need to download and install Microsoft Word application on your device to use it.
Google Docs can be accessed in any browser on any device. You can sign in with a Google account to start using the web-based Google Docs. It doesn't need to install any software. For mobiles, it also offers a Google Docs app and you can download Google Docs app on your mobile phone.
You don't need an internet connection to use Microsoft Word after you install it. However, in general, you will need an internet connection to use Google Docs since it is an online program. You may use the offline feature to use Google Docs offline.
Price
Google Docs is 100% free to use and you can enjoy all its features. Unlike Google Docs, Microsoft Word requires a purchase. You can subscribe to a Microsoft 365 plan or pay for the one-time purchase of Microsoft Office to get the full-featured Microsoft Word and other Office apps. Microsoft 365 Personal costs $69.99 and is the cheapest Microsoft 365 subscription. To use MS Word for free, you can use Microsoft Office Online version.
Compatible File Formats
As for file format support, Google Docs wins over Microsoft Word in file format compatibility.
Microsoft Word supports Word (.doc, .docx), PDF, and ODT formats.
Google Docs supports Word, ODT, PDF, TXT, RTF, HTML, and EPUB formats.
Google Docs and Microsoft Word are compatible with each other. Google Docs is fully compatible with Microsoft Word file formats. You can click the File tab at the top of the document in Google Docs and select Microsoft Word file format to download and save the file as a Word document to your computer. You can also upload a Microsoft Word file to edit it in Google Docs.
Users
Microsoft Word is a choice for most people in educational environments like schools. Whereas Google Docs is a preferred choice for tech-savvy users who like to work and collaborate online and want to access documents on any device. For people who prefer collaborative work in the workplace, they prefer Google Docs over Microsoft Word.
File Accessibility
Google Docs files are accessible from any device by using any modern web browser. You can access Docs on an unlimited number of devices.
Although you may be able to install Microsoft Word and other Office apps on several devices, it doesn't let you access the documents a in browser from any device. You can copy or transfer the file to another device to open and edit it on that device.
For convenience, Google Docs wins. It is the best free online word processor that lets you easily create and edit documents and work with other people online. You can easily work together on the same document online.
Interface
Both Google Docs and Microsoft have an intuitive interface. But for complex documents, Microsoft Word is more suitable. It has an extremely intuitive interface with all editing options well displayed on the toolbar. You can easily access and use the basic and advanced editing and formatting features.
PDF Editing
As for PDF editing, Microsoft Word beats Google Docs. You can open PDFs in Microsoft Word, edit PDF files, and save the files as PDFs again. However, you can't do this in Google Docs. Therefore, if you need to edit PDF documents, Microsoft Word may be a better choice.
File Save
Microsoft Word includes an auto-save feature in settings that can automatically save the document at a set interval. You can freely set the time interval. You can also manually save the file before you close the document by pressing Ctrl + S.
On the contrary, all your documents in Google Docs will be saved automatically into your Google Drive.
Add-in Support
Microsoft Word offers a dedicated Office Store that offers many third-party apps and add-ins that you can easily add to Word to extend Microsoft Word's functionality. Whereas Google Docs has a Google Apps Marketplace that offers some third-party plugins.
How to Recover Deleted/Lost Word Documents
To recover permanently deleted word documents or lost documents, you need to use a professional data recovery program.
MiniTool Power Data Recovery is a top free data recovery application for Windows. You can use it to recover any deleted or lost files incl. Word documents, Excel or PowerPoint files, photos, videos, music files, emails, etc. It lets you recover data from Windows computers, USB flash drives, SD/memory cards, external hard drives, SSDs, etc.
Aside from deleted file recovery, MiniTool Power Data Recovery also helps recover data from many other data loss situations, e.g. hard drive corruption, system crash, malware/virus infection, etc. You can even use it to recover data when the PC won't boot.
Download and install MiniTool Power Data Recovery on your Windows PC or laptop and check how to use it to recover deleted/lost Word documents below.
MiniTool Power Data Recovery FreeClick to Download100%Clean & Safe
Run MiniTool Power Data Recovery.
On the main interface, select the target drive or location and click Scan. To scan the whole device or disk, you can click the Devices tab, choose the target device or disk, and click Scan. Let the software finish the scan process.
Check the scan result to find if your desired files are listed, if so, check them and click the Save button. Then you can select a new destination or device to store the recovered files.
Tip: To only scan Word documents or any other kind of file, you can click the Scan Settings button in the left panel of the main UI, and select the target file types you want to scan and recover.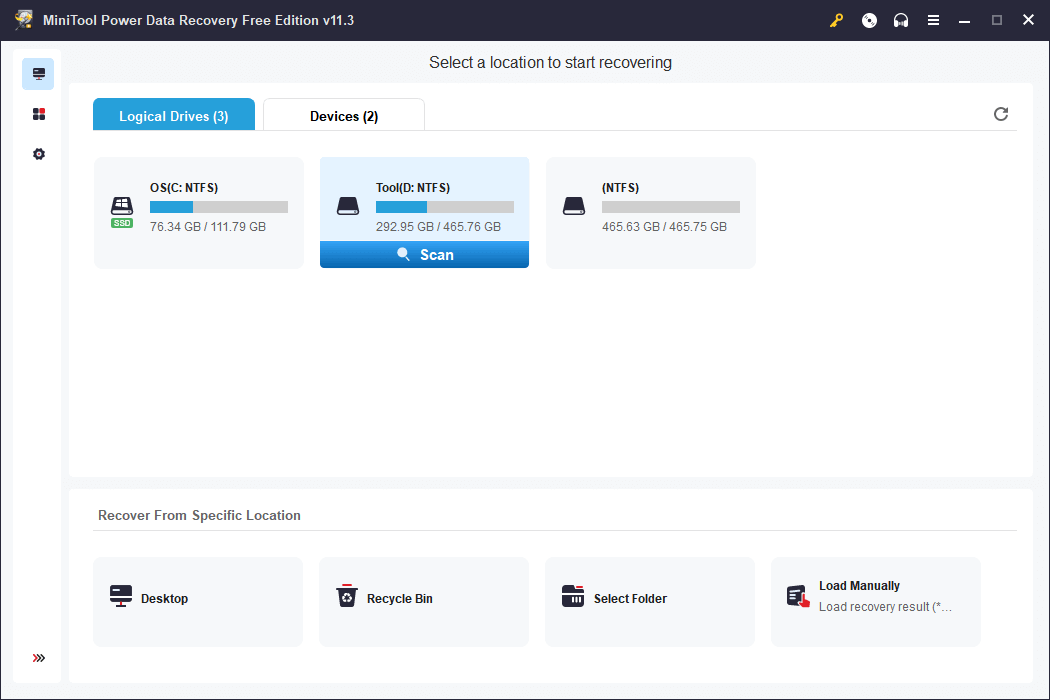 How to Recover Deleted Google Docs Files
To recover deleted files from Google Drive, you have several ways to go.
You can recover deleted files from Google Drive Trash, recover deleted files using Google Vault, etc. Related post: How to Recover Deleted Google Drive Files (6 Methods).
Free Data Backup Tool for PC
To avoid data loss, the best way is to have a backup.
You can back up important files to another location or device. You can use copy and paste the files to a USB, HDD, etc. You can also sync the files to a free cloud storage service.
To back up a large amount of data on your PC, it's advised you use a professional PC backup application.
MiniTool ShadowMaker is a professional free PC backup software program. You can use it to select any files, folders, partitions, or the entire disk content to back up to an external hard drive, USB flash drive, or network drive. It delivers a very fast speed even for backing up large files. It's a good choice to back up most or all data on your PC.
Alternatively, you can also use the File Sync feature to sync the selected files to another location.
To regularly back up data, you can use the Automatic Backup feature. You can set a schedule to automatically back up the selected data.
To only keep the latest version of the backup, you can use the Incremental Backup feature.
You can also use it to easily back up your Windows system and restore the OS from the backup when needed.
Get MiniTool ShadowMaker for your PC or laptop now.
MiniTool ShadowMaker TrialClick to Download100%Clean & Safe
Conclusion
In conclusion, both Microsoft Word and Google Docs can meet your word processing demands. You can use them to easily create, edit, and share documents. Microsoft Word is better for editing, formatting, and markup. Google Docs is better for online editing, collaboration, and remote work. You can choose a preferred tool based on your own needs.
A free data recovery tool and a data backup tool are also provided to help you recover or back up data. Hope it helps.
For more computer tips and tricks, you may visit MiniTool News Center.
For more information about MiniTool, you can visit MiniTool Software official website.
MiniTool also provides many other useful free computer tools.
MiniTool Partition Wizard is an easy-to-use disk partition manager that helps you easily manage hard drives and partitions. All disk management features are included. You can use it to easily create or a delete partition, resize a partition, merge or split a partition, format or wipe a partition, etc. You can also use it to migrate OS to HD/SSD, analyze hard drive space, check and fix disk errors, test hard drive speed, and more.
MiniTool MovieMaker is a free video editor and movie maker for Windows. You can install this program on your PC or laptop and use it to trim video, add effects to video, add music or subtitles to video, create time-lapse or slow motion, and more. Use this program to edit videos on your PC.
MiniTool Video Converter is a free video converter program. It not only lets you convert any video or audio file to your preferred format but also lets you download YouTube videos for offline playback and recover your computer screen activities.
MiniTool Video Repair is a free video repair tool that helps you repair corrupted MP4/MOV video files.
Also read: Discover expert tips and tricks for hard drive recovery service that could potentially save you from losing irreplaceable memories.