In general, you can use the desktop version of Microsoft Office to create and edit files on your computer. Many OEM computers come with Windows and Office preinstalled and you can easily activate Microsoft Office.
However, if your computer doesn't have the MS Office suite and you don't need to use the full desktop version, you can try the free online Microsoft Office. Check more info about Microsoft Office Online and how to use the Microsoft Office web version below.
Also read: Whether you're a tech enthusiast or a casual computer user, this article on hard drive data recovery service is a must-read to safeguard your data and regain peace of mind.
What Is Microsoft Office Online?
Microsoft Office Online (Microsoft 365/Office 365 Online) is the free online version of the Microsoft Office suite. It serves as the free MS Office alternative. It mainly provides free online versions of Microsoft Word, Excel, PowerPoint, Outlook, OneNote, etc.
You can create, edit, and share files using a web browser with online Microsoft Office. It saves your Word documents, Excel workbooks, and PowerPoint presentations in OneDrive. You can access the files from anywhere. It includes 5GB of free online OneDrive storage. Office Online is totally free to use.
You can use Word for the web to create a great-looking document while inviting others to review it in real-time. You can also access some free Word templates and formatting tools.
The Excel for the web lets you organize your data in spreadsheets with all changes saved automatically. It lets multiple persons work together in real-time.
The PowerPoint for the web turns your ideas into great presentations by using professional templates. It also lets the team co-work with one presentation at the same time from anywhere.
The supported web browsers of Online Microsoft Office include Microsoft Edge, Google Chrome, Firefox, Internet Explorer 11, and Safari for macOS 10.8 or higher.
How to Use Free Microsoft Office Online
Step 1. You need a Microsoft account to use Microsoft Office apps online. If you don't have a Microsoft account yet, you can go to https://account.microsoft.com/account/, or click the "Sign up for the free version of Office" link on https://www.office.com/, or click the Sign up for free button on https://www.microsoft.com/en-us/microsoft-365/free-office-online-for-the-web. Then you can follow the instructions to create a new Microsoft account.
Step 2. Then you can open your browser and go to Office.com. Click the Sign in button to open the Microsoft Office Online Login page. Then you can enter your Microsoft account to sign in and it will take you to the Microsoft Office website.
Step 3. On the left sidebar, you can see a list of Microsoft Office apps like Word, Excel, PowerPoint, Outlook, etc. You can select the target Microsoft Office app and start using it to create and edit files. Alternatively, you can click the New button on the Home page and select which type of file you want to create to continue. You can also click the Upload and open button to upload a local Office file to edit it. You can click the Name field at the top of the document to change its name.
Step 4. The newly created and saved Office files are displayed as recent documents at the bottom of the home page. By default, the new documents are automatically saved in the root location of your OneDrive storage. You can create specific folders in OneDrive to select the folder to store specific files. To save a copy of a file to OneDrive, you can click File -> Save as -> Save as. If you want to download a file to your PC, you can click Download a Copy or Download as PDF from the Save as menu to download it as a Word document or a PDF file.
For more detailed information, you can check how to use Microsoft Office for free on the web.
Microsoft Office Online Version vs Desktop Version
Microsoft Office Online offers free and cloud-based versions of Word, Excel, and PowerPoint on your computer. No software download and installation. On the contrary, for the Microsoft Office desktop version, you need to download and install Microsoft 365 suite.
Office Online stores your files and documents on Microsoft OneDrive. Office Desktop stores your files on your computer.
Office on the web lacks some of the advanced features that the full desktop version of Office provides, for instance, the online Microsoft Office suite lack the programs like Microsoft Access and Publisher app.
As for the price, the online version of Microsoft Office is free. However, the desktop full version of Office needs a purchase. Microsoft has promoted Office 365/Microsoft 365 as the primary means to buy Microsoft Office. You can pay for a preferred edition of Microsoft 365 to get the Microsoft Office desktop full version. Microsoft also sells Office as a one-time purchase as Home & Student and Home & Business. However, these editions will not receive major updates.
How to Recover Deleted/Lost Office Files for Free
Sometimes you may mistakenly delete some Office files or lose some important Office documents on your computer. If you have emptied the Recycle Bin, then you need to use a professional data recovery program to restore the deleted or lost Office files from your computer. Check how to do it below.
As for professional data recovery software, we recommend MiniTool Power Data Recovery.
MiniTool Power Data Recovery is a professional data recovery program for Windows. You can use this program to recover any deleted or lost files like Word documents, Excel spreadsheets, PowerPoint PPT files, photos, videos, music files, and more.
This application lets you recover data from Windows PC or laptops, USB flash drives, SD/memory cards, external hard drives, SSDs, etc.
As for restoring data from data loss situations, it covers various computer software problems, hard drive corruption, mistaken disk formatting, file system errors, malware/virus infection, disk failure, and more. Unless the hard disk is physically damaged and the hard drive can't be recognized by your Windows computer, you can try this program to restore data from the hard drive.
It offers a free edition that lets you recover up to 1GB of data for free, but it lacks the Bootable Media feature which lets you recover data when the PC won't boot. If your computer is already unable to boot, you should get its advanced edition.
Below you can download and install MiniTool Power Data Recovery Free Edition on your Windows PC or laptop. Windows 11 is compatible. A simple guide for how to use it to scan and recover deleted/lost Word/Excel/PowerPoint files is attached.
MiniTool Power Data Recovery FreeClick to Download100%Clean & Safe
Launch MiniTool Power Data Recovery on your PC or laptop.
On the main UI, optionally you can click the Scan Settings button in the left bar and choose the specific file types to scan. This is faster than scanning the whole disk.
Next, you can choose the target drive under Logical Drives and click Scan. If you want to scan the whole disk, you can click the Devices tab and select the entire disk or device and click Scan.
After the scan, you can check the scan result to find if your wanted files are listed, if so, you can check them and click the Save Then choose a new destination to store the recovered files. You can use the Filter or Find button to quickly find the target files.
Back up Important Office Files to an External USB or HDD
To avoid permanent data loss, it's highly advised you take a good habit to make a copy of important files. You can have a copy of important files in another location on your computer or back up the files to an external USB drive or hard drive. You may also try free cloud storage services for file backup.
If you have many large files to back up on your PC, you can try a professional PC backup application that can deliver a fast backup speed even for large files backup.
MiniTool ShadowMaker is a top free PC backup program that has many professional backup features.
This program offers two backup modes: Backup and File Sync.
You can choose files and folders to back up or choose some partitions to back up. You can even choose the whole disk content to back up. The disk clone feature is included.
Aside from data backup, MiniTool ShadowMaker also lets you backup and restore Windows OS.
For backup, this tool also offers automatic backup and incremental backup features. You can set a schedule to automatically back up your data. You can also only keep the latest version of the backup to save space.
You can save the backups onto an external hard drive, USB flash drive, or network drive.
MiniTool ShadowMaker TrialClick to Download100%Clean & Safe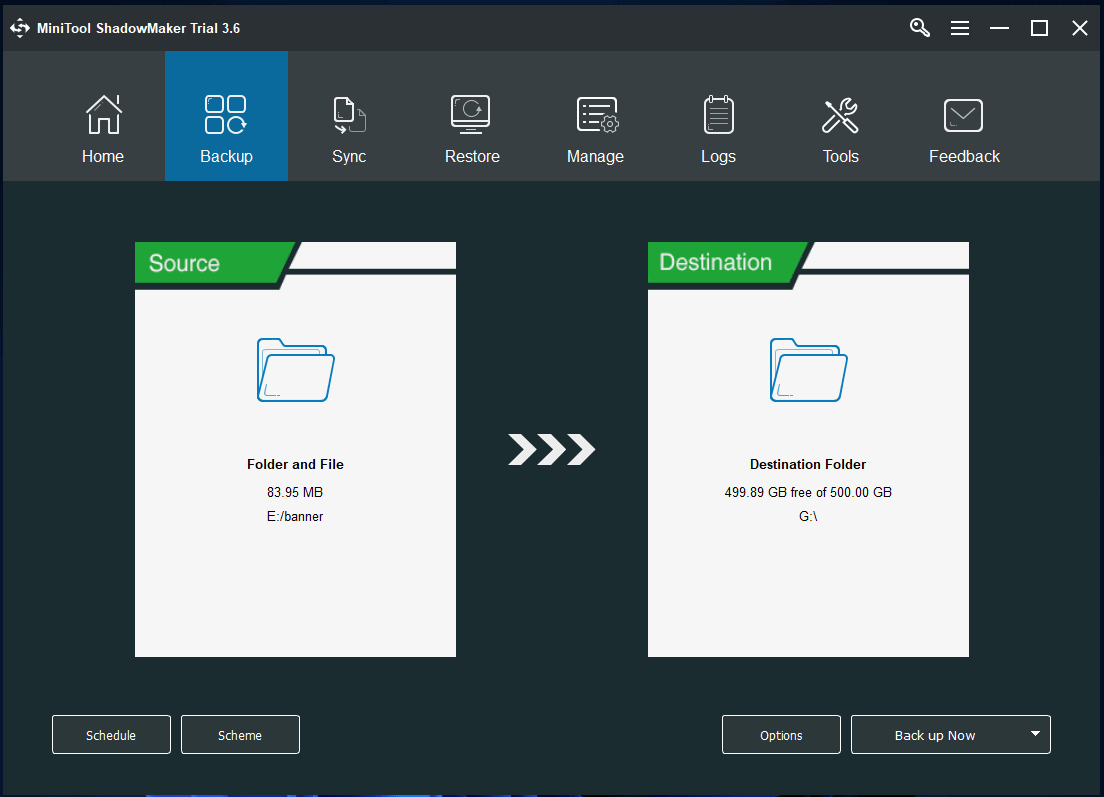 Final Thoughts
This post introduces Microsoft Office Online. If you don't want to buy the desktop full version of the Microsoft Office suite, you can try the Microsoft Office free web version. It offers all popular Office tools like Word/Excel/PowerPoint/OneNote and lets you use these apps for free. In this way, you can create, edit, share and save Word documents, Excel spreadsheets, or PPT presentations online for free.
A free data recovery method to help you recover deleted/lost Office files and a free tool for PC data backup are also provided for your reference.
For more computer tips and tricks, you can visit MiniTool News Center.
For more useful free computer tools, you may visit MiniTool's official website. You can download and try other free tools like MiniTool Partition Wizard, MiniTool MovieMaker, MiniTool Video Repair, MiniTool Video Converter, MiniTool uTube Downloader, etc.
If you have any issues with using MiniTool Software products, you can contact [email protected]. Our support team will try to help you.