What is MEMZ virus? What does the MEMZ virus do? Does MEMZ destroy your computer? Can you get rid of MEMZ virus? As for these questions, you can know the detailed answers from this post on the MiniTool website. Besides, some suggestions are also described to keep your PC safe.
What Is MEMZ Trojan Virus
MEMZ is a custom-made Trojan virus that was originally created by Leurak for YouTube Danooct1 as part of a parody. The creator said this virus was only intended for fun with limited listeners. He privately sent it out to other persons; however, some persons didn't follow the request of Leurak but leaked it out online.
As a result, the source code was available to the public through some free developer sites like Github. Malicious hackers got a hold of the script and tried to distribute many more variants on the Internet by attaching it to a variety of spam and freeware downloads.
Now, you can find several versions of the virus on Github including Clean and others Destructive.
What Does the MEMZ Virus Do
MEMZ Trojan virus uses highly complex and unique payloads, and activates them one by one. The first few payloads are not damaging but the final payload is the most harmful since the malware runs a few programs to make changes to the system and make sure the persistence. Your PC may become completely unusable.
The primary purpose of MEMZ virus is to corrupt the boot sector of the Windows operating system. It overwrites the first 64 KB of the hard disk, which means the Master Boot Record is impacted and some advanced troubleshooting tips are necessary.
How Do You Know If You Have MEMZ Trojan
Once your computer is infected with MEMZ Trojan, some versions of the virus display a message to let you know the file is on the PC before it spreads. But in most cases, you cannot realize there is a virus file until you see a Notepad warning saying your computer won't boot up again.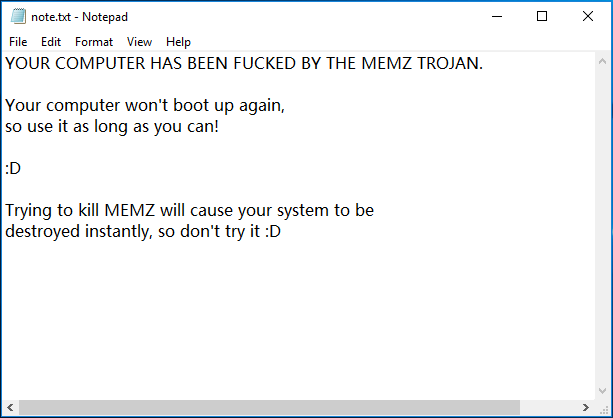 Then, you can notice some symptoms, as shown below:
Your web browser opens without warning and displays search results for disturbing things
Mouse cursor moves on its own and error messages appear
Applications open and close out of nowhere
Odd errors occur and system crashes
MEMZ virus manages to spread more malware on the infected computer. And it causes display colors inverting every second, takes snapshots of the screen, and displays them in a tunnel effect at growing speeds.
Once your machine is infected by the virus, many pop-ups appear on the screen along with Internet memes and random pictures. Even your display is taken over with all that content.
If your computer cannot run the Windows operating system, you can see a message that is delivered by MEMZ virus: "Your computer has been trashed by the MEMZ Trojan. Now enjoy the Nyan Cat…" Even you see the famous animation and sounds start play, and you will be unable to use the system.
How Do MEMZ Virus Get Distributed
In most cases, the MEMZ threat is spread through software downloads, infected websites, and email attachments. To be specific, you may access a pop-up on a website that triggers the virus to launch or click a link in an email that downloads MEMZ to your machine.
When using free file hosting sites, freeware sites, or peer-to-peer networks like Torrents, your machine may be at a high risk of MEMZ.
How to Remove MEMZ Trojan Virus
To sum up, MEMZ virus is very popular because of the spread of the Internet and its destructive activity. It is a dangerous malware and can damage your machine. Once it runs on your computer, it rewrites the operating system without the possibility to reverse the change.
Thus, you should react as soon as possible to stop the Trojan virus before it is too late. In this part, we will show you how to get rid of MEMZ virus from your computer.
Stop MEMZ Processes
The most straightforward solution to kill MEMZ virus is to use the Command Prompt. Here is the detailed guide on how to stop MEMZ virus:
Step 1: In Windows 10/8/7, type cmd to the search box and right-click Command Prompt to choose Run as administrator.
Step 2: Type this command taskkill / f / im MEMZ.exe and press Enter.
This method will kill all the MEMZ processes without leading to a system crash. But actually, this won't remove MEMZ from your system and the Nyan Cat still appears after restarting the machine. Therefore, there are some other things you should do to delete the virus and rebuild your computer.
Related article: How to Build Your Own Laptop—a Step-By-Step Guide
Use an Antivirus Scanner
You can run an antivirus program to check your system for the virus and remove it. Here we recommend that you do this thing in safe mode.
Step 1: Restart your computer to Safe Mode with Networking.
In Windows 7, press F8 several times when restarting the machine until you see the Advanced Boot Optionswindow and then choose Safe Mode with Networking.
In Windows 10/8, hold Shift and press Restart to enter WinRE and then go to Troubleshoot > Advanced options > Startup Settings > Restart > F5 to enter Safe Mode with Networking.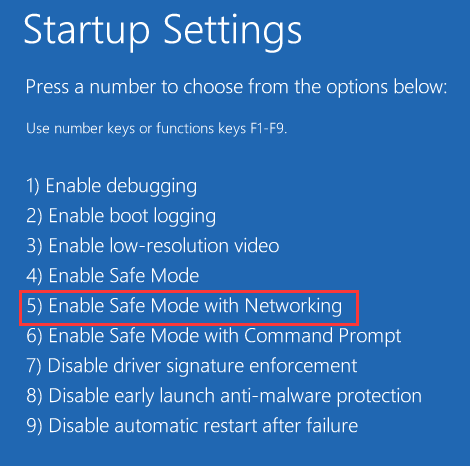 Step 2: Boot your browser, download a legitimate anti-spyware program like Reimage to remove malicious files and remove MEMZ virus.
Tip: Alternatively, you can directly use a bootable antivirus tool to create a special CD/DVD disc or flash drive on a working PC and then use it on your infected computer to scan the system for MEMZ virus without starting Windows. Just get one from the Internet.
Fix Master Boot Record
Next, it is necessary to fix any Master Boot Record issues that the MEMZ virus causes. It is not a difficult task as long as you use a professional partition manager. Here, we recommend using MiniTool Partition Wizard that has a feature called Rebuild MBR.
To do this work, you need to get its Pro Edition from the following button and create a bootable USB flash drive or CD/DVD disc. Then, boot your PC from it and use its Bootable Edition to fix MBR.
Step 1: In the MiniTool PE Loader interface, click Partition Wizard to run this partition manager.
Step 2: Right-click the system disk with MEMZ virus and choose Rebuild MBR.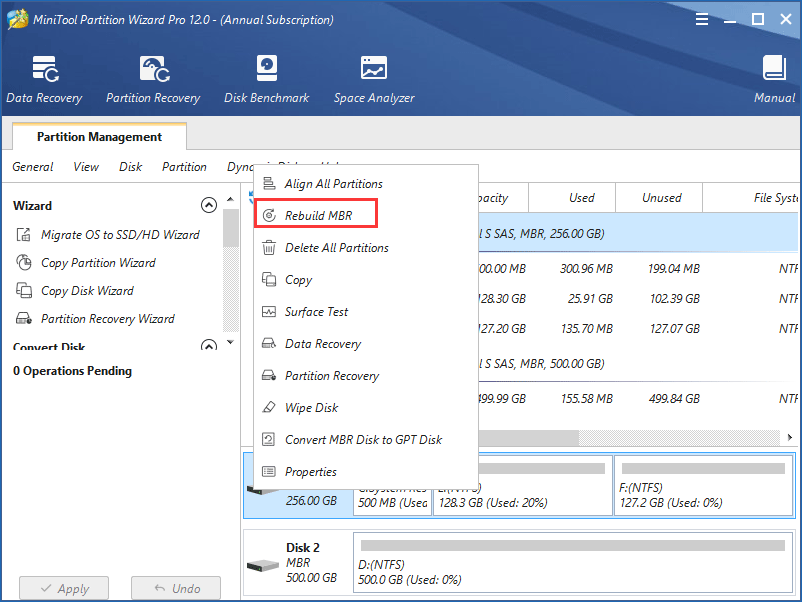 Step 3: Click Apply to execute the operation.
Perform a System Restore
Besides, you should perform a System Restore to reverse the changes MEMZ Trojan has made. Make sure to choose a period time where your machine definitely was not infected with the virus.
Step 1: Restart your computer to Safe Mode with Command Prompt in Windows 10/8/7.
Step 2: Input cd restore and press Enter.
Step 3: Type rstrui.exe and press Enter to open the System Restore window.
Step 4: Choose a restore point that is prior to the infiltration of MEMZ.
Step 5: Confirm the restoration operation and start the restore process.
After restoring the PC to the previous state, you can also download an antivirus program to scan the hard drive for viruses.
Use ISO File to Reinstall Windows
Also, you can reinstall Windows 10/8/7 to remove MEMZ Trojan virus. Just download an ISO file from the Internet, create a bootable USB drive from ISO and boot the PC to start a system reinstallation.
"Is your computer infected with MEMZ virus? After trying these methods, you can easily remove the Trojan virus from your machine. Just share them with your friends on Twitter."Click to Tweet
How to Avoid Getting MEMZ Trojan Again
After removing the virus, it is better to take some measures to keep your PC safe to avoid getting MEMZ again. Now, let's see them one by one.
1. Keep Antivirus Software Updated
Antivirus software can protect you from malicious threats, thus, you can keep one on your Windows computer. Make sure to keep it up-to-date. In Windows 10, you can use the built-in Windows Defender. Or, get one like Malwarebytes, Avast, McAfee, etc.
2. Don't Open Suspect Attachments and Links
If you receive an attachment from someone you don't know, don't open it unless you confirm what the file is and its source. Besides, also remember to not open suspicious links.
3. Beware of Pop-up Windows
Many sites load the pop-up window banner ads. Some malicious ads can mimic the appearance of a regular window. If you get many pop-up advertisements, leave the page at once and don't attempt to close those ads.
4. Think Twice Before Installing New Software
If you need to install new software, please ensure they are from a reputable source, for example, Microsoft Store, or a well-known website. If it is not, consider if it is safe. The installers may include malicious files like MEMZ. You had better always confirm the legitimacy of the source of the programs you download.
5. Back up Your Computer Regularly
Prevention is key. If the worst happens and your PC is initially infected with MEMZ virus, make sure you have the backup of your files. Don't restore it unless you entirely ensure the backup is not infected.
How can you back up your computer regularly? To do this work, you can use the professional PC backup software, MiniTool ShadowMaker. It is designed to back up your files, folders, disks, partitions, and Windows operating systems. Besides, you can clone a disk to another for disk upgrade or sync files for backup.
Importantly, this software supports automatic backup and incremental & differential backup. Now, get its Trial Edition from the following button to free have a try within 30 days.
MiniTool ShadowMaker TrialClick to Download100%Clean & Safe
Step 1: Run MiniTool ShadowMaker Trial Edition.
Step 2: Under the Backup window, choose backup source and backup destination (USB drive, external hard drive, etc.). By default, this backup software helps to back up the system. Also, you can choose files for data backup.
Step 3: Finally, click Back up Now to execute the backup process.
Other Tips You Should Try:
Be Cautious of USB Devices
Keep Your Network Secure
Lock Down Your Security Settings
Keep Software up-to-date
Bottom Line
Is your computer infected with MEMZ virus? How to remove MEMZ Trojan virus? How to avoid getting this virus again? After reading this post, you know much information on MEMZ virus. Just follow the methods to remove the virus and keep your PC safe.
If you have any suggestions or questions, let us know in the following comment or send an email to [email protected].
MEMZ Virus FAQ
What does the MEMZ virus do?
MEMZ is a custom-made Trojan that can damage your Master Boot Record, eventually making your computer completely unusable.
Can you get rid of MEMZ virus?
Of course, you can get rid of MEMZ virus by following these methods:
Stop MEMZ processes
Use an antivirus scanner
Fix MBR
Run a System Restore
Reinstall Windows
Is it safe to run MEMZ on a virtual machine?
Most of the malware including MEMZ doen't separate between running in a virtual machine or not. A virus from the host can also infect the VM, so you shouldn't think you are 100% safe.
Does MEMZ destroy your computer?
It will damage your Master Boot Record, causing the system to be unbootable after reboot but not completely destroy your computer and data.