What is atikmdag.sys? What causes atikmdag.sys BSoD? How can you fix the atikmdag.sys blue screen in Windows 10/8/7? After reading this post written by MiniTool Solution, you will know the answers to these questions. If you are bothered by the blue screen of death, try to fix it now!
Windows blue screen of death (BSoD) is a nightmare for many Windows users and nobody wants to experience it. However, it is not ineluctable and always appears unexpectedly, preventing the system from booting. Also, it is known as a stop error. Among many blue screen errors, atikmdag.sys BSoD is a common issue that especially occurs in Windows 11/10/8/7.
What Is Atikmdag.sys Blue Screen?
When reading here, you may ask what atikmdag.sys is. Atikmdag.sys is a system driver file that allows hardware components like a graphics card to communicate with software. Atikmdag stands for ATI Radeon Kernel Mode Driver Package. This file is pretty essential. Once it is damaged, the atikmdag.sys error happens.
In Windows 7, atikmdag.sys blue screen usually happens on startup or while using an application. Windows crashes suddenly, saying "A problem has been detected and Windows has been shut down to prevent damage to your computer. The problem seems to be caused by the following file: atikmdag.sys".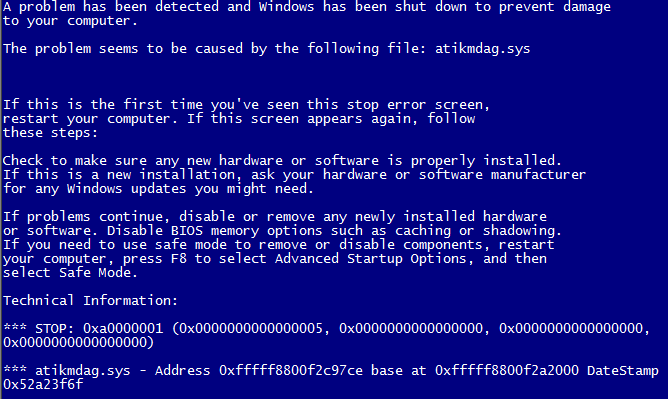 If you upgrade Windows 7 or Windows 8 to Windows 10, the BSoD error stops Windows from booting and you may receive the error message "Your PC ran into a problem and needs to restart". Usually, an error code is next to atikmdag.sys, for PAGE_FAULT_IN_NONPAGED_AREA, VIDEO_TDR_FAILURE, SYSTEM_THREAD_EXCEPTION_NOT_HANDLED, DRIVER_IRQL_NOT_LESS_OR_EQUAl, etc.
Well then, how can you fix atikmdag.sys blue screen of death? Multiple methods are offered to you and you should try them one by one to resolve the issue.
How to Fix Atikmdag.sys BSoD Windows 10/8/7/11
Usually, when the atikmdag.sys error happens, Windows can still boot to the desktop. The following operations are based on this situation. If you cannot boot the system normally, you may need to go to WinRE (Windows Recovery Environment) or safe mode to perform some fixes.
Note:
The following fixes except fix 5 can be applied to safe mode. If the blue screen lets your Windows fail to enter the desktop, you should
go to safe mode
with networking and perform these fixes.
Fix 1: Perform a Full System Scan for Malware
The viruses and malware infection may corrupt the atikmdag.sys file, causing the blue screen error. Thus, we strongly recommend you to conduct a full system scan to remove possible virus corruption.
To do this work in Windows 10/11, you can use the snap-in antivirus program, Windows Defender.
Go to Settings > Update & Security.
Click Windows Defender and open Windows Defender security center.
Click Virus & threat protection, go to Advanced scan, choose Full scan and click Scan now.
If you are using an antivirus program in Windows 11/10/8/7, just launch it and run a full system scan on your PC. This way could be helpful to fix the atikmdag.sys issue. If it doesn't work, try the next solution.
Fix 2: Update Windows System
Microsoft always keeps issuing Windows updates to improve system stability and reliability. If you encounter the atikmdag.sys BSoD error in Windows 11/10/8/7, you can try upgrading the system to the latest version. This could be helpful to fix your issue at times.
Here is how to update Windows 10:
Navigate to Settings > Update & Security to the Windows Update page.
Then Windows is checking for updates.
If some available updates are checked, Windows will download and install them automatically. Restart your PC and finish the installation.
Fix 3: Update ATI/AMD Radeon Drivers
Obsolete or corrupted ATI Radeon family device drivers could be one of the chief culprits behind the error like atikmdag.sys PAGE_FAULT_IN_NONPAGED_AREA, atikmdag.sys SYSTEM_ THREAD_EXCEPTION_NOT_HANDLED, etc.
To help you out, you should follow these steps to update your graphics driver:
In Windows 11/10/8/7, bring up the Run window by hitting Win + R.
Type devmgmt.msc and click OK to go to Device Manager.
Under the Display Adapters category, right-click your graphics card and choose Update driver.
Follow the prompts to apply the update. Then, reboot the system.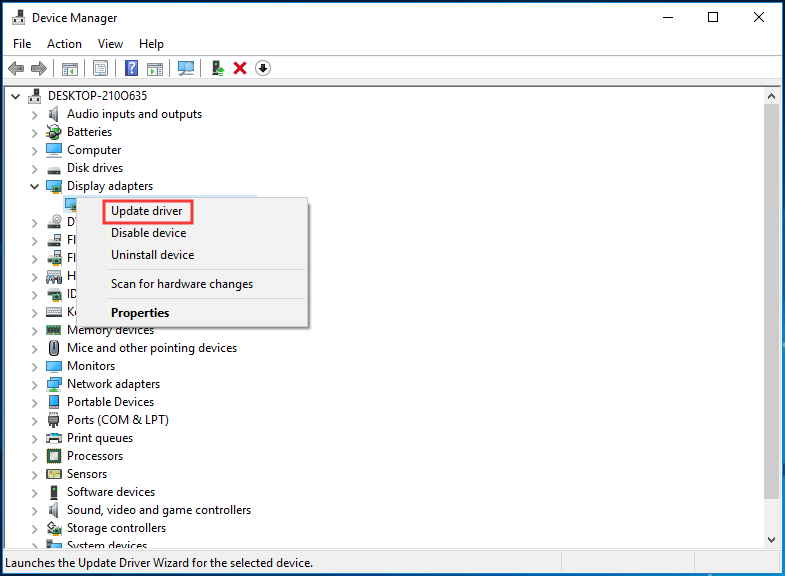 Alternatively, here is another way you can update the Radeon driver: go to the AMD website, download and install the latest video card driver for your PC's model.
Tip: Additionally, you can choose to uninstall recent installations related to ATI or AMD Radeon drivers to eradicate the issue since the recent installation is likely the reason for the blue screen. So, click Uninstall device from the context menu to remove it. Then, get the latest driver and reinstall it on your PC.
Fix 4: Run System File Checker
The blue screen of death may be relevant to the Windows registry since the registry contains critical files that can keep the system running properly. If Windows Registry gets corrupted, you may be bothered by atikmdag.sys BSoD. So, running System File Checker can be helpful to scan the system and repair corrupted files.
1. Go to the search box, input cmd and run Command Prompt with administrative rights.
2. Use the command – sfc /scannow to scan your system.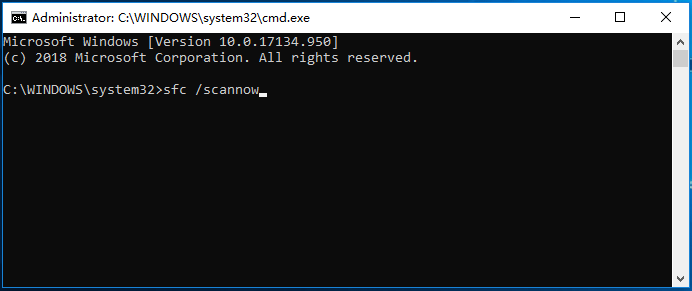 3. This process will take some time. Wait until the verification completes 100%.
4. After the operation, you can reboot your PC.
Fix 5: Perform a System Restore
In Windows, there is an option for you to restore the PC to a time point and undo recent changes. It is System Restore.
Some unknown changes performed on your computer lately may lead to PAGE_FAULT_IN_NONPAGED_AREA, VIDEO_TDR_FAILURE, DRIVER_IRQL_NOT_LESS_OR_EQUAl (atikmdag.sys) BSoD error.
If you have a system restore point before, you can use it to fix your issue and restore critical files.
Tip:
If your Windows fails to boot, you should perform a system restore in
WinRE
by clicking
System Restore
in the
Advanced options
page.
Follow the guide below:
Input create a system restore point to the search box in Windows 10/8/7 and click the result to the System Properties window.
Click the System Restore button.
Choose a restore point that you have created and confirm the operation by clicking Finish.
Follow the on-screen instructions to complete the restoration operation.
If you don't have a restore point, of course, this method couldn't help you and you need to go to the next fix.
Fix 6: Check Your Hard Drive
If there is something wrong with the hard drive, the atikmdag.sys BSoD stop error may come out of the blue no matter you are using Windows 7, Windows 8 or Windows 10/11. Here, you should check for hard drive corruption to fix the problem.
Let's go through how to do that:
Similarly, open Command Prompt as Administrator.
Input chkdsk C: /f and chkdsk C: /r. Press Enter after each command.
If Windows asks you to schedule the check the next time the system restarts, input Y. Then, reboot your PC to perform the check.
Fix 7: Perform Windows Clean Install
Here is another way for the atikmdag.sys blue screen fix and it is performing a clean install of Windows 11/10/8/7. This method will clear all installed apps and some files stored on the system drive but it is effective to resolve Windows atikmgas.sys BSoD error.
Back up Files before a Clean Install
As mentioned above, data will get lost after you reinstall the Windows system, thus, we strongly recommend you to back up your important files or folders first of all. To do this job, you can use the professional Windows backup software, MiniTool ShadowMaker. Just download MiniTool ShadowMaker Trial Edition from the download button and install it on your PC.
Tip:
If your PC is unbootable, you need to create a bootable disc or USB flash drive with
Media Builder
in this backup software. And then, boot the PC from the device to start a file backup. This post -
How to Back up Data without Booting Windows
shows you much information
If Windows can boot, now follow these steps to back up files.
1. Run MiniTool ShadowMaker.
2. In Backup, go to Source to choose files that you want to back up.
3. Go to Destination to choose a storage path for backed-up files.
4. Click Back up Now to perform the backup task at once.
Clean Install
After file backup, now perform the clean install of Windows 11/10/8/7. To do this work, you need to go to the download website, choose one Windows version to the corresponding download page and follow the on-screen instructions to create an installation disc or USB flash drive so that you can install a new copy of Windows from the media.
Fix 8: Change RAM
If all of these solutions are not working to fix the issue of atikmdag.sys BSoD Windows 7/8/10, perhaps the RAM gets damaged or corrupted. You can have a check with Windows Memory Diagnostics Tool or Memtest86. If errors are found, replace the bad RAM with a new one.
Here are 8 methods to fix atikmdag.sys Windows 10/8/7/11. If you are encountering this blue screen of death stop error, just try them and you should easily fix it. Also, you can share them on Twitter to help more people who are struggling with the blue screen.
Back up Your Windows OS
After finishing the BSoD error fix, we recommend you to create a system image for your Windows operating system. Blue screen issues always appear unexpectedly, letting you not use the PC properly and making you very annoyed.
If you have a system backup, you can easily restore the computer to an earlier state without taking much time to fix the atikmdag.sys blue screen.
Note: System image recovery couldn't fix the stop error caused by RAM issues but it can fix the issues caused by software problems. In most cases, atikmdag.sys BSoD happens due to software issues. So, backup is necessary.
How can you back up your Windows system? MiniTool ShadowMaker is still helpful. System backup and recovery, file/disk/partition backup and recovery are supported by this backup software. When getting a blue screen, boot the PC from a created bootable disc or flash drive and perform a faster recovery.
If you need to restore the image to a different computer with dissimilar hardware, Universal Restore can fix the incompatibility issue to ensure the PC boots normally.
Now, get MiniTool ShadowMaker Trial Edition (30-day free trial). To back up your PC all the time, get its Pro Edition from the store website.
Here is a guide on system backup:
Run MiniTool ShadowMaker to its Backup page.
You find system related partitions are selected by default. And you need to choose an external hard drive, USB drive, SSD, etc. to save the created system image file.
Start the system backup by hitting Back up Now.
Bottom Line
Here is the end of this post. After reading it, you clearly know what atikmdag.sys blue screen is, how to get rid of this BSoD stop error and how to protect your PC. Now, it is time to follow these solutions if you have this blue screen and create a system backup.
When meeting some questions while using MiniTool software or if you have any suggestions, remember to let us know. Writing an email to [email protected] or leaving your idea in the Comment part is up to you.