Windows update error 0x80070643 stops you from installing the latest Windows updates. If you are bothered by this issue, do you know how to get rid of it? In this post, MiniTool Software will show you the things you can try to fix this problem. If you lose important files after the update, use MiniTool Power Data Recovery to get them back.
Are You Bothered by Windows Update Error 0x80070643?
Performing a Windows update makes you use the new features in the new version of Windows and get rid of the bugs that were in the previous version. However, the Windows update is not a successful process all the time. You may encounter different kinds of Windows update errors like error code 0x8024000B, error code 0xc1900107, Windows Update Cannot Currently Check for Updates, error 0x80070643, and more.
We have talked about many Windows updates errors except for Windows 10 update error code 0x80070643. Now, we will show you more information about this error.
About Windows Update Error 0x80070643
This error code 0x80070643 always happens when you install or update your Windows OS or any app on your computer. The error message may differ. But you can always see the error code 0x80070643 behind the error message.
For example, the full error message can be:
1. 2018-11 Update for Windows 10 Version 1803 for x64-based Systems (KB4023057) - Error 0x80070643.
OR
2. There were some problems installing updates, but we'll try again later. If you keep seeing this and want to search the web or contact support for information, this may help: (0x80070643).
OR
3. There were problems installing some updates, but we'll try again later. If you keep seeing this and want to search the web or contact support for information, this may help:
Definition Update for Windows Defender - KB2267602 (Definition 1.213.1379.0) - Error 0x80070643.
OR
4. The following error code 0x80070643 happens when you want to install a program:
One or more issues causes the setup to fail. Please fix the issues and then retry setup. For more information see the log file.
0x80070643 - Fatal error during installation.
Of course, some other error messages also come with the error 0x80070643. We will not list all of them here as space is limited.
What Causes Error Code 0x80070643?
The reasons for Windows error code 0x80070643 are various. Here are some main causes:
The system settings are not correct.
Your computer is attacked by malware or viruses.
There is a driver malfunction.
Some system files are corrupted or missing.
Some old programs are not correctly removed.
Your computer is not shut down properly.
And more.
Knowing these reasons can help you find the best solutions. We collect some useful solutions and show you them as follows.
How to Fix Error Code 0x80070643 on Windows?
How to Fix Error 0x80070643?
Retry the Windows updates or the program installation
Re-download the update or installation files
Reinstall the program
Check your internet connection
Close all other programs that are currently running
Pause other downloads and updates on your PC
Restart your computer
Run the Windows Update Troubleshooter
Install the latest .NET Framework
Rename the SoftwareDistribution folder
Clear contents in the Catroot2 folder
Temporarily disable your antivirus software
Run an SFC scan
Manually install the Windows update
Manually update Windows Defender
Update Windows in clean boot
Fix 1: Retry the Windows Updates or the Program Installation
At times, this error only lasts for seconds due to some unknown reasons. You can just try again to see whether the error disappears. If this method works, everything will be OK. If not, you need to use other solutions to solve the issue.
Fix 2: Re-download the Update or Installation Files
If you update your Windows or a program on your computer by downloading the update sources and encounter this error code, the downloaded installation files may get corrupted. Don't worry. This issue can be easily fixed. You can re-download these files and then update your Windows or the program again.
Fix 3: Reinstall the Program
If you encounter this error 0x80070643 during a program update process, you can reinstall the program to get the latest version. To guarantee the effect, you need to uninstall the program from your computer and then go to the official site of the program to download the latest setup file. Next, you can double-click the downloaded setup file to reinstall the program on your computer.
Fix 4: Check Your Internet Connection
Some software update/installation needs a network connection to an online server. If your network connection encounters issues, error 0x80070643 can easily happen. For example, you need to make sure your network has a good speed during the update/installation process. This post helps you solve the network connection problems: 11 Tips to Troubleshoot Internet Connection Problems Win 10.
Fix 5: Close All other Programs that Are Currently Running
Other running programs on your computer can also affect your Windows update or program installation because they are using some important files and device sources. You can close all other running programs on your computer. You also need to go to the Task Manager to end the programs that are running in the background when necessary.
Fix 6: Pause other Downloads and Updates on Your PC
Other programs downloads and updates tasks on your computer can be conflicted with the program update you want to perform. You'd better execute one task at a time to avoid conflicts.
You can go to Microsoft Store > 3-dot menu > Downloads and updates to check whether there are other updates taking place. If yes, you can pause them temporarily and then try your installation/update again. Remember, you should not start another task unless the current one ends.
Fix 7: Restart Your Computer
Restart your computer can fix some glitches on your device. These glitches can be some corrupted files generated by software uninstallation. They can also be some errors that influence your computer performance. You can just restart your computer to run the device under a clean state.
Fix 8: Run the Windows Update Troubleshooter
The Windows Update troubleshooter can find and fix the issues you encounter during the updates process. Here are the steps:
Click Start.
Go to Settings (the gear button) > Update & Security > Troubleshoot > Additional troubleshooters.
Click Windows Update.
Click the Run the troubleshooter button.
Let the tool find issues and then fix them.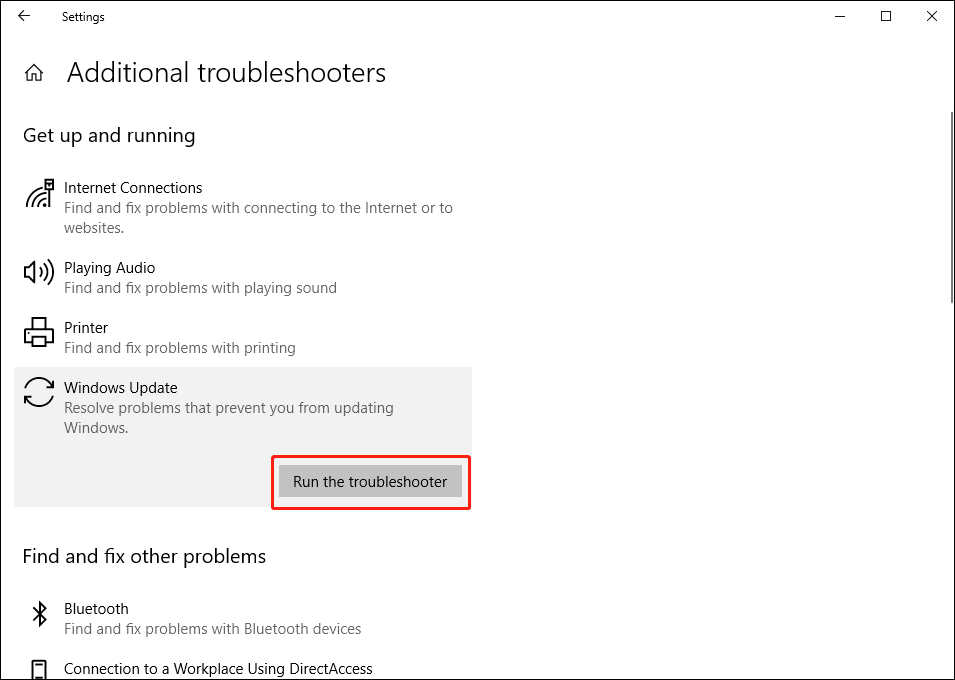 Fix 9: Install the Latest .NET Framework
The .Net Framework plays an important role in the Windows updates. If it is corrupted or missing, error 0x80070643 can happen. You also need to make sure that you are using the latest .Net Framework. You can go to this page to get the latest .Net Framework and install it on your computer.
Fix 10: Rename the SoftwareDistribution Folder
You can follow this guide to rename the SoftwareDistribution folder:
Type the following commands and press Enter after each.
net stop wuauserv
net stop bits
rename c:\windows\SoftwareDistribution SoftwareDistribution.bak
net start wuauserv
net start bits
Fix 11: Clear Contents in the Catroot2 Folder
1. Open Elevated Command Prompt.
2. Type the following commands and press Enter after each:
net stop cryptsvc
md %systemroot%\system32\catroot2.old
xcopy %systemroot%\system32\catroot2 %systemroot%\system32\catroot2.old /s
3. Type the following command and press Enter:
net start cryptsvc
Fix 12: Temporarily Disable Your Antivirus Software
Antivirus software can prevent your computer from being attacked by viruses and malware. As mentioned above, the error code 0x80070643 can be caused by viruses and malware. You can first use your antivirus software to scan your computer for viruses and malware.
However, if the results show that your computer is safe, you need to consider whether there are conflicts with app installation and system functions generated by your antivirus software. To rule out this possibility, you can temporarily disable your antivirus software and then check whether the issue disappears.
Fix 13: Run an SFC Scan
An SFC scan can find and fix corrupted system files on your computer. This method is worth trying.
You can open the Command Prompt, type sfc /scannow, and then press Enter.
Fix 14: Manually Install the Windows Updates
If your Windows can't automatically update due to error code 0x80070643, you can manually update it.
1. Go to Start > Settings > System > About to check which system type you are using (it is 64-bit or 32-bit).
2. Go to Start > Settings > Update & Security to check the code of the failed update, like KB4023057.
3. Go to this Microsoft Update Catalog page to search the code you get in the last step.
4. Select the corresponding update to download.
5. Double-click the downloaded file to manually install the update.
Fix 15: Manually Update Windows Defender
If you see this error code when automatically update Windows Defender, you can manually update Windows Defender to have a try.
Fix 16: Update Windows in Clean Boot
A clean boot can make your computer run a minimal set of drivers and startup programs. In this state, you can update your Windows without the disturbance of other programs that can cause error 0x80070643. So, you can just clean boot your computer, and then update your Windows.
If you can't update your Windows or a program due to error 0x80070643, you can try the methods mentioned in this article to help you out.Click to Tweet
What if You Lose Files after Windows Update?
Files get lost after Windows update is not a rare issue. Many users have reflected this problem on the internet and they also want to find a way to get back their lost data. If you are also bothered by this issue, you can try MiniTool Power Data Recovery, a professional data recovery software.
This software has a trial edition. You can use it to scan the drive you want to recover data from and try to find your lost files from the scan results. If you want to use this software to recover your files, you can use a full edition to do it.
It is very easy to use this software. With some simple clicks, you can find your lost files:
1. Download and install this software on your computer.
2. Select the drive you want to recover data from.
3. Click Scan to start the scanning process.
4. After scanning, you can go to find your needed files from the scan results.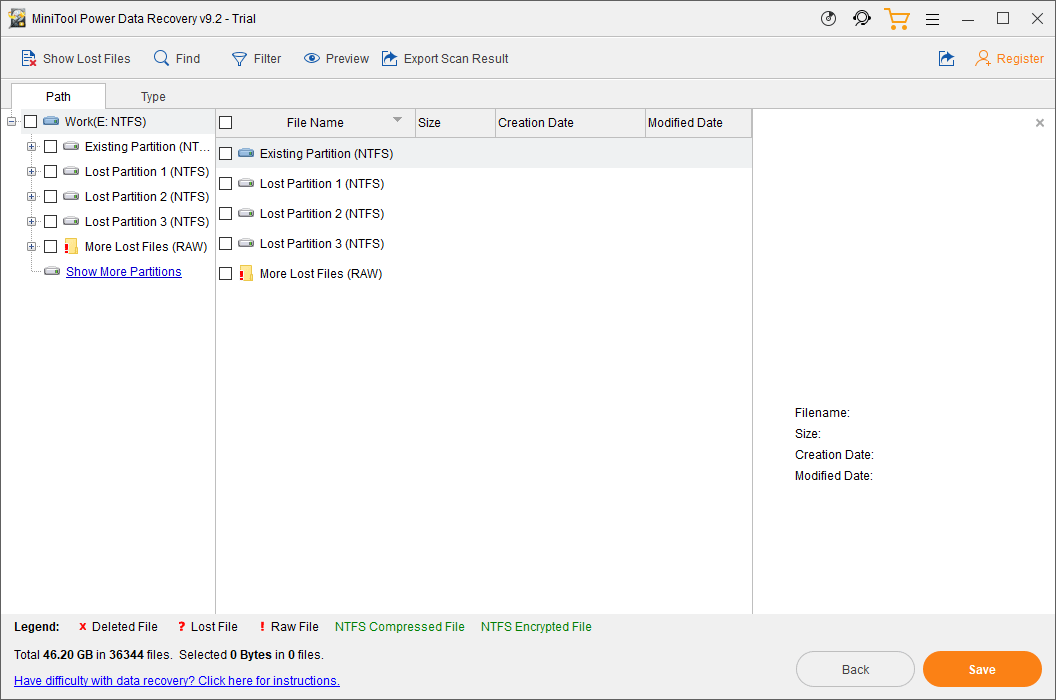 5. When you want to recover files using this software, you need to upgrade it to a full edition and then check the files you want to retrieve.
6. Click Save and select a suitable folder to save the selected files. The destination folder should not be the original folder of the lost files. Otherwise, the lost files can be overwritten and become unrecoverable.
Bottom Line
It is not a difficult job to fix Windows error 0x80070643. You can see there are so many easy solutions. We hope you can find what you need in this article. Should you have other related issues or you have other good solutions, you can let us know in the comments. You can also contact us via [email protected]. We will reply to you as soon as possible.
Error 0x80070643 FAQ
How do I fix error 0x80240fff?
Run Windows Update Troubleshooter
Disable Windows Firewall temporarily
Restart the Background Intelligent Transfer Services
Fix file corruption
Check and fix hard disk issues
You can find more information from this post: Top 5 Solutions to Fix Update Error 0x80240fff.
How do I fix error 0x800f0831?
How do I fix error 0x80070422?
How do I fix error 0x80070424?
Run Windows Update Troubleshooter
Enable Windows Update Services
Reset Windows Update Components
Check Windows Update Setting in Registry
Repair Windows Update Files
You can find the detailed guides from this article: How to Fix Windows 10 Update Error 0x80070424?