Windows 10 booting to a black screen? Don't worry. This article shows how to solve this issue effectively and introduce an excellent file recovery software to recover lost data.
Many users like running computer with Windows 10 – a reliable operating system. However, unexpected things always happen. For instance, Windows 10 booting to a black screen.
Let's see a true example from microsoft.com:
When I try to boot newly installed Windows 10 I get a black screen (with no cursor) almost straight away. I discovered that if I power off and power on the boot proceeds Ok. But next time it fails again.

microsoft.com
Generally, Windows 10 booting to a black screen is the worst issue you come across because you don't get any error code or message giving you an idea where to start troubleshooting.
What should you do if your PC is experiencing a black screen?
In today's post, I am going to show you how to fix the Windows 10 booting to a black screen of death (BSOD) issue without affecting the original data.
Part 1: Data Recovery from Windows 10 Booting to a Black Screen
Experienced users will transfer data before solving the Windows 10 booting to a black screen issue in case of any accidents. (If you mistakenly overwrite the original data when fixing this black screen error, you will lose the data forever.)
Now, you might be wondering:
"How to effectively and quickly recover lost data from the Windows 10 black screen of death?"
MiniTool Power Data Recovery, developed by famous software development company, offers MiniTool Power Data Recovery Bootable Edition to recover lost data when operating system crashes or recover data when PC won't boot without bringing any damage to the original data.
Next, let's see how to recover data after BSOD with ease.
Step 1: Create MiniTool Power Data Recovery Bootable Edition.
Connect USB flash drive or CD/DVD disc to a normal computer.
Lunch MiniTool Power Data Recovery Personal Ultimate.
Click Bootable Media at the top menu bar of the main interface.
Select WinPE-based media with MiniTool plug-in to continue.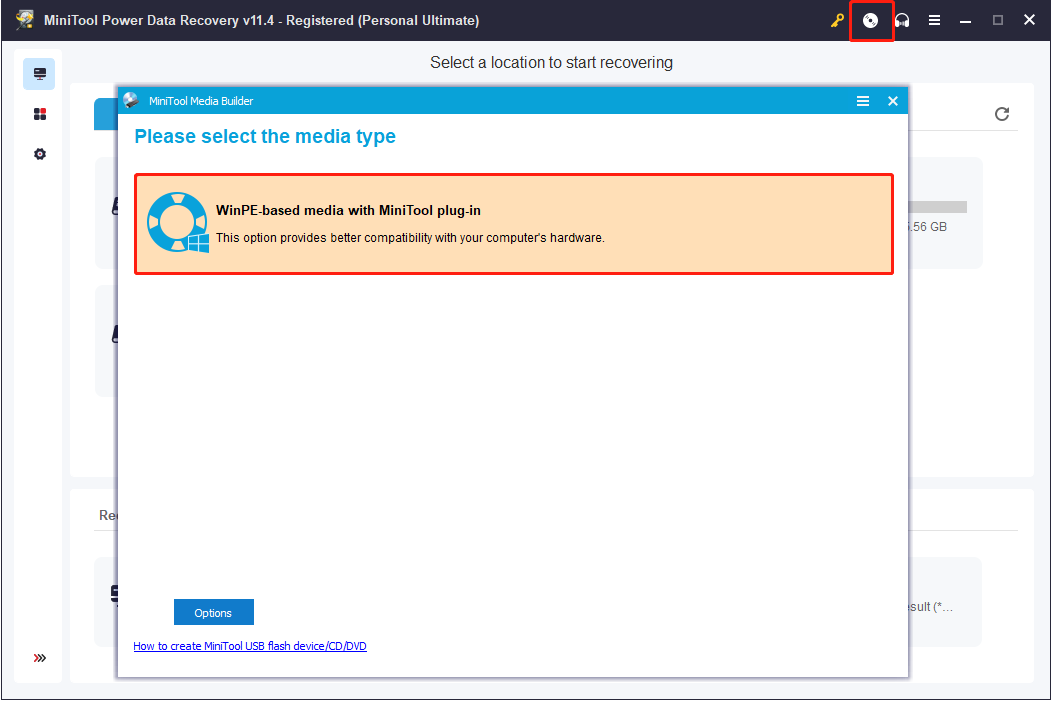 Create bootable CD/DVD, or bootable USB flash drive.
Click "Finish" after successful burning.
Note:
MiniTool
Bootable Media Builder
will format the USB flash drive or CD/DVD discs while building MiniTool Bootable Disc. Please make sure to back up all important data on the USB or CD/DVD before burning.
Step 2: Boot Windows 10 from The Bootable Disc.
Connect the burned MiniTool Boot Disc to your PC with a black screen error.
Start computer and enter BIOS.
Set Bootable Disc as the 1st Boot Device and save configuration changes.
Click MiniTool Power Data Recovery in the main interface of MiniTool PE Loader interface.
Step 3: Recover Lost Data after Windows 10 Black Screen of Death.
Select the drive you want to recover lost data from, and then click Scan button.
Check all needed files and click Save button to store them on a safe place.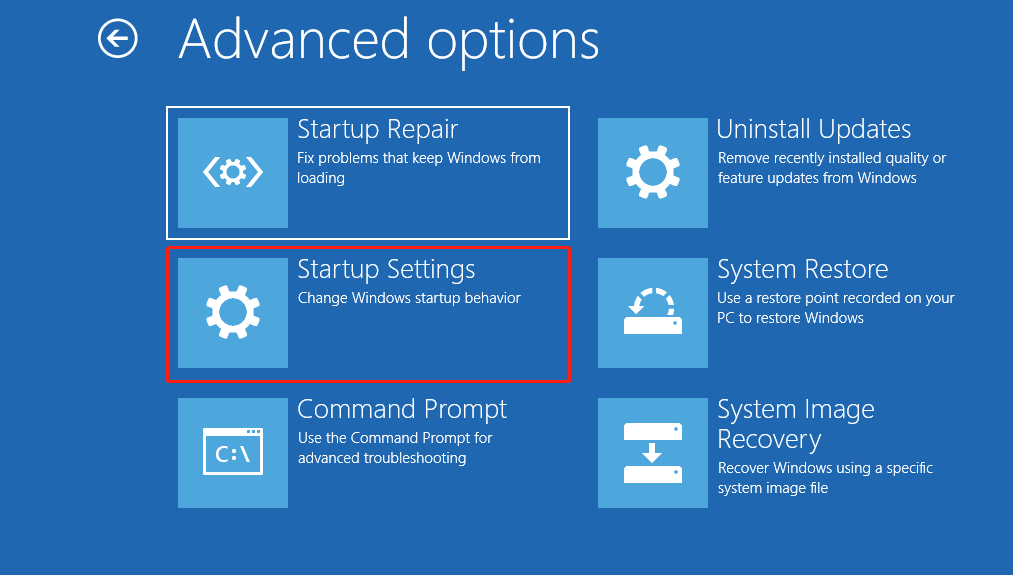 Top Recommendation:
When it comes to black screen of death error, I'd like to share with you another issue – Blue Screen of Death. Here, read our previous post "Solved – Data Recovery after Blue Screen of Death" to know more details.
Hi! With MiniTool Power Data Recovery, I quickly and effectively recovered lost data after Windows 10 booting to a black screen of death !Click to Tweet
After data recovery, let's discuss how to fix Windows 10 black screen of death issues.
Part 2: Troubleshoot Windows 10 Black Screen on Your PC
You may encounter the Windows 10 booting to a black screen error in the following 2 situations:
You see a black screen before logging into Windows 10.
You see a black screen after logging into Windows 10.
Want to know how to fix black screen on your PC?
Situation 1: Fix a Black Screen Death before Signing into Windows 10
1. Check your connections
If you get a black screen before signing into Windows 10, it could be a connection problem between your PC and the display.
If you're using a desktop computer, double-check your display is connected properly to a power outlet and your computer, make sure your connected TV is turned on and set to the input for your PC.
If possible, you can try switching to a different video output. Many times, a change in driver can send the video signal to a different output port (e.g. DVI, HDMI, DisplayPort, Thunderbolt, VGA) or adapter.
You can also try connecting a different monitor to your PC to confirm that it's not a problem with your primary display.
2. Remove or update third-party antivirus software
As we know, some third-party antivirus software has been known to cause black screens. Removing the software won't leave your PC unprotected, for Windows Defender antivirus will kick in if no other antivirus software is running.
3. Perform a clean boot of your PC
If the above solutions cannot help you, you can perform a clean boot of your PC. You can find more details from this post: How to perform a clean boot in Windows.
Situation 2: Fix a Black Screen Death after Signing into Windows 10
How to effectively resolve Windows 10 black screen of death (BSOD) problem after login – with or without the cursor, on boot? Now, you can try the following 3 solutions.
1. Type explorer.exe
If you get the Windows 10 black screen with cursor after login, you should first try pressing Ctrl+Alt+Del buttons and see if it brings up the Task Manager. If it does, click on File > Run new task. Type explorer.exe and hit Enter.
2. Unplug & Remove external devices
If the first method doesn't work, unplug & remove all external devices and reboot. If you are able to get a display, it might mean that one of the external hardware is causing the problem.
In this case, start plugging in external devices one by one until you lose display. Remove the last device you plugged in and see if you get the display back. If yes, don't use that hardware device until you contact the device's manufacturer. Check again with other external devices.
3. Boot in Safe Mode to troubleshoot and fix a black screen problem
If the above 2 ways cannot help you, there could be a number of other reasons and you can boot your computer in Safe Mode to try to fix the problem.
Recommend: Step-by-step guide to booting Windows 10 in Safe Mode.
At the sign-in screen, hold the Shift key down, click the Power button on the bottom-right, and select Restart.
Note: if you cannot see anything on the screen because of BSOD error, you can start your PC, as the blue Windows logo appears, press the power button and reboot again. Maybe, you should repeat these steps for 3 times until you trigger Windows 10 automatic repair. Follow the on-screen directions and launch the advanced options menu.
Click Troubleshoot.
Click Advanced options.
Click Startup Settings.
Click the Restart button.
Press 5 or F5 on the Startup Settings to enter in Safe Mode with Networking.
1) Reinstall Video Driver
If the video driver isn't working correctly, your Windows 10 might boot to a black screen. Now, to solve this issue, you can uninstall it in Safe Mode, and then let the operating system reinstall the driver automatically upon restart.
Press Windows key + X to open the power user menu.
Select Device Manager.
Expand Display Adapters.
Right-click the adapter and select Uninstall.
Click OK to confirm.
Restart your computer.
2) Disable Fast Startup
Sometimes, if the fast startup is enabled on your computer, the black screen problem keeps happening.
Open Control Panel.
Click System and Security.
Choose Power options.
Select Choose what the power button does link on the left pane.
Click the Change settings that are currently unavailable link.
Clear the Turn on fast startup (recommended) option.
Click< Save changes.
Restart your computer.
3) Close RunOnce Processes.
Open Task Manager by pressing the Ctrl + Shift + Esc keyboard shortcut.
Check the Processestab and Services tab and look for any instances of RunOnce.exe and RunOnce32.exe.
If you find an instance in the Processes tab, select the item, and click on End task. If you find an instance in the Services tab, right-click the item, and click Stop.
Click on File.
Select Run new task
Type shutdown -t00 -r to restart PC, and click OK.
Top recommendation: Here Is the Way I Fix Black Screen Error When Booting Windows
Part 3: Useful Tips for Managing Windows 10 - Backup Data and OS
Although Windows 10 has already proven to be a reliable operating system, Windows 10 data loss always happen. For example, you cannot start your PC because of the black screen of death error, and then you cannot access your data. So, it is recommended to backup Windows 10 in case of any accidents.
MiniTool Partition Wizard, a piece of free, professional and simple partition magic, is recommended here because it offers an excellent feature – Copy Disk to help users effectively make a backup of all hard drive data.
1) Launch MiniTool Partition Wizard, select the disk which needs copying and activate "Copy Disk" from the left action panel or toolbar.
2) Select the disk that will save all contents of the source disk and then click "Next".
Note: The target disk should be large enough to hold all data on source disk.
Back up all important data on target disk in advance, because all its data will be deleted.
3) Select a copying option to decide the layout of target disk, and click "Next" to continue.
Note:
Check the option "Align partitions to 1MB" because it can improve disk performance.
If the target disk is larger than 2TB, you are suggested to check the "Use
GUID Partition
Table for the target disk".
4) Read Note and click Finish.
5) Click Apply to perform all changes.
Bottom Line
Did these troubleshooting steps help you fix the Windows10 booting black screen of death? Tell us in the comments below. Or, if you have any other good solutions about Windows 10 BSOD, please share it with everyone in the comments below.
On the other hand, should you have any questions about MiniTool software, please feel free to contact us via [email protected]. Thanks in advance!